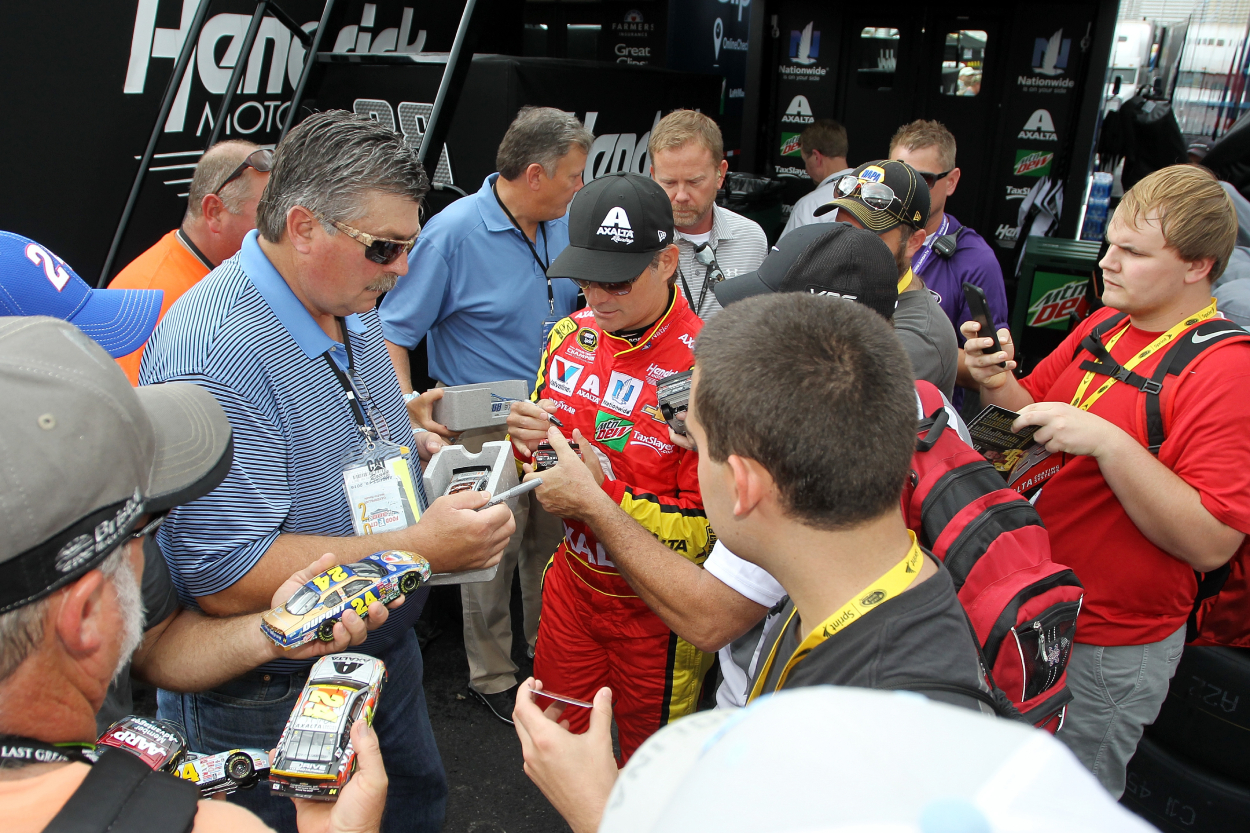 Jeff Gordon Scored an Autograph From His Hero and It Still Makes an Impact on Him
NASCAR legend Jeff Gordon scored an autograph from his hero as a kid and it had a lasting impact through his racing days.
He has signed a few autographs in his day. One of the greatest figures in the motorsports world, Jeff Gordon has always tried to find some time for his NASCAR fans. When Gordon was younger, he was able to get the signature of his hero and it impacted the way he treats others seeking his autograph.
Jeff Gordon is a NASCAR legend
Jeff Gordon has certainly left his mark in the world of NASCAR. Gordon began racing full-time in the NASCAR Winston Cup Series back in 1993 and it didn't take him long to make a name for himself. Gordon won the first of his four Cup Series championships in 1995. He also claimed the feat in 1997, 1998, and 2001.
When Gordon captured his 1995 title, he became the youngest driver to do so. He was just 24 years old when he claimed his first championship. Gordon often gets credit for being one of the most influential drivers in NASCAR history by popularizing the sport with a younger audience.
Gordon retired in 2015 and finished his NASCAR Cup Series career with 93 victories, putting him third all-time. He has the most victories in the modern era (1972-present) and he also racked up the most wins (13) in one season during the modern era. Gordon was a 2019 inductee into the NASCAR Hall of Fame.
Gordon remains tied to NASCAR through the broadcast booth
It's only fitting that one of NASCAR's all-time greats remains involved in the sport. Jeff Gordon was named one of the top 50 drivers of all-time in 1998 by NASCAR. In 2008, ESPN had an article with Gordon in the top 25. Fox Sports had him No. 5 overall.
No matter where Gordon is ranked, he's clearly one of the greatest ever in the sport. In 805 Cup Series races, he finished in the top 10 more than half of the time. He finished his career with 477 top-10 finishes in his 25 years of Cup Series racing.
When Gordon retired from NASCAR in 2015, he remained tied to the sport as an analyst. Gordon hooked on with Fox Sports as a guest analyst for NASCAR on Fox broadcasts. A few months later, he announced he would be working full-time for Fox for Cup Series events. Gordon continues to shine in his broadcasting role.
The autograph that impacted Gordon through his racing days
According to The Sporting News, Jeff Gordon always wanted to race Indy Cars like his hero Rick Mears. Rick Hendrick, however, wouldn't let that happen and he made Gordon a NASCAR star. While he became a star, he didn't let fame ever get to his head. Gordon once said it was an autograph he got from Mears that helped him understand what it meant to interact with fans.
Gordon has always been hounded by autograph seekers. He remembers getting one as a kid from Mears and that moment has stuck with him. "I always go back to my experience as a kid at Indianapolis getting Rick Mears' autograph," Gordon once told USA Today. "It wasn't like it is around here. It wasn't like there were 100 people there wanting autographs, it was just a handful. I just happened to be at the right place at the right time and asked the right person – and that memory still stands out to me. So when I walk by and there's a kid over there that has positioned himself right, has waited, and has been patient, I think of that moment."
Sometimes it's not always easy to please everyone. "So if I feel like I can do a good job getting as many of my fans the autographs they want, then I'm going to try to do it," he said. "I have a guilty conscience, so if people are calling my name or want autographs, I feel guilty if I don't do it. I've struggled with that over the years because I want to give them as much as I can of what they're asking for."