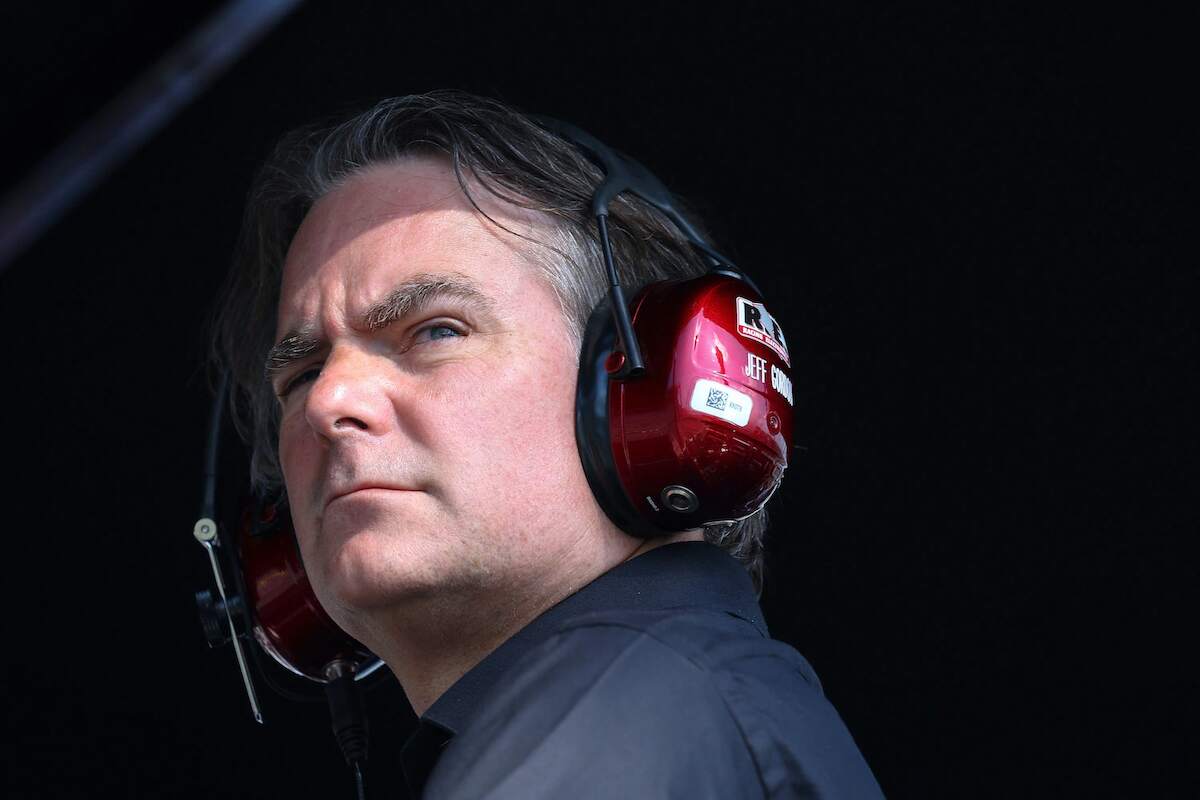 Jeff Gordon Had 'Barn Ball' Before NASCAR
When Jeff Gordon moved to Indiana from California in 1986, he was playing 'barn ball' before his NASCAR career took off.
Jeff Gordon is considered one of the best in the motorsports business. He's third all-time in wins in the NASCAR Cup Series and is considered one of the most influential drivers in the sport's history. For Gordon, it wasn't always about NASCAR. Before his professional driving, he came up with 'barn ball.'
Jeff Gordon was the youngest ever to win a NASCAR title
Jeff Gordon helped build NASCAR into what it is today. He helped bring in the younger generation to help generate the sport's popularity. Gordon is a four-time Cup Series champion, winning his first in 1995. At age 24, Gordon was the youngest to claim a NASCAR title.
The 1995 title was the first of four Cup Series championships for Gordon, who added titles in 1997, 1998, and 2001. Gordon is also a three-time Daytona 500 champion, winning in 1997, 1999, and 2005. In addition to his Daytona 500 wins, he has collected four Talladega 500s, three Coca-Cola 600s, and six Southern 500s.
While he's listed third on the all-time win list with 93, Gordon is tops in the modern era (1972-present). Gordon won at least one pole in 23 straight seasons, setting a NASCAR record. He was the Cal Ripken of NASCAR when it came to consecutive-race streaks. Through the 2015 season, Gordon ran 797 consecutive races.
Before NASCAR, there was 'barn ball'
Jeff Gordon was born in California, and the family moved to Indiana in the summer of 1986, according to The Indianapolis Star. He attended Tri-West Hendricks High School in Lizton, Indiana, where he was a member of the cross-country team. That, however, wasn't the only sport he played while growing up.
When Gordon was honored in Indiana in 2015 after what turned out to be his final year of full-time racing, he reflected on "the silly things you do living in the country." One of those things was creating your own sport. It involved basketball in a barn loft.
"Called it barn ball," he said to the Indy Star. "Be up in the top level of a barn with hay and stuff stacked. (There was) a little basket, and you had to shoot over rafters. It was so much fun. It seems like it's been a blur (since then). You go to a race track trying to win that (first Brickyard 400 in 1994), and the next thing you know, you've won four championships, and they're naming a day after you in a parade."
Gordon is one of the best NASCAR drivers of all time
In 1993, Jeff Gordon was named the Winston Cup Series Rookie of the Year. He certainly proved he wasn't a one-hit wonder. Gordon went on to have a Hall-of-Fame career, posting 93 Cup Series victories. In 805 career races, Gordon finished in the top 10 more than half the time with 477 top-10 finishes.
In 1998, NASCAR named Gordon to its 50 greatest drivers of all-time list. ESPN had him 10th overall of all-time in a 2008 article. Gordon was inducted into the Motorsports Hall of Fame of America in 20018. The following year, he was inducted into the NASCAR Hall of Fame.
Gordon stepped away from racing full-time in 2015. While he's no longer racing, he remains in the sport. In April 2015, Gordon made his broadcasting debut for Fox Sports 1. He continues to call races from the broadcast booth.