What Should We Expect From Ty Gibbs in His Rookie Season in the NASCAR Cup Series?
Ty Gibbs flew through the stock car developmental series with as much instant success as any driver in recent memory. Still, his first foray into the top level of the sport was merely pedestrian, setting him up for an intriguing rookie season in the NASCAR Cup Series.
Ty Gibbs has dominated at lower levels in the sport
Gibbs, 20, won seven races and the Xfinity Series championship in 2022 for his only full-time season in the sport's second-tier series. He burst onto the scene in that circuit a year earlier when he won his first career Xfinity Series start with a victory on the Daytona International Speedway road course. Gibbs ultimately won four of his 18 Xfinity Series races in 2021 and has an incredible 11 wins in his 51 starts in the series across those two seasons.
He competed full-time in the ARCA Menards Series during the 2021 season and dominated there as well. He led the series with 10 wins and 11 pole awards across the 20-race schedule en route to the title.
Gibbs won 18 of his 47 total ARCA starts across three seasons, which gives him an otherworldly 30 percent winning percentage with 29 wins in 98 starts combined in the ARCA and Xfinity series.
Sure, he has had top-notch equipment throughout his brief career as a perk of being the grandson of NASCAR powerhouse team owner Joe Gibbs. The Joe Gibbs Racing operation that runs four Cup Series cars has also supplied him with the best cars possible in the lower series.
He had few notable finishes as a replacement driver in 2022
Ty Gibbs' first experience in the Cup Series was not with his grandfather's team, however. Gibbs competed in the 15 races during the second half of the 2022 campaign as a replacement driver at JGR-affiliate 23XI Racing for Kurt Busch, who had sustained a head injury during a qualifying crash in July at Pocono Raceway.
Gibbs started rather well with a 16th-place run at Pocono after a scramble to fill in for Busch on short notice. He then finished 17th the following week at the Indianapolis Motor Speedway road course and even managed a 10th-place result a week later at Michigan International Speedway.
That was about the extent of his success, though. Gibbs finished 20th or worse in nine of his final 12 races and missed the season finale at Phoenix Raceway because his father, Coy Gibbs, died early that morning after watching his son win the Xfinity Series championship the prior evening.
Some of Ty Gibbs' struggles at the Cup Series level could likely be attributed to the fact that he was not a full-time driver for 23XI Racing and had no previous experience with Busch's team. He was simply thrust into a difficult situation and had to make the best of it.
Gibbs will drive the No. 54 Cup Series car for Joe Gibbs Racing in 2023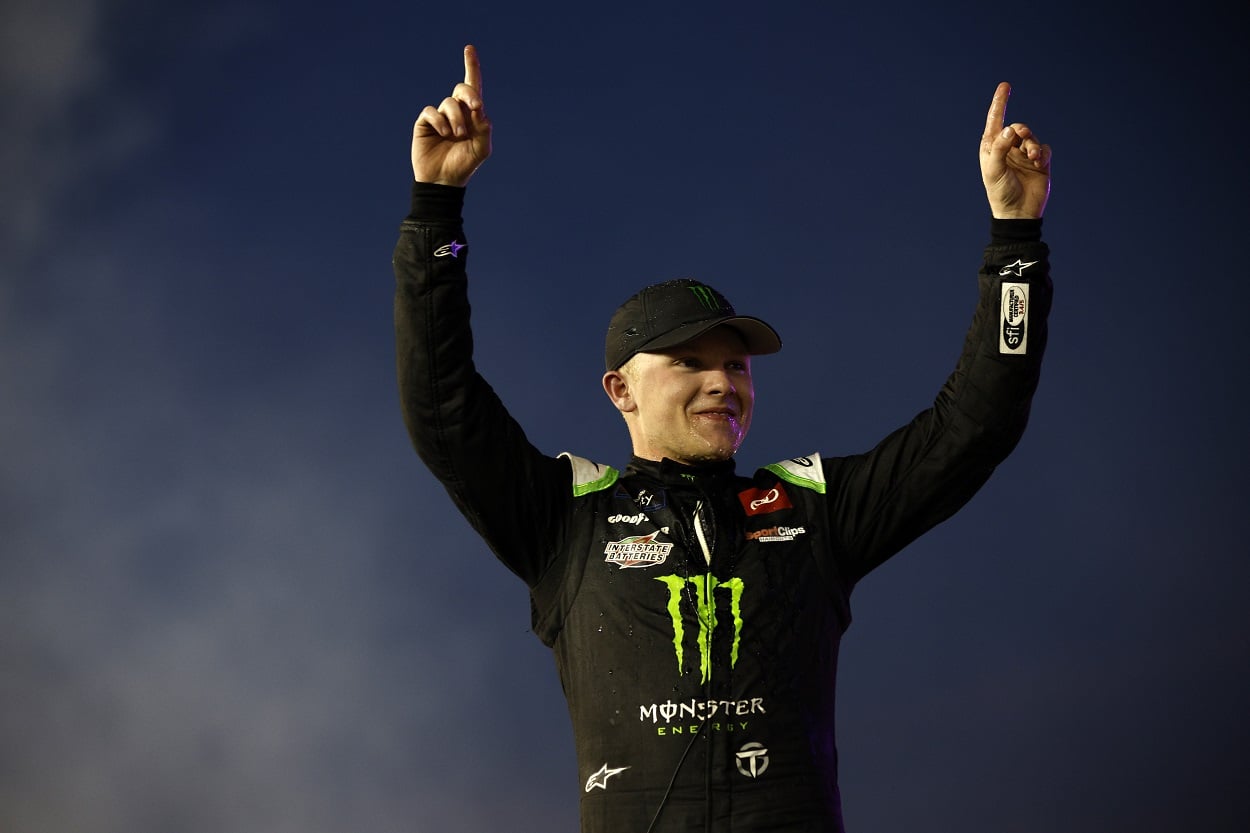 Gibbs will be back in equipment designed specifically for him again in 2023. He will once again drive for his grandfather's organization and pilot the No. 54 car full-time as a rookie.
What, then, should the outlook be for Gibbs headed into next year?
Part of his emphasis during his part-time Cup Series duties last season was to simply log laps and drive respectfully since he was not competing for the championship. 
He largely accomplished that goal and avoided any controversies throughout the balance of the season, which was much different from the Xfinity Series side when he seemingly constantly kept that series stirred up because of his actions or response to those actions.
His 2023 season could be different now that he will have an equal chance to compete for race wins and a playoff spot. He will undoubtedly have cars capable of running at the front of the field, but he also still has fewer than 100 races combined across all national series.
It took other drivers who similarly rocketed through the NASCAR ranks to gain footing in the Cup Series. Reigning series champion Joey Logano had only 22 national series races on his resume when he moved to the Cup Series full-time as a 19-year-old in 2009. He won only two races in his first four seasons and lost his ride at JGR.
Chase Elliott had 87 starts in the national developmental series before he raced full-time as a Cup Series rookie at age 20 in 2016 for Hendrick Motorsports. It took him until the second half of his third season before the 2020 Cup Series champion won his first race.
All the resources will be in place for Gibbs to excel in his first full-time Cup Series season. He will likely be in contention to win a few races and certainly has a chance to be a playoff contender in his first year.
He is also still only 20 years old, will likely still make the rookie mistakes typical of first-year drivers, and has shown a penchant for controversy that could hinder his chances should it follow him into the sport's highest level of competition.
Either way, Gibbs' rookie year is set to be one of the fascinating plot points of the 2023 Cup Series story.