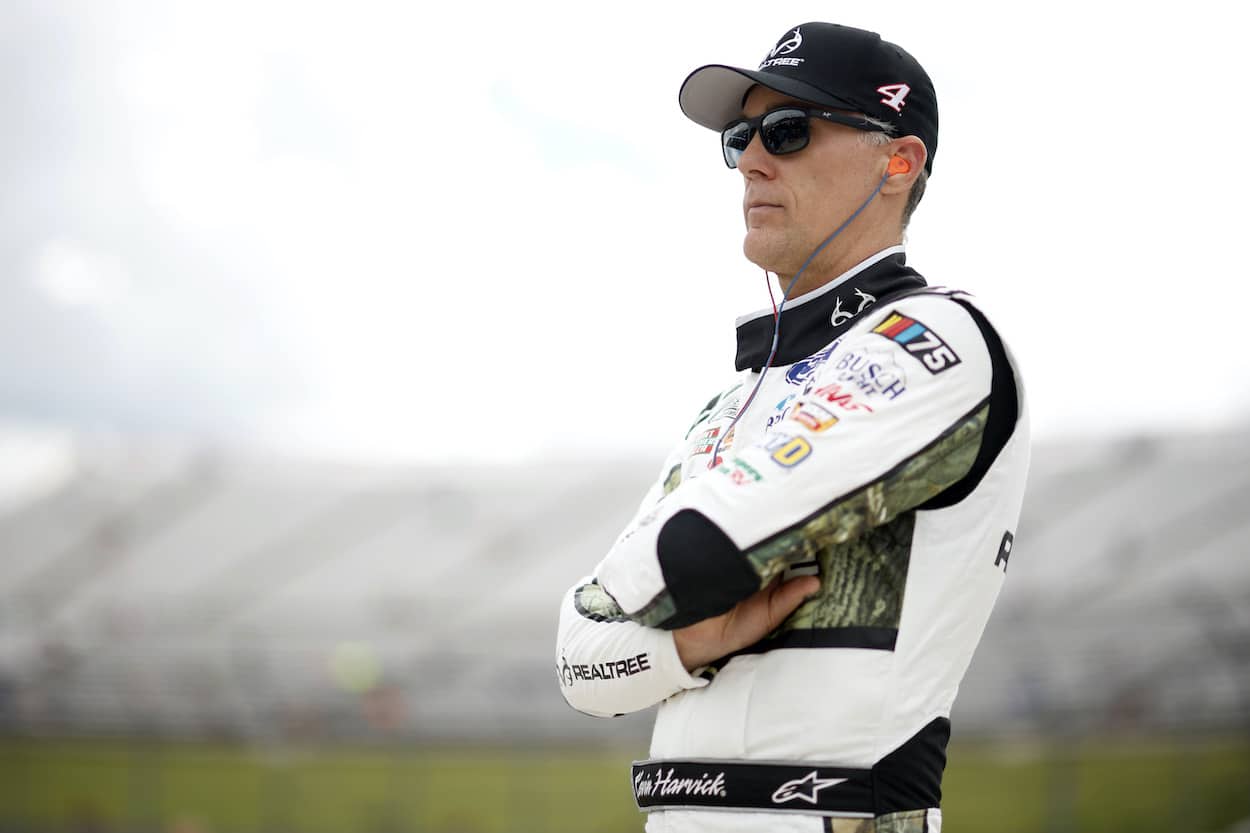 Kevin Harvick Details the Violence of Next Gen Car Crash, Including Surprisingly Revealing How Drivers' Heads Often Experience Secondary Collision Right After Impact
Kevin Harvick talked about Ryan Preece's crash at Talladega and surprisingly revealed how common it is for drivers to experience a violent secondary collision with their heads right after impact.
Kevin Harvick has been one of the most outspoken drivers — along with Denny Hamlin— regarding safety concerns with the Next Gen car. Multiple times last year, the 2014 Cup Series champion publicly criticized flaws with the car design and, more significantly, NASCAR for its slow response in addressing those issues. 
This year the future first-ballot Hall of Famer, who is competing in his 23rd and final season, has remained quiet on the subject. However, this past weekend's violent crash at Talladega with his Stewart-Haas Racing teammate Ryan Preece and Kyle Larson was an eye-opener for anyone who saw it. 
Harvick was no different and reacted to the incident this week during an appearance on NASCAR Race Hub, where he made a surprising revelation about the relationship between drivers' heads and steering wheels during hard hits in the Next Gen car, and then closed his remarks making sure anyone watching, including sanctioning body officials, understood the significance of the impacts.
Ryan Preece violently slams into Kyle Larson at Talladega
On a late restart Sunday at Talladega, Kyle Larson lined up third on the outside lane. Ryan Preece started in the same line but seven positions to his rear.
The ever-aggressive Ross Chastain, starting in front of Larson, saw a hole opening between the front cars of Ryan Blaney and Noah Gragson and tried to drive through just after crossing the start-finish line. After contact between the Nos. 1 and 42, the Legacy MC car shot up the track to the right for a hard hit into the fence. 
Larson reacted and barely checked up, but it was just enough for Kyle Busch to get into his rear, which sent the No. 5 to the left, down onto the apron, and into the infield grass. The HMS car then veered right up the track and into traffic, where multiple cars dodged the 2021 champion. 
In an unavoidable set of circumstances, Preece did not and violently t-boned Larson's door on the passenger side. 
Kevin Harvick makes surprising revelation about driver helmets regularly hitting steering wheels during impacts
That hit's violence and its dramatic effect on the human body were captured on Preece's in-car camera. It showed the driver's head suddenly snap forward upon impact and come what appears to be ever-so-close to hitting the steering wheel. 
Both hands fly off the wheel almost simultaneously, and surprisingly, the helmet visor flings open. The driver later told reporters he doesn't normally clip his shield and plans to change that practice in the future.
Unsurprisingly, the dramatic footage has been a hot topic in NASCAR circles this week. Kevin Harvick jumped in the conversation when he addressed the crash and video during an appearance on NASCAR Race Hub. 
"These cars crash differently than anything we've ever raced and the violence of the impact is much different than it used to be," Harvick said. "In this camera, you can see how violent it is and that tells you how hard this impact was because of the fact that you can can actually see it.
"Usually, the wrecks happen so fast, and your head whips forward so fast. Usually the steering wheel is what stops your head and your knees. Because the forward motion and rearward motion happen so fast that you can't control your body. You see Ryan's hands fly off the wheel right there. His shield was open, which he does that naturally trying to get some air in there. But it's a very, very, very violent accident."
Harvick outspoken about Next Gen car safety issues in past
This wasn't the first time Kevin Harvick has talked about safety issues with the Next Gen car. He started in 2021 before the car ever made its debut, and his voice, along with others, including Hamlin, grew louder last year as more issues piled up, including Kurt Busch getting sidelined by a concussion in July. 
"It's never the first line item on the to-do list. I can tell you from a driver, every time I hit something, it's a lot harsher than any hit I took in any of the other cars," Harvick admitted at Michigan. "The only thing I can compare it to is hitting a concrete wall compared to what it used to be."
While there have been safety improvements to the car in 2023 — at least regarding the rear impacts — what happened at Talladega exposed that hard contact with other areas of the car can still prove problematic, as disturbingly displayed in Larson's severely damaged car and Preece's violent body movements. And Harvick's comments about heads regularly hitting steering wheels only confirm that there remains a lot of work to be done.
For the latest breaking news and information about NASCAR's three national series, check out @kdsportswriter on Twitter.