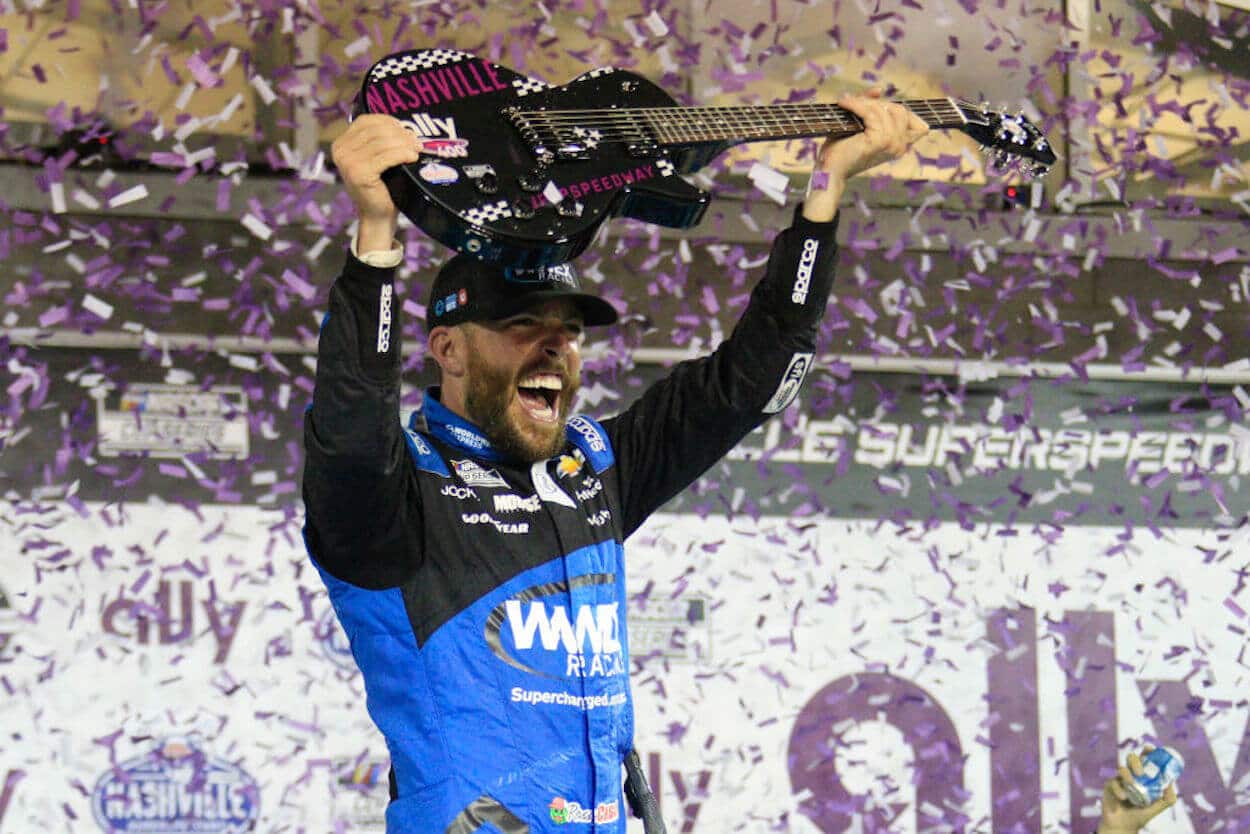 The Verdict is Still Out on Whether Ross Chastain Can Behave, Even After Incident-Free Win
While he kept things clean in Nashville, it's a bit premature to declare Ross Chastain a changed man.
Last weekend at Nashville Superspeedway, Ross Chastain did something he'd never done before: dominate and win a NASCAR Cup Series race without playing a role in an accident or stirring up controversy.
So, not altogether surprisingly, a newfound narrative has emerged over the last few days basically suggesting that Chastain is a new man and has learned from his past mistakes and cleaned up his act on the race track.
But is this really a fair conclusion to reach based on just one race? Let's tackle this question head-on.
One of Ross Chastain's most recent critics is legendary team owner Rick Hendrick
Ever since Ross Chastain wrecked AJ Allmendinger and Alex Bowman while the three drivers engaged in a three-way battle for the lead and the win in March 2022 at Circuit of The Americas in Austin, Texas, Chastain has been a lightning rod for controversy and object of great criticism from his competitors and many fans alike.

Since that day — the day Chastain captured his first career Cup Series win in less than flattering fashion — the Trackhouse Racing driver has made more enemies than he has fingers and become a notorious troublemaker who could seemingly care less what anyone thinks about his actions on the race track no matter how egregious and out of hand they might be.
To Chastain's credit, he did seem to sit up and take notice when NASCAR Hall of Famer Rick Hendrick — the pied piper among Cup Series team owners — had finally had enough and spoke out against Chastain's over-aggressive driving after the May race at Darlington where Chastain tangled in the final laps with Hendrick Motorsports driver Kyle Larson.
But the very next week, Chastain was up to his same ole tricks, as he was involved in yet another dustup — this one with Michael McDowell at Gateway.
It's worth noting, too, that in the three races between Darlington and Nashville, Chastain was uncharacteristically a non-factor, which undoubtedly affected his ability to trade paint with the sport's other top drivers as he tends to do on an almost weekly basis.
Then came this past Sunday night's showdown in Nashville where Chastain somehow, some way, managed to keep his nose clean — and run up front.
I guess there's a first time for everything, right?
Ross Chastain managing to not ruffle feathers at Nashville doesn't mean he's reined it in
So has Ross Chastain really and truly finally seen the error of his ways, and is he suddenly planning to spend the rest of his career extending the level of courtesy to his fellow drivers that NASCAR legends Mark Martin and "Gentleman Ned" Jarrett became known for?
Or will Nashville prove to merely be an anomaly for the 30-year-old driver, who's become so closely associated with his misdeeds on the race track that Kyle Busch claimed he'd been "Chastained" following a bump from the driver of the No. 1 Chevrolet last year at Richmond?
Chastain legitimately seems to have toned it down a bit since he and team owner Justin Marks had a heart-to-heart conversation after Darlington and Rick Hendrick minced no words about his feelings that Chastain needs to stop colliding with Hendrick Motorsports cars on the race track.
But the verdict is still very much out on whether Chastain can consistently drive like the professional race car driver that he's supposed to be and earn back some of the respect he's lost from those he's roughed up over the last 18 months.
As much as fans and so-called expert NASCAR commentators and writers might be ready to proclaim Chastain a changed man after Nashville, it'd be wise to at least momentarily tap the brakes on that assessment.
That's because until Chastain proves that he can tap the brakes with some degree of regularity rather than running over anyone and everyone who comes into his path, it's justifiably hard to give him the benefit of the doubt.