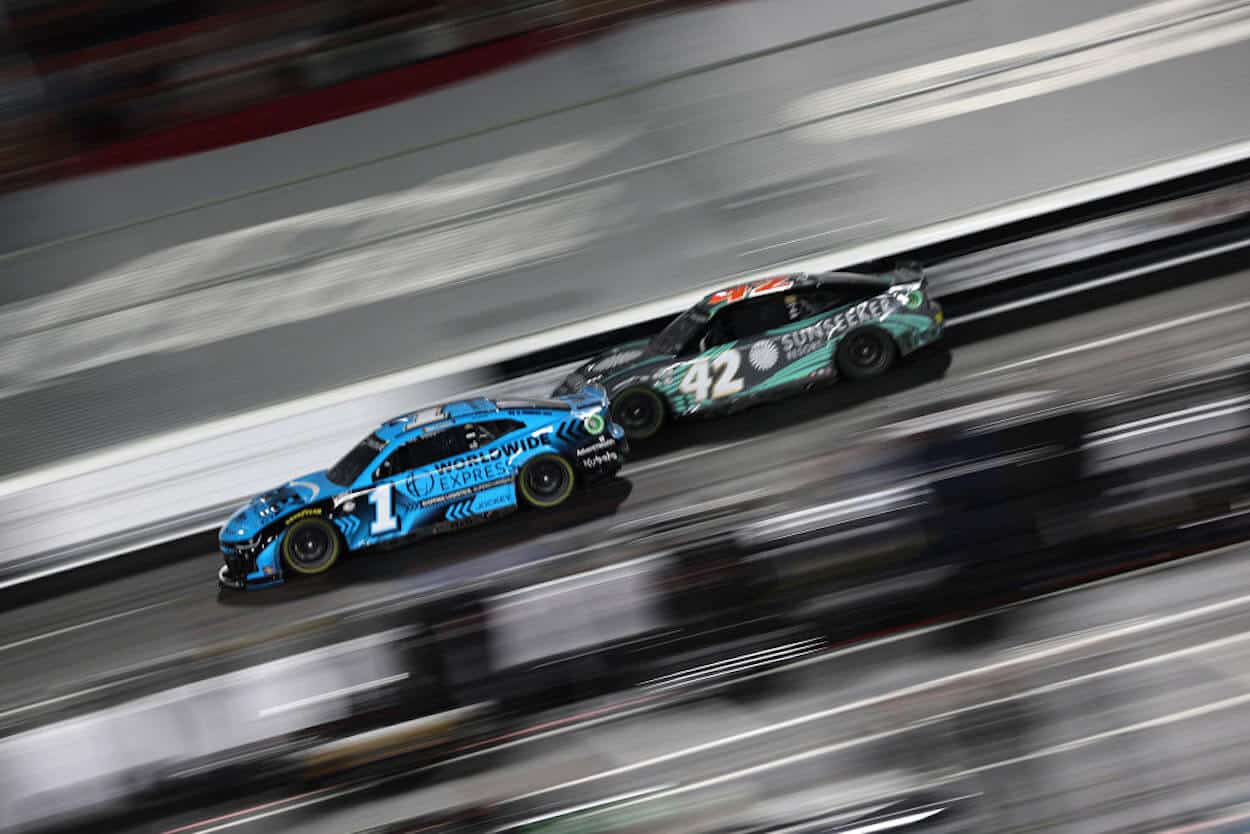 Kudos to Noah Gragson for Finally Being the Guy to Rise Up and Confront Bully Ross Chastain
Noah Gragson may be a rookie, but he finally did what no one else would: serve Ross Chastain some long-overdue notice.
Like a playground bully who no one dares to cross, Ross Chastain has wrecked driver after driver since the early part of the 2022 NASCAR Cup Series season, and he's done so mostly without any serious consequences.
OK, there was that day at Pocono last July when Denny Hamlin's No. 11 Toyota washed up the track into Chastain while the two battled for the lead, resulting in Chastain hitting the wall, spinning across the track and being eliminated from contention for the win.
Hamlin also wrecked Chastain back in March at Phoenix, earning himself a penalty from NASCAR after admitting on his podcast the next day that the contact was intentional.
But aside from those two incidents — which, frankly, didn't amount to much — it's been all talk and no action from the drivers Chastain has relentlessly run into over the last 14 months. Until Sunday's race at Kansas Speedway, that is. That's when Noah Gragson — a Cup Series rookie, of all people — had the guts to, at long last, serve notice to Chastain that if he's going to continue disrespecting his competitors week after week, he's going to risk leaving a race track with a black eye. Or worse.
The past year and change reveal the repetitive nature of Ross Chastain's offenses
Before delving too deeply into what happened between Ross Chastain and Noah Gragson at Kansas, it's important to lay some context for why Chastain is Public Enemy No. 1 among his peers in the NASCAR Cup Series garage.
It's because, since March 2022, Chastain has bumped into or outright wrecked pretty much everyone but the pace car driver — often, though not always, without apology.
Here's a complete timeline of Chastain's run-ins for which he's been either partly or completely to blame:
In late March 2022, Chastain wrecked AJ Allmendinger while the two battled for the lead on the final lap at Circuit of The Americas road course in Austin, Texas. The contact sent Allmendinger into the path of fellow frontrunner Alex Bowman, forcing Bowman off the race track momentarily and handing Chastain his first win in NASCAR's premier series.
In May 2022, Chastain wrecked Martin Truex Jr. while the two battled for a position in the top five late in the race at Dover. Truex and Chastain later had what was, by all appearances, a very civil conversation after the race.
In June 2022, Chastain spun Denny Hamlin and Chase Elliott in separate incidents at World Wide Technology Raceway just outside of St. Louis. Angry over what happened, Hamlin later hinted at future retaliation during a post-race interview.
In July of '22, Chastain wrecked Hamlin and Truex in separate incidents at Atlanta Motor Speedway. Hamlin again expressed frustration and resentment over Chastain's aggression when speaking with reporters after the race before going on about his way.
In mid-August 2022 at Richmond, Chastain spun Kyle Busch, who later recovered for a top-10 finish but was none too pleased about the contact. "We got 'Chastained' this week," Busch said cynically in a TV interview after the race. "We were his victim this week." Busch wasn't upset enough to say anything to Chastain after the race, though.
In the 2022 season finale at Phoenix, Elliott — one of Chastain's fellow Championship 4 drivers — came down across the nose of Chastain's No. 1 car and went for a spin. While Chastain wasn't totally at fault in this instance, he had the opportunity to lift and cut Elliott a break but chose to stay on the throttle, come whatever may.
In February, two weeks before the 2023 NASCAR Cup Series season officially began, Chastain spun Hamlin in the Busch Light Clash at the makeshift half-mile track built inside Los Angeles Memorial Coliseum. This marked the third time Chastain had wrecked Hamlin in roughly eight months.
In March, Chastain helped send a loose Kevin Harvick for a spin while Harvick led the field at Atlanta.
In late April at Talladega, Chastain executed a three-wide move gone bad that resulted in direct contact with Noah Gragson and eliminated Kyle Larson and Ryan Preece by domino effect when the two collided in frightening fashion.
On May 1, Chastain plowed into Brennan Poole at Dover, sending the Cup Series part-timer straight into the path of Kyle Larson and effectively ending the day for both drivers.
This past weekend at Kansas, Chastain left little room for Gragson while the two ran side-by-side late in the race, resulting in Gragson scrubbing up against the outside wall.
In case you're not into math, I did the math for you: That's 13 accidents — spread over 11 races — that Chastain has triggered or at least played a role in triggering. And, of course, I may have forgotten about a few.
Thanks to Noah Gragson, Ross Chastain now knows not everyone will roll over if he runs into them
Based on the series of events described above, no one — and I mean, no one — should frown upon Noah Gragson getting up in Ross Chastain's face, grabbing Chastain's driver's suit, and shoving him ever so slightly moments after Sunday's race in Kansas City, Kansas.
Had security not intervened when Chastain landed a punch to Gragson's jaw, forcefully pulling the two drivers away from each other, Gragson likely would've taught Chastain an even more meaningful lesson — if you know what I mean.
"He took care of us at Talladega … and then fenced us here, and I'm just over it," Gragson said during a live post-race interview on FOX Sports. "Nobody else has the [guts] to at least confront him, so if you don't at least grab him and do something, he's just going to keep doing it, and I'm over it. … I'm ready to fight him. I didn't even get a shot in, because the security guards got in the middle of it, but nobody confronts the guy. He just keeps doing it, and I'm sick and tired of it."
Chase Elliott — despite not personally doing anything to make Chastain think twice before crashing anyone he dang well pleases — was among those who applauded Gragson's actions toward Chastain.
"Somebody's gotta do it," Elliott was heard saying to Gragson on a hot microphone when the two passed each other on pit road moments after the Gragson-Chastain scuffle.
Elliott couldn't be more correct. Neither could Gragson.
It's high time that someone finally decided to stand up and let the NASCAR Cup Series' resident bully — all 5 feet, 9 inches of him — know that his recklessness can have major repercussions. Even if Gragson is the only one who seems willing to do it.