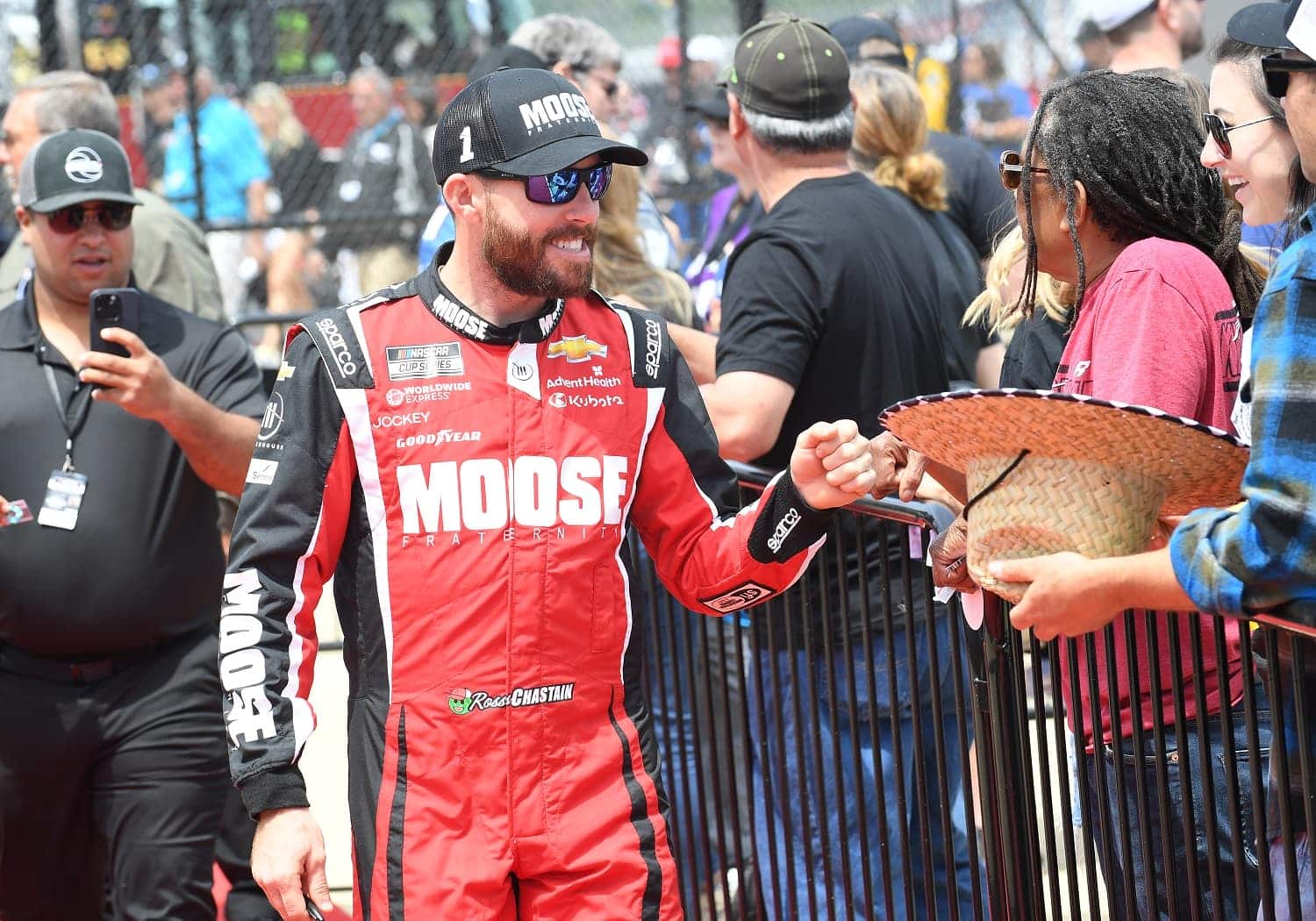 Ross Chastain Finally Gets it Right When it Comes to Apologies
Ross Chastain apparently has started listening to himself and realizes how unconvincing he sounds.
Think of Ross Chastain as the dog that's both growling and wagging its tail: You don't know which end you should believe.
Chastain routinely wrecks the NASCAR Cup Series competition and then announces immediately after the race that he didn't mean to do it. Then, a couple of weeks later, he's right back to punting any car numbered between 2 and 98.
Well, Chastain finally addressed the aspect of his inconsistency that causes eyeballs to do the around-the-world-360 on a regular basis.
Ross Chastain made Brennan Poole his latest victim
Austin Dillon, Ross Chastain, and Kyle Larson were in a row on the high groove at Dover Speedway on Sunday when Chastain moved down behind Brennan Poole, driving the No. 15 Ford for Rick Ware Racing.
Chastain proceeded to tap Poole, who was racing for position with Dillon. The contact sent Poole to the apron heading into a corner, and momentum brought him back up the track into Larson's path. The rear-end damage from hitting the outer wall and front-end damage from Larson ended his day. Larson's No. 5 Chevy had to go behind the wall for repairs and was an also-ran for the rest of the day.
There was neither a need nor an excuse for what the driver of the No. 1 Chevy did just 80 laps into the race. Had he stayed in line for 15 seconds, he would have cleared Poole. Had he moved down and waited those 15 seconds, Poole would have been OK with moving up the track behind Lason and allowing Chastain a clean pass.
Ross Chastain keeps his promise and gets something right
After the Cup Series race at Dover, Ross Chastain vowed to speak with Brennan Poole and team owner Rick Ware. This week at Kansas Speedway, Chastain confirmed he'd made good on the promise.
"I talked to Brennan and Rick, and we had some good long conversations," Chastain told Bob Pockrass of Fox Sports. "I still feel bad. I know people get tired of hearing me say it, but I truly do regret that I did that and that I got in that position in the first place. I know people, again, they're tired of hearing it. But a long relationship and friendship with Rick as a casual competitor helped that and I talked to him and took some advice from him. And I talked to Brendan as well. So, I feel good about where we're at."
Saturday's truck series race will determine if Ware and Poole feel as good about the aftermath as Chastain does. The drivers may find themselves side by side at some point.
This much we know, however: Chastain is right that people are tired of hearing him say how bad he feels. The words will only mean something if he stops doing so much wrecking.
Denny Hamlin and Parker Kligerman offer interesting perspectives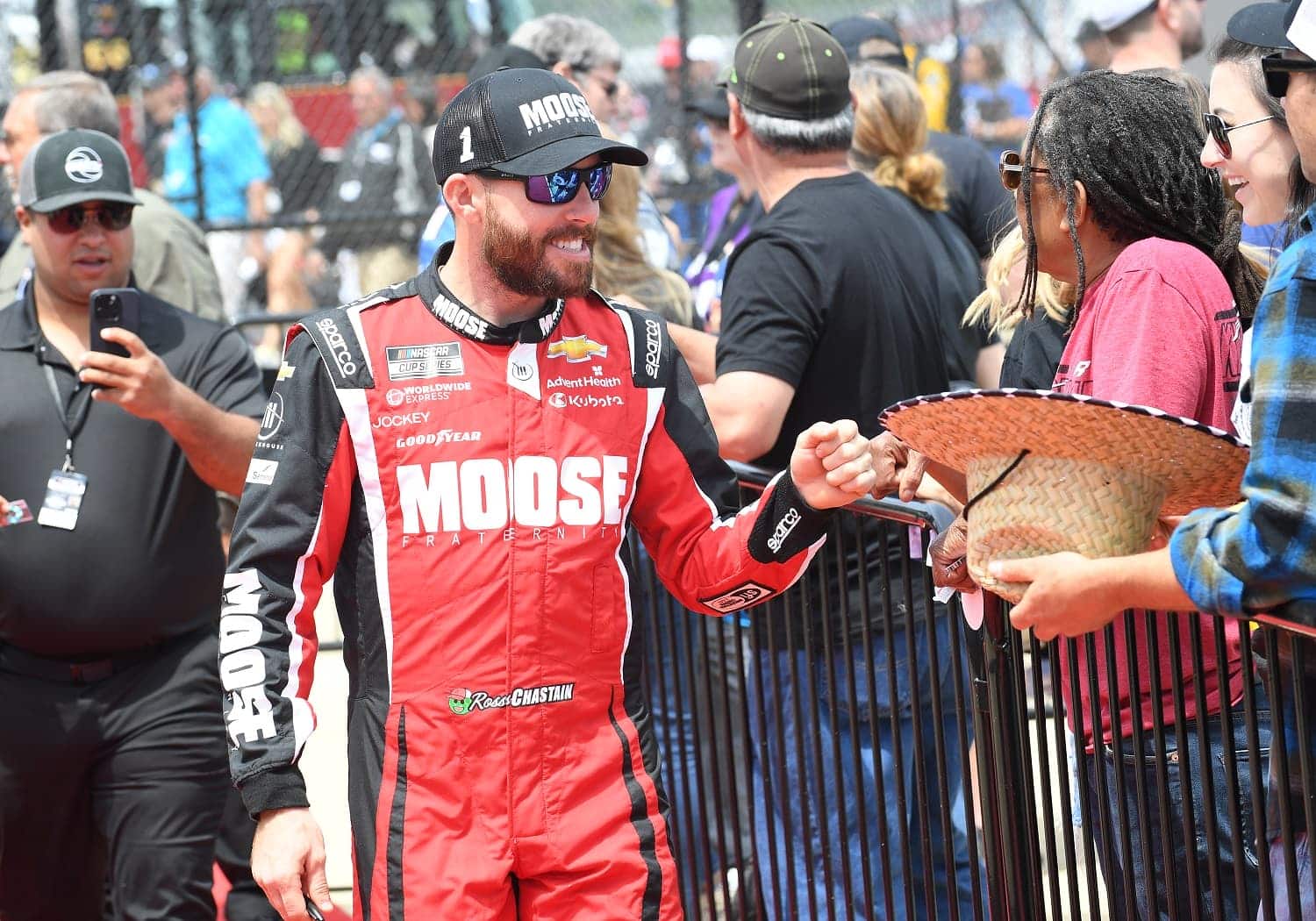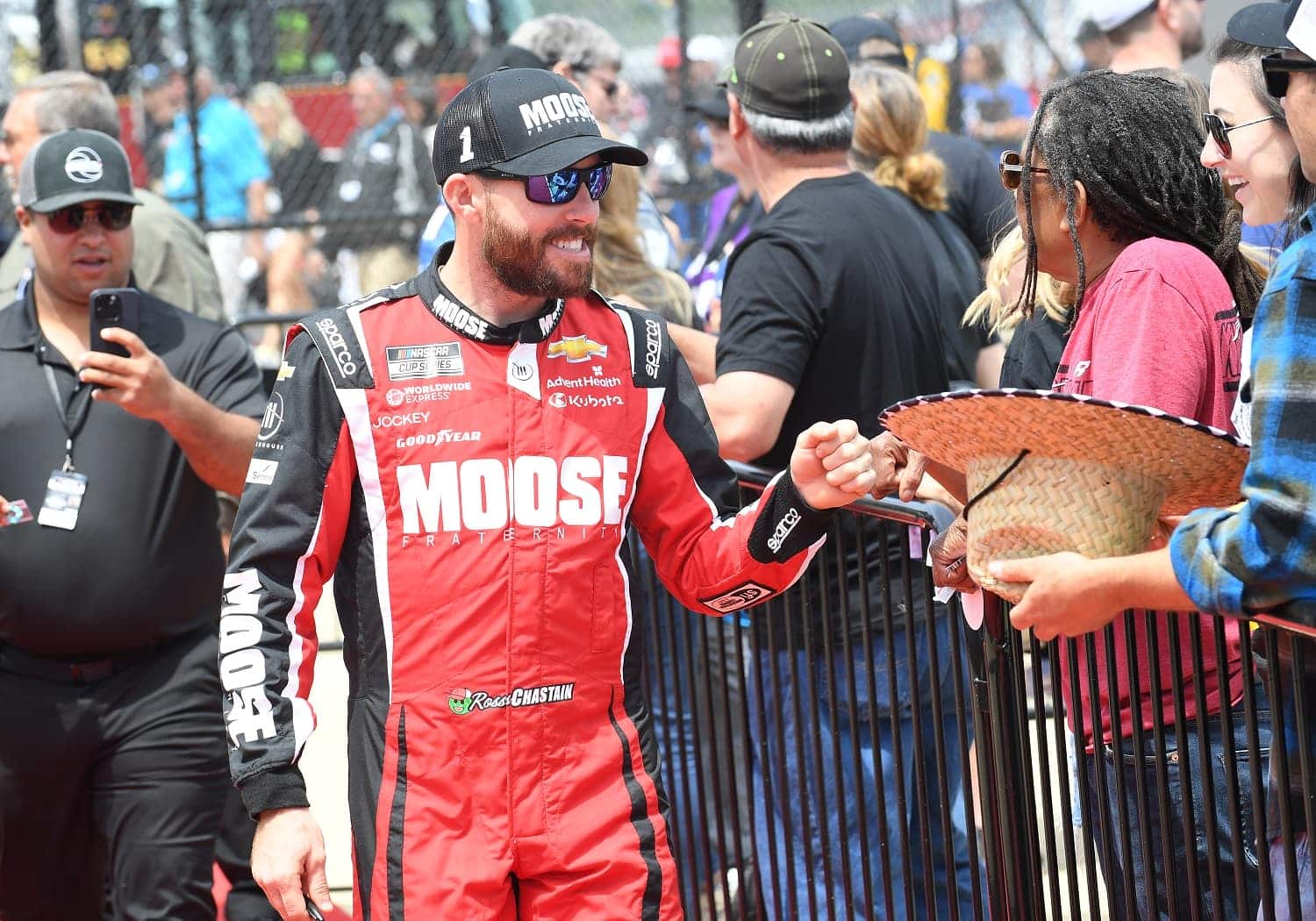 Expect Ross Chastain to continue his behavior. Parker Kligerman, an Xfinity Series driver and part-time NBC racing analyst, says Chastain doesn't have a reason to dial it back, given that neither NASCAR nor Trackhouse Racing have told him to ease up.
"When you really think about it, Ross Chastain answers to a very small set of people – that is his race team at Trackhouse and their sponsors," Kligerman said on the NASCAR America Motormouths podcast. "As long as they support what he is doing and as long as he has performances like he did at Dover and it's not hindering that performance, then there is no reason to change.
"I think that's one thing that people sort of have a misconception about is the idea of treating your competitors a certain way. At the end of the day, he is looking out for himself and his race team and their partners."
Denny Hamlin is that rare driver who has engaged in payback. He made an interesting observation about Chastain's reaction to running out of room courtesy of the No. 11 Toyota at Pocono last season and into the wall at Phoenix this spring.
"One thing I'll say about Ross is he doesn't mind you getting back at him," Hamlin said on his Actions Detrimental podcast. "So why people in the field don't just do it, I don't understand. After Pocono, he crashed into the wall there, he says, 'Well, I deserved that and probably a little more.' And then, after Phoenix, he comes up and says, 'Well, I probably deserve that.'
"He's not oblivious to knowing that he's owed one."
That being the case, drivers tired of Chastain's meaningless apologies on Mondays should let their own actions do the talking on Sundays.
Got a question or observation about racing? Sportscasting's John Moriello does a mailbag column each Friday. Write to him at [email protected]