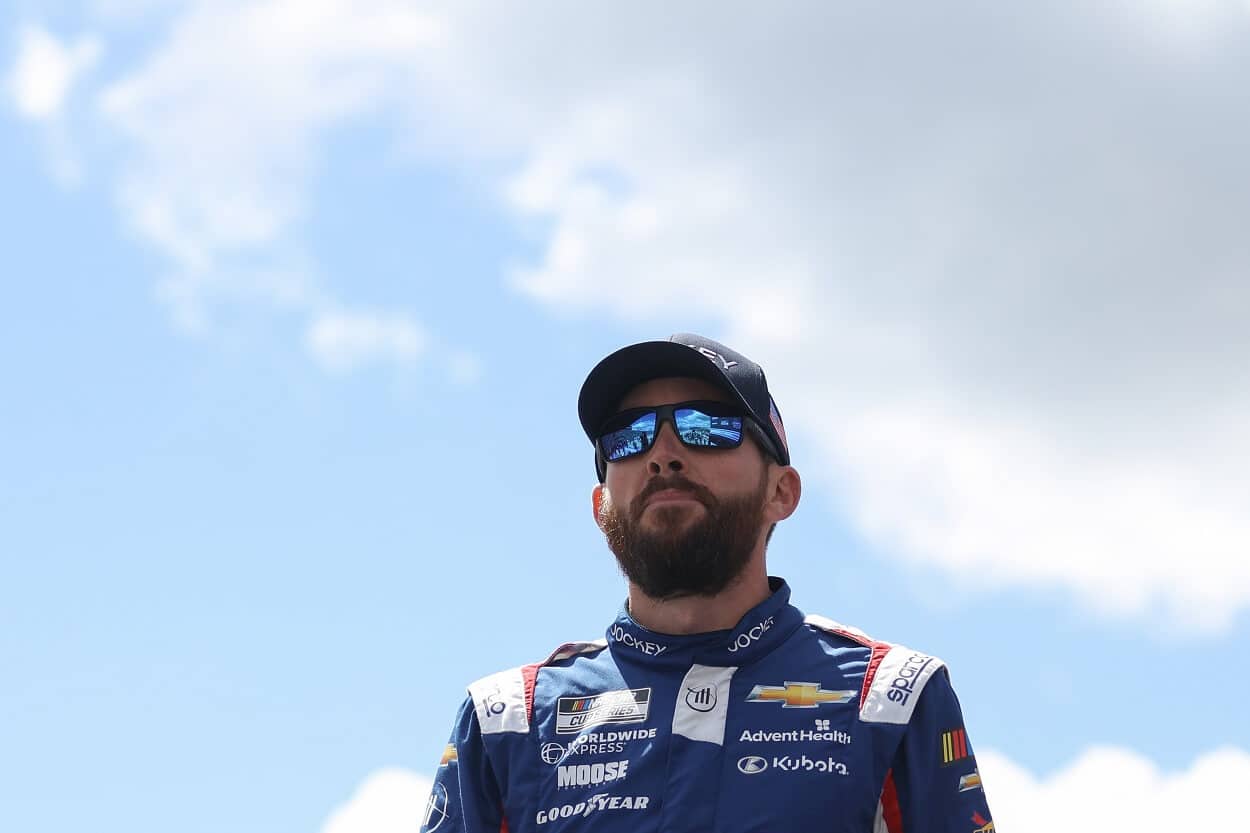 Ross Chastain's Rivals Showed Remarkable Restraint at Dover
Ross Chastain should be on guard for retaliation later this NASCAR season.
Ross Chastain added yet another name to his list of NASCAR Cup Series drivers he has blatantly spun out across the last calendar year, and yet he still has hardly had those favors paid back.
Chastain currently sits atop the Cup Series points standings with a three-point advantage over Christopher Bell after Chastain finished second in Monday's race at Dover Motor Speedway. Chastain quickly moved his No. 1 Trackhouse Racing Chevrolet forward from his 14th-place starting spot with aggressive moves on restarts in which he repeatedly made three-wide passes on the outside.
Those passes were not an issue, but Chastain came up on a pair of drivers one lap down while he ran in fourth place on Lap 81 of the 400-lap race. Austin Dillon was on the outside of Brennan Poole as the pair drove into Turn 1.
Chastain closed in behind Poole and tapped him from behind, which sent Poole's No. 15 car spinning and up into the outside wall. Poole collected Kyle Larson in the process and turned a potential top-five day for Larson into a 32nd-place finish.
Ross Chastain has made many controversial moves across the last 12 months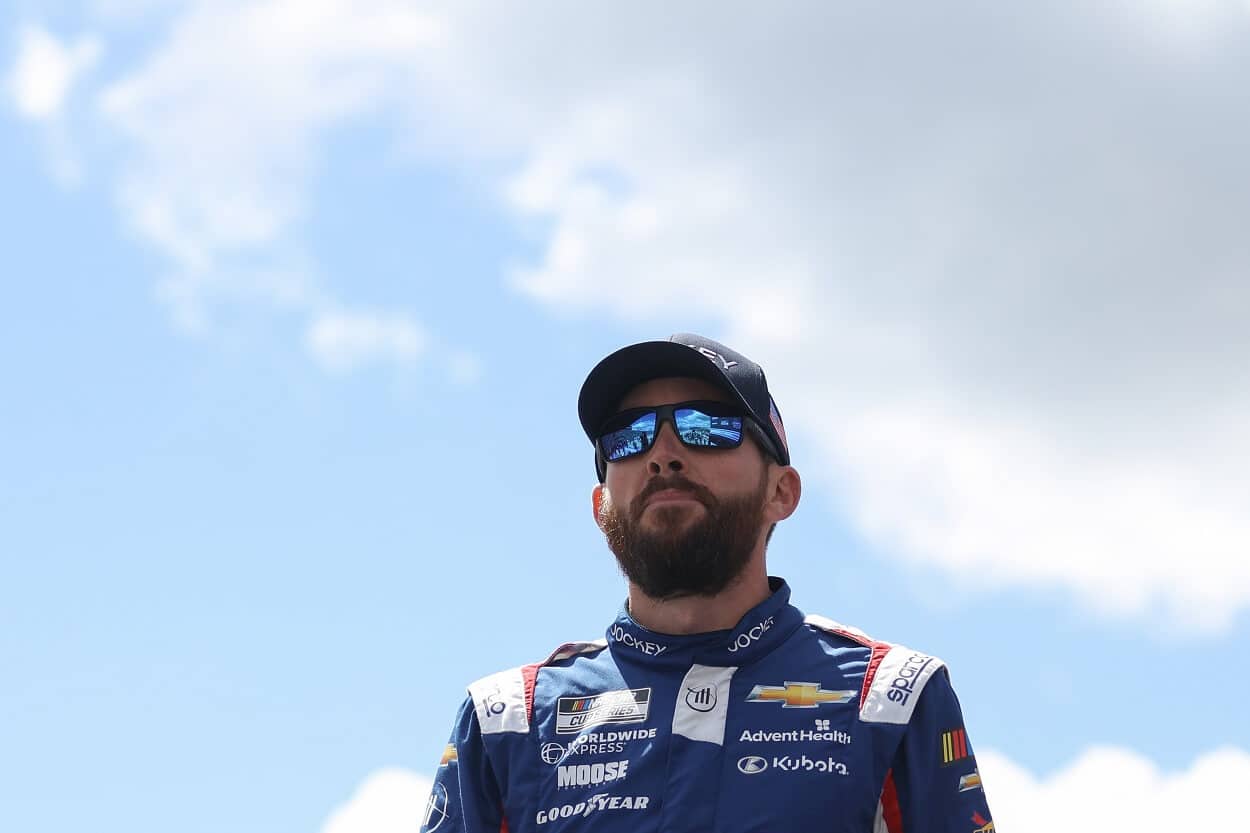 The incident looked quite similar to Chastain's controversial move nearly a year ago in June at World Wide Technology Raceway near St. Louis. Chastain drove in behind Denny Hamlin in Turn 1 and punted the No. 11 car up into the outside wall on Lap 65 of what was a 245-lap event.
As was the case with Larson at Dover, Hamlin's team was able to repair his car enough for him to ride around the track the rest of the day several laps behind. Hamlin attempted to get in Chastain's way and disrupt his momentum anytime the No. 1 car came around, but he did not fully retaliate against Chastain, who finished that race in eighth. Chase Elliott also had an issue with Chastain in that race on a restart, but Elliott also did not pay the favor back.
Chastain had already frustrated Martin Truex Jr. with how he raced in the final laps of the Dover race four weeks before the WWT Raceway event, and Chastain's list of drivers on the wrong side of a Chastain move grew to at least six by the end of the 2022 season.
Yet, the closest any of those drivers came to exacting revenge was when Hamlin squeezed Chastain into the outside wall on a late restart in July at Pocono Raceway when the two lined up on the front row with 17 laps to go. Chastain spun out and finished 32nd in the event, but he already had two wins by that point in the regular season and had secured his playoff spot, so the effects of the tussle were minimal.
Hamlin had another chance to get Chastain back in the final race of the Round of 8 at Martinsville Speedway. He and Chastain ran side-by-side in the closing laps, but Chastain made sure not to let Hamlin slide in behind him. Hamlin raced Chastain clean, but Chastain's famous "Hail Melon" move when he rode the outside wall at full speed on the final lap allowed him to gain enough positions to reach the Championship 4 and eliminate Hamlin from title contention.
Chastain ultimately finished second in the championship standings and escaped the rest of the season without having to face the full consequences of the controversies he had caused throughout the rest of the season.
Hamlin got Chastain at the end of the March race at Phoenix Raceway this season when he collected the No. 1 car on the final restart, and they both slid back to finish outside of the top 20. That move also had minimal effect on the playoff chances of two drivers who are solidly in line to qualify for the postseason. Hamlin also admitted the wreck was intentional on a podcast after the race, which caused NASCAR to dock him 25 points and fine him $50,000.
Chastain has so far avoided payback that could affect his title hopes
Perhaps Larson was concerned about a similar penalty if he had more drastically tried to wreck Chastain at the end of the Dover race rather than merely make blocks to slow him down. Rather by luck or skill, Chastain has remarkably dodged any substantial payback for his myriad of aggressive moves that have angered his opponents.
Retaliation in NASCAR can come quickly, as when Bubba Wallace immediately spun Larson in October at Las Vegas Motor Speedway or Kevin Harvick wrecked Elliott at the Charlotte Roval three weeks after they tussled in the 2021 night race at Bristol Motor Speedway.
Revenge can also simmer for most of a season. Jeff Gordon waited 29 races in 2012 before he paid back Clint Bowyer at Phoenix for an incident seven months beforehand at Martinsville.
Ross Chastain could face payback from nearly 20 percent of the Cup Series field at this point, but so far, he simply sits atop the standings while his competitors make threats that have yet to come to fruition.