Denny Hamlin Defends Ross Chastain: 'The Juice Is Worth the Squeeze'
Denny Hamlin says Ross Chastain will continue his bullying ways because NASCAR and fellow drivers won't make him feel the consequences.
It's not a passionate defense, mind you, but Denny Hamlin gave Ross Chastain the benefit of the doubt during his latest podcast. And then he sort of ruined the sentiment with a moment of clarity: He might have saved himself 25 points by punching the driver of the No. 1 Chevy instead of walling him at Phoenix.
There you have the conundrum. People love Chastain's desire to win, but they're also tired of him coming away unscathed after wrecking the competition.
Ross Chastain bagged himself a two-fer at Dover Motor Speedway
It was a different day but the same antics by the driver of the No. 1 Chevy.
Brennan Poole was on the inside while racing Austin Dillon for position near the front on Lap 81 of Monday's NASCAR Cup Series race at Dover when Ross Chastain bumped the back of the No. 15 Ford. It sent Poole, making his first start in the top series since 2020, up the track and into the outside wall.
Kyle Larson was driving the high line with no chance to bail out. He slammed into Poole's car, which was probably already too damaged to continue. Larson's Chevy absorbed front-end end damage, but the No. 5 team beat the DVP clock and minimum-speed requirement before going behind the wall for additional repairs. When Larson returned, he was 28 laps down.
So, with one act of aggression in a race postponed from Sunday, Chastain ruined the day for a little-known driver from a field-filler team and for the 2021 Cup Series champion from the most successful organization in the sport's history.
Denny Hamlin: Ross Chastain decided 'the juice is worth the squeeze'
"I did not mean to do that at all," Ross Chastain told his crew via radio after the incident with Brennan Poole at Dover. Afterward, he told reporters he would make "some of it right" with the Rick Ware Racing team.
The problem is that Chastain's behavior is to NASCAR mimic shampoo-bottle instructions for people taking showers: lather, rinse, repeat. He has a two-year trail of overly aggressive driving on his resume, including a week earlier in overtime at Talladega, where he charged into a gap with no safe exit scenario, setting the table for another wreck, which also took out Kyle Larson.
So, why does it keep happening?
"The juice is worth the squeeze probably from his perspective because he's never really got caught up in any of these incidents," fellow driver Denny Hamlin said on his Actions Detrimental podcast. "It's always been someone else's day that's gotten ruined, and no one has really done anything back."
Denny Hamlin paid for taking matters into his own hands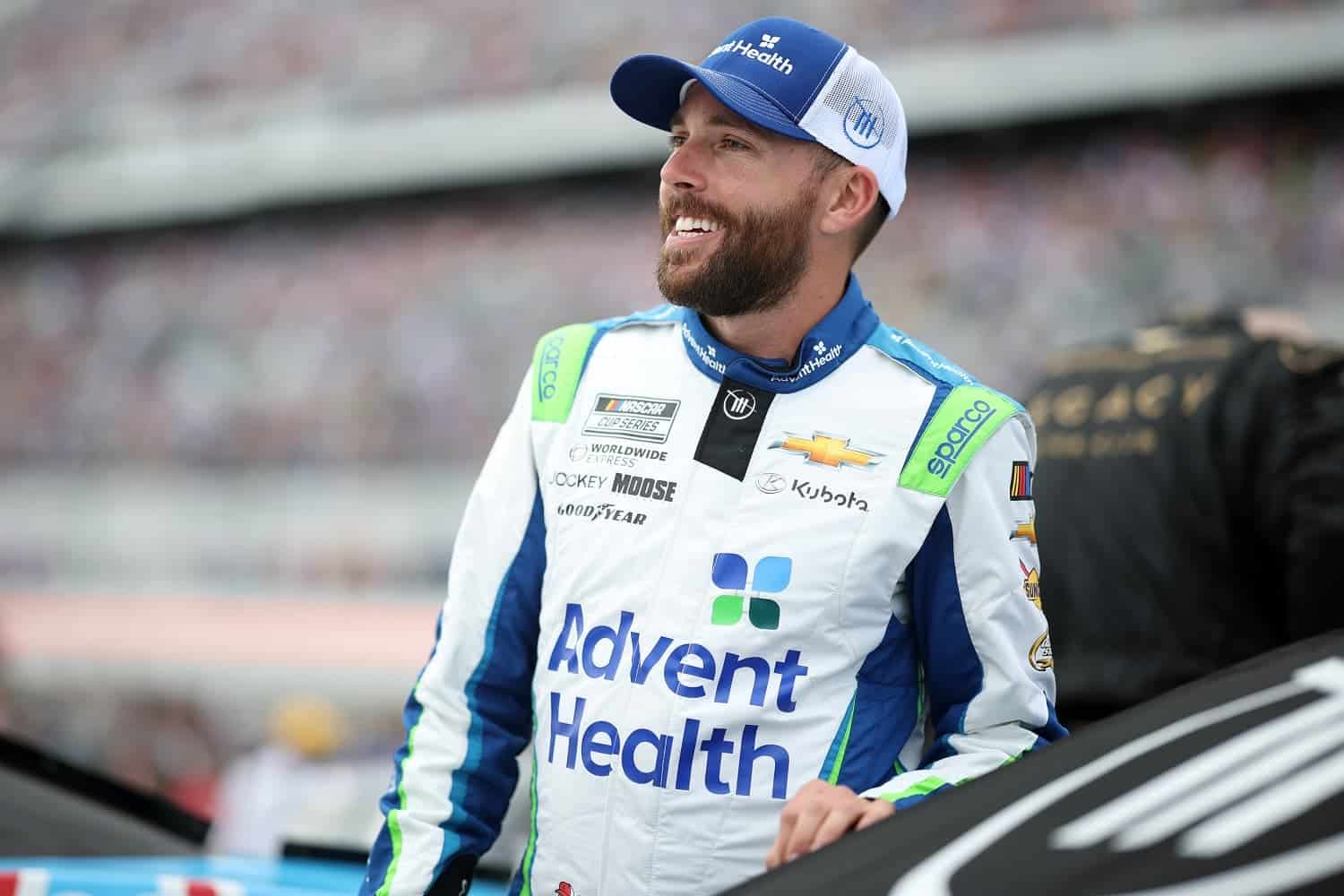 Denny Hamlin was on the receiving end in incidents with Ross Chastain last season. When the Cup Series came to Pocono in July, Hamlin exacted nicely executed revenge off a restart. He didn't put the No. 1 Chevy into the outside wall. Rather, Hamlin just drifted up the track enough where Chastain could either back down, forcing drivers behind him to check, or drive himself into the wall. He took Option 2.
At Phoenix this year, Hamlin was about as subtle as Derrick Henry on a third-and-goal play from the 1 when he walled Chastain in the last lap.
"Competitors have to just say, 'F*** it, when I get my chance, I'm gonna get back at him and then I'm just gonna say I made a mistake.' That's one way, right? Or NASCAR has to step in and say like with (Carson) Hocevar, 'Alright, we've had enough of it. You do this every week.'"
NASCAR reined in Hocevar by holding him in the pits for two laps at Martinsville. Chastain hasn't felt similar wrath from the governing body, nor has anyone "socked him in the nose," as Hamlin put it.
At that moment, Hamlin experienced a moment of clarity about his own actions at Phoenix, which cost him cash and points: He should have punched Chastain instead of grinding his car into the wall.
"I probably would have paid 50K and not gotten (hit with) 25 points and 50 grand," he said. "That probably was a better scenario. But, still, it's just there's rules that I think guys are a little apprehensive (about). How do you handle this? They want us to self-police, but you can't self-police. No one knows where the rules are."
Got a question or observation about racing? Sportscasting's John Moriello does a mailbag column each Friday. Write to him at [email protected]