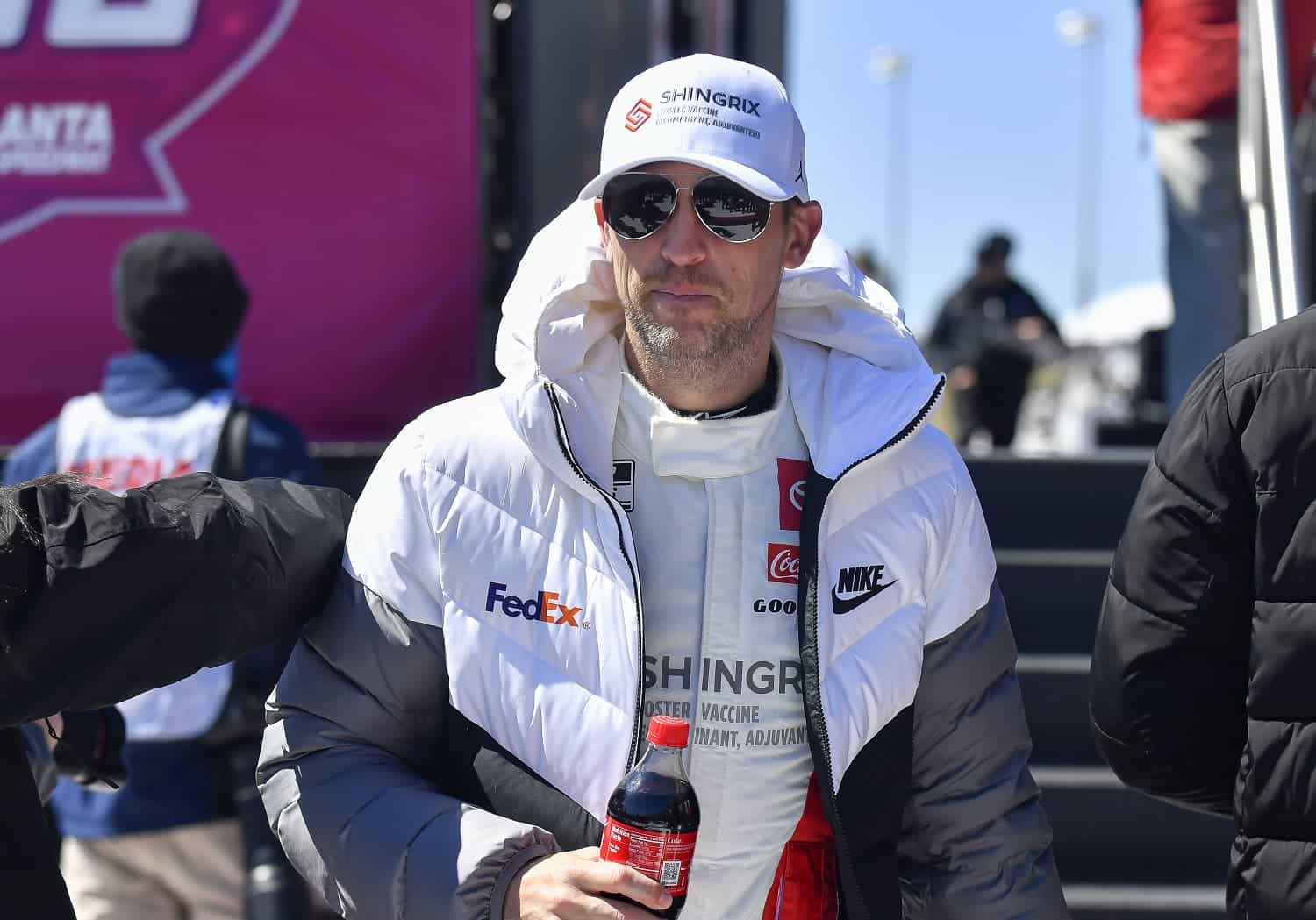 Denny Hamlin Was Positive He'd Won His NASCAR Appeal, but the Name of His Podcast May Have Been His Undoing
Denny Hamlin potentially refuted two of the three allegations against him but he still lost his appeal of NASCAR penalties.
Some would argue that Denny Hamlin did NASCAR fans a favor by putting Ross Chastain into the wall at Phoenix. But all that really did was buy Hamlin trouble once he admitted a day later that his action was intentional.
No, Hamlin's real favor to fans was the special edition of his Actions Detrimental podcast on Thursday, shortly after learning his appeal of the subsequent $50,000 fine and loss of 25 championship points had been rejected.
Hamlin gave us some excellent insight into what goes on during appeals hearings as well as a thorough explanation of why he thought he was sure he had won his case.
After all was said, Denny Hamlin learned his fate within 10 minutes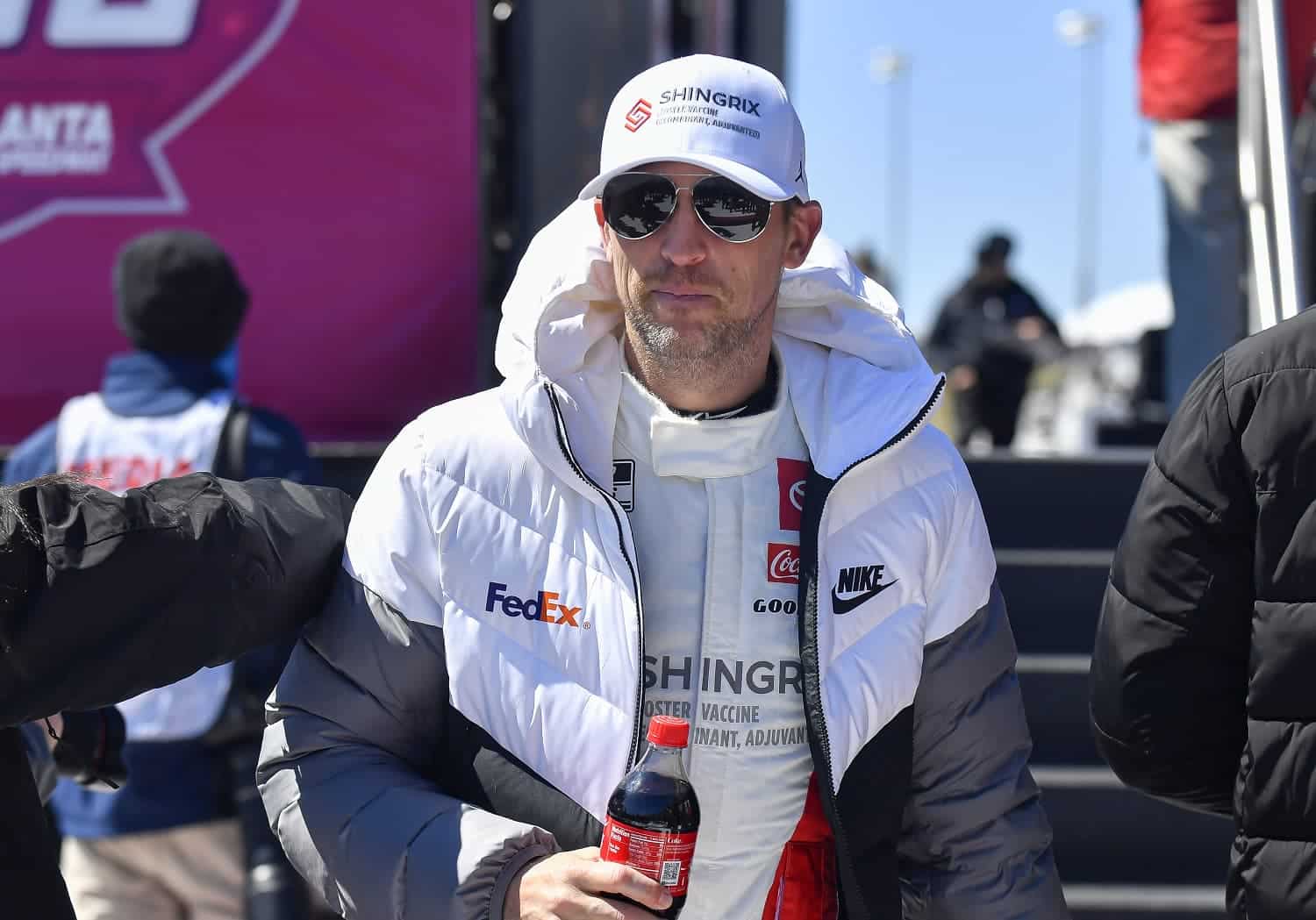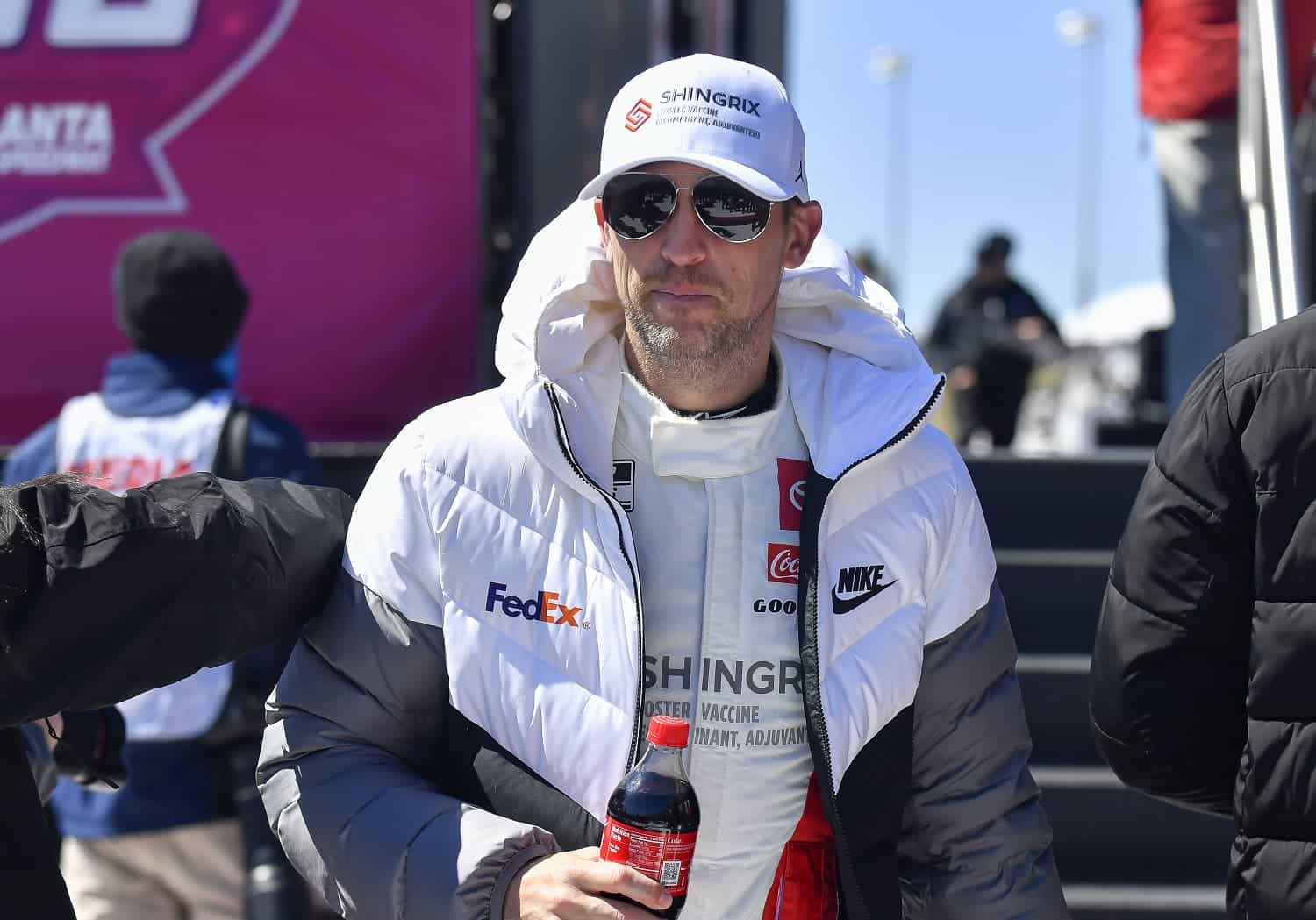 Denny Hamlin went on his Actions Detrimental podcast the day after the Phoenix Cup Series race and admitted he squeezed Ross Chastain into the wall in the continuation of a feud carrying over from 2022.  NASCAR regarded it as a racing incident until the driver of the No. 11 Toyota made his admission.
Officials penalized Hamlin 25 points and fined him $50,000 for three rules infractions:
Attempting to manipulate the outcome of a race.
Wrecking or spinning another vehicle.
Actions detrimental to stock car racing or NASCAR.
Hamlin appealed but found himself bumped to the back of the line as the National Motorsports Appeals Panel first had to hear cases involving Hendrick Motorsports and then Kaulig Racing on consecutive Wednesdays. A new panel heard Hamlin's case the day after the Kaulig ruling.
The group hearing Hamlin's appeal consisted of former IndyCar driver Lyn St. James, Bowman Gray Stadium track operator Dale Pinilis, and Raycom Sports CEO Hunter Nickell. The hearing lasted about two hours, and Hamlin grew increasingly optimistic in the 10 minutes between the conclusion and the announcement of the decision.
"I'm like, 'Oh, wow, this is gonna be great, can't wait," Hamlin said. "I'm sitting down and I'm smiling, and I kind of look at them and they're not as excited as they were like 20 minutes ago. And I'm just like, 'Alright. OK.' And literally they read off the verdict in about 15 seconds. It was so quick and they're like that's it, and everyone starts standing up."
The driver thought he'd done a solid job of cutting apart NASCAR's case
The appeals process begins with both sides submitting letters to the panel at least 48 hours in advance to outline their position, but the real work for Hamlin began after NASCAR presented its case in person on Thursday. The driver, a winner of 48 Cup Series races, made his own presentation, and then there was a recess followed by rebuttals from both sides.
The burden of proof in an initial appeal is on NASCAR, and Hamlin felt he made a strong case in fending off the first two allegations against him – attempting to manipulate the outcome of a race and wrecking or spinning another vehicle.
"I was more confident when they started deliberating than I was going into my case," he said. "Now, again, I might be guilty. I don't know … This wasn't a wreck. This wasn't a spin. No caution, no damage. What are we even talking about here? This is contact as defined by their rulebook. We were high-fiving, just about. We did such a great job, and I really based that off of the panel was asking NASCAR how is this so different than what we see every single week.
"And there really wasn't a legitimate good response to that. I thought 'Man, there seems to be questioning them a lot, and they not really have a whole lot of questions for me."
Ironically, the name of his podcast many have been Denny Hamlin's undoing
Those who saw the movie A Few Good Men will recall that Tom Cruise's character won the acquittal of two clients on homicide charges only to see them dishonorably discharged for conduct unbecoming a Marine.
Appeals panels do not disclose the rationale behind their own decisions, but Denny Hamlin may have been tripped up in a similar fashion. Hamlin felt he'd done a good job of pushing back on the charges of attempting to manipulate the outcome of the Phoenix race and wrecking or spinning another vehicle.
The third charge, however, may have been his undoing. "Actions detrimental to stock car racing or NASCAR" is a pretty broad catch-all. Actions detrimental is also what Hamlin named the podcast that he launched this season.
"We had heard words that in the last two hours sounded like they were conceding, 'We're just going after actions detrimental. He just can't be saying these things because it makes us look like we're not officiating it correctly.' They already said we agree it's not egregious, we agree that this is something that normally we stay out of. The whole severity of the incident was benign. Benign was the word used."
Benign or not, Hamlin is still out $50,000 and 25 points.
Got a question or observation about racing? Sportscasting's John Moriello does a mailbag column each Friday. Write to him at [email protected]