Ross Chastain Claims Another Victim and Is Destined To Skate, Again
Ross Chastain wiped out two cars with his latest unnecessarily aggressive move in NASCAR Cup Series race.
Brennan Poole is a no-one who doesn't know where his next ride's coming from. Kyle Larson is a contender with too much at stake. So, Ross Chastain once again won't get anything remotely resembling a comeuppance.
Multiple drivers on the spectrum between Poole and Larson have been Chastained . Only Denny Hamlin has retaliated. And when Hamlin admitted what he did, it cost him $50,000 and 25 points.
Hello, is anyone home in the NASCAR corporate suite?
Ross Chastain took out Kyle Larson with a bank shot
Ross Chastain apparently misunderstood. NASCAR didn't shorten the NASCAR Cup Series race at Dover Motor Speedway to 82 laps. They just postponed it by a day.
Chastain, running fourth, got into the back of Brennan Poole entering Turn 1 on Lap 80 and sent the No. 15 Ford spinning. Poole shot up the track and into the path of the No. 5 Chevy driven by Kyle Larson. If Chastain thought Poole was in the way, then where did he expect the driver who was making his first Cup start since 2020 to go?
"The '3' was on the outside of me. Him and I had been racing for position. And, I mean, you're side-by-side (so) there's not like a whole lot of room," Poole said. "There's nothing more that I could do in the situation. I haven't really seen the replay, but it felt like I just got ran over really for no reason 80 laps into the race.
"Doesn't make any sense to me. I guess that's something he's been known to do here recently. Probably needs to get his butt whooped."
Larson was flabbergasted over Chastain's latest irresponsible action. It didn't help that Chastain's aggressive move off a restart late at Talladega the previous weekend triggered the chain of events leading to the horrific wreck involving Larson and Ryan Preece.
"What a (expletive) idiot," Larson said over his team radio. "He flat-out wrecked (Poole)."
Another meaningless apology from Ross Chastain
Moments after punting Brennan Poole, who was driving for Rick Ware Racing, late in Stage 1 of the Cup Series race at Dover, Ross Chastain got on his team radio and said, "I did not mean to do that."
After the race, Chastain sounded contrite. But he stopped fooling people with his schtick a long time ago.
"It's completely my fault," Chastain told reporters. "I was actually going to follow Brennan past the '3' and he checked up quicker than I thought. Totally my fault. Tomorrow, I'll go out to Sonoma to the Skip Barber (Racing School) and when I get home from that, I'll go find (Poole) and Rick and make some of that right."
It was vintage Chastain: Accept the blame but also subtly assign responsibility to the other guy. And, oh yeah, forget to acknowledge you need to make things right with Larson, too.
The problem is that he can't make it right with Larson unless he agrees to swap his points from Dover with the Hendrick Motorsports star. While Larson managed to return to the race, he was 28 laps down on his way to finishing 32nd. That cost him valuable points toward the regular-season standings that lead to playoff bonus points in the fall.
NASCAR's hypocrisy protects the driver of the No. 1 Chevy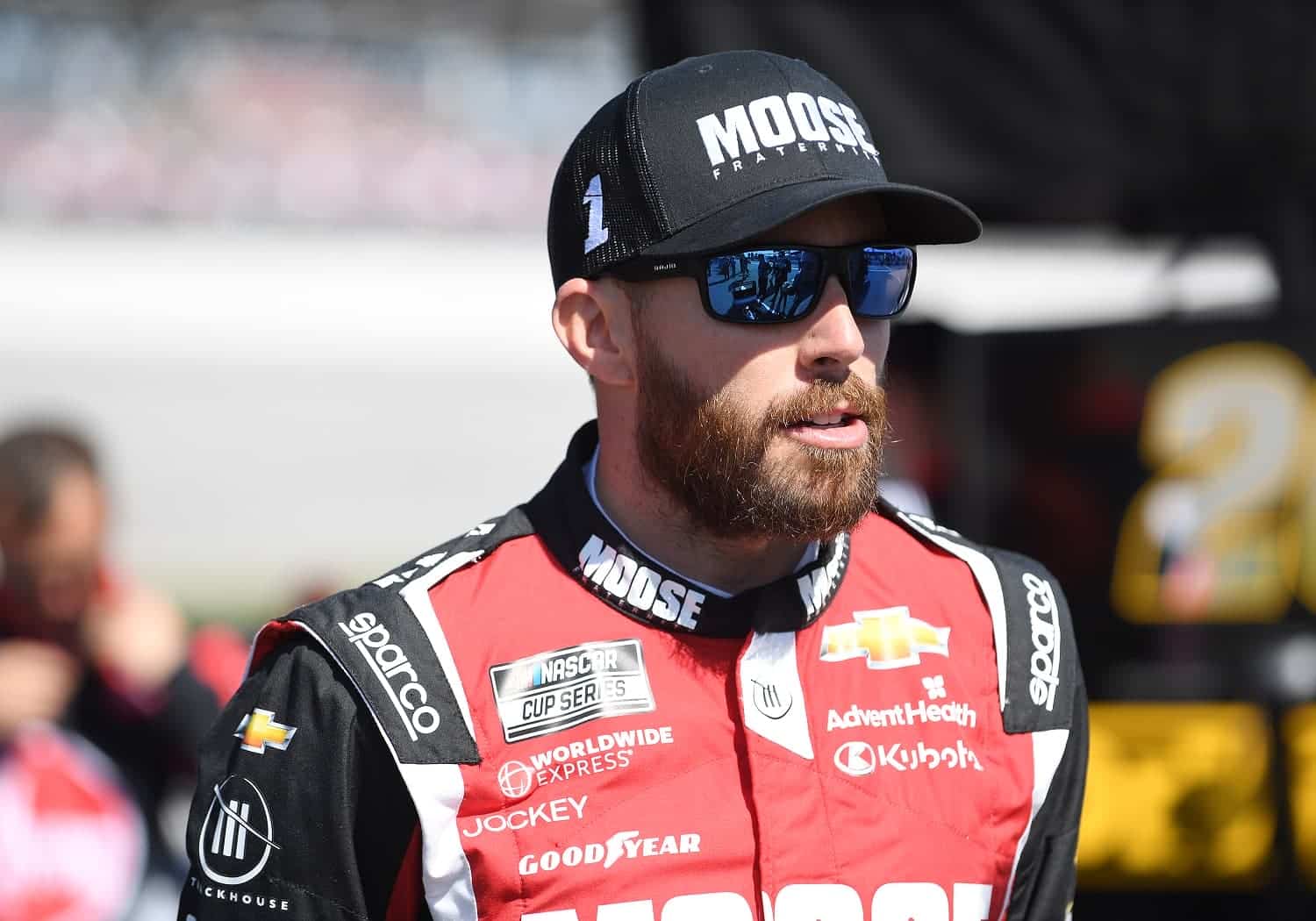 Ross Chastain is destined to go unpunished for his actions at Dover, as has been the case in every one of his incidents over the past season and a half. Yes, Kyle Larson messed with him late in the third stage to allow eventual winner Martin Truex Jr. to pad his lead. However, Larson couldn't even admit during his interviews that he threw a block, or else he would be in violation of the same rule that got Denny Hamlin punished at Phoenix.
And that's a big part of the problem. NASCAR tells drivers to work out "racing incidents" amongst themselves. But that would require Chastain's many victims to send him spinning during a race, which happens to be more than a little dangerous. So, they don't do that.
And if a driver did retaliate, whether in the same race or a week or two later, he'd be the one summoned to the NASCAR hauler to get chewed out; NASCAR knows retaliation when it sees it but has only a passing familiarity with obvious unprovoked recklessness.
If the drivers don't act and NASCAR doesn't act, Chastain is going to continue wrecking his way to top-five finishes just because he can.
Got a question or observation about racing? Sportscasting's John Moriello does a mailbag column each Friday. Write to him at [email protected]