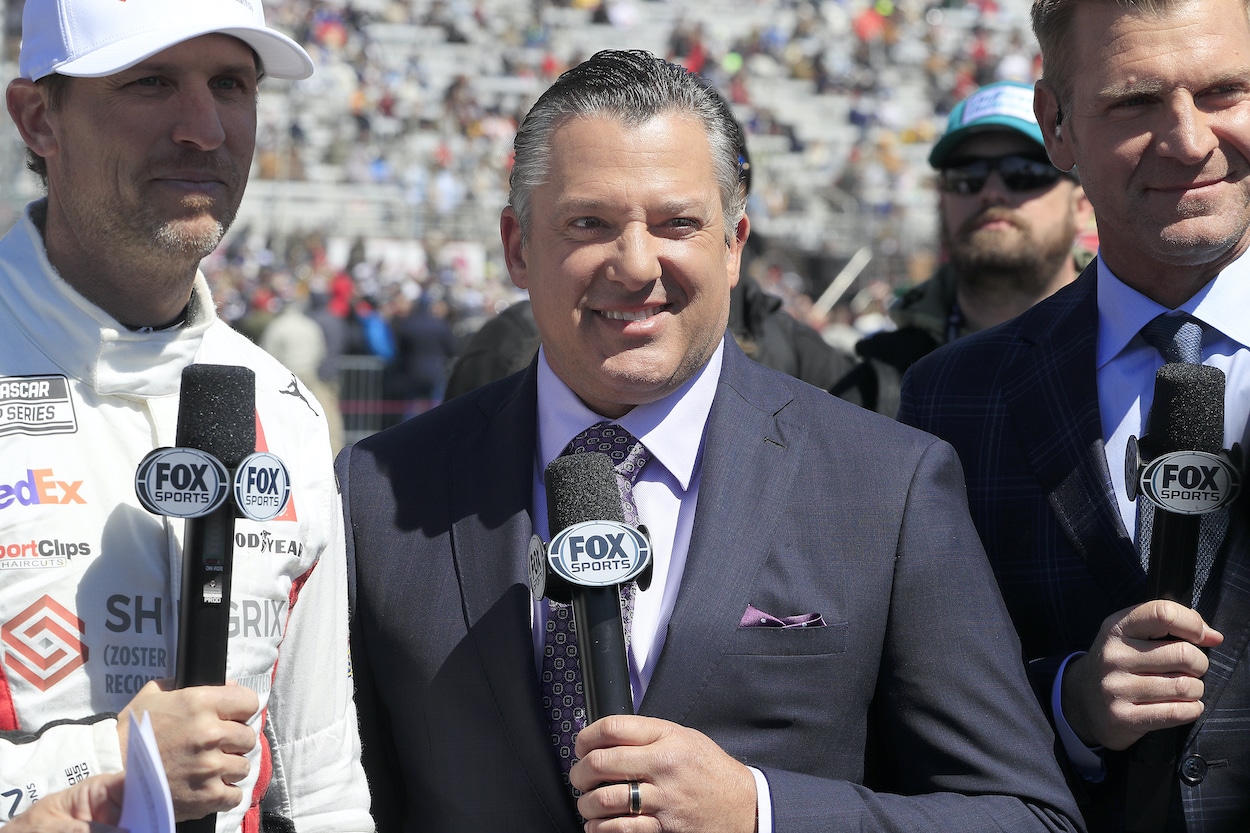 Tony Stewart Admits He Didn't Like Kyle Larson's Response at Las Vegas After Bubba Wallace Pushed Him Multiple Times: 'I'd Have Laid His Ass Out'
Tony Stewart visited with Dale Earnhardt Jr. this week on his podcast and shared what he told Kyle Larson about how he would have reacted to Bubba Wallace pushing him at Las Vegas.
Tony Stewart has always been viewed as a talented driver who could achieve success no matter what type of car he strapped inside. The same could be said of Kyle Larson. Both have openly discussed their admiration for each other. Game recognizing game.
This week during an appearance on the Dale Jr. Download, the three-time Cup Series champion was compared to the Hendrick Motorsports driver, where it was pointed out how the NASCAR Hall of Famer didn't ever back down from a fight while the 2021 champ has never even been in one. 
And that's when the veteran discussed his thoughts about what happened in Las Vegas with Bubba Wallace, including offering how he would have handled the situation and a plan to better prepare the diminutive driver for conflict in the future.
Tony Stewart and Kyle Larson offer praise for each other
Tony Stewart's resume is impressive and includes three Cup Series championships, an IndyCar title, IROC championship, and four USAC crowns, including the 1995 Triple Crown — Midget, Sprint, and Silver Crown. 
Despite all of those accomplishments, Stewart surprised some after the final race of the 2021 NASCAR season in Phoenix with his remarks about the HMS driver.
"Congratulations to the best race car driver I've ever seen. @KyleLarsonRacin," Stewart tweeted.
During the postrace media session, Larson was informed about Stewart's tweet and responded. 
"Today has been really cool," he said. "To now hear you say that. I did an interview with NBC before the race started. Mario Andretti. I got to hear him talk about his thoughts on me. And now Tony Stewart. If I had to pick, if I really had a true racing hero, I'd say it's Tony Stewart, who I've always believed to be the best racecar driver ever. That means a lot to me." 
Talked with Larson after Bubba Wallace incident in Las Vegas
Tony Stewart visited with Dale Earnhardt Jr. on his podcast this week, and they talked about Kyle Larson's ability to find success in various racing disciplines when show co-host Mike Davis went back and revisited a time in the early 2000s when Stewart would do something similar, racing in the modifieds or late models during the middle of the week, including one time where he won a couple of races and got into a fight. 
The Stewart-Haas Racing co-owner said that was the "ultimate life" and admitted that's one area where he and Larson are dramatically different — conflict. 
"Kyle's not a fighter," Stewart said. "I texted Kyle after the Bubba incident at Las Vegas, and I was like, 'Listen, I understand him pushing you once, but the second time he did it, that's enough. And the third time he pushed you, that, I'd have laid his ass out.' 
"I said, 'What are you doing?' He goes: 'Man, I've never been in a fight in my life and I didn't want to get my ass kicked in front of all these people.' I get it. Alright. We're going to teach you how to fight though, bud." 
Stewart never shied away from conflict
Stewart was joking and won't be giving Larson any lessons on fighting, but if someone in the garage knew what to do in conflict, it was Smoke. His career has numerous confrontations to choose from, and not always other competitors.
He had a couple of run-ins with Larson's HMS boss Jeff Gordon in 2000 and 2001. In 2002, he was involved in an altercation with a photographer at Indianapolis Motor Speedway. 
He reached through the window net and punched Brian Vickers in 2004. Fast forward to 2012 at Bristol and the famous helmet toss with Matt Kenseth. A year later Stewart confronted Joey Logano after the race at Auto Club Speedway. These are just some of the examples.
Throughout his career, Stewart proved he was good at racing and conflict. As you can see, he had plenty of practice.
For the latest breaking news and information about NASCAR's three national series, check out @kdsportswriter on Twitter.