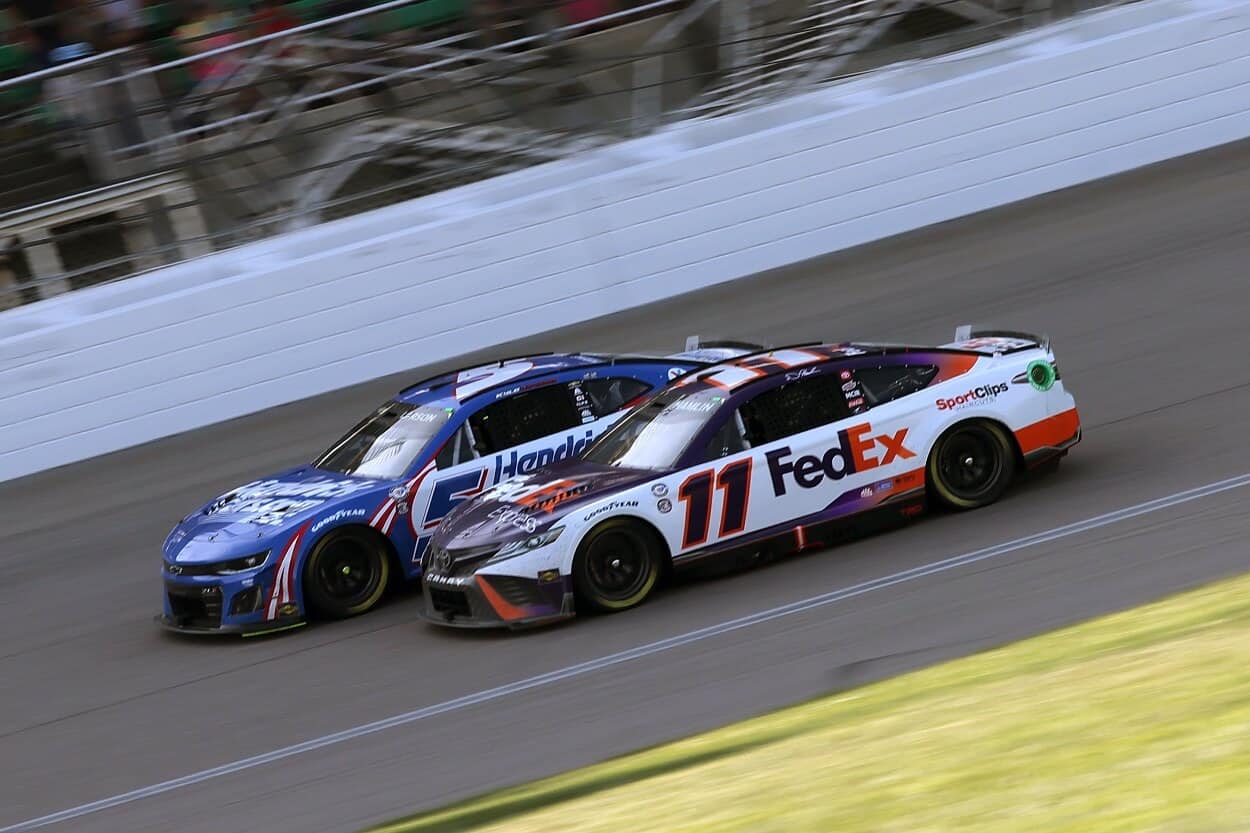 Denny Hamlin and Kyle Larson Put On a Show at Kansas That NASCAR Surprisingly Let Happen
Denny Hamlin and Kyle Larson engaged in a duel that lasted nearly 40 laps at Kansas Speedway.
Denny Hamlin tracked down Kyle Larson throughout the final 47 laps of Sunday's NASCAR Cup Series race at Kansas Speedway in a finish that NASCAR officials should remember in future events that don't have a major incident in the closing laps.
Hamlin restarted behind Larson on the top side of what turned out to be the final restart on Lap 220 of 267. Larson's Hendrick Motorsports teammate William Byron restarted on the bottom lane and got between the pair as Larson stretched out a formidable lead early in the run. Hamlin eventually got past Byron with 26 laps to go and spent the next 25 pursuing Larson.
Hamlin got to Larson's rear bumper with 13 laps to go after Larson got loose in Turn 1 and potentially scraped the outside wall. The combatants spent the final dozen laps often side-by-side in a duel that climaxed on the backstretch during the final lap.
Hamlin dove to the inside of Larson's No. 5 car through turns 1 and 2, and the drivers entered the backstretch with Hamlin's No. 11 Joe Gibbs Racing car underneath Larson. Hamlin was loose as he exited the turn in the low lane and had begun to lose ground to Larson, who had momentum on the outside. Hamlin then clipped the left-rear corner of Larson's car, which turned it into the outside wall. Hamlin drove on to victory while Larson limped to the finish line in second place.
The finish at Kansas Speedway featured two of the most accomplished drivers in NASCAR
The final run Sunday was memorable for several reasons. Two of the best drivers currently in the sport were able to engage in a straightforward race to the finish.
Hamlin tied Hall of Famer Tony Stewart for 15th on the all-time NASCAR Cup Series wins list with his 49th victory Sunday and is arguably the best driver to have never won a championship. He is now only one win behind Junior Johnson, who has the most Cup Series career victories without ever winning a title.
Larson, meanwhile, is the 2021 series champion and has 21 Cup Series victories on his record. Like Hamlin, he would likely already be a Hall of Famer if his career ended now, given his championship and win total that puts him alongside drivers such as Hall of Famers Benny Parsons and Bobby Labonte on the all-time list.
Sure, it is unfortunate that they made contact on the backstretch and could not race around to the finish line, but this was easily the most intense non-superspeedway finish in a race this season that did not have a late caution to create a restart in the final laps or overtime.
Only three other non-superspeedway races this season have had a final run of more than 10 laps that was not interrupted by a caution, yet none were close finishes.
Kyle Busch triumphed at Auto Club Speedway in the second race of the season. That race went green for the final 55 laps, but Busch won by nearly 3 seconds. Larson won the other two such races at Richmond and Martinsville. He led all 14 laps of the final run at Richmond Raceway and won by 1.5 seconds, and he paced the final 30 laps at Martinsville Speedway to win by more than 4 seconds.
The Denny Hamlin-Kyle Larson duel was unique in an era filled with late-race cautions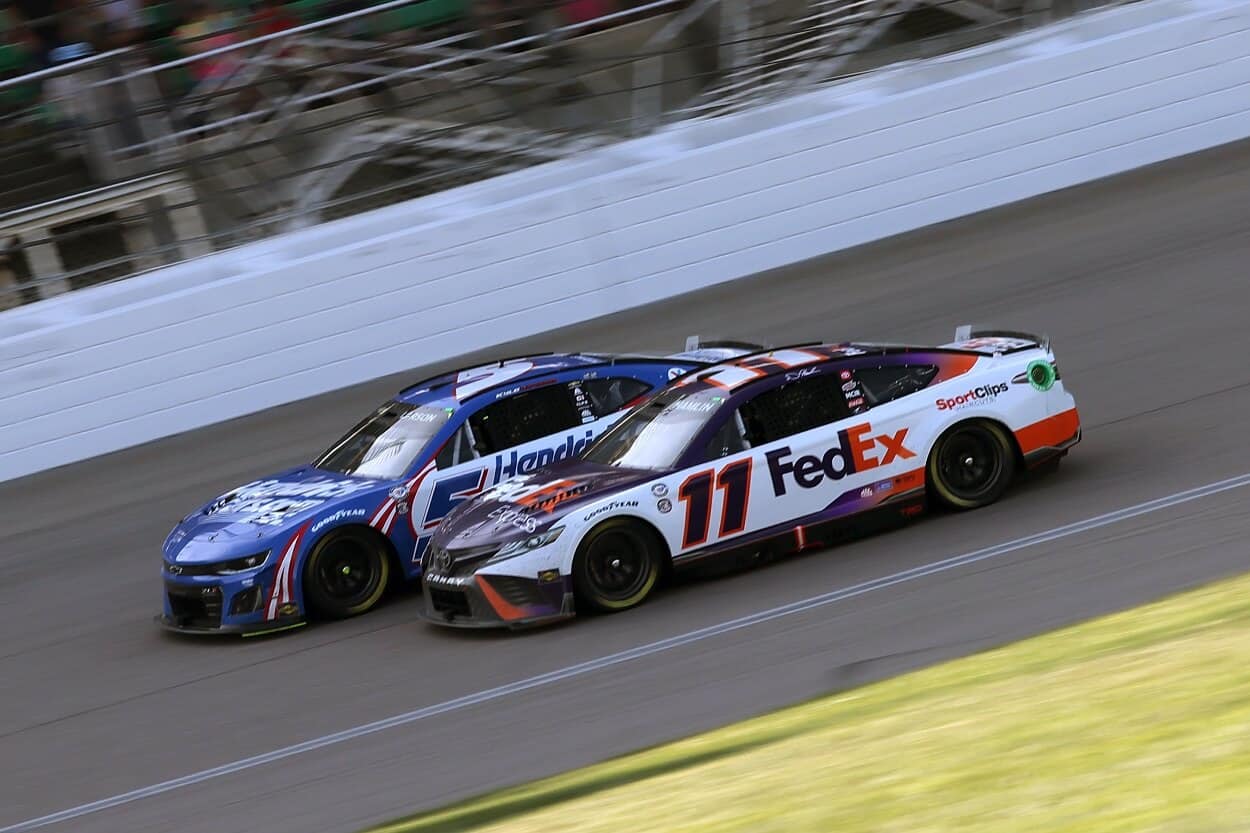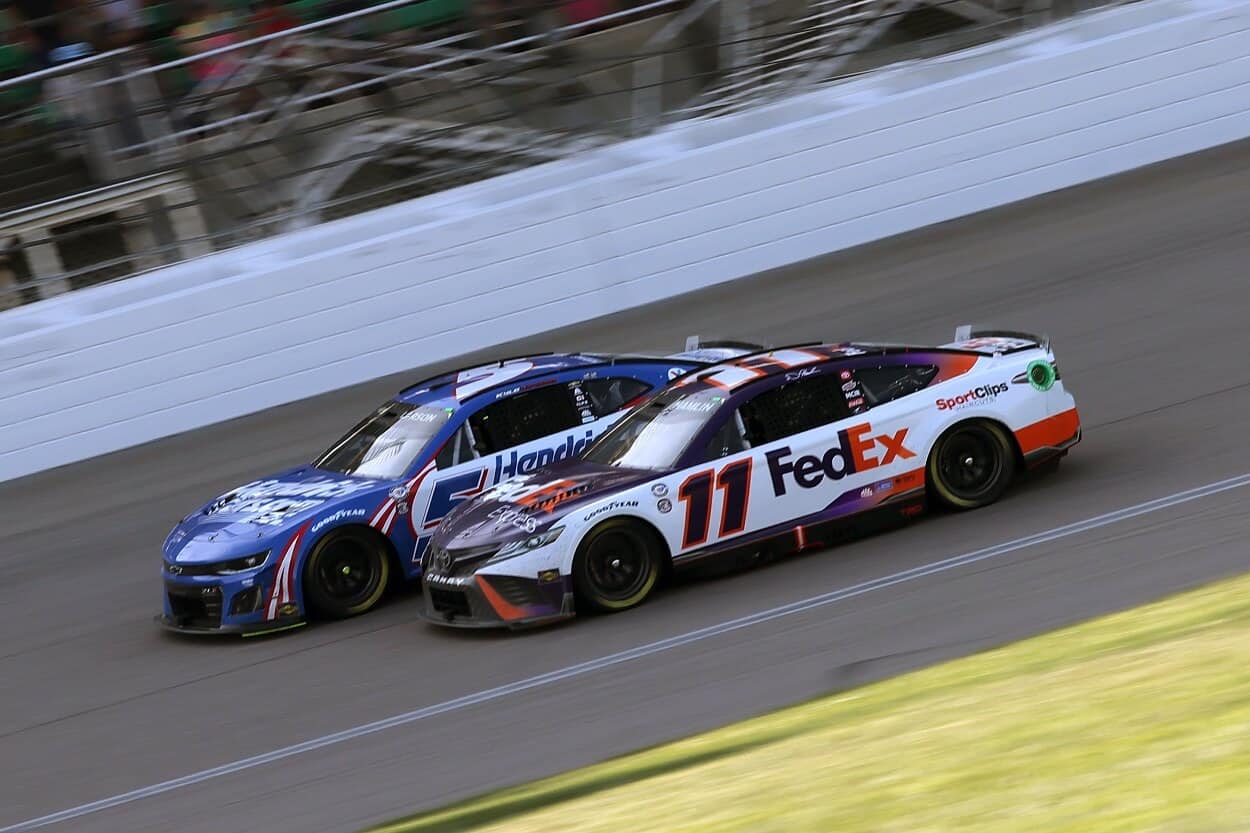 NASCAR has called for a caution flag in the closing laps in each of the other five non-superspeedway style races this season. Some of those cautions were obviously necessary, such as Joey Logano's hard wreck with 12 laps to go last week at Dover Motor Speedway.
Others were not, such as Aric Almirola's incident with four laps to go at Las Vegas Motor Speedway in the third race of the season. Almirola's half-spin into the outside wall of Turn 4 at Las Vegas was not much different from Larson's incident Sunday on the backstretch at Kansas.
The Denny Hamlin-Kyle Larson finish at Kansas was also somewhat reminiscent of perhaps the greatest finish in NASCAR history at the track the series visits next: Darlington Raceway.
Ricky Craven and Kurt Busch battled to the end of the race on old tires at the end of a 52-lap, green-flag run. They made contact several times in the closing laps but were able to race to the finish when Craven edged Busch by .002 seconds.
Those are the types of finishes fans should savor because they unfortunately happen so infrequently. One driver typically has the field covered and wins by a wide margin, or race officials disrupt the end of many races to try and manufacture a close finish.
Sunday's battle between two of the sport's best needed none of those gimmicks in what could be remembered as the finest finish to a race this year.