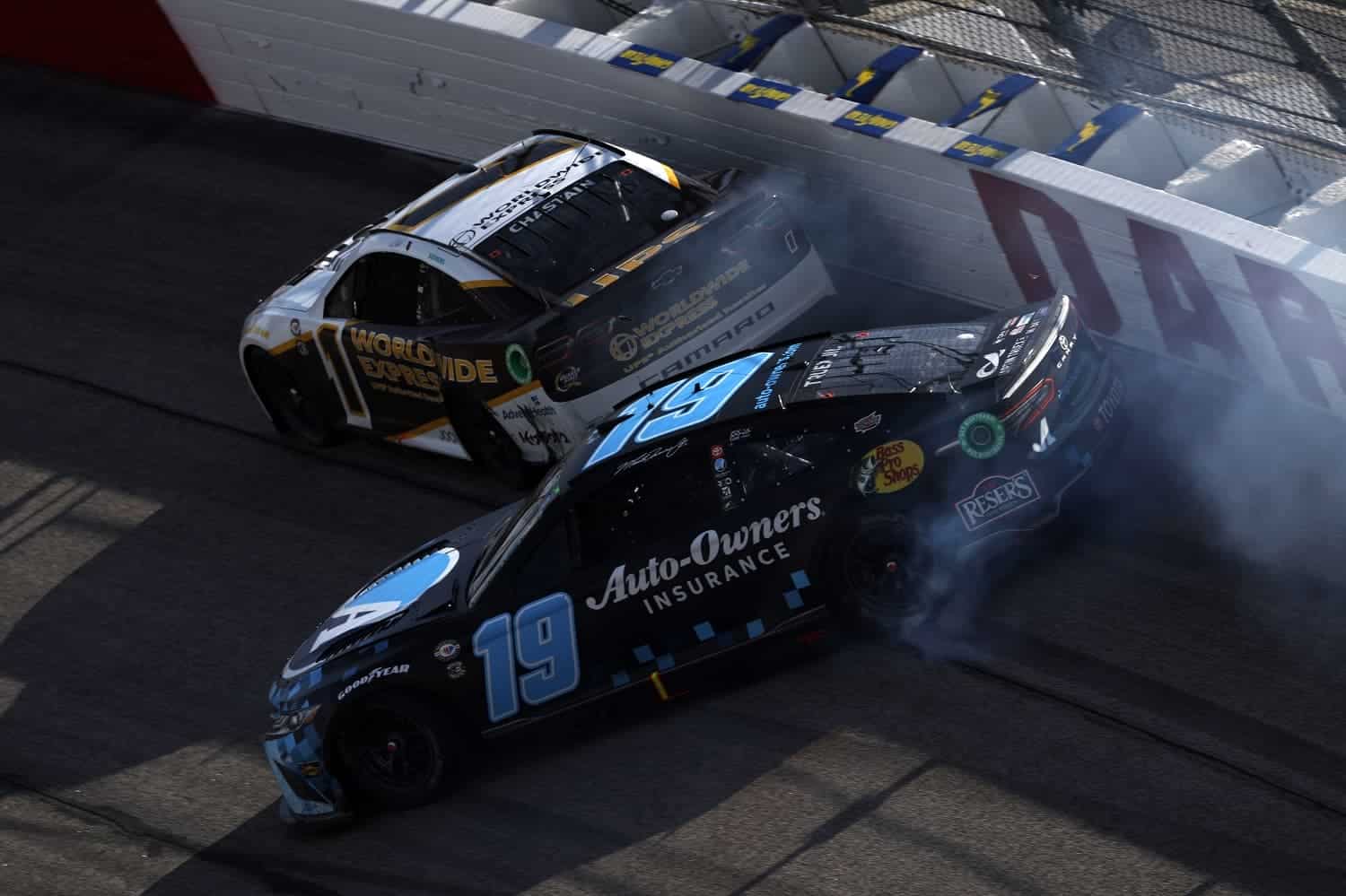 Definitive Ross Chastain NASCAR Cup Series Incident Tracker
Ross Chastain isn't in the middle of every incident during NASCAR Cup Series races. It only seems that way, and our compilation helps explain why.
Ross Chastain is the most controversial current figure in NASCAR, and it's not even close. The driver of the No. 1 Chevy has been in the middle of multiple dramas midway through the 2023 Cup Series season, most recently in the Goodyear 400 at Darlington.
He's well beyond the point of overshadowing his video-game move in the 2022 Martinsville playoff race that advanced Chastain to the Championship 4. There are more comparisons than ever to the mindset displayed by seven-time series champ Dale Earnhardt. At the risk of starting the obvious, Chastain has nowhere near the record of success that The Intimidator had, which adds to the scrutiny of his every move.
As the number of incidents involving Chastain continues to grow, Sportscasting.com will keep a running scorecard here.
Michael McDowell spins after contact with the No. 1 Chevy
As is so often the case when he's competing, Ross Chastain dove low off a restart at World Wide Technology Raceway on Lap 54 on June 5, 2023. Michael McDowell was next to him, and Joey Logano was making it a three-wide deal on the turn but high enough to not be a factor.
Chastain turned McDowell, who was sixth at the time, and the "34" went spinning, with the left-rear tapping the outside wall. McDowell fought his way back into the hunt and finished ninth. Chastain finished 22nd.
Chastain's level of culpability: Though it wasn't Chastain's fault since McDowell gave him no room at the bottom of the track, he has to understand on some level that trying to move up by going low on restarts always comes with risk attached. McDowell gets some of the blame, but not all of it.
Ross Chastain went up close and personal with the Darlington contenders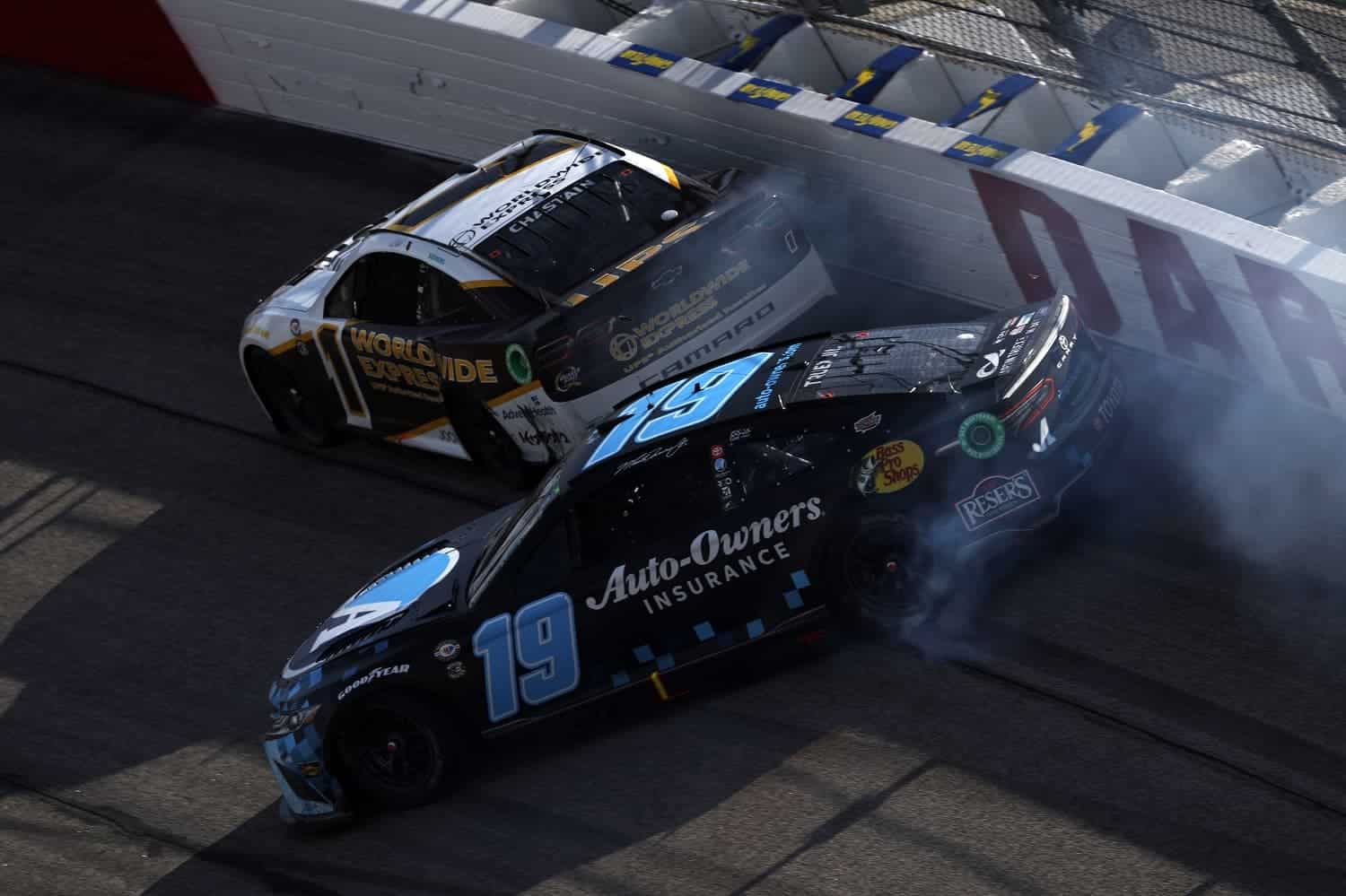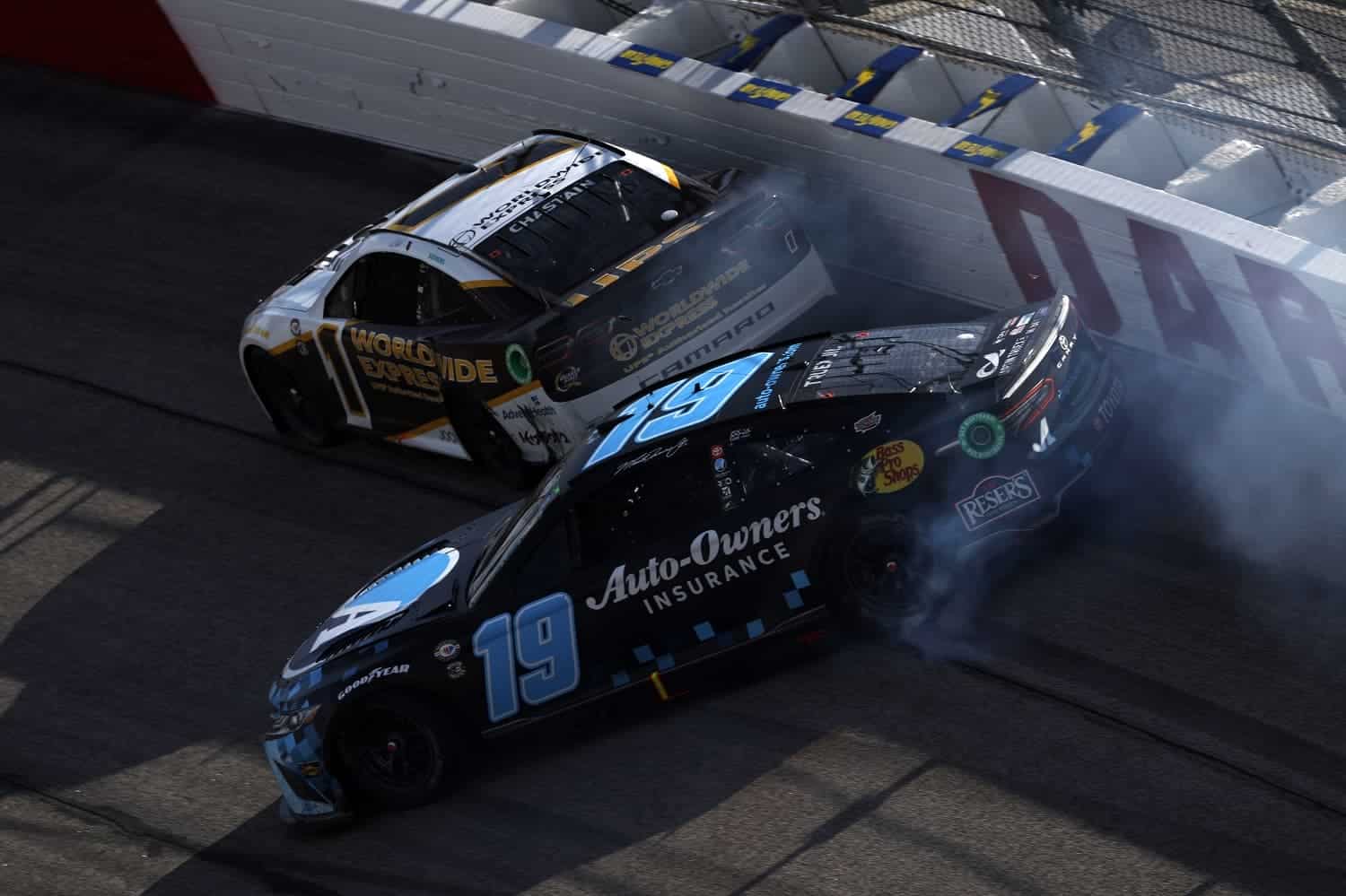 If Darlington is "The Track Too Tough to Tame," then Ross Chastain once again demonstrated he's the driver too close to the drama in recent NASCAR Cup Series action. It began on Lap 185 on May 14, 2023, as Martin Truex Jr. spun while challenging Chastain for the lead off Turn 4 as both pursued the Stage 2 victory.
Chastain came into the corner hard behind Daniel Suarez and with Truex on his tail. The combination of aerodynamic influence and maybe his car being loose put Chastain into the outside wall. Unfortunately for Truex, his No. 19 Toyota braced Chastain and kept the Chevy from spinning out of control. Chastain got to the flag first, and MTJ had to settle for 10th-place stage points.
The real fun began on the closing laps. After Ryan Newman brought out a caution on Lap 266 of the scheduled 293, Kyle Larson led the field to the green from the inside with Chastain beside him and put the squeeze on the No. 1 Chevy, adding another Darlington stripe. That went for naught, as Chastain held a slim lead an instant later when the caution flag waved for a multi-car incident behind the leaders.
On the next restart on Lap 288, it was Chastain's turn to lead from the bottom, and he proceeded to pay Larson back by running him up the track and into the wall. However, Chastain's nose was too far in front of the No. 5 Chevy, and that car torqued Chastain into the wall to take both out of contention.
Chastain's level of culpability: All the Ross-related contact constituted good, hard racing. It's fair to ding the Trackhouse Racing driver for failing to execute that final move on Larson. Even if there was no malice intended, what Chastain tried was a lower-percentage move than what Larson executed minutes earlier.
Ross Chastain throws a punch at Noah Gragson
The triggering incident wasn't as bad as the aftermath at Kansas Speedway on May 7, 2023, leading many to conclude that rookie Noah Gragson overreacted by getting physical with Ross Chastain following Denny Hamlin's victory.
Gragson was solid through more than 200 of the scheduled 267 laps, having spent time in the top five and collecting eight stage points. He was backsliding midway through Stage 3 and found himself to the outside of Chastain coming out of Turn 4 on Lap 206. The No. 1 Chevy didn't appear to make contact, but the aero effect from Chastain destabilized the No. 42 Chevy and put Gragson into the wall.
Gragson went to the pits four times in eight laps for tires and adjustments, leaving him five laps down. Late in the race, Chastain was making a pass when Gragson slid up to make his presence felt, but there was no contact.
They found each other right after the race, however, and words escalated into physical contact as Gragson grabbed Chastain, who responded with a punch to the face before security stepped in. NASCAR took no action in its weekly penalty report.
Chastain's level of culpability: Low. Aero disruptions are a fact of life. Gragson initiated the subsequent physical altercation.
Brennan Poole turns Kyle Larson into collateral damage at Dover
Ross Chastain, running fourth, got into the back of Brennan Poole entering Turn 1 on Lap 80 at Dover Motor Speedway on May 1, 2023. After spinning to the apron, Poole shot back up the track and into the path of Kyle Larson. That's the element that made this incident particularly egregious; Larson had a strong car on an oval at which he'd produced 11 top-10 finishes in 14 starts.
Poole was racing for position with Austin Dillon when Chastain punted him.
"The '3' was on the outside of me. Him and I had been racing for position. And, I mean, you're side-by-side (so) there's not like a whole lot of room," Poole said. "There's nothing more that I could do in the situation. I haven't really seen the replay, but it felt like I just got ran over really for no reason 80 laps into the race.
"Doesn't make any sense to me. I guess that's something he's been known to do here recently. Probably needs to get his butt whooped."
Larson was flabbergasted over Chastain's action, particularly because of an incident one week earlier at Talladega. He did take some revenge while many laps down by holding up Chastain's pursuit of Martin Truex Jr. in the late going, but that went for naught because of a subsequent caution flag.
"What a (expletive) idiot," Larson said over his team radio. "He flat-out wrecked (Poole)."
Chastain's level of culpability: High. No one needs to wreck a field-filler, particularly 80 laps into a race.
Talladega: The likely source for Noah Gragson's Dover confrontation
Noah Gragson and Kyle Larson figured prominently in the last of three significant incidents late in the GEICO 500 at Talladega Superspeedway on April 23, 2023.
Five cars wrecked with the white flag out, setting up Kyle Busch to win under the caution flag, and Ross Chastain's aggressive move was the trigger in a wreck that saw Ryan Preece plow into the right side of Larson's No. 5 Chevy.
Ryan Blaney and Gragson restarted out front in overtime, and Chastain was situated behind Gragson on the outside. When Gragson drifted high, Chastain saw room to squeeze between the leaders in a low-percentage move that ended badly when the No. 42 Chevy moved down and got launched into the outside wall.
Larson, who began third on the outside, attempted to follow Chastain. Either a rub against Gragson's car, now going into its spin, or the aero forces sent Larson down the track in front of Busch and then Kevin Harvick. All four of Larson's wheels touched grass at nearly full speed. The moment he returned two tires to the apron, he shot back up the track and in front of Preece's No. 41 Ford.
Even if he pulled even with Gragson, Chastain was going to be three-wide. Ryan Blaney and Aric Almirola were in tandem to the inside, and the aerodynamics raised the possibility of a wreck at that point. Whether the unfortunate car starting the incident was the No. 41, 1, or 12, Chastain was almost certainly going to go spinning.
Chastain's level of culpability: Low. Gragson's failure to hold his line on the restart opened a door, even if it was a risky gamble. More than a few other drivers would have tried the same move in that situation.
Christopher Bell wrongly faults Ross Chastain at Richmond
Christopher Bell was quick to label Ross Chastain as a "wrecking ball" following an incident on a restart with 20 laps to go at Richmond Raceway on April 2, 2023.
Chastain got on the inside of Bell but never touched him. Bell clipped the left-rear panel of William Byron, putting the No. 24 Chevy into the outside wall and dooming one of the day's strongest cars to 24th place.
After seeing replays, Bell conceded that Chastain was not a factor and the wreck was solely the work of the No. 20 Toyota.
"I saw there was much more room than what I thought in the heat of the moment," Bell said.
Chastain's level of culpability: None.
Denny Hamlin spills the beans and pays the price at Phoenix
Season 1 of Denny Hamlin's Actions Detrimental weekly podcast has been the best bit of NASCAR-related media in 2023. His bonus podcast after losing an appeal of penalties was an enlightening look at how the system works and an impressive point-by-point explanation of why the $50,000 fine and 25-point penalty could be viewed as overkill.
It all stemmed from the United Rentals Work United 500 on March 12, 2023, at Phoenix Raceway. Hamlin and Ross Chastain crashed on the final lap, and Hamlin admitted on the next day's podcast that he intentionally rode his nemesis into the wall after realizing a restart didn't break his way.
"My crew chief told me there were 18 cars on the lead lap," Hamlin explained. "At that point, I said, 'Alright, I'm probably running sixth or seventh, I'm about to get passed by everyone behind me on fresh tires. I'm about to finish in the mid-teens'. I said, 'You're coming with me, buddy.'"
Chastain's level of culpability: None.
2022 Championship 4: Ross Chastain doesn't cut Chase Elliott a break
The Championship 4 turned into a field of three with just over 100 laps to go on Nov. 6, 2022, at Phoenix Raceway, where Joey Logano earned his second title.
It began with Tyler Redick, Michael McDowell, Daniel Hemric, and Erik Jones triggering a caution on Lap 194. On the restart, 2020 champion Chase Elliott began on the inside with Ross Chastain behind him. They both dove low to the wide apron, but the nose of the No. 1 Chevy caught the right-rear corner of the Hendrick Motorsports Chevy, sending it to the wall with a hard hit to the right side.
It immediately put Elliott, a five-time winner during the season, a lap down and out of the hunt. He finished 28th, while Chastain placed third (second among the Championship 4 cars). The racing world still sees it as a 51/49 deal; Chastain fans say the No. 1 Chevy beat Elliott to the spot, while Elliott supporters say Chastain had the whole picture in front of him and could have lifted.
"We could have raced down in the corner side-by-side if he had just kept going the way we were going," Chastain said.
Chastain's level of culpability: High. This was a continuation of the Gateway episode five months earlier. Chastain knew he had a rival title contender in front of him and that multiple drivers – himself included – would use the dogleg apron to cut the corner.
Christopher Bell's block fails at Michigan
The Firekeepers Casino 400 at Michigan International Speedway on Aug. 7, 2022, is largely remembered for Kevin Harvick snapping a lengthy winless streak. There was a big wreck on Lap 26, but the rest of the day was largely uneventful. The exception was on Lap 160, where Ross Chastain and Christopher Bell got together in Turn 4.
Bidding to stay ahead of Chastain, who was on fresh tires, Bell moved up the track to block but got there too late. Aerodynamics may have factored into it as the No. 20 wobbled slightly. It was enough for Chastain to move to Bell's right-rear panel, putting his right-front fender into the wall.
Chastain's level of culpability: Minimal. He spoke afterward about perhaps being able to lift, but it ultimately was Bell's decision that took two contending cars out of the hunt.
Kyle Busch: 'We got Chastained'
As is so often the case in the Cup Series, the trouble at Richmond Raceway on Aug. 14, 2022, began on a restart. Stage 3 opened with Kyle Busch and Ross Chastain a few rows back from the leaders and the No. 18 Toyota on the outside coming off Turn 4.
Replays showed Chastain came up the track slightly and bumped Busch as Ty Dillon drove by cleanly on the inside. Busch went spinning, collecting Erik Jones and Martin Truex Jr. While Chastain did stray from his line, it wasn't by much. Meanwhile, Busch, like Chase Elliott in front of him and Truex behind, was keeping things tight despite a lane and a half of space to the outside.
While Chastain triggered the wreck, some situational awareness by Busch and his spotter could have kept everyone running under the green flag. Nevertheless, Busch didn't see it that way, and it led to the two-time Cup Series champion coining a new phrase that's been used several times since.
"We got Chastained this week. We were his victim this week," Busch told NBC Sports shortly after the finish.
Chastain's level of culpability: Minimal. Strictly speaking, he triggered the wreck. But the field was still tightly packed on the restart, and everyone in the first 10 rows was looking for an edge to start Stage 3.
Denny Hamlin handles Ross Chastain like a pro at Pocono
With Denny Hamlin and Ross Chastain out front half a lap into a restart with 18 laps remaining in the M&Ms Fan Appreciation 400 at Pocono Raceway on July 24, 2022, the No. 11 Toyota moved up the track and ran his rival out of the high groove and into the wall. Chastain bounced off the wall and into the path of Kevin Harvick. That grille-to-bumper hit spun Chastain, sending him to the inside wall and a DNF-fueled 32nd-place finish.
Chastain's level of culpability: None. Sure, Chastain could have lifted and almost certainly been OK. However, it was Hamlin who put him in that situation while making it look enough like racing action to offer plausible deniability. If they taught wrecking people in driving school, this video would have been Lesson No. 1.
Ross Chastain gets himself another two-fer, this time at Atlanta
Had Gateway not happened a month earlier, the two Atlanta Motor Speedway incidents on July 10, 2022, would have been long since forgotten by the start of the 2023 season.
A third of a way into the Quaker State 400, Ross Chastain just barely got into the back of Martin Truex Jr. near the front of the outside line after the driver of the No. 19 Toyota lifted in the corner. It triggered a multi-car incident that took Noah Gragson and Austin out of the race and left several other cars damaged.
The more significant incident involving Chastain saw him spin Denny Hamlin on Lap 247 of the scheduled 260. Whereas MTJ could have prevented the earlier incident by staying on the gas, this one was entirely on Chastain, who was running fifth when he drifted up the track and got into Hamlin's left-rear panel to send the No. 11 Toyota into a 540-degree spin.
Chastain finished second to Chase Elliott. Hamlin ended up 25th. Afterward, Hamlin said he didn't intend to cut Chastain a break in future encounters, and we saw that start to play out soon afterward at Pocono.
Chastain's level of culpability: The watermelon farmer gets a pass for the Truex incident, but the episode with Hamlin is entirely on Chastain. In the bigger picture, Atlanta represented the day Cup Series drivers collectively understood that their concerns about Chastain were justified.
Gateway in 2022 may have set up drama for years to come
Ross Chastain made long-term enemies of two former champions on June 5, 2022, at World Wide Technology Raceway at Gateway.
The fireworks began on Lap 66 when Chastain, possibly frustrated over multiple failed attempts to pass, drove into Denny Hamlin's left-rear bumper, taking Hamlin up the track and into the wall. Though the No. 11 Toyota was damaged and needed extensive work, he finished the race.
Once Hamlin realized his day was ruined, he began looking for opportunities to jam up Chastain, forcing him high or low. Race officials eventually told Hamlin's team that their driver had made his point and needed to back off.
On Lap 103, Chastain turned Chase Elliott while squeezing between the No. 9 Chevy on the outside and Austin Dillon on the inside. It was apparent Chastain hadn't thought the move through; had he somehow cleared the three-wide, he was going to be swallowing Austin Cindric's bumper with no place to go.
Elliott came out of the incident nearly unscathed, remained in the race, and finished on the lead lap, albeit in 21st place. As luck would have it, Elliott, Hamlin, and Chastain were in close proximity on the Lap 107 restart. Elliott, driving on the inside, delivered a bump to the No. 1 Chevy, which nearly grazed the wall. A second later, Hamlin buzzed Chastain while blowing past. He then proceeded to spend the next lap and a half blocking Chastain's every attempt to pass.
Chastain did finish eighth but knew afterward he'd created issues for himself.
"It's one thing to do it once, but I just kept driving into guys, and at this level, I'm supposed to be better than that," he said in a TV interview right after the race.
The racing world would realize later that it was just one in what has turned into a string of quasi-apologies.
Chastain's level of culpability: Totally his fault. Had there been major damage to multiple cars after the incident with Elliott, NASCAR might have parked Chastain.
Dover finish is a non-event event
Chase Elliott and Ricky Stenhouse Jr. had the top two positions locked down with the white flag out at Dover Motor Speedway on May 2, 2022. Ross Chastain and Martin Truex Jr. were battling for third when Truex spun on the backstretch.
Truex was bitter at losing positions and finishing 12th. At most, though, his argument was that Chastain should have given him a lane – a tough case to make on the last lap of a points race.
Chastain's level of culpability: Minimal at worst, with "none" being an acceptable answer, too.
COTA sets the stage for Ross Chastain's eventful 2022 season
Rain turned the 2021 NASCAR debut at Circuit of the Americas into a dud, but Version 2.0 on March 22, 2022, produced what would have been the season's most memorable finishing lap if not for the Martinsville playoff race.
Ross Chastain led road-course ace A.J. Allmendinger by three-quarters of a second to start the final lap but had Alex Bowman coming on strong behind him. The challengers closed the gap by Turn 12, and Allmendinger moved the No. 1 Chevy on a corner to take a lead that lasted for one turn as Bowman slid beneath both.
Coming into the final turn, Chastain played billiards, ramming Allmendinger from behind and launching him toward Bowman on the outside. Allmendinger spun and didn't finish. Bowman was forced way wide and settled for second place, and Chastain captured the win, his first in 121 career Cup Series starts.
Chastain's level of culpability: None. Once "Dinger" moved him, the No. 16 Chevy was fair game. The fact that he turned it into a bank shot that took Bowman off his line was more coincidence than calculated.
Got a question or observation about racing? Sportscasting's John Moriello does a mailbag column each Friday. Write to him at [email protected]