Kevin Harvick and Crew Chief Rodney Childers Waste No Time Sharing What They Think About NASCAR's Major Penalty
Kevin Harvick and crew chief Rodney Childers wasted no time responding to NASCAR's major penalty, which includes a four-race suspension and $100,000 fine for Childers.
Kevin Harvick was critical of the Next Gen car and voiced safety concerns last year, months before it ever made its debut. That criticism has only escalated this season. In addition, the Stewart-Haas Racing driver has added "crappy parts" to his list of complaints. NASCAR has directly responded to his remarks on multiple occasions.
On Wednesday, three days after Harvick's No. 4 car was taken back to the R&D Center for a more thorough inspection following the Talladega race, NASCAR announced a massive penalty for the 2014 Cup champion and his team, including a four-race suspension and $100,000 fine to crew chief Rodney Childers. Moments after the news broke, both the driver and crew chief responded.  
Kevin Harvick criticizes and NASCAR responds
Kevin Harvick has been outspoken this season regarding safety concerns with the Next Gen car after the driver and many of his fellow competitors have repeatedly said that the hits, even the smaller ones, are more intense.
"It's never the first line item on the to-do list. I can tell you from a driver, every time I hit something, it's a lot harsher than any hit I took in any of the other cars," Harvick admitted back in August at Michigan. "The only thing I can compare it to is hitting a concrete wall compared to what it used to be. 
"That's the issue. It's not you look at the cars, and you're like, 'Oh man, they look great.' That's the problem. Nothing flew off of it, right? That's the problem, and all of that energy is absorbed through you. So it feels like you get hit by the hammer, and the car survives but is that really what you want? The cars are all together. That looks great, but it doesn't feel great."
A month later at Darlington, after his car inexplicably caught on fire and ended his race, the 46-year-old was understandably unhappy.
"We just keep letting cars burn up. Letting people crash into stuff. Get hurt," he told reporters. "We don't fix anything. No we're just riding around out there and the car catches on fire. Just s***** parts. They don't care. It's cheaper to not fix it." 
On the NBC broadcast, he said the same thing but provided a PG-rated version, referring to them as "crappy parts."
A couple of days after his comments, NASCAR's senior VP of competition, Scott Miller, appeared as a guest on SiriusXM NASCAR Radio and suggested the driver made his comments during an "emotional time" and what he had to say was "far from the truth." 
Harvick continues criticism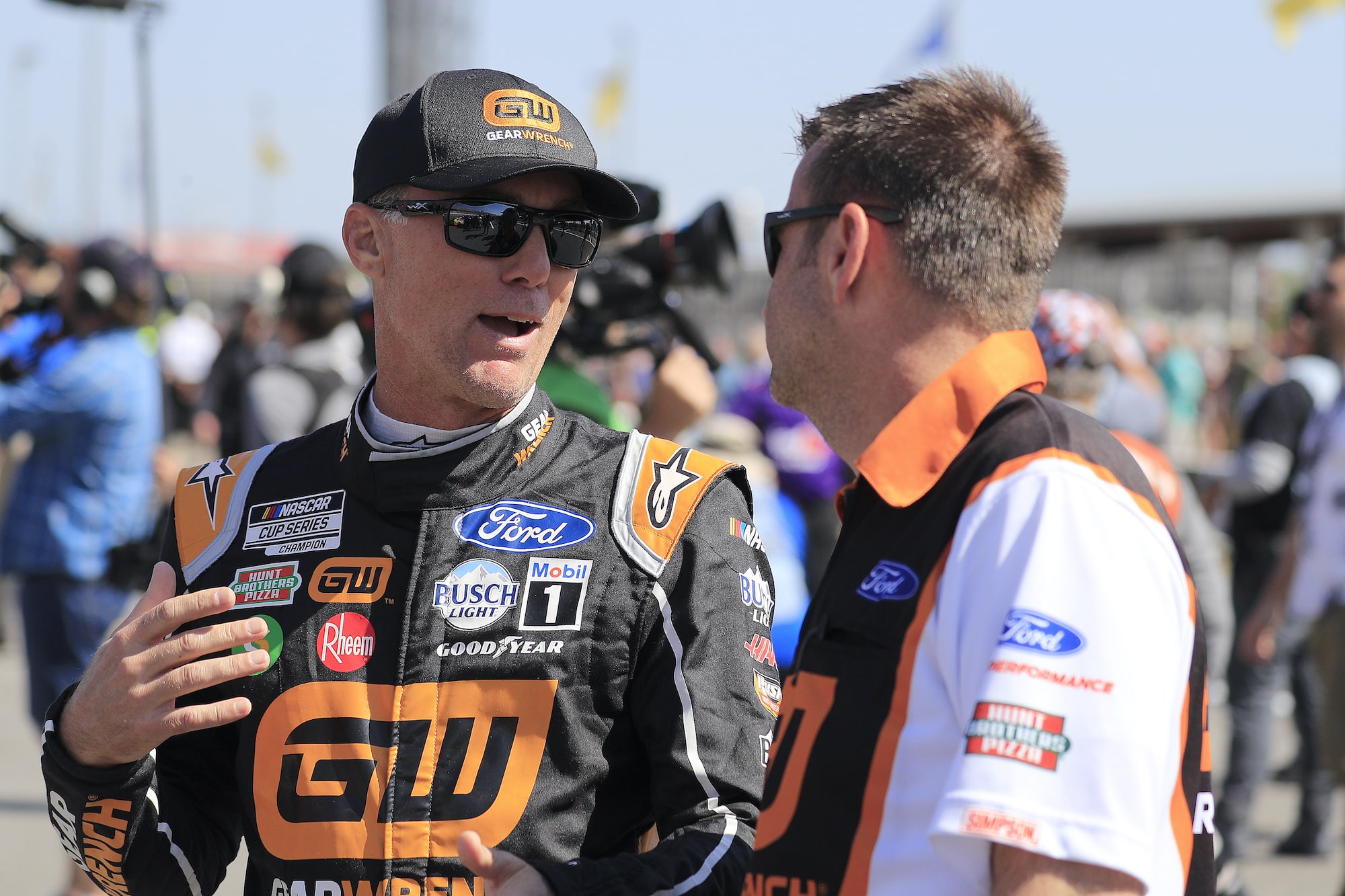 After the Bristol night race, where numerous cars experienced steering issues, Harvick shared an image on Twitter of a t-shirt that he was offering on his website, which featured a logo that said, "Happy's Crappy-Ass Parts 4 Less."
NASCAR's Miller appeared on SiriusXM NASCAR Radio several days later and responded. 
"Bristol is definitely a unique load case, and some things cropped up with the steering that weren't expected, but with the newness of this car and the newness of everything, it's not acceptable to have problems but it's probably part of the learning process for us all," Miller said. "All the teams, OEMs were involved in the (Request for Proposal) RFP process when we chose the parts. Everybody's got a stake in this, and it's not just NASCAR choosing 'crappy' parts." 
A week later, after the Texas race, when it was announced Alex Bowman would be missing the race at Talladega after suffering a concussion, Harvick shared his frustration on Twitter.
"Completely unacceptable that those in charge have let things get to this point," he wrote. "I remember it like it was yesterday @dennyhamlin in the presentation of the new car to the drivers pleading that the car was too stiff. Data didn't agree. Time to listen to the drivers crashing them."
NASCAR penalizes team; driver and crew chief respond
Last Sunday at Talladega, Harvick finished 29th. NASCAR announced after the race that it was taking the No. 4 and No. 19 of Martin Truex Jr. back to the R&D Center for further inspection. 
On Wednesday, NASCAR announced the findings of that review. In it, the sanctioning body suspended Harvick's crew chief Rodney Childers for four races, fined him $100K, and docked the driver and the team 100 points for modification of vendor-supplied body parts.
"Seems strange," Harvick tweeted within moments of the news. 
"Shocker," Childers replied to NASCAR's tweet about the penalty. 
While fans of the No. 4 might view the punishment as harsh, there is a precedent. Brad Keselowski's team suffered the same penalty earlier in the year. 
Whether or not NASCAR is trying to send a message, only the top officials know. Regardless of intent, Harvick has already shown that he's not going to be silent. He's going to continue to criticize the sanctioning body whether they like it or not.  
Like Sportscasting on Facebook. Follow us on Twitter @sportscasting19 and subscribe to our YouTube channel.