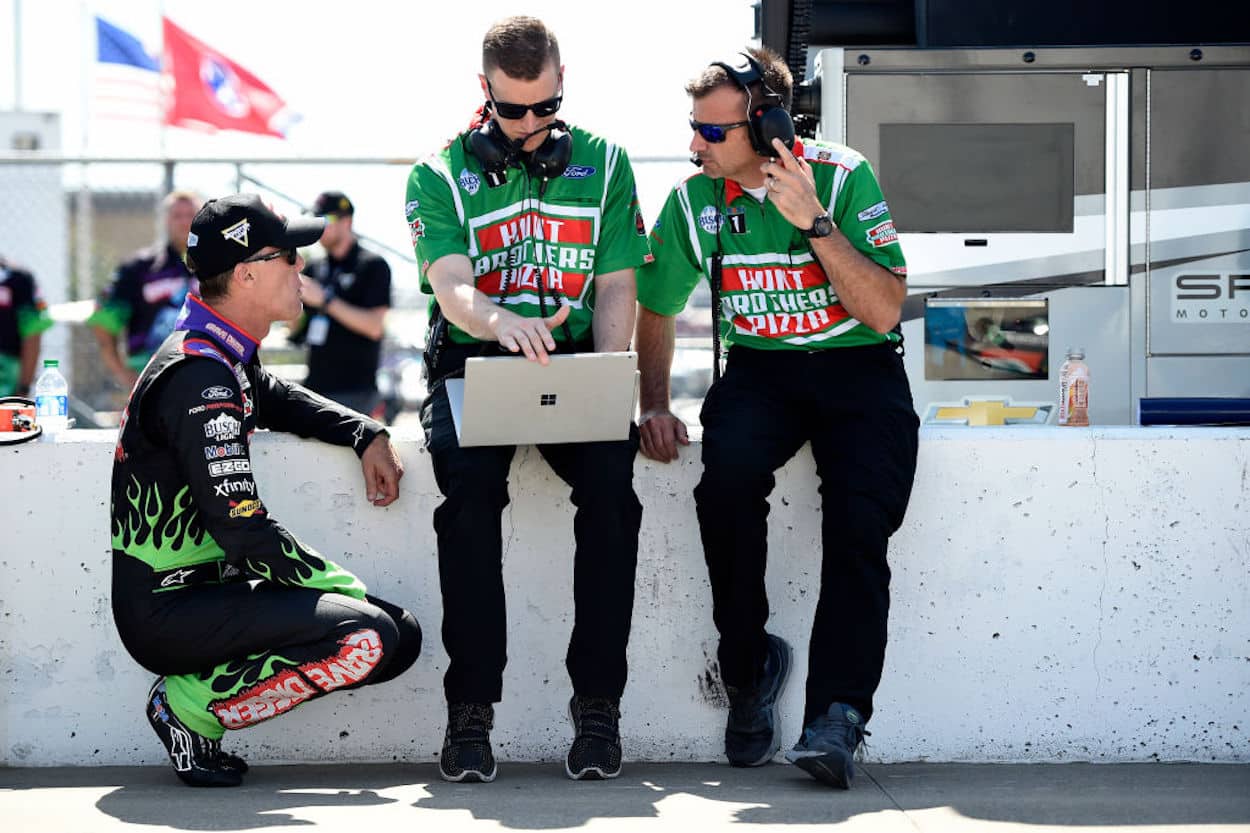 Crew Chief Rodney Childers Reveals the Unseen Moment When Kevin Harvick's Season Turned the Corner
Want to know when Kevin Harvick's Cup Series campaign took a turn for the better? Ask Rodney Childers all about it.
By all accounts, the 2022 NASCAR Cup Series season has been a rollercoaster ride for Kevin Harvick. Along with semi-frequent issues on pit road and his team failing on many occasions to find enough speed in his No. 4 Stewart-Haas Racing Ford to run up front and compete for wins, the veteran driver has at times seemed both frustrated and exhausted from the battle.
Then came this past Sunday's race at Michigan International Speedway, where Harvick not only earned his first Cup win since the fall of 2020 but also punched a ticket into the Cup Series playoffs – a feat that has seemed highly doubtful for most of the season.
Apparently, though, Harvick's true turnaround didn't take place at Michigan but rather at a track nearly eight hours away – roughly six weeks prior to arriving in the Irish Hills.
Early-season woes and others drivers' wins put Kevin Harvick in a precarious position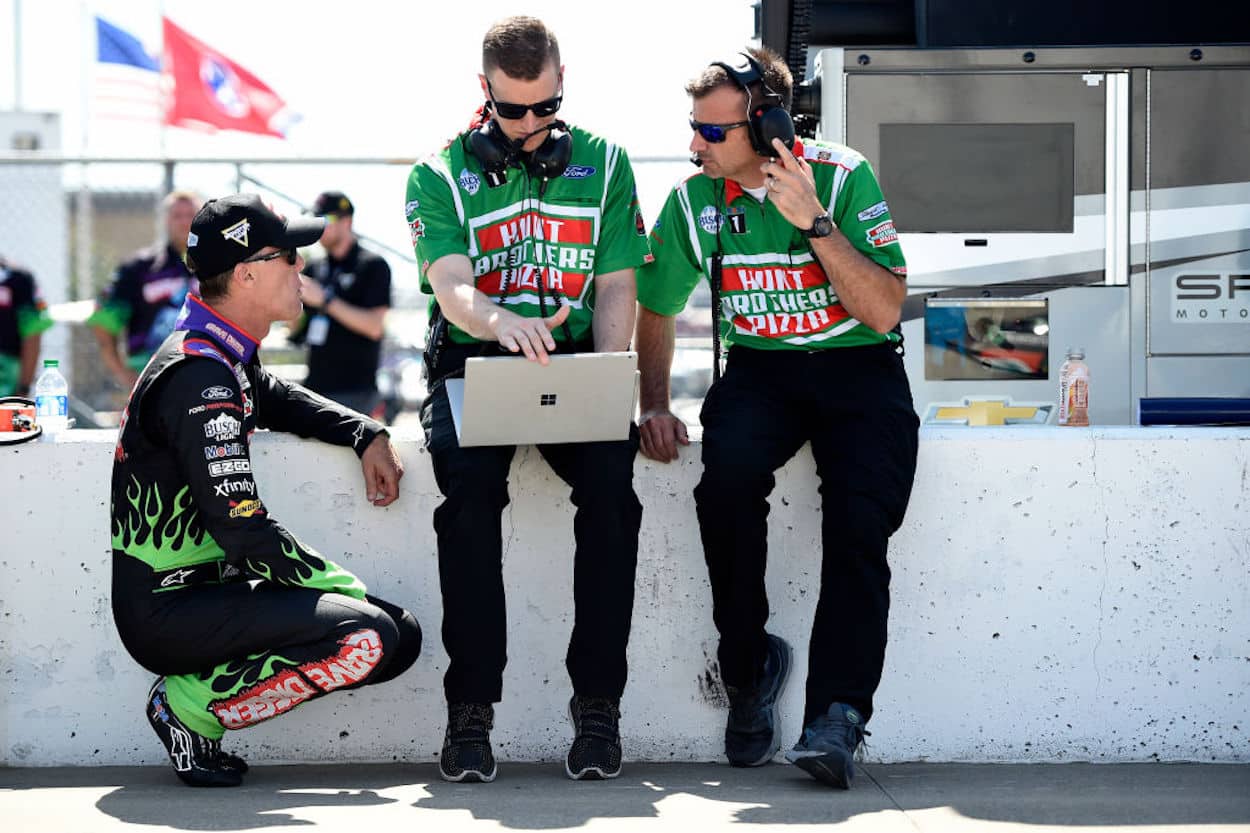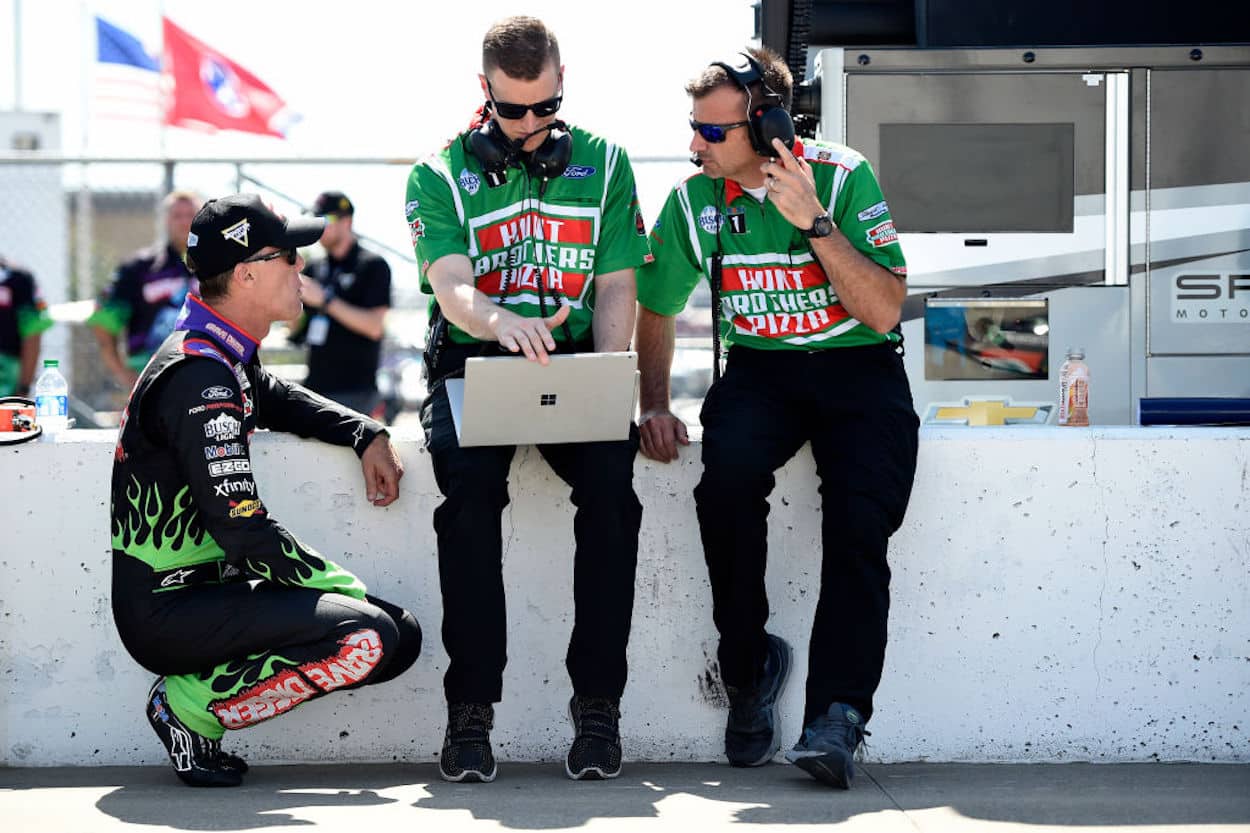 Hampered by recurring miscues on pit road and his team's struggles to adjust to the Next Generation Cup Series car that officially debuted in February's Daytona 500, Kevin Harvick quickly dug himself a points hole this season. But the bigger roadblock to a playoff berth was his absence from Victory Lane. 
Entering Sunday's race at Michigan, 14 other drivers had won this season – locking up 14 of the 16 available spots on the playoff grid in the process. The other two spots belonged to Ryan Blaney and Martin Truex Jr., who both held a healthy lead over Harvick in the standings.
But thanks to the win on Sunday, Harvick no longer has to sweat points; he's in the playoffs no matter what. But as big of a relief as that is to the 2014 Cup Series champion, he's more relieved just to be running well.
"As we went through the first part of the season and really not having everything where we wanted to be, we just really just kept our heads down and just kept communicating and working and working through what we thought our weak points were," Harvick explained during the postrace winner's press conference at Michigan.
"And really over the last five or six weeks, the cars have run a lot better, and a lot of that goes to … everybody just kind of just thinking about what we need to do different and trying things. And, really, it's gone smoothly over the last several weeks in the simulator, at the race track, and the way that things have raced."
So when was the turning point of 2022 for Kevin Harvick?
Surprisingly, the moment that put Kevin Harvick's season on the right course didn't happen during a race. In fact, it didn't even happen on a weekend when he finished in the top five.
It happened when no one was watching, during a practice at Nashville Superspeedway in preparation for the June 26 race where Harvick went on to take the checkered flag a quiet 10th.
"What turned our corner, I felt like, was having 50 minutes of practice at Nashville," Harvick's crew chief, Rodney Childers, said during his postrace media availability at Michigan. "We unloaded. We were absolutely horrible, and we changed everything on the car to start the race, and we qualified up front and ran up front all night, and we've done that ever since. 
"So having 50 minutes of practice, being able to change stuff after, it has changed our season."
The narrative has shifted dramatically on Kevin Harvick's season
Since leaving Nashville Superspeedway, Kevin Harvick has finished 12th or better in four out of six outings – the most recent being Sunday at the high-speed, 2-mile Michigan oval, where he led 38 of 200 laps and became the 15th different winner of the 2022 Cup Series season.
"We've just kind of gradually got better, and, honestly, that's been fun just learning this [Next Generation] car," Childers said. "I'll admit I was probably the hard-headed one all year. Just every week you talk about, 'Well, this is what we do with the old car, this is what we won with the old car.' None of that matters anymore.
"When you've done this for 20 years, it's hard to get over that. I finally started to get over it, and hopefully that's a good thing, and we just keep moving forward."
Childers isn't the only one who has made changes. From his comments after winning at Michigan, Harvick has obviously changed his tune considerably from where it was at Sonoma Raceway on June 12 when he threw his pit crew under the bus for slow work on pit road.
"We just have a catastrophic failure at least once, maybe twice, a weekend," Harvick said during a televised interview on FOX Sports after finishing fourth. "We can't figure that out, but we got back (toward the front) as far as we could. I guess it is what it is."
Ironically, it was the next race – at Nashville – where things began really trending in the right direction for Harvick and the No. 4 team. 
And based on Harvick's new outlook, it seems like things could be trending this way for quite some time.
Like Sportscasting on Facebook. Follow us on Twitter @sportscasting19 and subscribe to our YouTube channel.