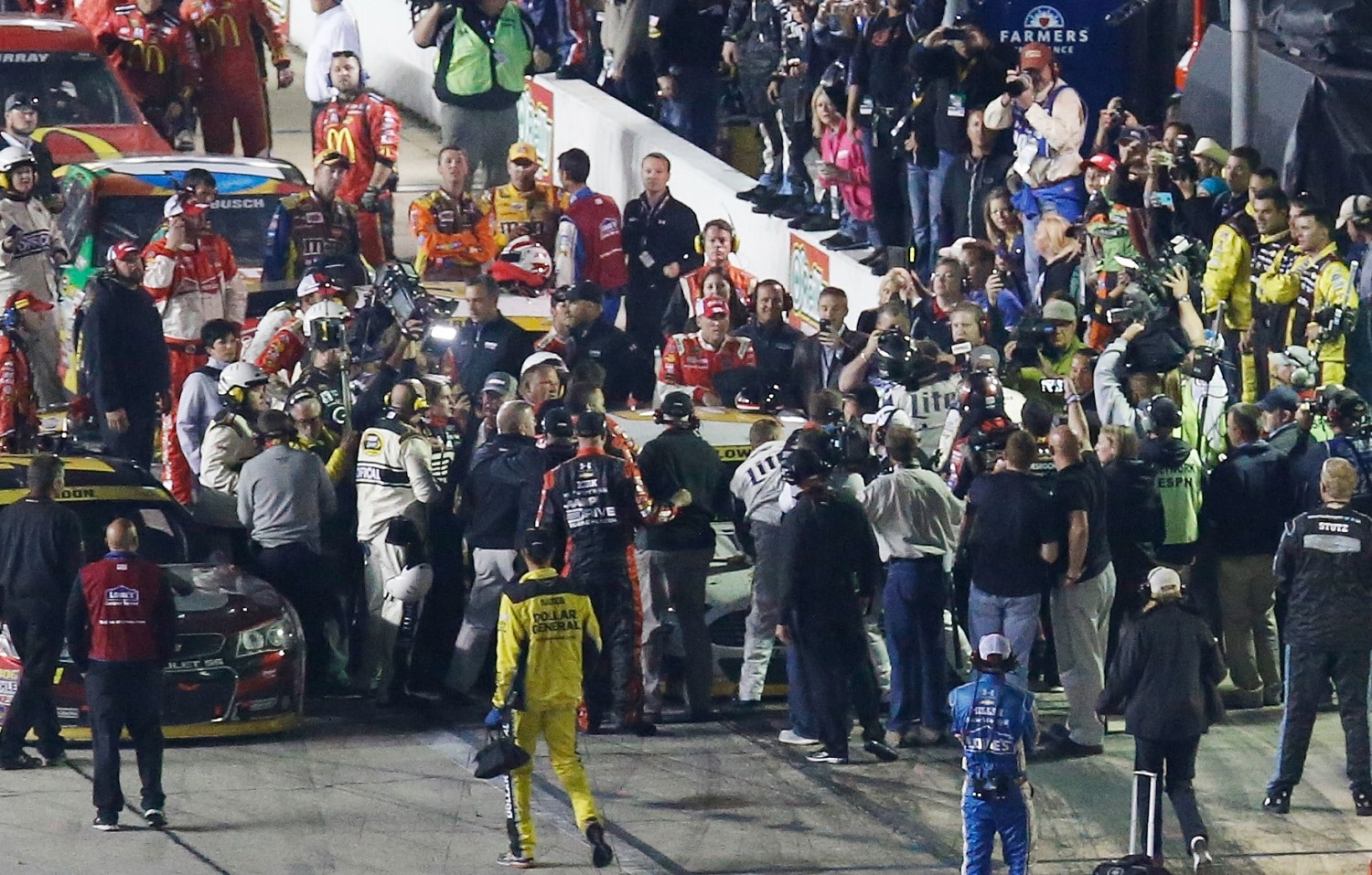 Jeff Gordon Owns up To Causing the Texas Melee Involving Brad Keselowski and Kevin Harvick but Assigns Some Blame to Clint Bowyer
The melee after the 2014 NASCAR playoff race at Texas Motor Speedway was the result of a misunderstanding by Jeff Gordon.
So, it turns out the 2014 AAA Texas 500 really was just a NASCAR remake of Caddyshack, and Kevin Harvick was reprising Bill Murray's role by creating the chaos around Jeff Gordon and Brad Keselowski and coming away blameless.
But Gordon was no innocent bystander. In fact, he just admitted one of the wildest brawls in Cup Series history would have never happened had he not blown a restart.
Jeff Gordon was in command until a late restart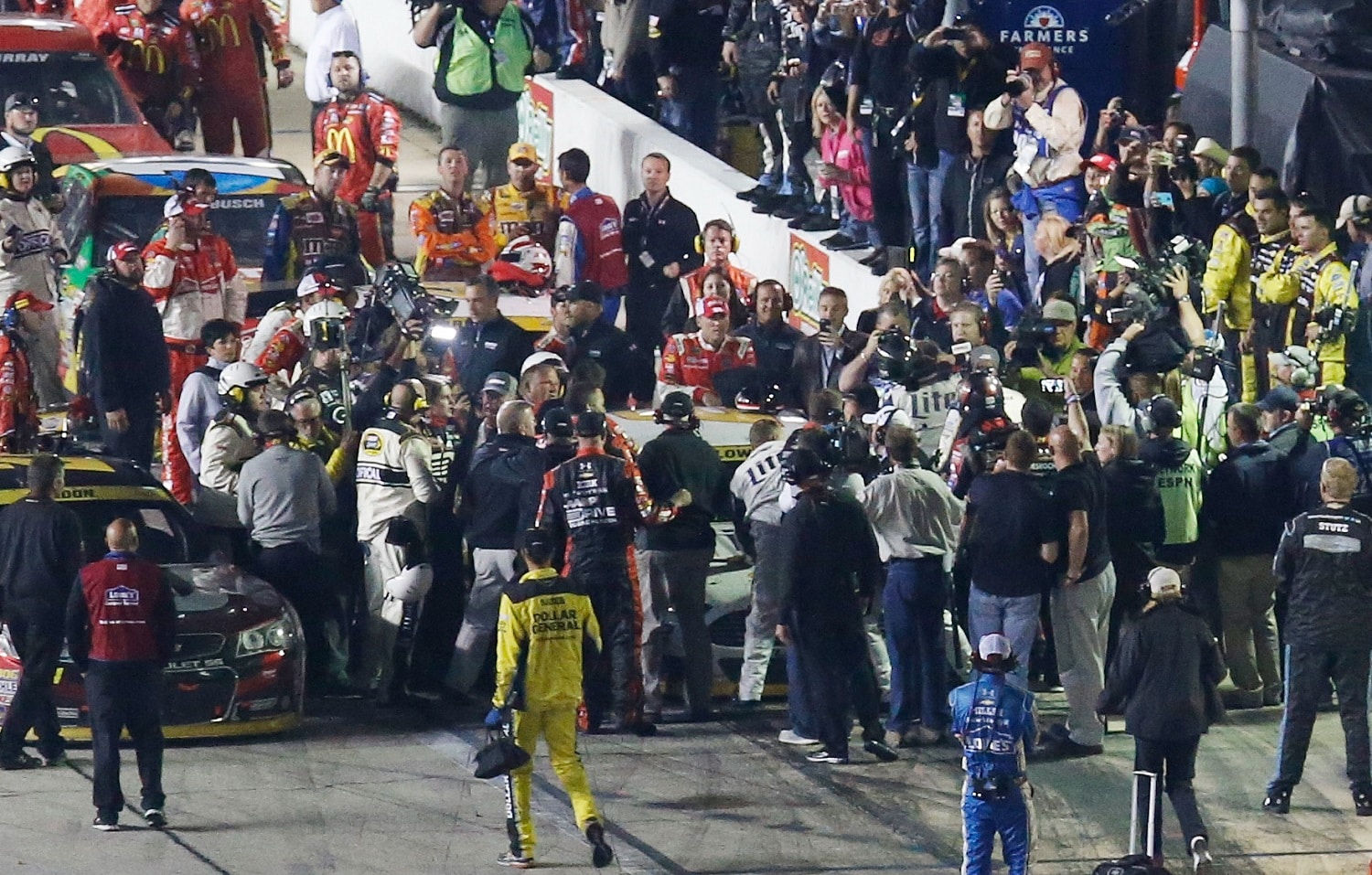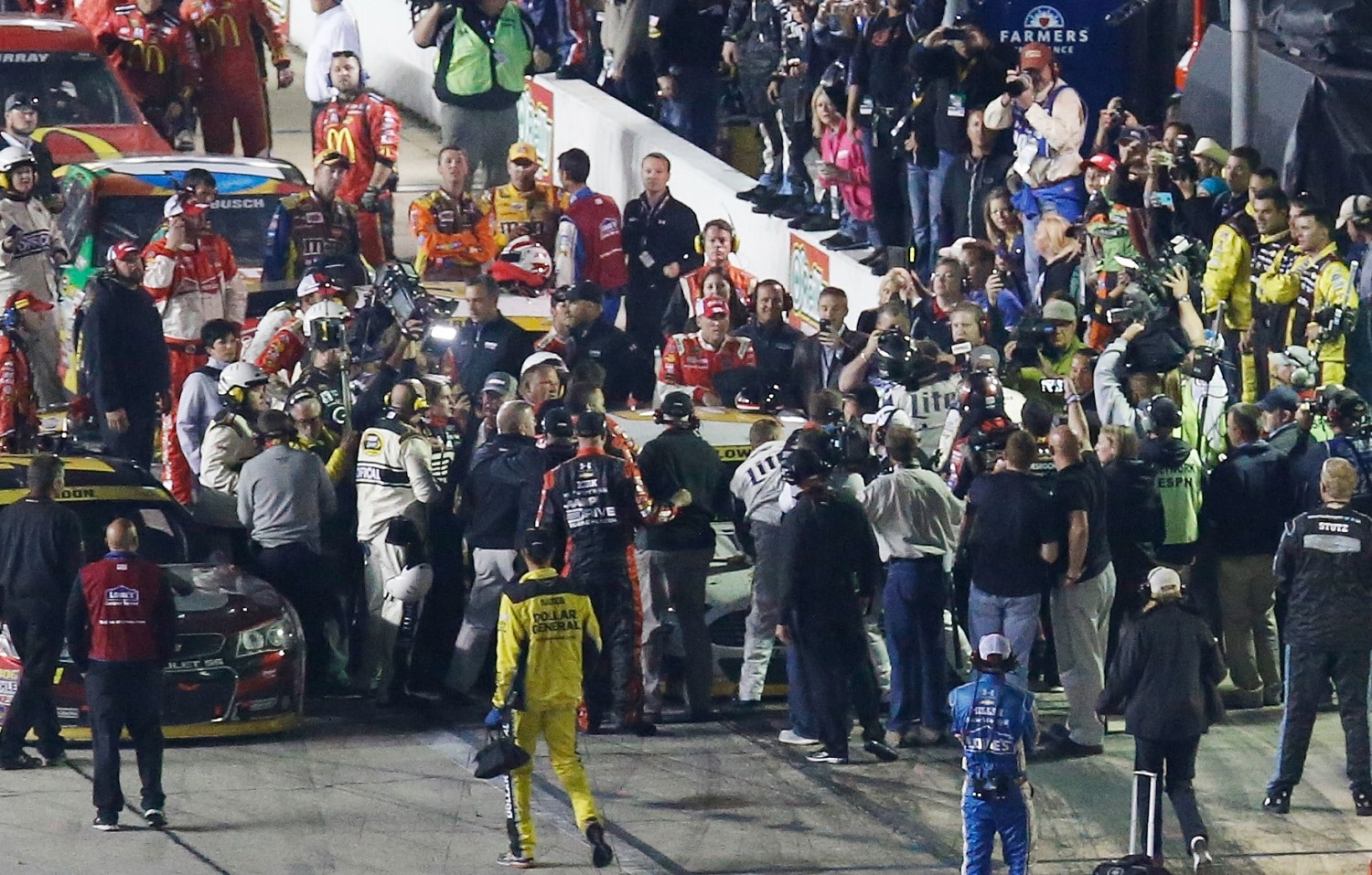 Even some hardcore NASCAR fans wouldn't remember that Jimmie Johnson won the 2014 AAA Texas 500 at Texas Motor Speedway. The driver of the No. 48 Chevy was already out of the running for a seventh Cup Series championship, and he happened to benefit from the wild late sequence that began with Clint Bowyer bringing out the caution flag.
Jeff Gordon had restarted in the lead with nine laps remaining when Bowyer got loose on the frontstretch five laps later, necessitating the race's 12th caution. When action resumed, Gordon started on the outside of the front row alongside Johnson but didn't fire out strong.
Keselowski saw an opening between the Hendrick Motorsports cars, stomped the gas, and brushed the No. 24 Chevy, cutting a tire of Gordon's car. It brought out the final caution, after which Johnson held off Keselowski and Kevin Harvick for the win.
Jeff Gordon: 'I missed the restart'
A massive fight on pit row followed the checkered flag – more on that momentarily – as Jeff Gordon was upset with Brad Keselowski. Gordon, 13 years removed from his fourth and final Cup Series championship, was adamant at the time that the driver of the No. 2 Ford had made a reckless move off the pivotal restart.
"He's just a dip****," Gordon said when interviewed by ESPN that night. "I don't know how he's ever won a championship. I'm just sick and tired of him."
Nine years later on SiriusXM NASCAR Radio, Gordon has taken ownership of the incident that took him out of the race after Clint Bowyer forced a restart.
"It took me a little while to admit this to him, but I missed the restart," Gordon admitted. "We had a couple restarts prior to that and I nailed them and was in a great spot to win the race. And then that last one came out – thank you, Clint – and, honestly, it was on me. I missed the restart.
"He did exactly what he should have done. He filled the gap and it's not like he just slammed me."
Kevin Harvick instigated the Jeff Gordon-Brad Keselowski brawl
The post-race fight on pit row between Jeff Gordon and Brad Keselowski involved dozens of crew members, ensnaring NASCAR and track staffers and some spectators. It almost certainly wouldn't have happened had Kevin Harvick not shoved Keselowski from behind as Keselowski and Gordon were having a relatively civil discussion next to the No. 2 Ford.
Once the shove happened, however, there were entirely too many people in proximity to the protagonists. Aside from people from the Gordon and Keselowski teams, there were crew members from at least three other teams looking on during the discussion, and Harvick's shove turned the area into a mosh pit.
Two days later, NASCAR handed out fines and suspensions to members of the Gordon and Harvick teams – crew chiefs Alan Gustafson and Kenny Francis were docked $50,000 apiece – but the drivers escaped punishment.
Got a question or observation about racing? Sportscasting's John Moriello does a mailbag column each Friday. Write to him at [email protected].