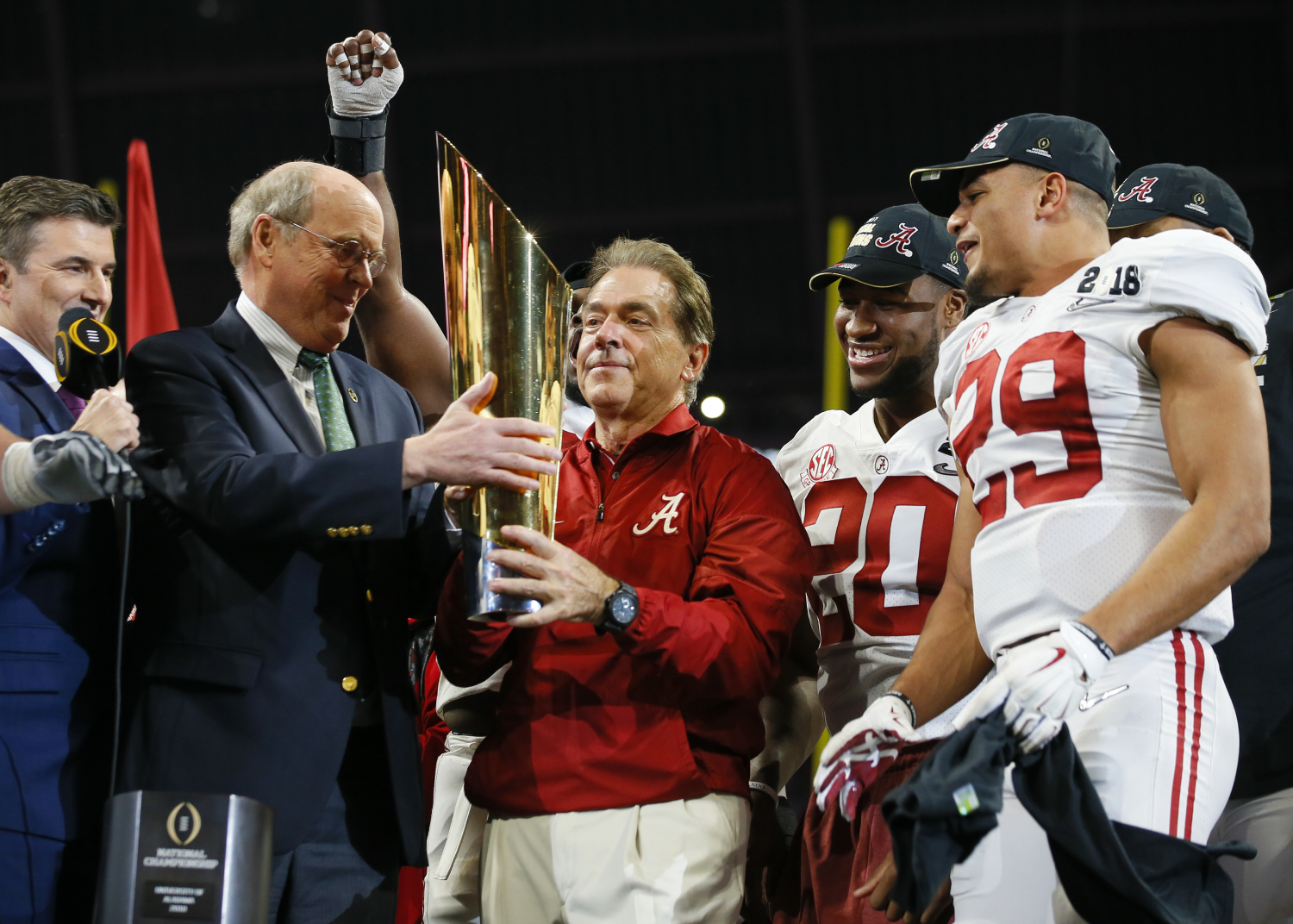 How Many National Championships Has Alabama Won in Football?
The Alabama Crimson Tide have one of the most dominant programs in college football. So, how many national championships have they won?
The Alabama Crimson Tide have easily been one of the most dominant college football programs in the country over the years. This has led to them winning a ton of national championships, especially in recent seasons.
So, since Bama has been so good under head coaches like Bear Bryant and Nick Saban, how many national championships has the school actually won heading into the national title game against Georgia on Jan. 10, 2022?
Bear Bryant won six national championships with the Alabama Crimson Tide
When you look at Alabama's history, it's pretty clear that former Crimson Tide head coach Bear Bryant is the one who really put the program on the map.
Bryant's first season was in 1958, and it didn't take him too long to win his first national championship, as the Crimson Tide won a title in 1961. He went on to win six total national championships at Alabama (1961, 1964, 1965, 1973, 1978, and 1979).
The Crimson Tide had some legendary players while Bryant was there. Among others, Joe Namath helped lead them to the title in 1964, and Ken Stabler was also on the 1965 team. 
However, Bryant's last season was in 1982, and they didn't win a championship again until 1992. After that campaign, the Crimson Tide went over 15 years without another championship until Nick Saban became the team's head coach.
Nick Saban has built a dynasty
Nick Saban became the head coach at Alabama in 2007, and the program has since been on one of the most dominant runs of all time.
During his third season in 2009, he helped lead Bama to a 14-0 record and a win in the BCS National Championship Game over Texas. That team featured great players like Heisman Trophy winner Mark Ingram.
Saban then led the Crimson Tide to back-to-back BCS national championships in 2011 and 2012. Amari Cooper was one of the stars of the 2012 team, as were Eddie Lacy and T.J. Yeldon.
Alabama then went a couple of seasons without a title. But the school went to the College Football Playoff national championship game in four consecutive seasons from 2015 through 2018. It won two titles in those four years.
During the 2015 season, Bama won in a close contest over the Clemson Tigers in the championship game but later lost to Clemson in the 2016 title game. In 2017, Alabama got revenge by defeating the Tigers in the semifinal before defeating Georgia in the championship. Clemson beat the Tide in the big game again in 2018, but Alabama won it all in 2020.
There were some incredible players on those championship teams, too. The 2015 team had players like Derrick Henry, Calvin Ridley, and Minkah Fitzpatrick. The 2017 roster featured Tua Tagovailoa, Jalen Hurts, Ridley, Jerry Jeudy, Henry Ruggs III, and Fitzpatrick. DeVonta Smith and Mac Jones were a couple of the stars on the 2020 squad.
So, since Alabama has had dominant seasons under Saban and Bryant, how many total national championships has the school won?
Alabama claims 18 national championships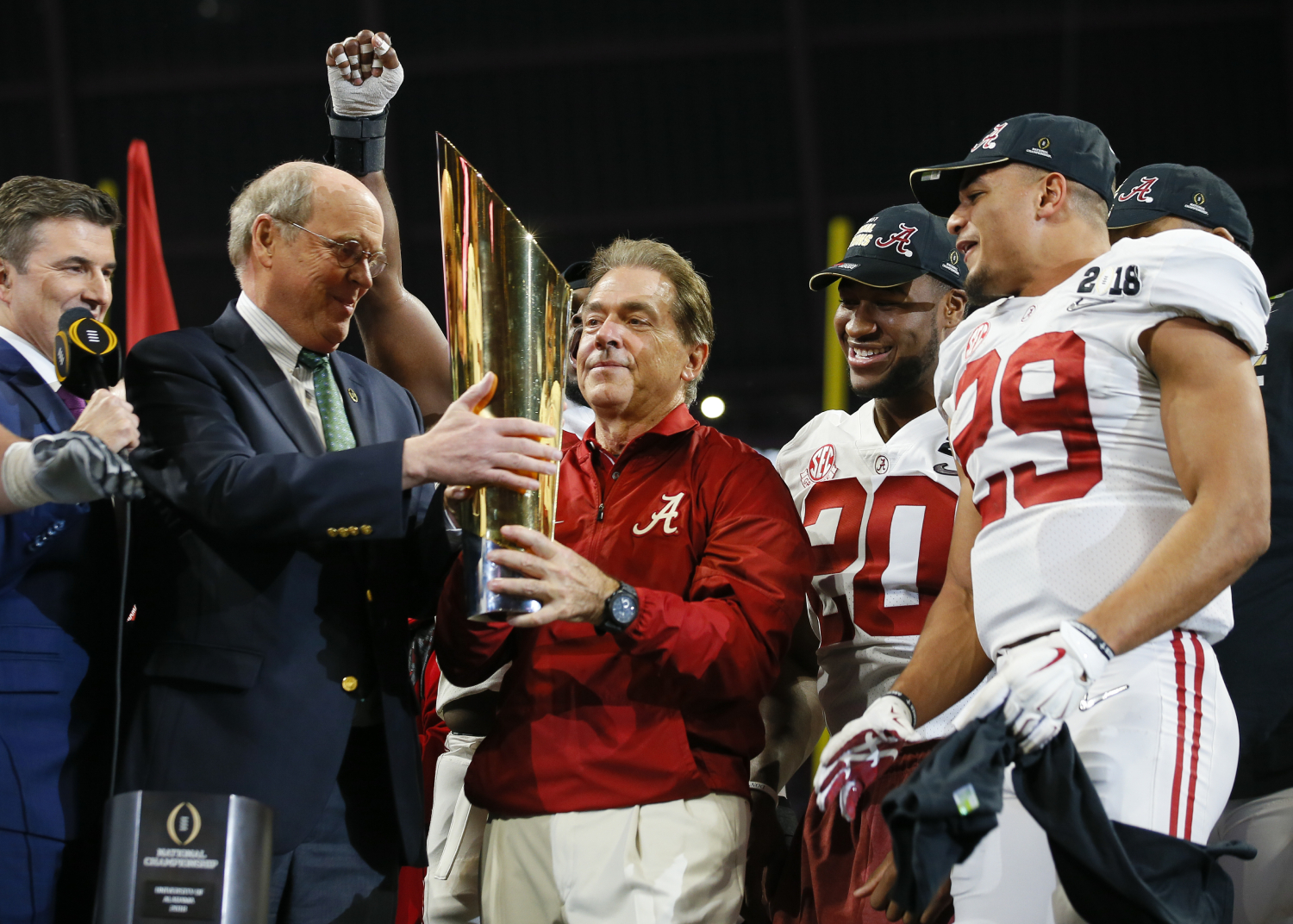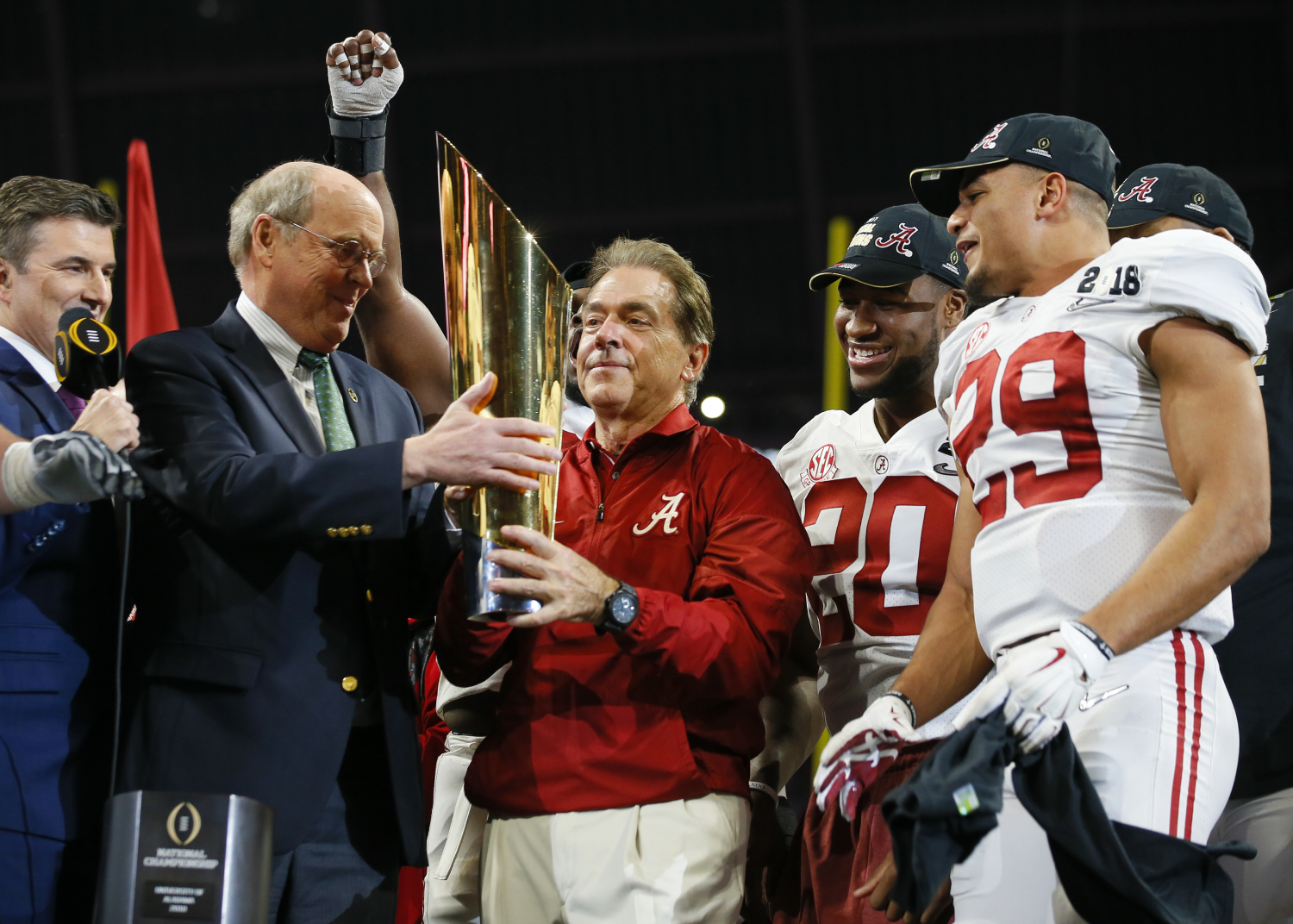 The total number of national championships Alabama has won is actually confusing. According to NCAA.com, Alabama has won 16 national championships. However, Alabama itself actually claims it has won 18, as different ranking systems sometimes made claiming national championships pretty confusing.
The NCAA counts these as Alabama's championships: 1925, 1926, 1930, 1961, 1964, 1965, 1973, 1978, 1979, 1992, 2009, 2011, 2012, 2015, 2017, and 2020. According to a video from AL.com, though, Bama also claims it won national championships in 1934 and 1941.
So, to answer the original question, Alabama has technically won 16 national championships. The program, though, claims 18.
Confusing, yes, but given how dominant Alabama has been under Saban, the Crimson Tide will probably continue to add to those numbers in the near future.
Stats courtesy of Sports Reference.