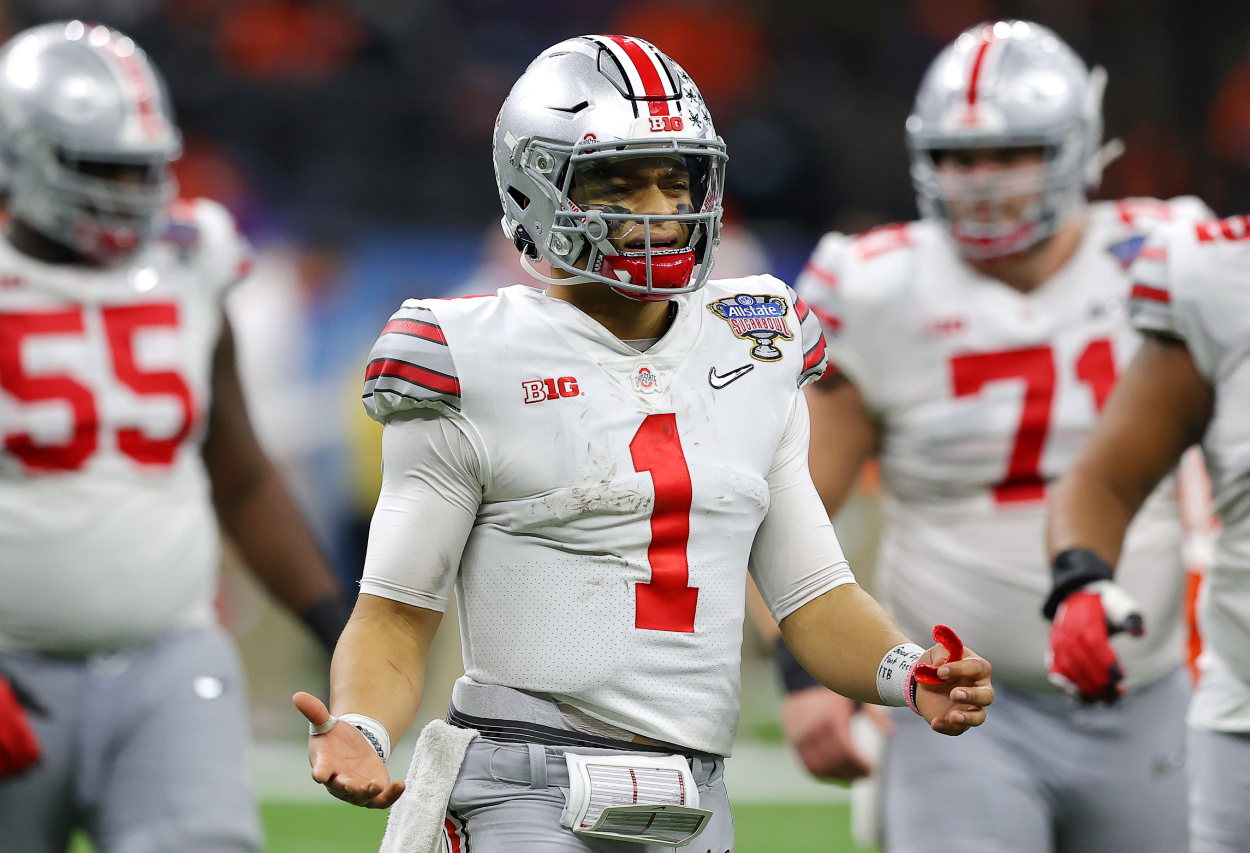 Matt Nagy Reveals What Triggered the Bears' Love for Justin Fields: 'That Was Neat to See'
Bears coach Matt Nagy revealed what exactly it was that triggered his love for quarterback Justin Fields.
For some reason, Justin Fields was sliding in the 2021 NFL draft. A big-time quarterback at a big-time school in Ohio State, he had at one point been projected to be the second pick in the draft behind Trevor Lawrence. He instead slipped out of the top 10, and the Chicago Bears moved up to get their man. Head coach Matt Nagy recently revealed why his team was enamored with its new addition.
Justin Fields scooped up by the QB-needy Chicago Bears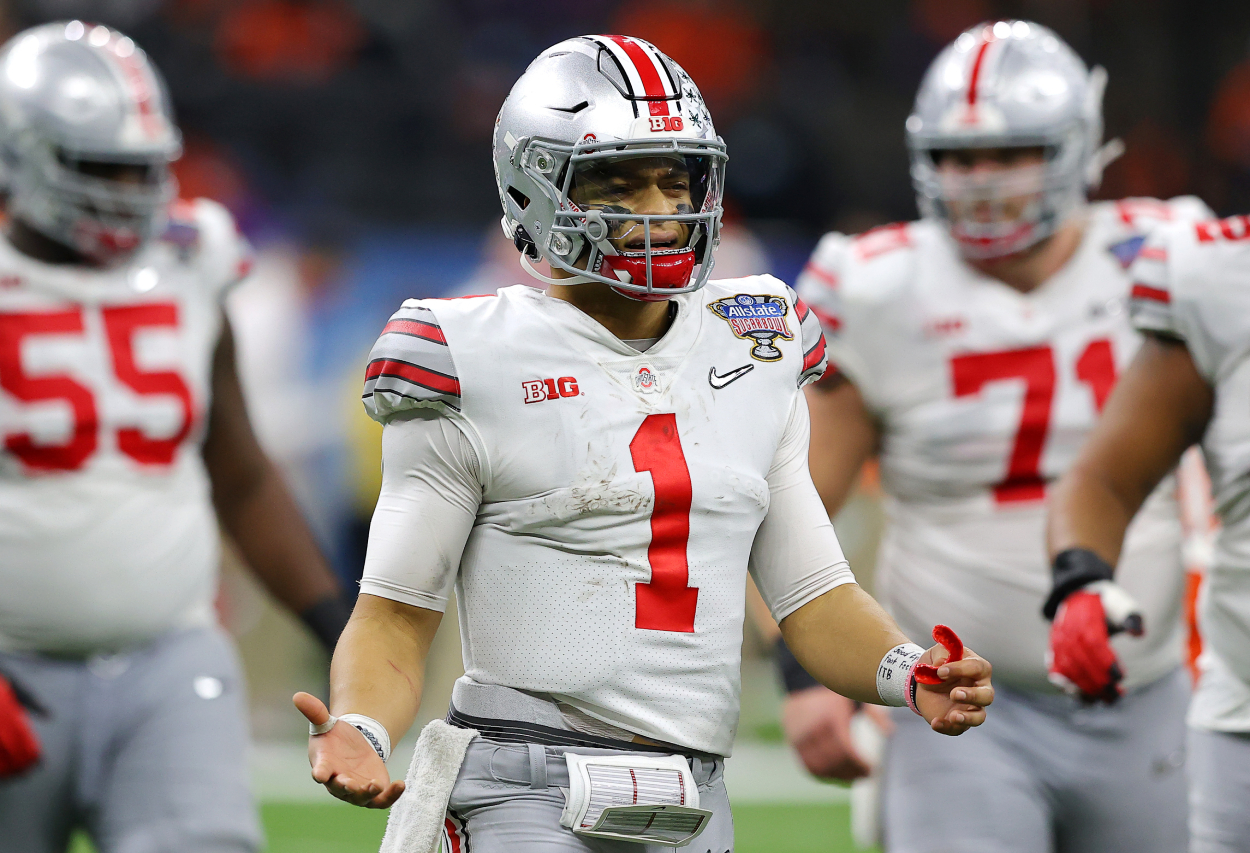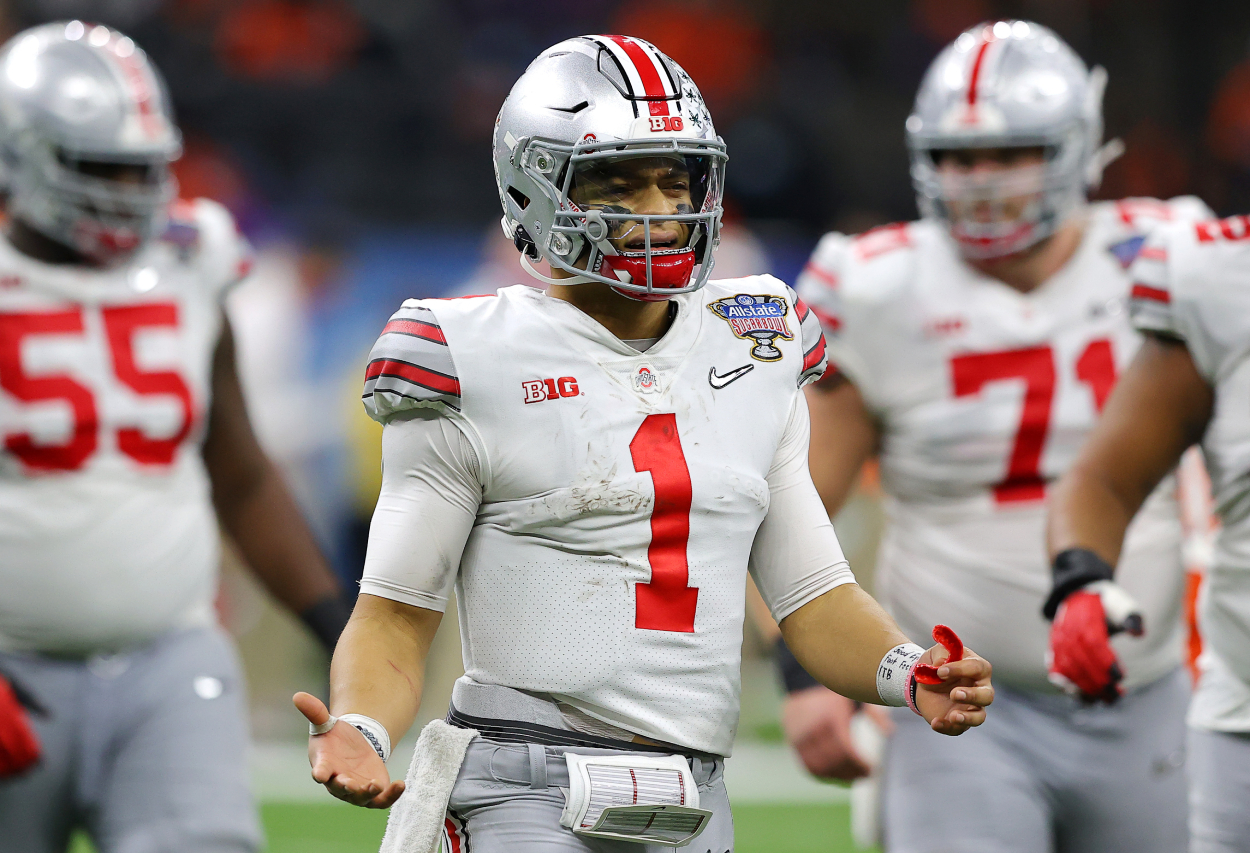 What else did Justin Fields have to prove? He was a proven winner on a Big Ten powerhouse. His athleticism is off the charts. He's got great size, speed, and arm strength. He's played against the best in college football.
Yet when it came to draft day, he saw quarterbacks Zach Wilson of BYU and Trey Lance of North Dakota State selected well ahead of him.
It's no knock on Wilson or Lance, but neither played against the competition Fields did. In fact, Lance played just one game in the last 15 months, and that was against Central Arkansas. In any case, Wilson went No. 2 overall to the New York Jets, while Lance was taken third by the San Francisco 49ers.
The Bears were picking at No. 20, and they had to make a move because Fields was unlikely to slip that far. Chicago traded with the New York Giants, who were picking 11th. They swapped first-rounders, and the Giants added a fifth-round pick this year and first- and fourth-round picks next year.
Chicago paid a hefty price to pay to move up nine spots.
Matt Nagy revealed what the Bears really love about Fields
Fields possesses just about everything teams want in their quarterback. His talent level is there, as are his leadership skills. If there was ever a question about his toughness, that was answered in a semifinal playoff game against Clemson. Fields took a wicked shot to the ribs and was able to bounce back, throwing six touchdown passes in a victory.
"The one thing from afar I always noticed was how crazy tough this kid was with all the shots he kept taking," Nagy told Sports Illustrated. "He just kept coming back in and making plays. And to have a guy that was such a dual-threat, and yet he's a competitor, he's a leader, his teammates love him, he's obsessed with the game—when you hear all that, how do you not get excited about it?"
And that's not even why the Bears loved him. Nagy said there was an added piece: his actual love for the game.
"What I thought was really interesting, and same with (GM) Ryan (Pace), when you talk to him, the second you started talking about X's and O's, the second you started talking about football, he really started lasering in, perking up," the head coach explained. "You really saw his personality start to show. He was extremely comfortable in that world. That was neat to see happen."
Matt Nagy gushed over Chicago's new quarterback
Nagy wasn't done talking highly of Fields, who joins veterans Andy Dalton and Nick Foles on the quarterback depth chart.
From a talent perspective, Nagy believes Fields would have no problem if he was forced into playing right away.
"The one thing with Justin, his arm is super strong, but there's some guys like that, when the ball comes out of their hands, they have a little bit of a wiggle with the ball, and it tailspins a little," Nagy said. "This kid throws a tight spiral. Justin's spiral, when the ball comes out and he hits it the right way, that ball, man, the revolutions on that spiral, it's spinning. You can just feel it."
For now, the Bears will be patient with their new quarterback.
"There are so many things that go into being a great quarterback, that are not just on the field but off the field, that he's gonna be able to learn from Andy and from Nick," Nagy said. "And that's where I think, if you look at the certain situations, some guys make it and some guys don't."