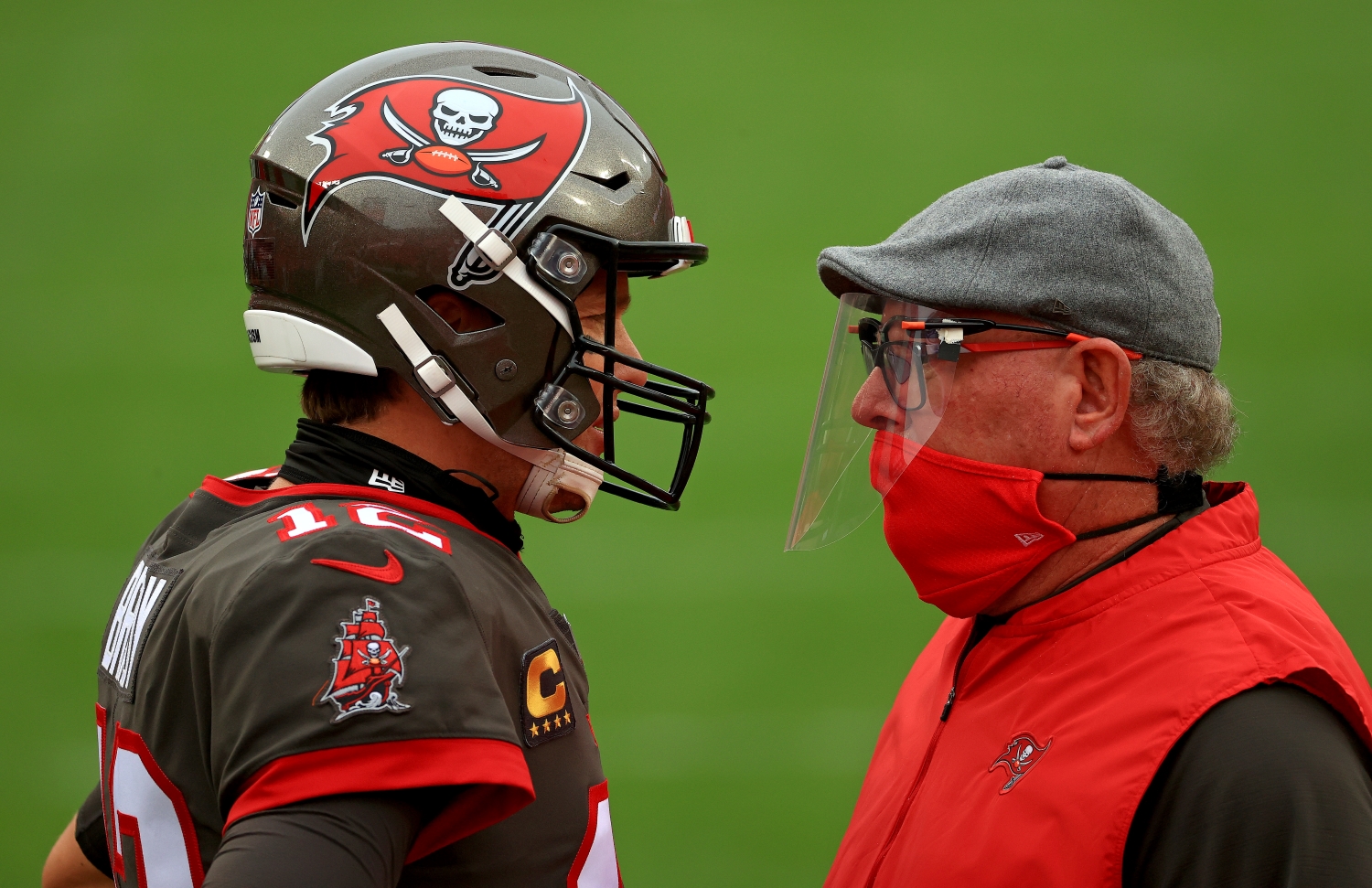 Bruce Arians Just Taught NFL Coaches a Valuable Lesson by Bowing Down to Tom Brady
Bruce Arians kept his promise to Tom Brady by letting Buccaneers players practice at the team facility without coaches around. Will this become a trend moving forward?
Sometimes you just have to let Tom Brady do things his way.
While Bill Belichick may not agree with that line of thinking, Bruce Arians clearly believes the reigning Super Bowl MVP knows what's best for the Tampa Bay Buccaneers. And by bowing down to Brady, the 68-year-old head coach taught his peers a valuable lesson about what being a players' coach really means.
Bruce Arians won the ultimate prize by getting on the same page with Tom Brady
Every relationship takes time to develop.
Need proof? Look no further than Arians and Brady.
Just like the team itself, the outspoken head coach and the legendary quarterback had some up-and-down moments during the early stages of the 2020 season. The Buccaneers lost two of their first five games, and Arians raised eyebrows by openly criticizing Brady.
After a Week 11 loss to the LA Rams, he questioned the quarterback's ability to diagnose defenses.
"Other than the deep ball, I think he's getting confused a few times with the coverage," Arians said. "That might be the cause for some inaccurate balls, but I don't see it at all in practice. We're not missing the deep ball in practice, that's for sure. It's just a matter on Sundays hitting them."
Luckily for the Buccaneers, Brady found his rhythm. And once the team started winning (Tampa didn't lose a single game after its Week 13 bye), questions about the relationship between Arians and Brady faded quickly. By the time the playoffs rolled around, they both exuded an air of confidence that trickled down to the rest of the roster. In the end, Tampa's combination of elite talent and a strong team culture — which included Arians allowing veteran players to have routine days off — led to Brady hoisting the Lombardi Trophy for the seventh time in his career.
Arians bows down to Brady with a player-friendly offer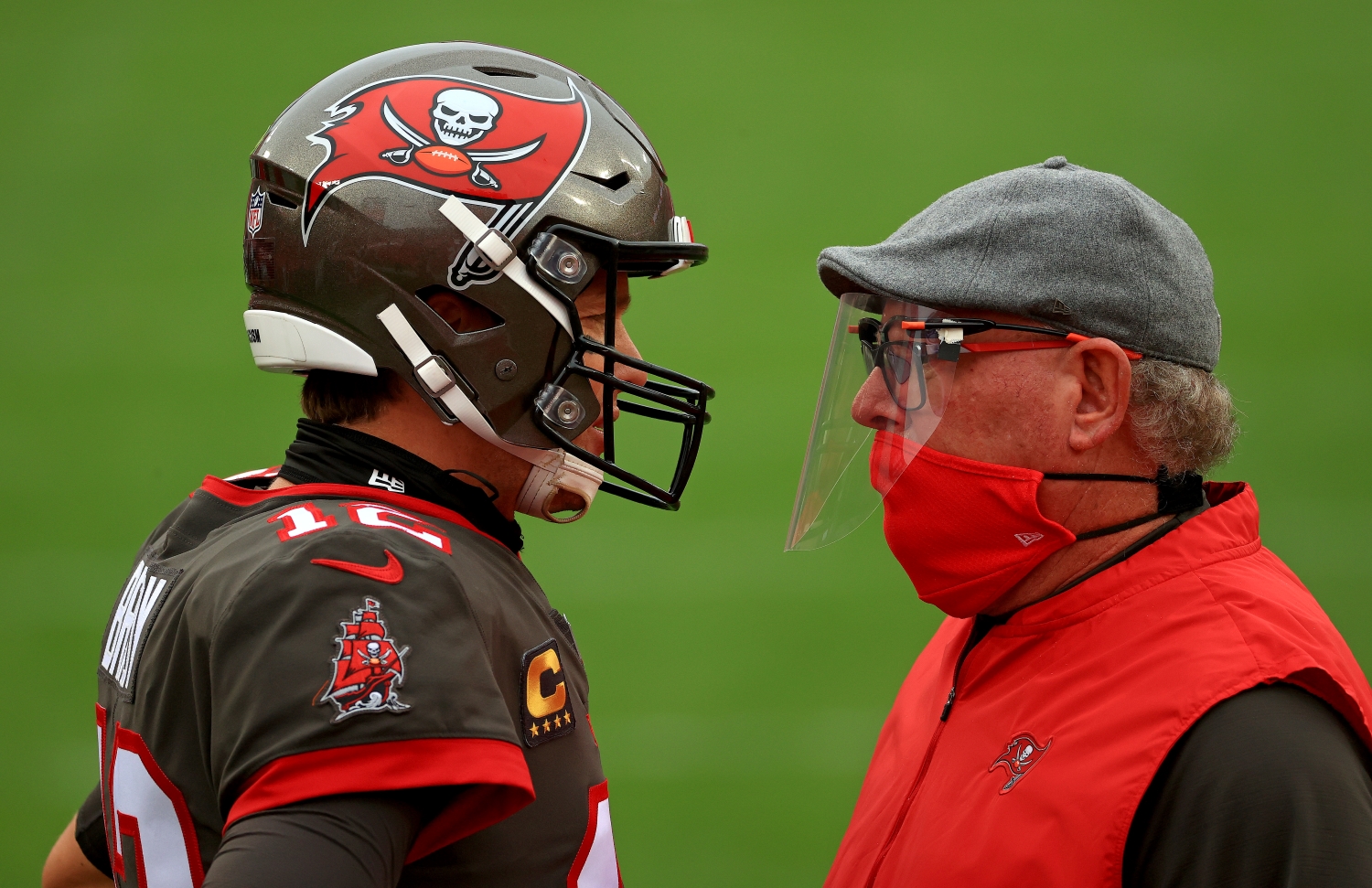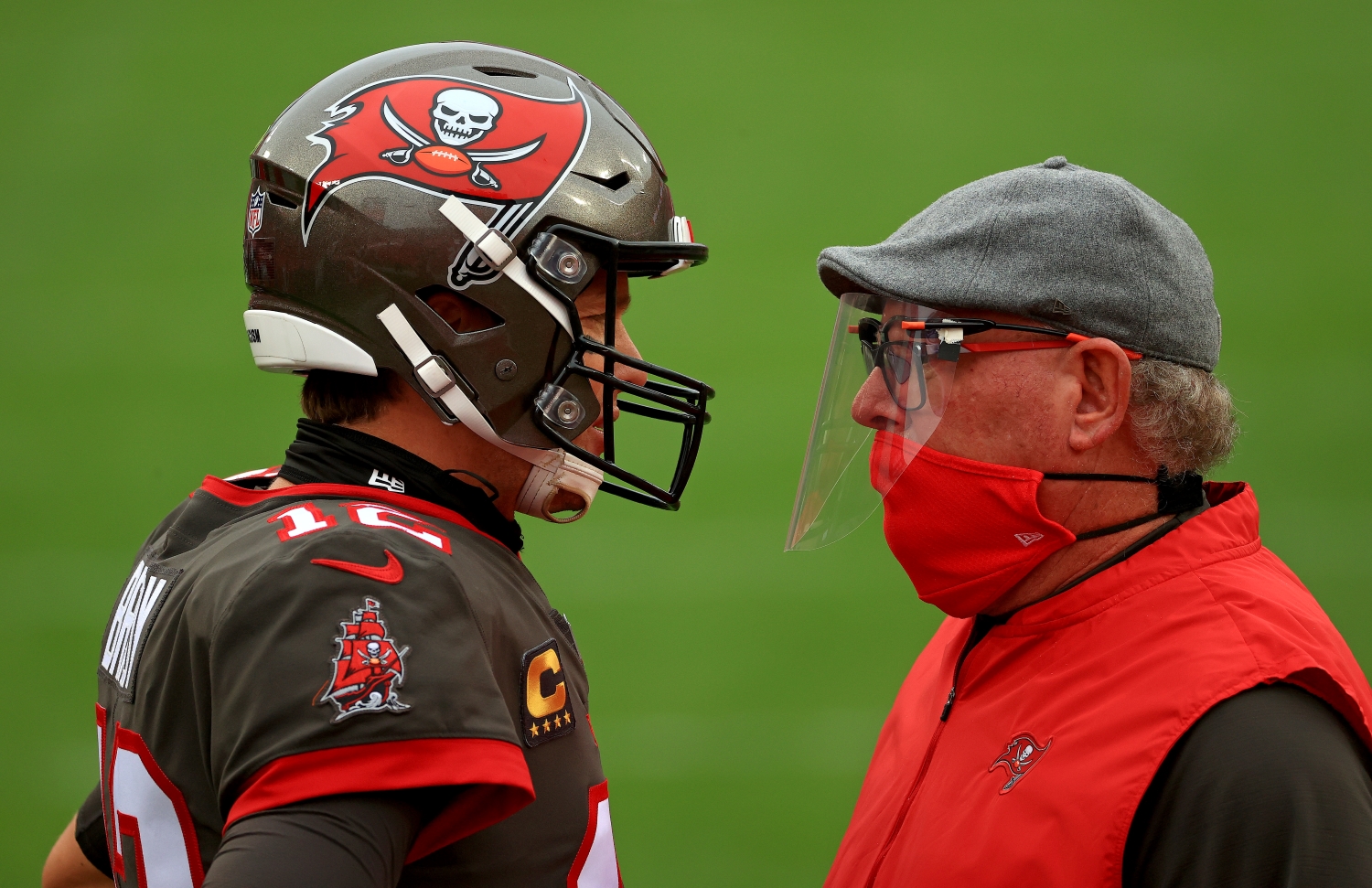 Brady has stood up for his peers in the push for changes to the offseason program, but he's still been eager to get back to work. On Monday, he hosted his own passing camp at the New York Yankees' spring training complex, which is located a quarter-mile away from Raymond James Field. But on Friday, the 43-year-old quarterback got a chance to work out at the Buccaneers' training facility with a few of his key teammates.
And that wouldn't have happened if Arians hadn't bowed down to Brady.
According to Rick Stroud of the Tampa Bay Times, Arians offered Brady the opportunity to host throwing sessions at the team's facility with no coaches present. He also said players could come and go freely and have full access to "everything from practice fields to the locker room and weight room."
By taking the field with Rob Gronkowski, Mike Evans, Antonio Brown, and a few more offensive players, Brady clearly took Arians up on his offer. And it sounds like the plan worked out well for everyone.
"Really pleased and excited to see the guys working together," Arians said. "Zoom meetings have been excellent. We'll be ready for minicamp to start a new journey."
NFL coaches can learn a valuable lesson from Arians
While some coaches might have a problem with players wanting to practice less or hold workouts on their own, Arians continues to show why having an open mind and the flexibility to adapt makes a huge difference in establishing a strong team culture. Last year, he let Brady, Gronkowski, and other veterans have the rest they needed to stay healthy over the long haul. After downplaying any interest in Brown, he found a way to incorporate him in the offense once the Buccaneers signed the controversial wide receiver. Plus, he pushed the right buttons to fuel Leonard Fournette to transform into "Playoff Lenny."
At the end of the day, does one throwing session make a difference?
In the grand scheme of things, absolutely not.
But Arians' willingness to do whatever it takes to help Brady and his teammates succeed should serve as an example of why coaches should trust and empower their players. Stars like Brady, Gronk, and Brown don't get to that level by not taking every workout seriously. They don't earn All-Pro selections and win Super Bowl rings without intense dedication and unwavering commitment. As long as their requests or preferences don't have a negative impact on the team, coaches shouldn't put up a fight.
That certainly seems to be the case with Arians. Based on how things worked out last season, it's safe to say being a players' coach can pay off.
And as long as Brady, Arians, and the Buccaneers continue to operate with that mindset, the future will remain bright in Tampa.
All statistics courtesy of Pro Football Reference.