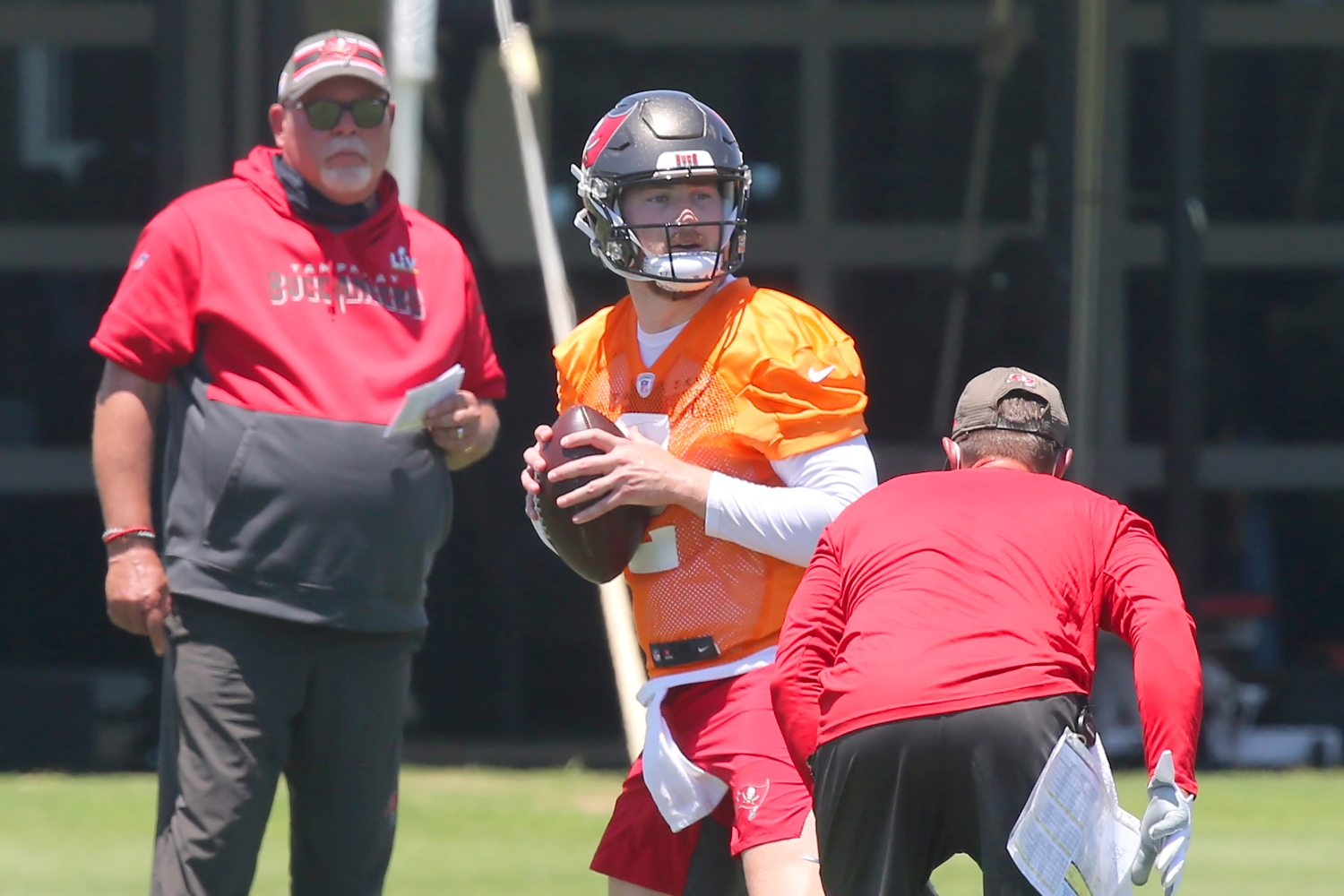 Bruce Arians Sent a Subtle Warning to Buccaneers Coaches While Raving About Tom Brady's Potential Successor
Bruce Arians sent a subtle warning to Buccaneers coaches about how to handle Tom Brady's potential successor, Kyle Trask.
Tom Brady could play until he's 50. Then again, if he wins his eighth Super Bowl ring this year, perhaps the greatest quarterback of all time will finally decide to call it a career. Given his year-to-year timeline, the Tampa Bay Buccaneers did well to secure a possible heir to the former New England Patriots star in the 2021 NFL draft.
While it hasn't taken long for Bruce Arians to sing Kyle Trask's praises, the outspoken head coach also sent a subtle warning to his coaches when speaking about the rookie. Ultimately, the excitement surrounding the rookie simply reflects how the Buccaneers have the most ideal quarterback situation in the NFL.
Tampa made a smart move to secure Tom Brady's potential successor
While Jimmy Garoppolo didn't even play out his rookie contract in New England, there's a solid chance Brady's latest understudy does fill his spot in the starting lineup one day. After all, the Buccaneers wouldn't have used the 64th overall pick on Trask if they didn't believe he carried that type of upside.
Although he didn't become a first-round selection like his two favorite targets at Florida, the 6-foot-5, 236-pound signal-caller didn't slip too far down the board. As the sixth quarterback taken, Trask obviously doesn't have the same ceiling as Trevor Lawrence, Zach Wilson, Trey Lance, or even Justin Fields. Still, he showed enough positives on film to warrant an early-round selection.
Gators fans watched the Texas native shine in Dan Mullen's offense for two years. Coming off a rock-solid junior campaign in which he completed 66.9% of his passes for 2,941 yards and 25 touchdowns, Trask put himself in the Heisman Trophy conversation with a sensational senior season. His stock soared thanks to throwing 43 touchdowns for a Florida team that finished 13th in the country at 39.8 points per game.
Trask showed starting-caliber skills as a passer, and he also boasts a prototypical frame. He must improve his footwork, pocket mobility, and blitz recognition, but he certainly has an intriguing set of tools that makes him a logical fit behind Brady.
Bruce Arians sends subtle warning to his coaches while raving about Kyle Trask
On Friday, Trask took part in his first rookie minicamp practice. As the only quarterback on hand, he got plenty of opportunities to show off his arm. And based on the words of his new head coach, it's safe to say the first-year pro made an excellent first impression.
"I think he grasped it very well," Arians said, according to the Tampa Bay Times. "He was throwing the ball where it's supposed to go. He had a couple of drops on him, but I thought he looked really good."
Trask also drew praise for his ability to process information and his accuracy. After performing well in his debut, he followed up with another praiseworthy effort Saturday. But in the midst of his rave review about the rookie quarterback, Arians also sent a subtle warning to his coaches.
"I thought he was great," he said of Trask. "I thought he was fantastic. He's got three guys coaching the sh*t out of him on each play, so they need to calm down and let him go. I'm really pleased with where he's at right now."
The fact Arians already wants to loosen the reins this early certainly seems noteworthy. It doesn't mean Trask is bound to succeed, but it's definitely interesting that his coaches have essentially been told to back off a bit.
The future looks bright for the Buccaneers at the most important position in sports
Talk about having the best of both worlds. Tampa can claim it has a top-five quarterback and a developmental prospect with legitimate starting upside.
Brady proved in 2020 that he still has the ability to dominate on a consistent basis. Was everything perfect? Absolutely not. But you don't throw 40 touchdowns at age 43 by accident.
If Alex Guerrero can keep the GOAT feeling pliable for another year, expect TB12 to put up big numbers again. Plus, it helps to have a terrifying array of weapons that includes Mike Evans, Chris Godwin, Rob Gronkowski, and Antonio Brown.
Even if Brady only sticks around through 2022, that gives the Buccaneers plenty of time to work with Trask. Instead of having to thrust the young quarterback into the lineup before he's ready, Arians and the coaching staff can employ a long-term approach to his development. Maybe a few years of serving as Brady's backup will make all the difference in Trask's future success.
Ultimately, though, the Buccaneers don't need to know whether he can be a starting quarterback right now. And if Brady continues to defy Father Time even longer, Trask won't see the field anytime soon.
All statistics courtesy of Sports Reference and Pro Football Reference.