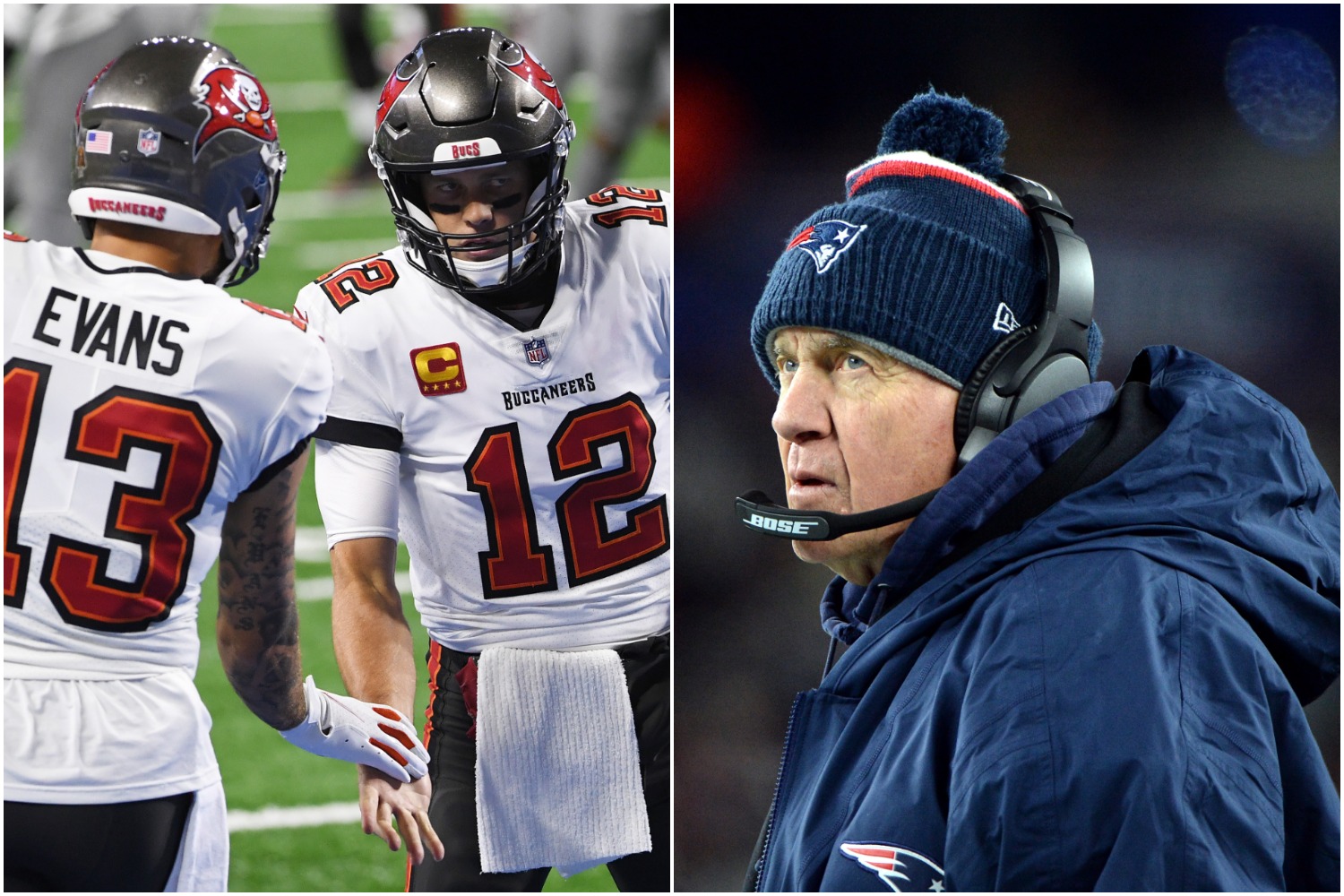 Tom Brady's Simple Criteria for Scouting Receivers Makes Bill Belichick's Brutal Draft Record Look Even Worse
Think Tom Brady has a future in scouting? Maybe Bill Belichick should take a page out of Brady's scouting playbook and simplify the Patriots' process for drafting receivers.
Bill Belichick excels at many aspects of his job. After all, you don't threaten to overtake Don Shula for the NFL's all-time wins record by accident. However, when it comes to evaluating wide receivers, Belichick has struggled mightily to find starting-caliber players in the NFL draft.
In fact, his inability to surround Tom Brady with adequate weapons played a major role in the quarterback's change of heart about finishing his career with the New England Patriots.
And when you consider Brady's simple criteria for scouting the position, it only makes Belichick's brutal draft record look even worse. And if the Patriots have any hope of beating Brady and the Tampa Bay Buccaneers in Week 4 of the 2021 season, they better hope the greatest coach in NFL history didn't sign the wrong receivers in free agency.
Tom Brady received a special assignment from Bruce Arians this offseason
The Buccaneers entered the offseason with a long list of impending free agents that included Chris Godwin and Antonio Brown. With an eye on the future of the receiver position, Bruce Arians gave his quarterback a special project to work on. During Wednesday's appearance on The Rich Eisen Show, the Buccaneers head coach revealed how he got Brady involved in the evaluation process.
"Look at these receivers and see if there is something you like," Arians instructed the future Hall of Famer. "And I will critique your ability to critique receivers."
So how did Brady perform in his amateur scouting role?
"He did great," Arians told Eisen. "There are certain things he likes. He likes really good, big, fast receivers."
Bill Belichick's draft record at the receiver position looks even worse based on Brady's simple scouting criteria
Not exactly a complicated formula, right? While we don't know which prospects Brady looked at, he clearly did a solid job based on Arians' assessment.
Does that mean he should be part of Tampa's scouting staff moving forward?
That's taking it too far.
However, Brady's simple criteria for evaluating the position — combined with his history of making things work with lesser-talented players — only makes his old boss look worse for all the mistakes he's made over the years trying to draft a starting-caliber receiver. And Belichick's struggles extend all the way back to the beginning of Brady's career.
In 2006, New England selected Chad Jackson with the 36th overall pick. Considered a high-risk, high-reward prospect, he never came close to living up to expectations. Instead of developing into a premier playmaker, he only caught 14 passes for 171 yards and three touchdowns in 14 games with the Patriots.
Three years later, Belichick used a third-round pick on Brandon Tate, who caught a total of 46 passes in college. He recorded 23 catches in two seasons before New England cut ties with him. Taylor Price also arrived as a third-round pick the following year.
He caught three passes for the Patriots and never played another NFL down after the 2012 season.
Belichick then whiffed twice in the 2013 draft by taking Aaron Dobson and Josh Boyce in the second and fourth rounds, respectively. Both receivers struggled to stay on the field, and neither panned out in New England.
Worst of all?
Belichick finally used a first-round pick on a receiver in Brady's final year with the team. But as Patriots fans have learned the last two seasons, the Patriots made a massive mistake by taking N'Keal Harry over DK Metcalf, Deebo Samuel, and A.J. Brown.
Will Belichick prove better at evaluating veteran wideouts?
Nobody knows exactly why New England can't seem to draft and develop a starting-caliber wideout. But considering Belichick calls all the shots, it's safe to say there's a flaw with his process. Perhaps following Brady's criteria — which places an emphasis on size and speed — would serve the Patriots better than whatever they've been doing the last two decades. While Julian Edelman managed to outperform expectations, Belichick simply doesn't have many success stories to point to on his draft record at receiver.
If New England has any chance of competing for a Super Bowl title this season, the Krafts better hope Belichick made the right moves in free agency. In an effort to shore up the position, the Patriots signed Kendrick Bourne and Nelson Agholor. However, neither veteran projects as a true No. 1 receiver. But based on their contracts (Bourne signed a three-year, $15 million deal; Agholor signed a two-year, $22 million deal with $16 million guaranteed), it's clear the Patriots believe they can step right in and make an impact.
If that doesn't occur, though, Belichick will continue to lose credibility as a personnel evaluator. And at this point, he can't afford any more misses. Because if New England's receiver group fails to take a major step forward in 2021, it will only raise more questions about Belichick's role moving forward.
For his sake, Bourne and Nelson better pay off.