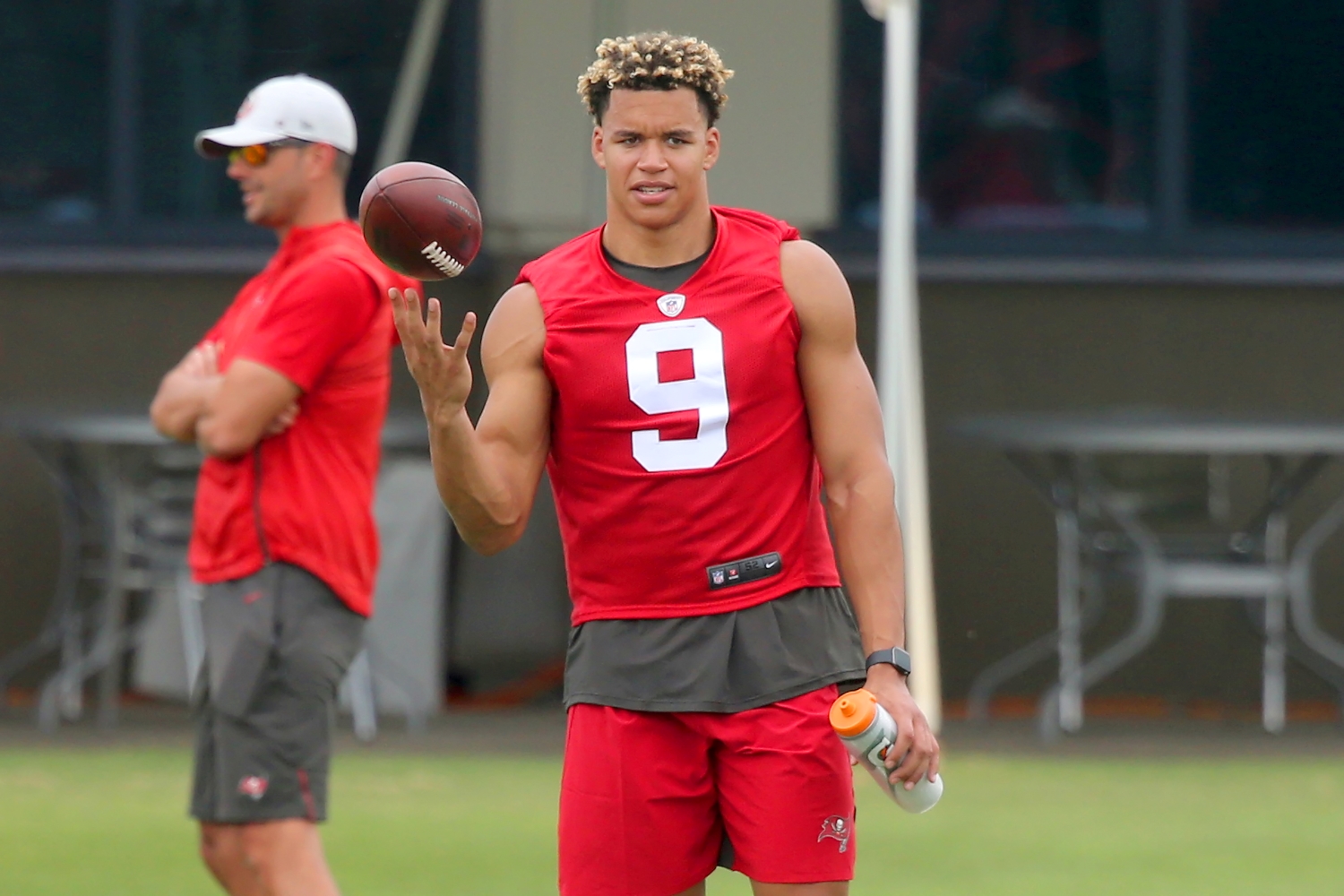 Buccaneers Rookie Joe Tryon Will Use His First NFL Contract to Fund His Sister's Future Career and Make His Mom's Debt Disappear
By becoming a first-round pick last month, Buccaneers DE Joe Tryon will be able to help his sister and mother by providing some life-changing financial assistance.
Joe Tryon officially became an NFL player last month. Even though he has yet to play a single down for the Tampa Bay Buccaneers, the talented edge defender already has an eye on the future.
While other rookies might use their newfound riches on jewelry or cars, Tryon plans to use his first NFL contract to help his sister reach her own career goals. And thanks to his status as a first-round pick, the humble 22-year-old will have the ability to do something truly special for his mom, too.
Tampa made Joe Tryon the final player taken in the first round of the 2021 NFL draft
By the time the Buccaneers came on the clock at pick No. 32, most of the top prospects in the 2021 NFL draft had long gone off the board. However, Tampa still exited the first round with a player who carries tremendous upside at the next level. After all, Tryon didn't become a Day 1 pick by accident.
In his redshirt freshman season at the University of Washington, the athletic outside linebacker totaled 20 tackles and one sack in 10 games. In his second year on campus, though, Tryon looked like a completely different player.
His production exploded, and the college football world took notice. Tryon racked up 41 tackles (12.5 for loss) and eight sacks in 13 games. And by emerging as a dominant force for the Huskies, he earned second-team All-Pac-12 honors.
Although Tryon didn't play in 2020 due to the impact of the COVID-19 pandemic, he still became a first-round pick thanks to his solid game film, intriguing physical tools, and potential to develop into an elite pass rusher. Achieving that feat also put the Seattle native in a position to help his mom and sister achieve their own goals.
The Buccaneers rookie plans to put his contract to good use for his family
As the No. 32 overall pick, Tryon projects to receive a four-year, $11.171 million contract. Plus, his rookie deal will also include a fifth-year option.
So how does the former Huskies star plan on using some of that money?
According to Jenna Laine of ESPN, Tryon's older sister, Julia, will soon begin her first semester of medical school. And when the tuition bill arrives, the Buccaneers rookie will take care of it with his first NFL paycheck. Considering full-time tuition at the University of Washington School of Medicine costs $37,887 annually for in-state residents, Tryon will be making a significant financial sacrifice to help take the financial burden off his sister's shoulders.
"I was pretty floored," Julia told ESPN. "Medical school is one of the most expensive professional schools out there. For him to offer that — it like means the world to me, because he knows how hard I've been working for this goal. It just shows his support for me."
While Tryon chose a much different career path than his sister, he still gave her credit for inspiring him to succeed.
"Growing up, we just always competed, always just trying to be the best at what we do," he said. "It's motivation, because she's doing big things and I'm doing big things, too.
In addition to footing Julia's tuition bill, Tryon will use his first NFL contract to take care of an important piece of business for his mom: paying off any debt she incurred.
"It was not shocking because he's such a laid-back, humble kid," said Andrea, who raised her children as a single mother. "That's just kind of who he is. If he can help someone out, he will. I'm really looking forward to where his career takes him and to see what he can do to help other people in the future as well."
How much of an impact will Tryon make in his first year in the NFL?
Tryon clearly has big plans to make an impact off the field. But will he show up on the field as a rookie?
That depends on how much of an opportunity he gets to showcase his skills. The Buccaneers boast an excellent front seven headlined by established stars like Ndamukong Suh, Jason Pierre-Paul, and Shaq Barrett. It's hard to see Tampa taking any of those veterans off the field, so Tryon could play a fairly limited role in his first year with the team.
Still, considering the mileage on Suh and Pierre-Paul, it wouldn't be a surprise to see the Buccaneers' top draft pick earn some snaps on obvious passing downs. Tryon could focus purely on getting after the quarterback — something he excelled at as a redshirt sophomore at Washington.
At the very least, he gives Tampa great depth at outside linebacker. And if Tryon catches on quickly, that will only make the Buccaneers an even bigger threat to repeat as Super Bowl champions.
Like Sportscasting on Facebook. Follow us on Twitter @sportscasting19.