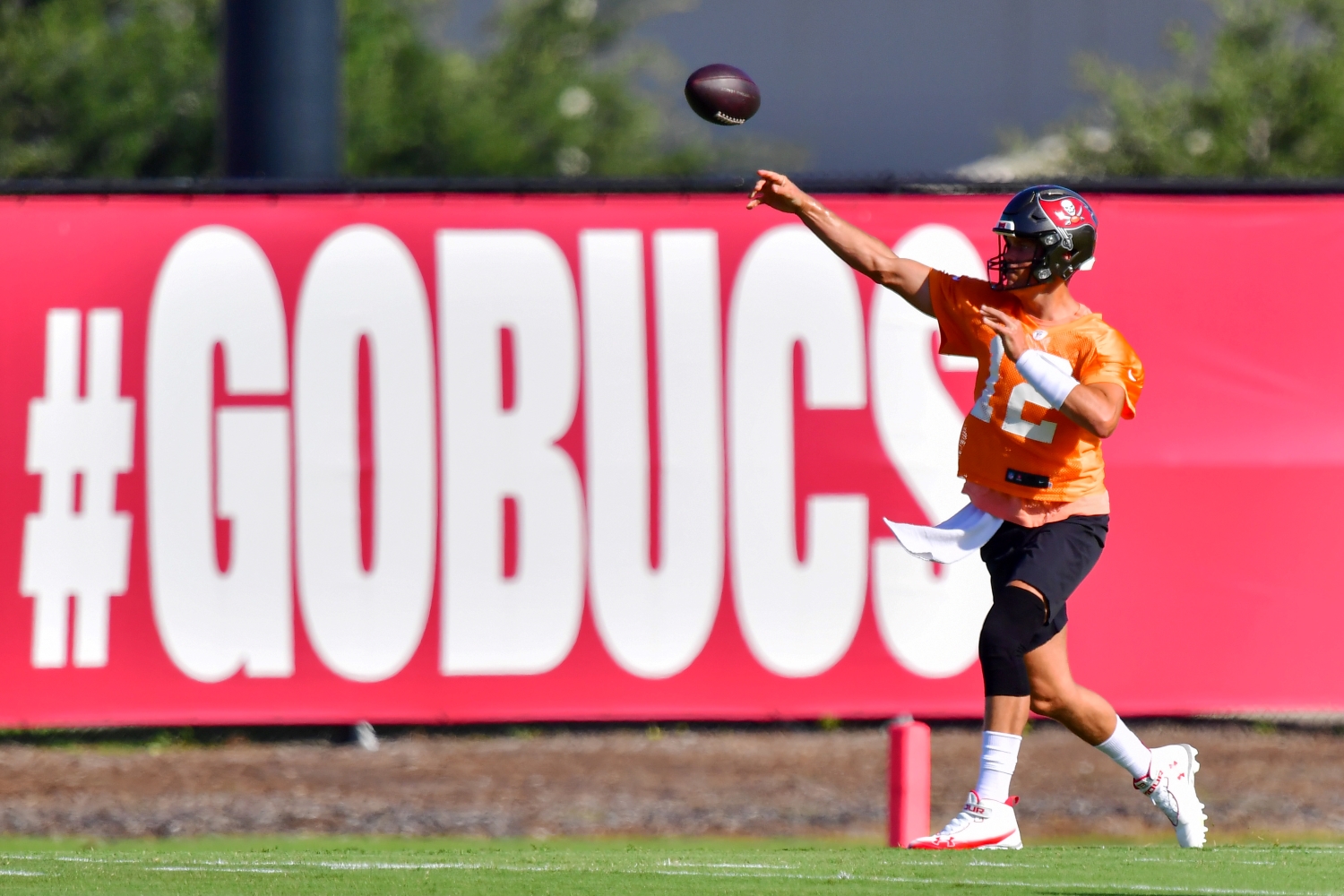 Tom Brady's Surprising Admission Could Lead to Costly Consequences for the Buccaneers
The Buccaneers could face some expensive consequences if the NFL determines Tom Brady's knee injury should have been reported last season. Should Tampa be held accountable?
Maybe Tom Brady should have followed the Bill Belichick method of dealing with questions about injuries.
Because based on the legendary quarterback's recent admission about his mysterious knee ailment, the NFL now has a reason to take a closer look into how the Tampa Bay Buccaneers operate. And if precedent means anything, the reigning Super Bowl champions could suffer some costly consequences depending on how the league views the entire scope of Brady's injury situation.
Tom Brady underwent knee surgery after leading Tampa to a Super Bowl title
A change of scenery sure helped the TB12 brand, right?
Coming off one of the worst years of his career, Brady reminded everyone why he's considered the greatest quarterback of all time. He racked up 4,633 passing yards and 40 touchdowns while leading the Buccaneers to an 11-5 record. And in his first season without Belichick as his head coach, Brady won a Super Bowl ring.
Oh, he did that at the age of 43.
Defying Father Time once again, Brady played all 16 games for the fourth straight year. However, while it appeared as though he made it through the season without suffering any significant damage, the future Hall of Famer surprisingly underwent surgery on his knee early in the offseason.
Though it was first characterized as minor in nature, Brady described the procedure quite differently last month.
"I had a pretty serious knee surgery this offseason, which is the first surgery I've had in about 12 years," Brady said during a podcast appearance on Hodinkee Radio. "I was really interested to see how it was going to go, because last year it just took a lot. Every week I was kind of tending to my knee, and I thought I would love to see a season where I can focus on some other strength stuff that I want to do, some other technique stuff where I'm not just focused on protecting my knee all the time."
Brady's surprising admission carries potentially costly consequences for his team
On Wednesday, Brady revealed some surprising information about his knee injury that could come back to haunt the Buccaneers.
"It was an injury I dealt with really since last April, May," he said during his virtual press conference. "I knew I would have to do something at the end of the year, and happy I did it. It was probably something that certainly needed to be done, and there was a great outcome, so I'm very happy about that. I feel I'll be able to do some different things this year than I was able to do last year."
That means his knee began giving him trouble several months before he participated in his first training camp practice with the Buccaneers. Yet, despite the fact Brady has admitted to dealing with the injury throughout the 2020 season, the team never listed him on the injury report with a knee problem.
The Buccaneers could face consequences if the NFL conducts an investigation into potential violations of the league's rules on injury reporting. According to ESPN, the New York Jets got fined $75,000 in 2009 for failing to place Brett Favre on the injury report during the final month of the season when he had a torn biceps tendon. Former head coach Eric Mangini and former general manager Mike Tannenbaum also got fined $25,000 apiece.
So if the NFL believes a similar situation occurred with the Buccaneers and an investigation determines the team should have put Brady on the injury report, Roger Goodell seems destined to hand down some type of financial penalty.
Injuries might be the only thing that could stop the Buccaneers from repeating as Super Bowl champions
While Brady's admission about his injury could cost his team a chunk of change, the Buccaneers can't complain too much given his value to the franchise. After all, it's no coincidence Tampa captured the Lombardi Trophy for the first time since 2002 once TB12 arrived.
Ironically, injuries seem to be the only potential roadblock standing in the way of the Buccaneers winning back-to-back Super Bowl titles. At least on paper, the reigning champions look absolutely stacked.
On offense, Brady has a full cast of weapons at his disposal. However, Rob Gronkowski doesn't have a great track record of staying healthy. Neither does Chris Godwin, who hasn't played all 16 games since 2018. Plus, Antonio Brown turns 33 in July, and he underwent minor knee surgery in May. So even though Tampa has a terrifying array of talent, it remains to be seen whether all those pieces can stay on the field for the entire year.
If the Buccaneers have injury luck on their side, though, don't be surprised if they make a serious run at going 17-0. With a loaded roster that features proven playmakers and rising stars, Bruce Arians' squad looks more than capable of accomplishing that feat.
And if Tom Brady manages to go undefeated and win his eighth Super Bowl ring, maybe he'll finally decide it's time to call it a career.