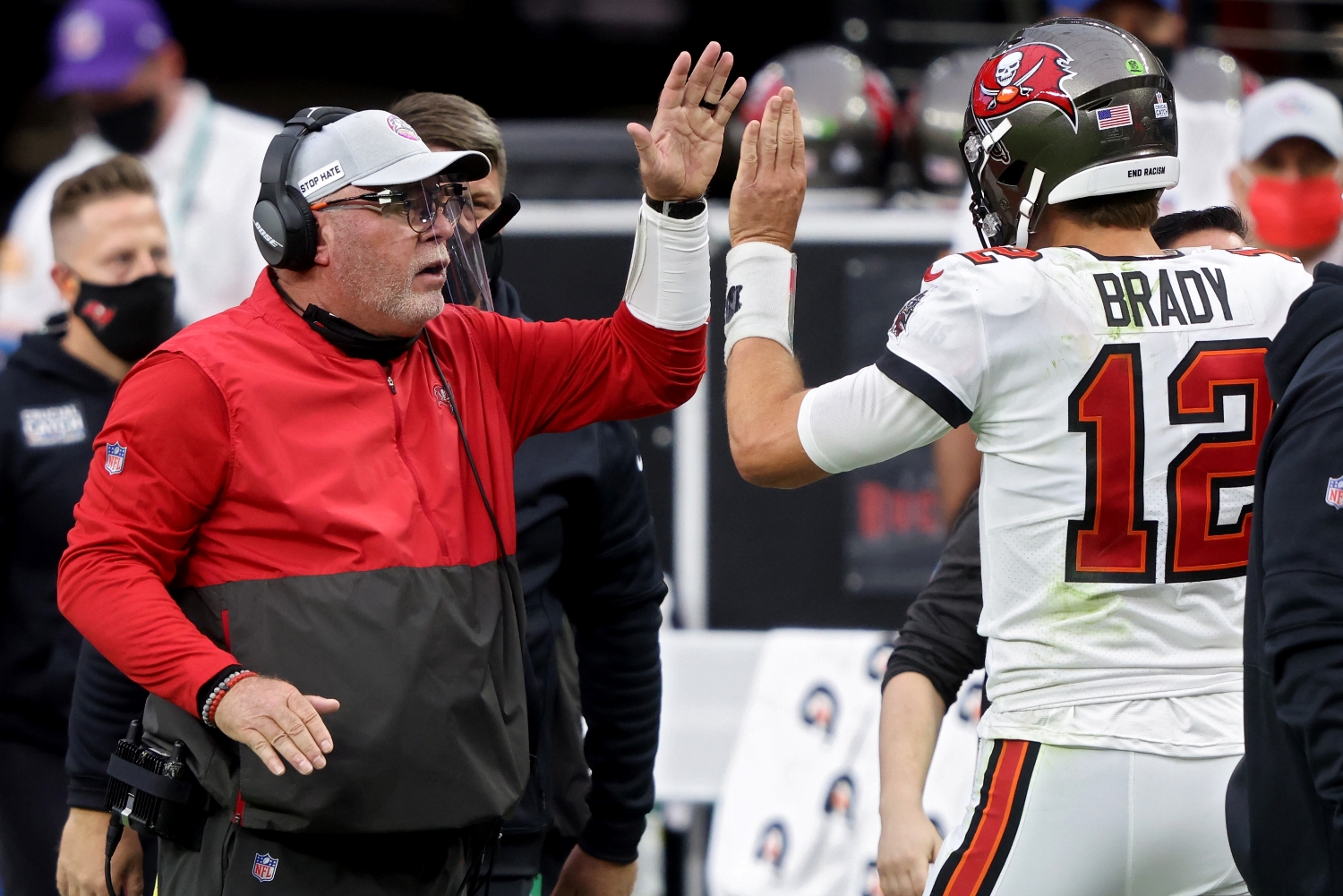 Bruce Arians Officially Has Another Reason to Be Indebted to Tom Brady
Think Bruce Arians is happy Tom Brady left the Patriots behind? After winning a Super Bowl title together last season, the Buccaneers head coach has another reason to be indebted to his quarterback.
Tom Brady changed Bruce Arians' life forever by signing with the Tampa Bay Buccaneers last offseason. Although the legendary quarterback and the charismatic head coach needed some time to get on the same page, they obviously figured out how to make things work during their first year together.
Luckily for Arians, TB12 is the gift that keeps on giving. Because after helping a losing franchise achieve championship glory for the first time in nearly two decades, Brady has given his head coach another reason to be indebted to him forever.
Bruce Arians finally became a Super Bowl champion thanks in large part to the arrival of TB12
Prior to Brady's arrival, Arians had never come close to winning a Super Bowl title. In five years as head coach of the Arizona Cardinals, he won 61.9% of his regular-season games. However, the Cardinals only appeared in three playoff games during his tenure.
Arians took over in Tampa in 2019, but his team failed to live up to expectations. Due largely to Jameis Winston's turnover problems (he led the NFL with 30 interceptions), the Buccaneers finished with a 7-9 record and extended their playoff-less streak to 12 years.
Then everything changed last spring.
With Brady electing to move on from the New England Patriots, the Buccaneers pounced on the opportunity to transition from Winston to the greatest quarterback of all time. By convincing the longtime Patriots star to sign on the dotted line, Arians and general manager Jason Licht secured the missing piece of a championship puzzle.
While the 68-year-old head still has a long way to go before he can compete with Bill Belichick's rings, Arians finally experienced the thrill of hoisting the Lombardi Trophy last season. And as much credit as Tampa's defense deserves for shutting down Patrick Mahomes in Super Bowl 55, there's no doubt the Buccaneers benefitted tremendously from Brady's presence on and off the field.
Arians officially has another reason to be indebted to Tom Brady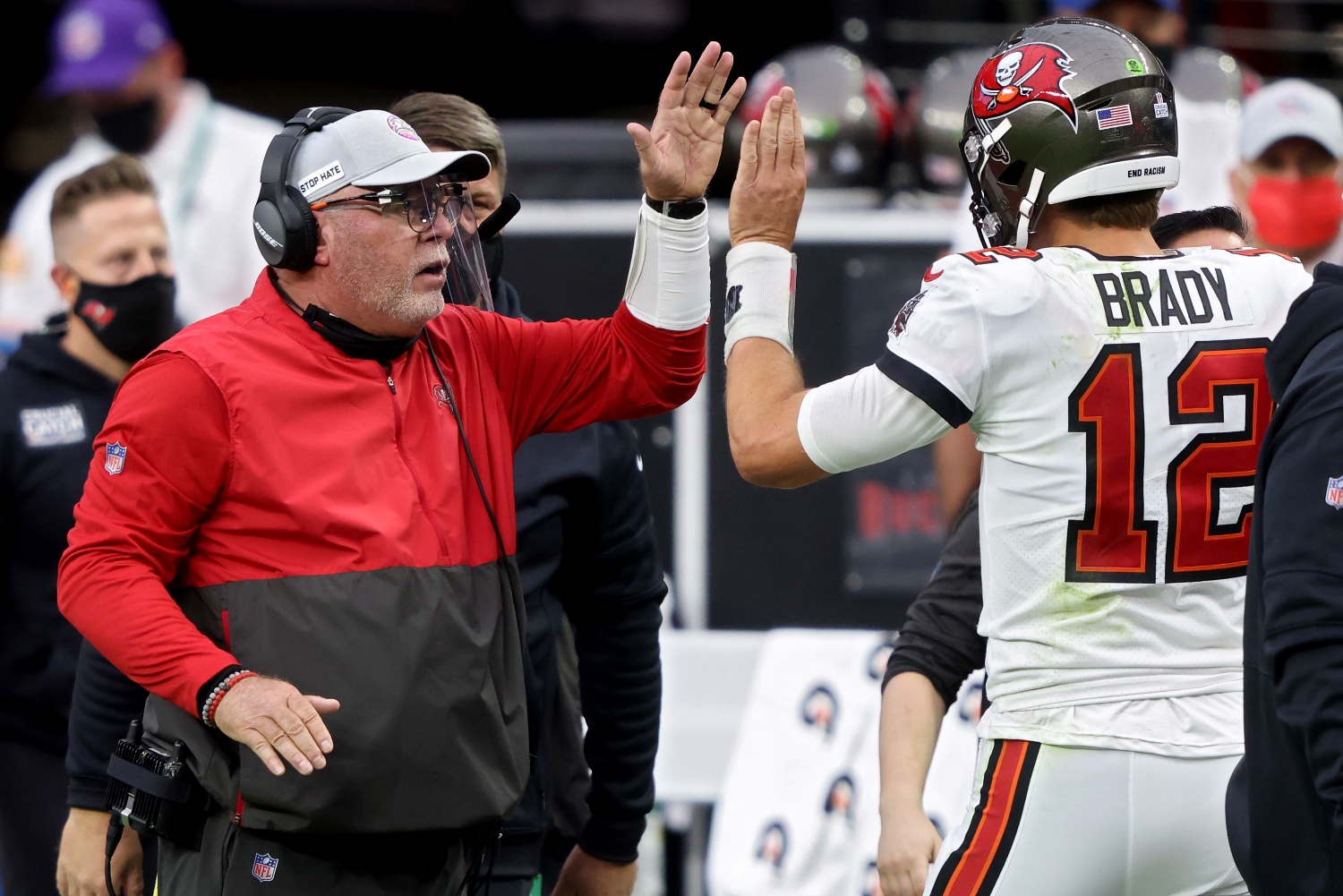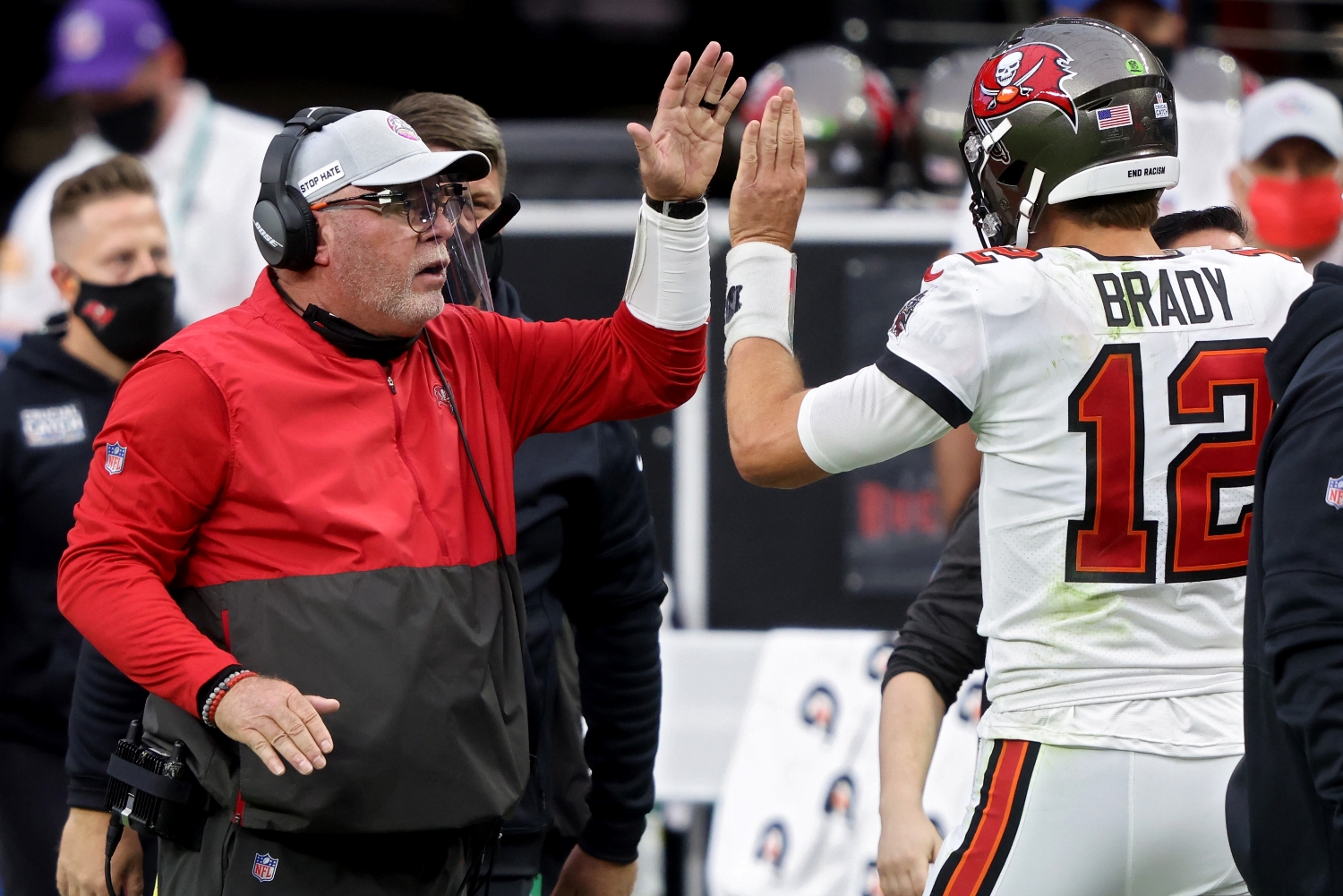 Thanks in large part to Brady's resurgent season, Arians can call himself a Super Bowl-winning coach. But as the Buccaneers continue to prepare to defend their title, he now has another reason to be indebted to the 43-year-old quarterback.
On Monday, NFL Network reporter Ian Rapoport delivered a major update concerning Arians' financial future.
"The Bucs have agreed on a revised contract for Super Bowl-winning coach Bruce Arians that includes a pay raise, while GM Jason Licht also has a new deal that ensures he'll be in Tampa Bay for multiple years. Well-deserved for the champs," Rapoport tweeted.
Though Tampa didn't add more years to Arians' contract (which runs through the 2022 season), they increased his pay roughly four months after Brady and the Buccaneers captured the Lombardi Trophy in their home stadium. Considering he posted a losing record in his first season in Tampa, it's remarkable to see how much the narrative has changed on Arians. In the span of a year, he's gone from being a coach with an uncertain future to receiving extra compensation for his efforts.
Without Brady, that never would have happened. In many ways, Arians owes his starting quarterback a great debt for not only helping him become a Super Bowl champion but also putting him in a position to make even more money.
Can the dynamic duo lead the Buccaneers to back-to-back titles?
Ironically, the Buccaneers might become the first team to win back-to-back titles since the Patriots accomplished the feat in 2004. Of course, Brady played an instrumental role in helping New England win three Super Bowls in a four-year span to start his career. Plus, he won three more between 2014-18.
Will the Buccaneers take care of business again and celebrate with another boat parade? Based on their current roster, they most certainly have the talent to turn that dream into a reality. Licht retained all 22 starters from last year's team, so Tampa will benefit from having continuity on both sides of the ball. And when you consider their sheer star power, it's difficult not to pick the Buccaneers as Super Bowl favorites.
Because as long as Brady's healthy, the reigning champions should be considered the most dangerous team in the NFL. And as long as the aging quarterback and his player-friendly head coach continue to work together to achieve a common goal, it's hard to see anyone stopping the Buccaneers.