Tom Brady Slams an NFL Team on 'The Shop' for Not Wanting Him in Free Agency: 'You're Sticking With That Motherf—–?'
Tom Brady's comments on 'The Shop' are causing quite a stir. He says that some team picked 'this motherf-----" at QB over him. While no one is sure exactly which team and player Brady is referring to, there are a few options. Jimmy Garoppolo and the San Francisco 49ers are the most likely possibility.
Tom Brady's The Shop appearance is stirring up controversy. The quarterback usually seems an incredibly buttoned-up guy. He comes from the Bill Belichick School of Media Handling and never gives too much to the press. Around players, it's a different story.
On the field and in the locker room, Brady is just one of the guys – even with his global superstar status – which is why teammates love him. He will chug beer with his lineman and sideline mics occasionally catch him talking trash and firing up his squad.
Brady lets loose with several fellow athletes and celebs on an upcoming episode on HBO's The Shop. On the show, he trashes an NFL team and their incumbent quarterback.
LeBron James produces the HBO show, 'The Shop'
NBA superstar LeBron James and his childhood friend and business partner Maverick Carter produce the HBO show, The Shop: Uninterrupted.
According to HBO, the show "gives viewers a one-of-a-kind barbershop experience, which for many provides a sanctuary for free-flowing and spirited discussions." The show brings together well-known people from all walks of life to have these frank and unfiltered discussions.
In its three-plus seasons, the show has featured an incredible array of guests. Colin Kaepernick, Megan Rapinoe, Chadwick Boseman, Whoopi Goldberg, and even former U.S. President Barack Obama are just a few of the headline-grabbing names that have appeared on the show.
Tom Brady crushes an NFL team that didn't sign him and their QB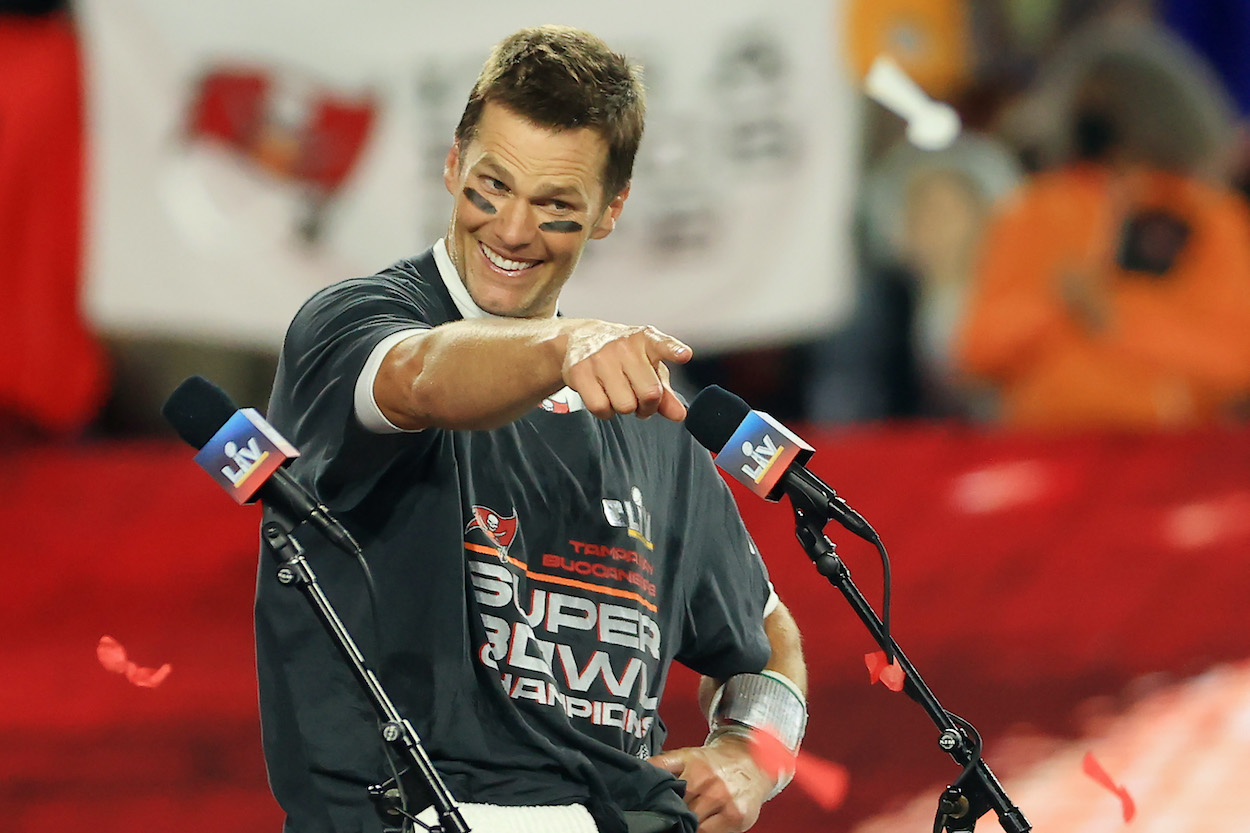 On Season 4, Episode 2 of The Shop, Brady joins the show's executive producer, Carter, and its co-creator Paul Rivera as well as rapper Kid Cudi, comedian Chelsea Handler, and the Golden State Warrior's Draymond Green. 
The promo shows Brady telling the assembled group about his free-agent summer in 2020 between leaving the New England Patriots and joining the Tampa Bay Buccaneers. He talks about how one team bowed out, and that made him question if they were really going to go with their current QB that Brady doesn't seem to think highly of:
One of the teams, they weren't interested at the very end. I was thinking, 'You're sticking with that mother—–?'
In the clip, it looks like this statement gets a big laugh from Carter and Green. What we don't know now, and possibly won't know, even after the show airs, is whether or not Brady names the team and the signal-caller in question.
Who did Tom Brady almost sign with? 
Several teams pursued Brady but didn't get him, possibly due to the "mother—–" in question.
According to NBC Sports, the Chicago Bears and the Los Angeles Chargers were finalists in the Brady sweepstakes along with Tampa Bay. It seems Brady rejected the Chargers and the Bears brought in Nick Foles to battle with Mitch Trubisky in 2020. Therefore, it doesn't seem like these teams would be the ones who choose quarterback X over the GOAT.
Brady's desire to be with a good team in a warm-weather city led people to speculate that the Tennessee Titans, Las Vegas Raiders, and New Orleans Saints could have been potential landing spots. The Titans' Ryan Tannehill and the Raiders' Derek Carr certainly fall into the category of QB that Brady would be incredulous while discussing. However, it's doubtful he'd be that dismissive of fellow NFL legend Drew Brees.
The most likely candidates for the team and player Brady attacks on The Shop are the San Francisco 49ers and his old backup, Jimmy Garoppolo.
Brady grew up in the Bay Area a 49ers fan, and speculation was rife that he'd want to return home after two decades in Massachusetts. He is also intimately familiar with Jimmy G and his talent level as the former Eastern Illinois passer spent three seasons carrying a clipboard for Brady in New England.
We might never know which "motherf—–" Tom Brady's The Shop comments were referring to, but it is worth tuning in to HBO Max on Friday, June 25 at 9:30 p.m. EST to find out if he says.
Like Sportscasting on Facebook. Follow us on Twitter @sportscasting19