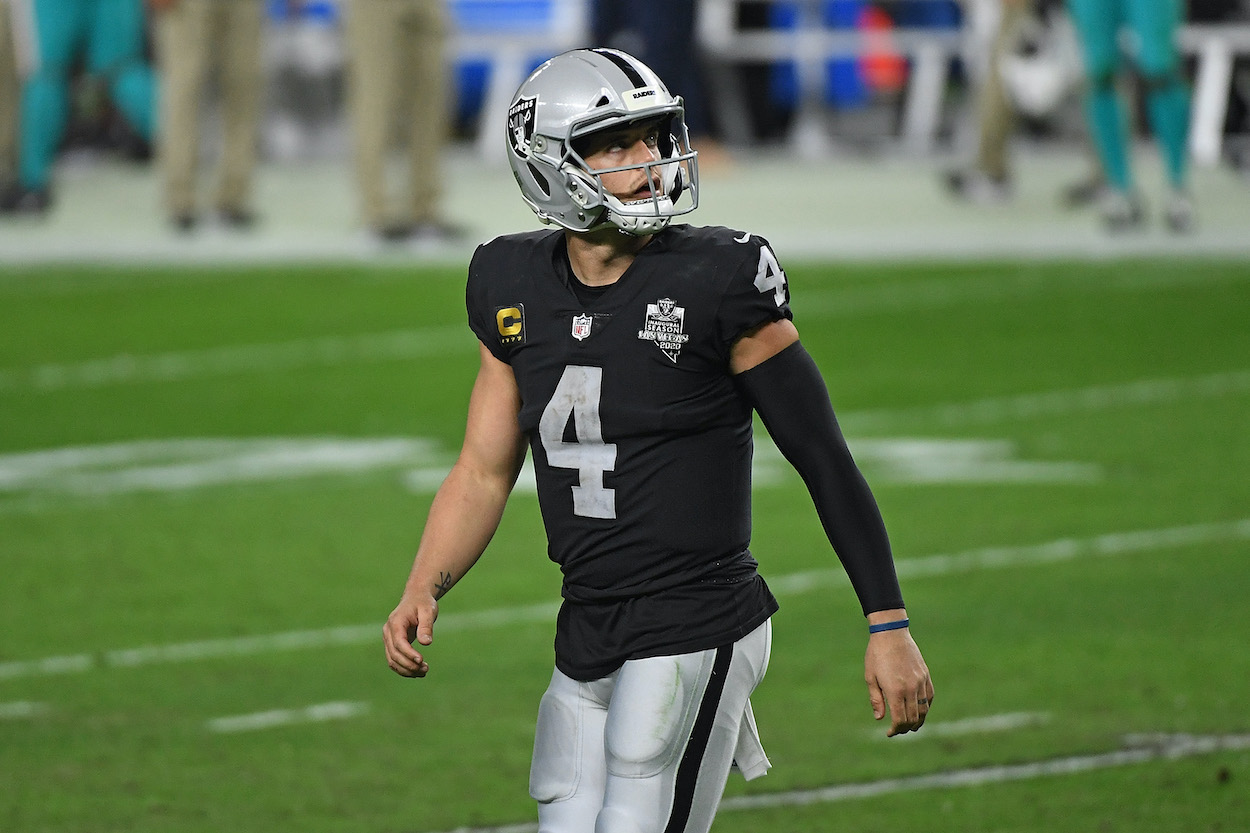 Derek Carr Dramatically Threatens to Quit Football if the Las Vegas Raiders Trade Him
Las Vegas Raiders quarterback Derek Carr is not just a player, but a lifelong Raiders fan. With trade rumors swirling around him in the 2021 offseason, he says he would rather quit football than play for a different team. Jon Gruden and the Raiders need to focus more on defense anyway.
Being involved in trade rumors — or even being traded — is part of the business of pro sports. Players may not like it, but it is one of the reasons they are compensated so handsomely. Las Vegas Raiders QB Derek Carr hates the idea more than most, it seems.
Carr loves being a Raider and is incredibly committed to the franchise. He says he'd rather not play football at all than stop being a Raider. That could be a problem as Carr is the subject of trade rumors leading into the 2021 NFL season.
Derek Carr is the subject of trade rumors in 2021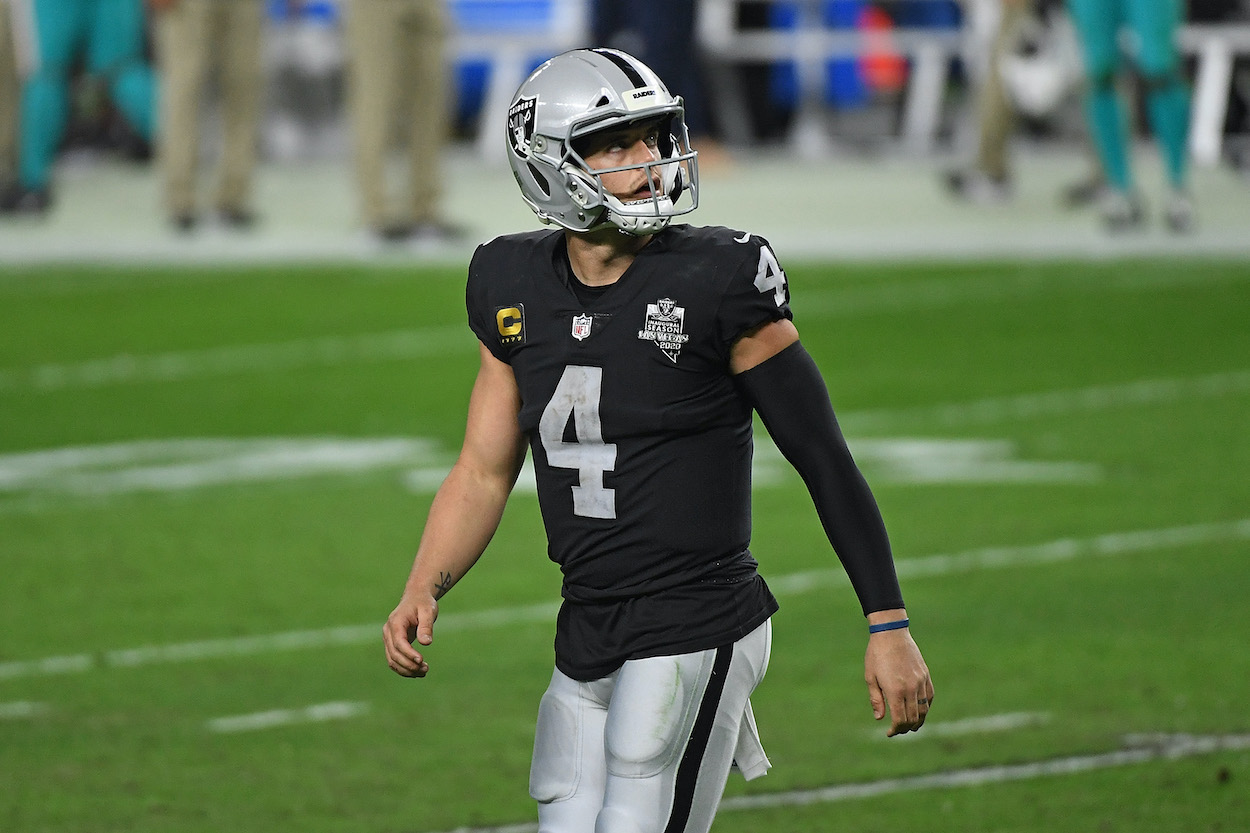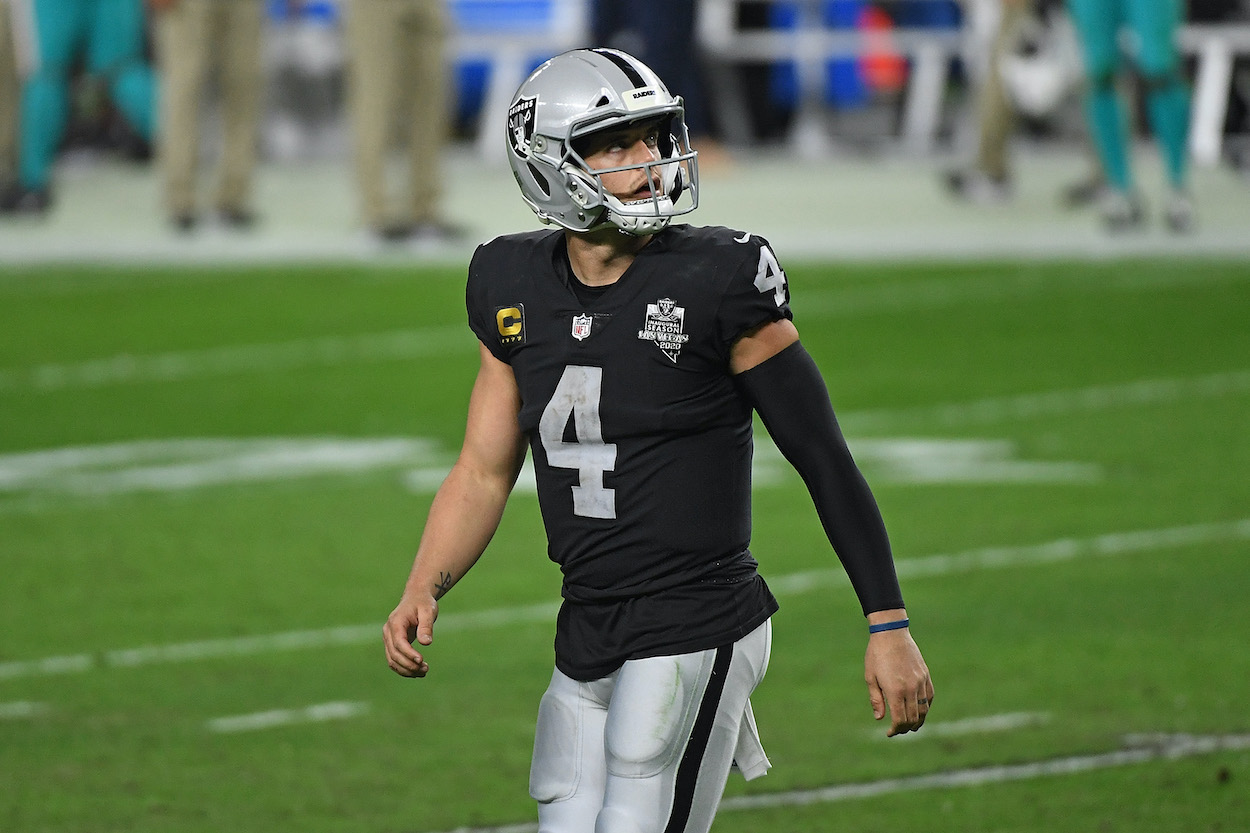 The 2021 offseason is the season of QB movement.
Matthew Stafford, Jared Goff, Carson Wentz, and Sam Darnold have all been traded since the end of the previous season. Other big names such as Russell Wilson, Deshaun Watson, Jimmy Garoppolo, Nick Foles, and, of course, Aaron Rodgers have also been the subject of trade rumors.
The trade rumors for Rodgers, specifically, have involved Carr. Speculation is that one of the reasons Rodgers wants out of Green Bay is for a more desirable living situation. That would involve moving to or closer to California, where his fiancé, actor Shailene Woodley, is based.
If this is the case, that narrows down potential Rodgers destinations to the Los Angeles Chargers, Los Angeles Rams, San Francisco 49ers, and possibly the Arizona Cardinals and the Raiders.
Justin Herbert, Stafford, Trey Lance/ Garoppolo, and Kyler Murray, respectively, are the QBs in place with these teams. None of these franchises will go after Rodgers due to the incumbent quarterbacks' talent and potential or what the team already gave up to get them.
That leaves the Raiders, and any Rodgers-to-Vegas trade would undoubtedly involve Carr going the other way.
Carr says he wants to be a Raider, or he'll quit football
Most professional athletes end up playing for teams they had no rooting interest in growing up and that are far away from their hometowns. That's not true for Carr. The former Fresno State quarterback hails from the Central Valley region in California and is a self-proclaimed Raider fan for life.  
When discussing the possibility of being traded away from the team he loves, Carr said it's something he doesn't want to entertain, and if it did happen, he wouldn't accept it. He recently told reporters, per USA Today:
I still want more, there's still more, and I want to do it here. I don't want to do it anywhere else. I've said that over and over again, I'd probably quit football if I had to play for somebody else. I am a Raider for my entire life. I'm going to root for one team for the rest of my life. It's the Raiders. 
Carr is so dedicated to the Raiders that he wants to stay whether the team wins or not.
"For other people, they want to do other things, that's great," Carr continued. "But for me, I'd rather go down with the ship if I have to."
Raiders coach Jon Gruden is slowly improving the team, but Carr's not the problem
Super Bowl-winning coach Jon Gruden signed on for his second stint as Raiders head coach in 2018, 10 years after he last coached an NFL game. The organization gave the Monday Night Football announcer a 10-year, $100 million contract to join.
Heading into Gruden's fourth season, the team has shown steady, if unspectacular, improvement. It went from 4-12 to 7-9 to 8-8 under the offensive-minded head coach.
Gruden and Raiders fans seem to think finding an upgrade over Derek Carr and drafting offensive skill-position players are the answer to making the playoffs. That may not be the case, though.
Oakland/Las Vegas finished in the top third of the NFL in yards gained the last two seasons. However, in each of Gruden's three seasons, the defense has finished in the bottom half in yards allowed. The coach's indifference to defense showed up the moment he got back to the Raiders. One of his first moves was trading All-Pro pass-rusher Kahlil Mack.
If the Raiders want to get better, Gruden and the organization need to spend less time trying to get rid of their devoted QB and more time putting together a balanced football team that can succeed in all phases of the game.
All stats courtesy of Pro Football Reference