NBA Trade Rumor: Could Kristaps Porzingis Be Joining LaMelo Ball on the Charlotte Hornets?
In June 2021, the NBA playoffs are happening, and we're getting ready for the NBA draft. However, the really exciting thing is that it's the start of NBA trade rumor season.
The first major player thrown around in NBA trade rumors is Kristaps Porzingis of the Dallas Mavericks. Reports indicate he wants out of Dallas and the team wants him out. The Charlotte Hornets could be a landing spot as the team searches for a complement to rookie sensation LaMelo Ball.
The Kristaps Porzingis/ Dallas Mavericks relationship has soured
The biggest, most persistent recent NBA trade rumor involves the drama in Dallas. The team lost to the Los Angeles Clippers in the first round once again, and the tension between Porzingis and the Mavs' biggest star, Luka Doncic, seems to have reached a boiling point.
Rumors of a rift between Porzingis and Doncic have bubbled under the surface all season. Mavericks governor Mark Cuban seemingly confirmed the rumor in a radio interview, saying there have been "dust-ups" between the two.
Then, following a first-round playoff series loss in which an injured Doncic looked like a one-man team, reports emerged that Porzingis isn't happy with the situation in Big D. According to ESPN's Tim MacMahon, he feels "more like an afterthought than a co-star as Doncic dominates the ball and the spotlight."
With two years and a player option left on Porzingis' contract worth $101.5 million, the oft-injured star won't be easy to trade. However, a 7-foot-3 25-year old with handles, 3-point range, and even a little rim-protecting ability will always be titillating to NBA teams.
An NBA trade rumor says the Charlotte Hornets are "very intrigued" with the possibility of trading for Porzingis
Genuine championship contenders will likely not take a run at liberating Porzingis from Dallas. His injury history and penchant for not showing up in big spots make him too risky for potential title teams.
For scrappy young upstart teams, the uniquely talented "unicorn" is worth the risk, though. The Hornets are definitely in this category and have an interest. Evan Massey from the NBA Analysis Network reported:
One source stated that the Hornets are very intrigued by the possibility of adding Porzingis. They want to add a big man alongside LaMelo Ball and Terry Rozier. Porzingis would not bring the defensive presence that they would like, but he would add more offensive firepower and more star power in general.
Charlotte would likely have to give up P.J. Washington, a promising young forward, but a starting lineup of Ball, Terry Rozier, Gordon Hayward, Miles Bridges, and Porzingis would be formidable in the Eastern Conference.
The biggest risk with this lineup would be pairing the injury-prone Hayward and Porzingis. Combined, the two barely crested 82 games played in the 2020-21 season.
How would Porzingis fit with LaMelo Ball and the Hornets?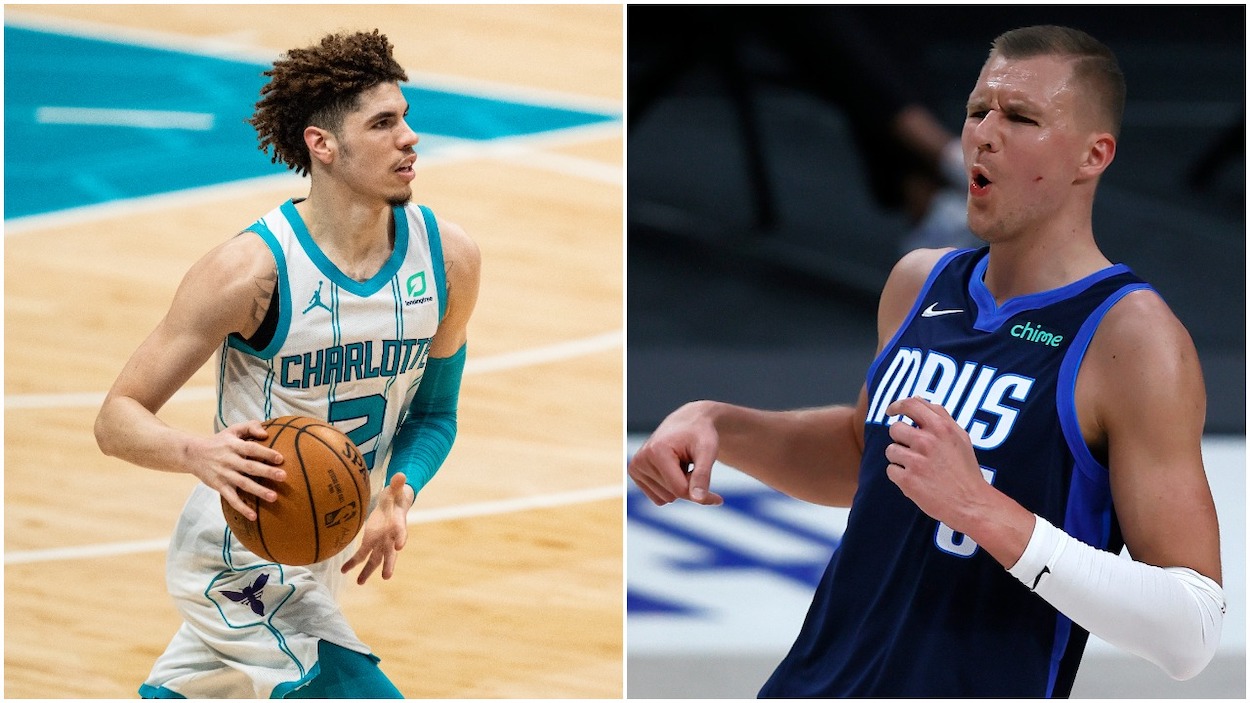 Michael Jordan's Hornets built a solid young team seemingly overnight.
First, they executed two separate sign-and-trade deals with the Boston Celtics that netted Rozier and Hayward for Kemba Walker. They then snagged Ball when he fell to No. 3 in the 2020 NBA draft and suddenly had a team that made the NBA Play-In Tournament.
If this NBA trade rumor is true, Charlotte fans should be excited about the possibility of adding Porzingis. The team got almost nothing from its centers — Cody Zeller, Bismack Biyombo, and rookie Vernon Carey Jr. — in 2020. The Latvian big man would also provide more floor spacing than any center on the roster, which is good for Ball, a much better driver than distance shooter (35.2% from deep in 2020-21).
The former New York Knick isn't exactly Dikembe Mutombo when it comes to defense, but his 1.3 blocks per game put him 21st in the league. When he's healthy and engaged, he's an underrated rim protector, which is something the Hornets need.
The other big issue, outside of the injury history, is the "star power" piece. Porzingis didn't like Doncic overshadowing him in Dallas, and after just 51 NBA games, Ball is on his way to becoming one of the biggest stars in the league. Plus, if Porzingis didn't like Doncic dominating the spotlight, he certainly wouldn't be too happy when LaVar Ball gets involved.
Despite the potential pitfalls, this trade rumor makes a ton of sense for Charlotte. It wouldn't have to give up a ton of assets so it can keep building, and it could add a player with incredibly high upside if he can stay healthy.
All stats courtesy of Basketball Reference and contract figures courtesy of Spotrac
RELATED: Zion Williamson Should Be Terrified About Rumors the New Orleans Pelicans Might Trade for a Disgruntled NBA Star