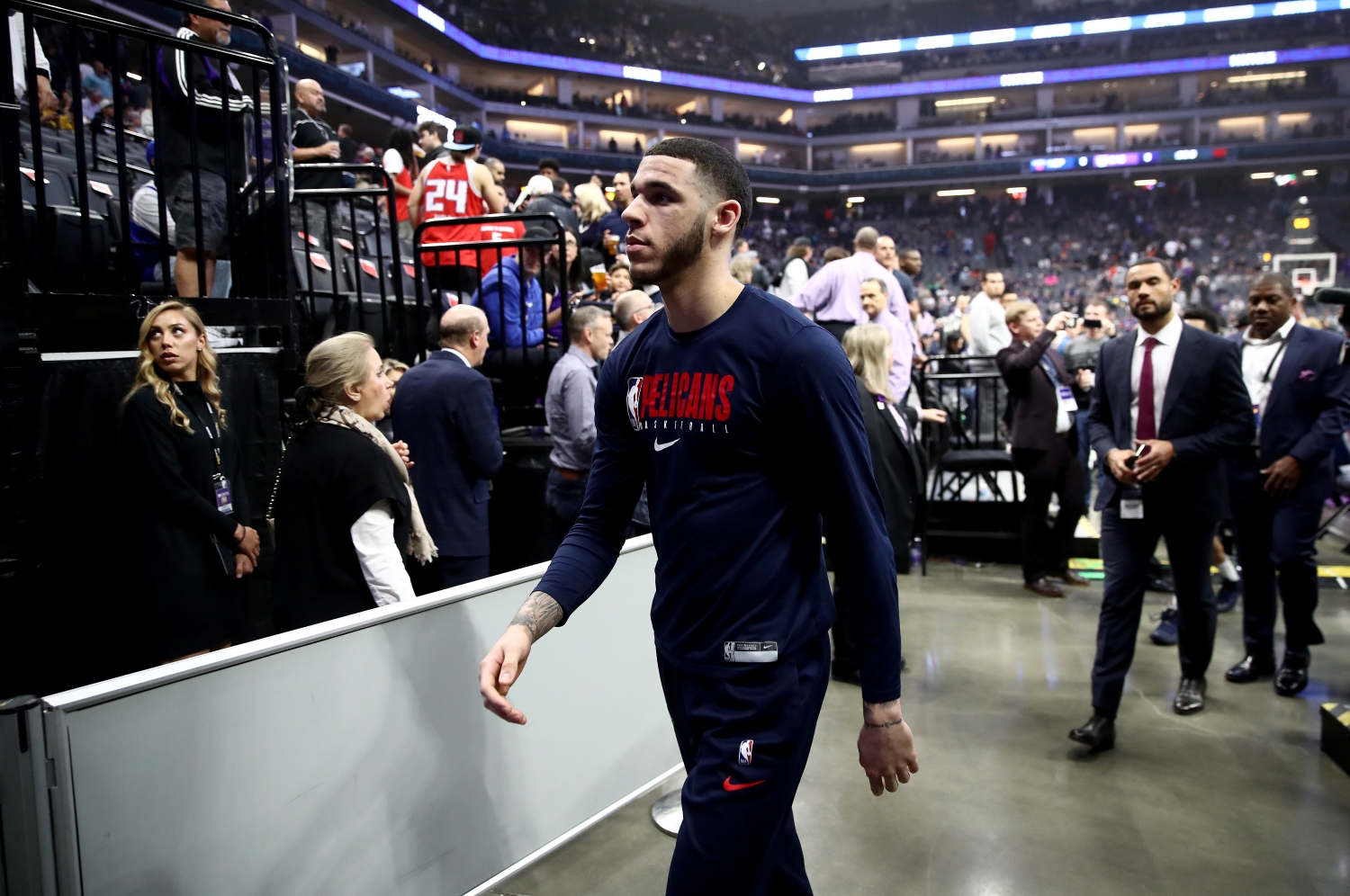 LaVar Ball Refuses to Hide His Brutally Honest Feelings About Lonzo Ball and the New Orleans Pelicans
Lonzo Ball is in the midst of a career year with the Pelicans. But that doesn't mean LaVar Ball wants to see his son remain in New Orleans much longer.
Although Lonzo Ball has yet to become a true star, the 23-year-old has shown significant improvement in his second season with the New Orleans Pelicans. However, the soon-to-be restricted free agent faces an uncertain future.
And if LaVar Ball has anything to say about it, the talented guard won't be suiting up on the same team as Zion Williamson much longer.
Lonzo Ball has stepped up in his second season in New Orleans
The LA Lakers thought they selected a future star when they took Lonzo Ball with the second pick of the 2017 NBA draft. However, he failed to live up to expectations during his three-year stay out west.
As the centerpiece (along with Brandon Ingram) of the Anthony Davis trade, Ball came to New Orleans with a chance for a fresh start. In his first season with the Pelicans, he shot just 40.3% from the field. But thanks to an improved stroke from 3-point territory, the 6-foot-6 guard did set a personal-best with 11.8 points per game.
Still, his debut year in New Orleans didn't exactly cement his case as a franchise player.
This year, however, the fourth-year pro has taken his game to another level.
Through 37 games, Ball has averaged 14.2 points, 5.5 rebounds, 4.2 assists, and 1.3 steals. More importantly, he's putting the ball in the basket at a better rate than ever before. The former lottery pick has shot 42.6% from the field and 38.9% from behind the 3-point line.
Unfortunately for LaVar Ball, most of the time he watches his son play, his team loses. Despite having a young core of Zion Williamson, Ingram, and Ball, the Pelicans have gone 17-23 through their first 40 games.
LaVar Ball refuses to hide his true feelings about his son and the Pelicans
Although Lonzo Ball has made strides on the court this season, LaVar Ball has no interest in seeing him continue to collect paychecks from the Pelicans.
The outspoken 53-year-old didn't hold back in his brutally honest assessment of what's going on in New Orleans. And let's just say the head of the Ball family wants a change of scenery for his son.
"No! No, he can't stay in New Orleans," LaVar Ball said during an interview with ESPN LA 710 on Thursday. "Lonzo's always been a playmaker. Why are you trying to change him into a defensive specialist that stays in the corner and shoots 3s? And you're trying to change Zion and Brandon Ingram, who all through their careers have never been playmakers. They're scorers!"
Interestingly, Williamson, Ingram, and Lonzo Ball have all increased their scoring averages from a year ago.
Still, LaVar Ball made it clear he wants the Pelicans to find a new home for his eldest son.
"I don't know what they're gonna do," he said during his ESPN interview. "I hope he gets traded though. I don't like watching him play like he's playing."
Should the Pelicans trade their starting point guard?
If Lonzo Ball's dad had it his way, the former UCLA standout wouldn't call New Orleans home any longer. However, just because LaVar Ball wants the Pelicans to trade his son doesn't mean it will come to fruition.
After all, it takes two sides to complete a trade. And at this point, it's fair to wonder whether an NBA team will part ways with draft picks and/or players to acquire someone who will become a restricted free agent in a few months.
So as much as the New York Knicks might seem like a logical suitor, it remains to be seen whether they will make a move for Ball now or wait until after the conclusion of the season to pursue him.
Of course, the Pelicans could still attempt to sign the talented guard to a long-term deal in an effort to keep their trio of young former lottery picks intact. But unless he's willing to totally tune out his dad, it doesn't seem like Lonzo Ball will extend his stay in New Orleans.
Ultimately, unless a team swoops in with an offer they can't refuse, the Pelicans would be smart to hold on to their starting point guard for the remainder of the season.
Just don't be surprised if the two sides part ways this summer.
All statistics courtesy of Basketball Reference.