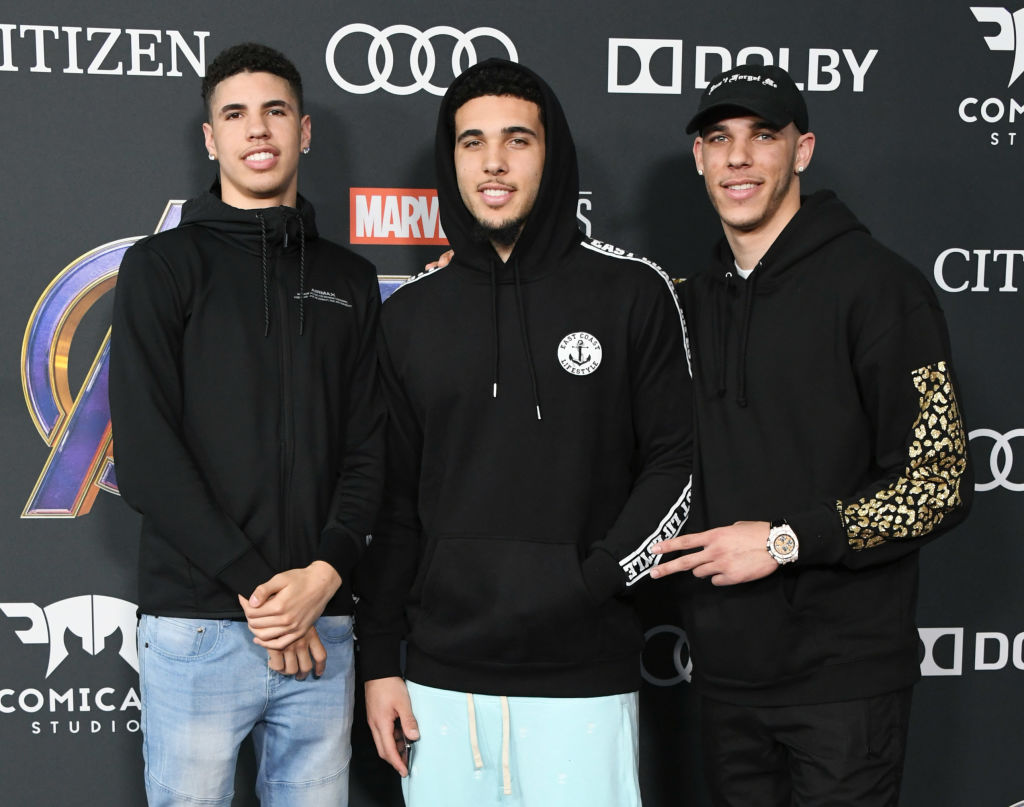 Lonzo Ball and Brothers LaMelo and LiAngelo Just Joined Forces with a Legendary Billionaire
Lonzo Ball, LaMelo Ball and LiAngelo Ball are joining forces with a legendary billionaire who also happens to be in the sports agency game.
Lonzo Ball and his brothers became household names thanks to their outspoken father. They've been hyped up as game-changing forces for years. While Lonzo has developed into a solid point guard for the New Orleans Pelicans, LaMelo Bell should go No. 1 overall in the 2020 NBA draft.
While LiAngelo Ball ranks far behind his brothers in terms of talent, he may just get a chance to crack an NBA roster someday. That's what happens when you have marketing power on your side. And this time, it's not coming from LaVar Ball. Now, the Ball brothers have Jay-Z on their side.
Lonzo Ball's NBA career
The eldest of the Ball brothers, Lonzo garnered attention from all the top college basketball programs after a standout career at Chino Hills. Possessing an unorthodox shooting motion and uncanny length for a point guard, he took his talents to UCLA.
Like many current NBA players, he went the one-and-done route. But boy did he make his only season with the Bruins count. Playing almost every minute, Ball averaged 14.6 points, 7.6 assists, and 6.0 rebounds in 36 games. He shot 41.2 percent from 3-point territory and cemented himself as a top NBA draft prospect.
Just as his dad wanted, Lonzo landed with the Los Angeles Lakers. However, he didn't last long out west. After averaging 10.2 points, 7.2 assists, and 6.9 rebounds as a rookie, Ball's numbers fell in an injury-shortened 2018-19 campaign.
LA shipped him to New Orleans in the Anthony Davis trade. Before the NBA season got put on pause, Lonzo Ball had shown a much-improved 3-point stroke. He shot 38.3 percent from downtown while putting up similar averages in points, rebounds, and assists from his Lakers days.
LaMelo Ball has developed into a top 2020 NBA draft prospect
Like his older brother did several years ago, LaMelo Ball has also become a top NBA draft prospect. The 6-foot-7, 181-pounder has certainly come a long way from his days as a YouTube star. Of course, his route to the NBA has looked a lot different than his brother Lonzo's.
Despite a standout high-school career of his own, LaMelo didn't attend college. Instead, he and LiAngelo signed with Prienai of the Lithuanian Basketball League. However, after several months with the team, Lavar Ball took his sons back home.
So how has LaMelo Ball become such a highly coveted NBA draft prospect? He's done so by dominating the Australian-based National Basketball League. He averaged 17 points, 7.4 rebounds, and 6.8 assists and earned the league's Rookie of the Year award.
With his brother already a big name in the NBA, LaMelo Ball should make the leap to superstar status very soon. Perhaps that's the reason the Ball brothers caught the eye of one of the most powerful individuals in sports and entertainment.
The Ball brothers signed with Jay-Z's Roc Nation Sports
For years, the Ball brothers have been associated with their father. Let's just say LaVar has earned plenty of warranted criticism for his arrogance and insistence on pushing the Big Baller Brand on everyone. However, the trio of basketball brothers just got a major upgrade in marketing and brand management.
On Monday, Roc Nation Sports officially welcomed Lonzo, LaMelo, and LiAngelo to the family. The sports management division of Roc Nation has brought on big-name clients since getting started in 2013. Their current client list includes prominent athletes like Todd Gurley, Saquon Barkley, Ndamukong Suh, and Kyrie Irving.
Of course, Roc Nation got off the ground in 2008. Its founder just so happens to be Jay-Z. As one of the most famous rappers of all time, he has built a staggering net worth of $1 billion, according to Forbes. He's used his platform to continue building the Roc Nation brand, which now includes the sports division.
Jay-Z may not be able to give the Ball brothers basketball pointers. But he does boast tremendous power, influence, and wealth to turn the family into stars. Now it'll be up to Lonzo Ball and his brothers to live up to the hype on the court.