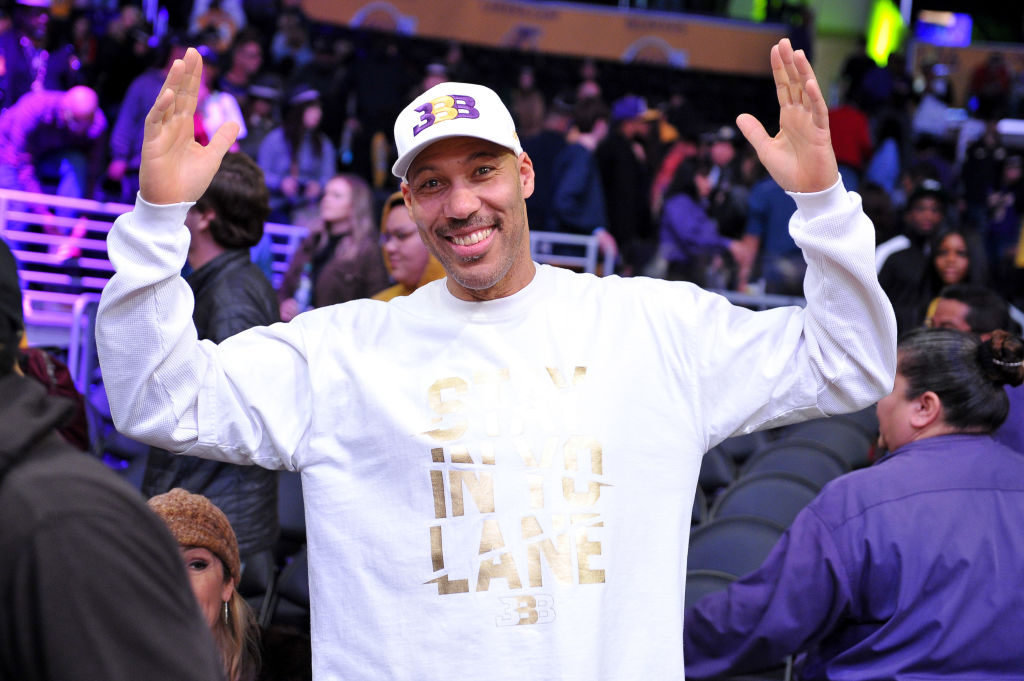 LaVar Ball Says Lonzo Ball and the Pelicans Would Beat the Lakers in the Playoffs
The Lakers are 4-0 against Lonzo Ball and the Pelicans this season, but Lavar Ball believes his son's team would upset LA in the playoffs.
The New Orleans Pelicans are 0-4 against the Los Angeles Lakers this season, but that isn't quelling Lavar Ball's confidence in his son Lonzo's team come playoff time.
Ball went on FS1's Skip and Shannon: Undisputed last week and said the Pelicans would beat the Lakers in a playoff series if the two teams were to face off.
Why would he believe something so outlandish? Because of his son, of course.
"You've got my son in a different mode. You've never seen my son in playoff mode and ain't never seen him in revenge mode."

Lavar Ball
Lavar Ball has a history of making brash comments on TV
This isn't the first time Ball has made headlines for his public comments.
From claiming he would beat Michael Jordan in a game of one-on-one, to saying Lonzo is better than Steph Curry, Ball will say anything and everything to get people riled up.
Ball pops up on sports talk shows every few weeks to say something more deranged than the last. He's a frequent guest on Undisputed, as well as ESPN's First Take.
Most recently, Ball went through the FS1 circuit last week, appearing on Undisputed and The Herd to say his youngest son, LaMelo, will be drafted first overall in this year's draft.
He also guaranteed that his sons will play together in the pros, as if he has any amount of power to make management decisions for any NBA franchises.
Lavar believes Lonzo's Pelicans would upset the Lakers
Lavar Ball was clear on Undisputed last week that the Pelicans would beat the Lakers in the first round if they secure the eight seed in the Western Conference.
His main argument was that Lonzo will go into "playoff mode" and "revenge mode" to lead the Pelicans to the upset. Ball operates on stubbornness and loyalty above all else. He mostly ignores the stats that contradict his beliefs, so here are some stats Ball might want to look into.
The Lakers are 3-0 against the Pelicans this season in games Lonzo has played. They are outscoring Lonzo's team by an average of nine points per game.
In 100 minutes played against the Lakers this year, Ball's total plus/minus is a -25. Ball's -12 mark against the Lakers in January was his fifth-worst of any game this season. So much for revenge mode against his old team.
But what about playoff mode? Ball doesn't have any NBA playoff experience yet, but he folded under pressure in the NCAA postseason while at UCLA.
In the Pac-12 conference tournament in 2017, Ball scored just eight points in a loss to Arizona on 2-7 shooting and 1-6 from three. In the NCAA Tournament, Ball scored 10 points on 4-10 shooting and 1-6 from three in the team's third-round loss to Kentucky.
Will Lonzo and the Pelicans even make the playoffs?
When Lavar Ball went into FS1's studio last week to make his Pelicans comments, he must not have checked the Western Conference standings beforehand.
As it stands now, New Orleans is 28-36 and four games back of the Memphis Grizzlies for the eighth and final playoff spot. With just 18 regular-season games remaining, the Pelicans need to go on a run now or it'll be too late.
The Pelicans do have two games against the Grizzlies left on their schedule, which might be must-wins at this point in the season.
It remains to be seen whether the Pelicans can even make the playoffs to prove Lavar right or wrong. Here's hoping they get that chance.