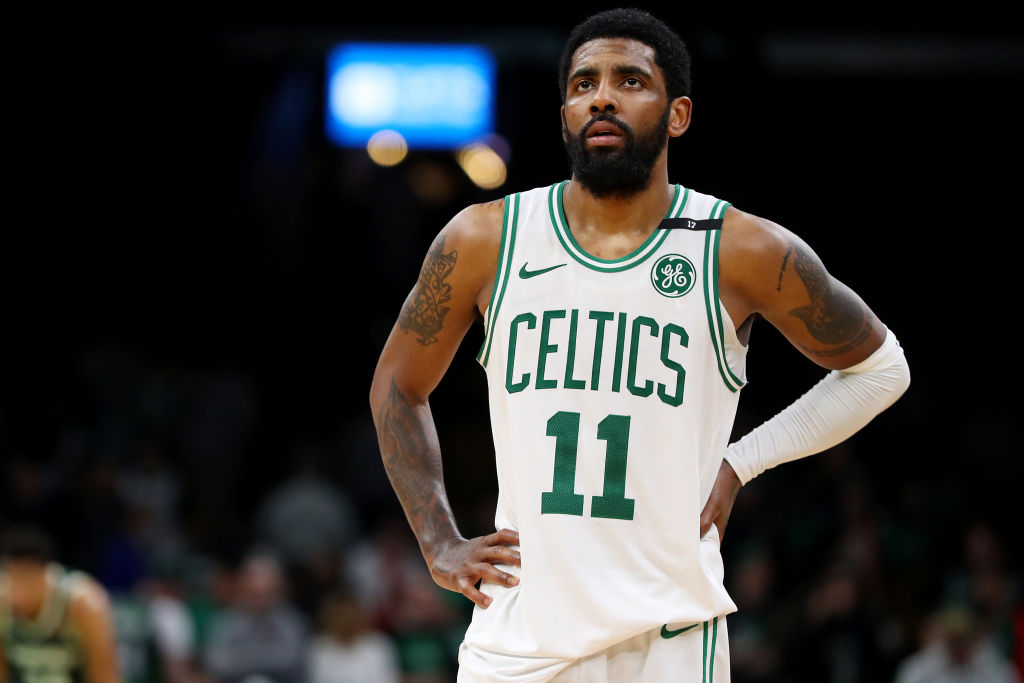 Kyrie Irving Has No Leadership Credibility After His Horrific Celtics Career
Kyrie Irving is trying to be a leader for social justice reform, but his Celtics career proved he's not cut out for any leadership role.
Kyrie Irving undoubtedly deserves praise for what he can do on a basketball court. From a pure playing perspective, few NBA stars possess his skill set. But when it comes to leadership, few boast as bad of a resume as the Brooklyn Nets point guard. Just ask Boston Celtics fans what they think of Kyrie as the face of the franchise.
Irving has once again thrust himself into a leadership role. Only this time, the rest of his NBA brethren shouldn't bother putting up with his antics. Based on his horrific Celtics tenure, he has no qualifications or credibility to stand on.
Kyrie Irving put up great numbers with the Celtics
Celtics fans hoped Kyrie Irving would elevate the team from a playoff contender to a championship squad. That couldn't have been farther from the case.
Statistically, Irving put up tremendous numbers with the Celtics. In his debut season, he averaged 24.4 points—the second-highest mark of his career. He chipped in 5.1 assists and shot 40.8 percent from 3-point range. However, Irving missed the entire postseason after undergoing a procedure to remove a wire from his surgically-repaired knee.
Ironically, Boston actually outperformed expectations without its top player in the lineup. With Irving and Gordon Hayward healthy, the Celtics opened the 2018-19 season as NBA Finals favorites. Irving once again put up terrific regular-season numbers. He actually dished out 6.9 assists per game while posting stellar shooting percentages.
In the playoffs, though, the former NBA champion faltered. He shot just 38.5 percent from the field and an abysmal 31 percent from behind the arc. The Celtics bowed out in the second round and Irving departed for Brooklyn.
Irving fell woefully short in the leadership department
Even bitter Celtics fans will admit Kyrie Irving did things on a court never seen before in Boston. His handles and ability to score at the rim made for some incredible television. However, Danny Ainge didn't trade a ransom for highlight-reel moments. He acquired Irving to lead a championship team. And in that regard, Kyrie unequivocally failed to deliver.
According to Tim Bontemps of ESPN, Irving's leadership failures in Boston included several eyebrow-raising incidents. He reportedly ripped Al Horford and Jayson Tatum on the court after Horford passed Tatum the ball for a potential game-winning shot at the end of a game against Orlando.
Following the loss, Irving told reporters, "I mean, we had nothing to lose last year. We had nothing to lose and everybody could play free, and do whatever they wanted and nobody had any expectations. What we were supposed to be, at a certain point, we surpassed that. Young guys were supposed to be at a certain point, they surpassed that."
More alarmingly, Boston's young core regressed mightily that season. Tatum went from a breakout playoff star to struggling to find consistency. Jaylen Brown watched his numbers plummet, too. Terry Rozier, who filled in admirably during the 2018 postseason, watched his playing time get reduced despite showing starter potential.
To top it off, after previously committing to re-signing with the Celtics in October, Irving backtracked and certainly left tremendous doubt about his future in Boston.
"I've spent the last eight years trying to do what everybody else wanted me to do in terms [of] making my decisions and trying to validate through the media, through other personnel, managers, anybody in this business," Irving said, "and I don't owe anybody s—."

Nets star still doesn't get how to be a leader
Despite his disappointing Celtics career, Kyrie Irving still doesn't get that he isn't a leader. Adrian Wojnarowski of ESPN recently reported that the Nets star has been heavily involved in the discussion about whether the NBA should resume play in Orlando's bubble.
As one of the NBPA's six elected vice presidents, Irving somehow holds a position of power. However, the way he's chosen to use it seems innocuous, if not downright selfish. Irving has reportedly told players to make a stand and sit out for the rest of the season. Yet, his message hasn't been consistent.
"I'm not as interested in him as the messenger than I am in the message," one Western Conference player told ESPN on Friday. In some instances in the past several days, Irving has assured some in the NBPA that he's aligned with the broader plan surrounding the league's return in Orlando — and then directed a far more skeptical tone to players he has engaged with within the Nets and across the league, sources said.

Ultimately, the rest of the NBA would be smart to tune out Kyrie Irving. He may be a terrific player (when healthy), but he's never become the leader or franchise player everyone expected.