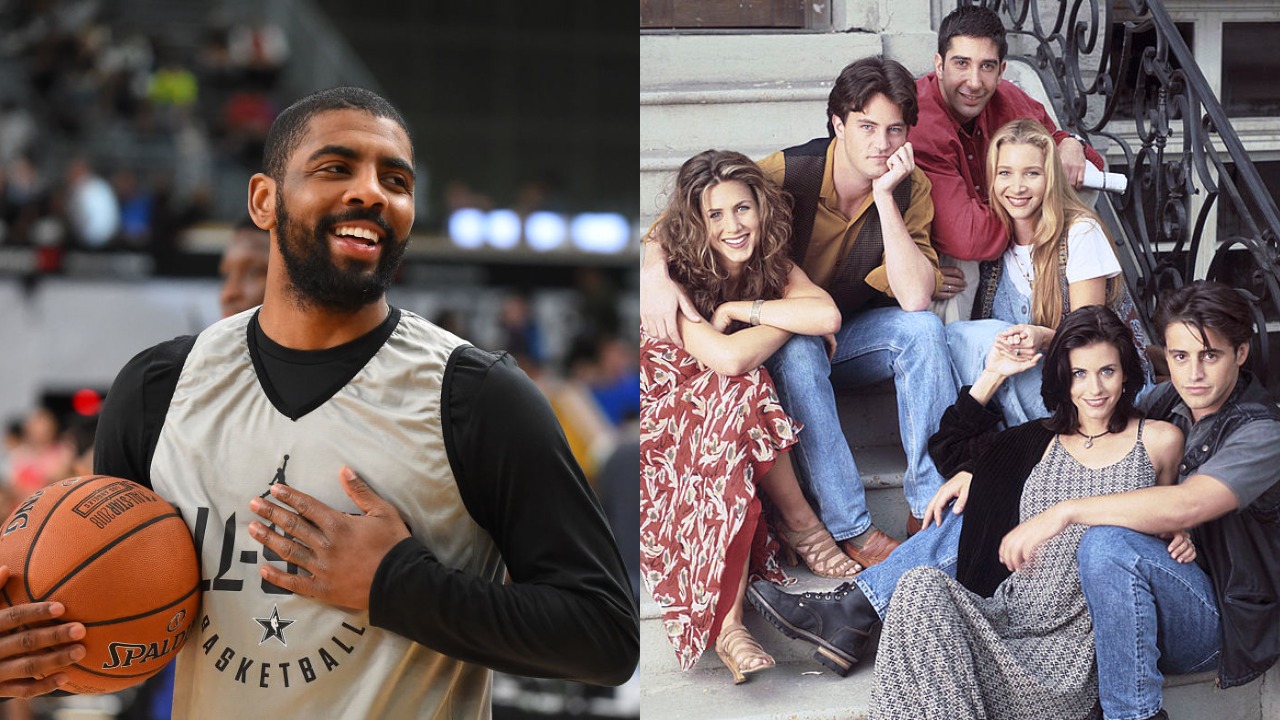 Kyrie Irving Revealed Why He Has the 'Friends' Logo Tattooed on His Arm
Fans have noticed in the past that NBA star Kyrie Irving has the 'Friends' logo tattooed on his arm. Here is why.
Kyrie Irving has been one of the best guards and best scorers in the NBA since he first entered the league. From his time with the Cleveland Cavaliers to even his brief first season with the Brooklyn Nets this year, Irving has proven to NBA fans that he has a ton of talent. Basketball is not the only thing he loves, though. Some fans have noticed in the past that Irving has the logo of the TV show Friends tattooed on his arm.
What is up with that? Why does he have the logo as a tattoo? Here is the reason why.
Kyrie Irving is one of the most talented guards in the NBA
Irving quickly became a star in the NBA after the Cleveland Cavaliers selected him with the No. 1 overall pick in the 2011 NBA draft, as he ultimately earned the 2011-12 Rookie of the Year award. Irving averaged 18.5 points per game that season to go with 5.4 assists.
He has since only had one season where he has not averaged 20 points per game or more, and that was in 2015-16 when he only played in 53 regular-season games with the Cavaliers. 
Even though he only played in 53 regular-season games that year, Irving won the ultimate prize. Irving, along with LeBron James and Kevin Love, led the Cavaliers to an NBA championship that season. 
Irving averaged 25.2 points per game in his final season with the Cavaliers in 2016-17. He and the Cavaliers went to the NBA Finals for the third consecutive season too. However, Irving then played for the Boston Celtics the next two seasons. 
Irving averaged 24.4 points per game in his first season in Boston. He did not play in the playoffs, though, due to injury. He then scored 23.8 points per game for the Celtics in 2018-19 to go with a career-high 6.9 assists.
This season, though, Irving only played in 20 games with the Brooklyn Nets as he dealt with injuries. He averaged 27.4 points per game and 6.4 assists in those games. 
Irving revealed why he has the 'Friends' logo tattooed on his arm
During the NBA postseason in 2015, fans learned that Irving had the Friends logo tattooed on his arm. Then in November 2015, Irving revealed why he had that tattoo in an interview with GQ.
"For me, it was one of those shows that was a little bit ahead of my generation," Irving said, according to GQ. "I was young and didn't really understand the issues they were talking about or even really get the sarcastic tone. I didn't get it until I got older and was watching Nick at Nite and TBS, and they played marathons of Friends all the time. One day I sat through probably like a full season of episodes and fell in love with it. Just the way they handled all the relationships on the show. When I was a kid none of that made sense to me, but now I totally related to it."

Kyrie Irving
He also said that Joey (Matt LeBlanc) is his favorite character. "When you see Matt LeBlanc off-screen, he's well-spoken and seems smart, but then Joey . . . He's just a great actor. I mean that show came on, and he just put on this character who is totally different than he is in every way. That really made me appreciate what actors and actresses can do."
Irving even admitted that Joey's character inspired him to get the tattoo and that one of his friends (no pun intended) also has the tattoo in the same place. "We thought it would be a great tattoo, because we both enjoy the show," Irving said, according to GQ. 
What is his favorite episode?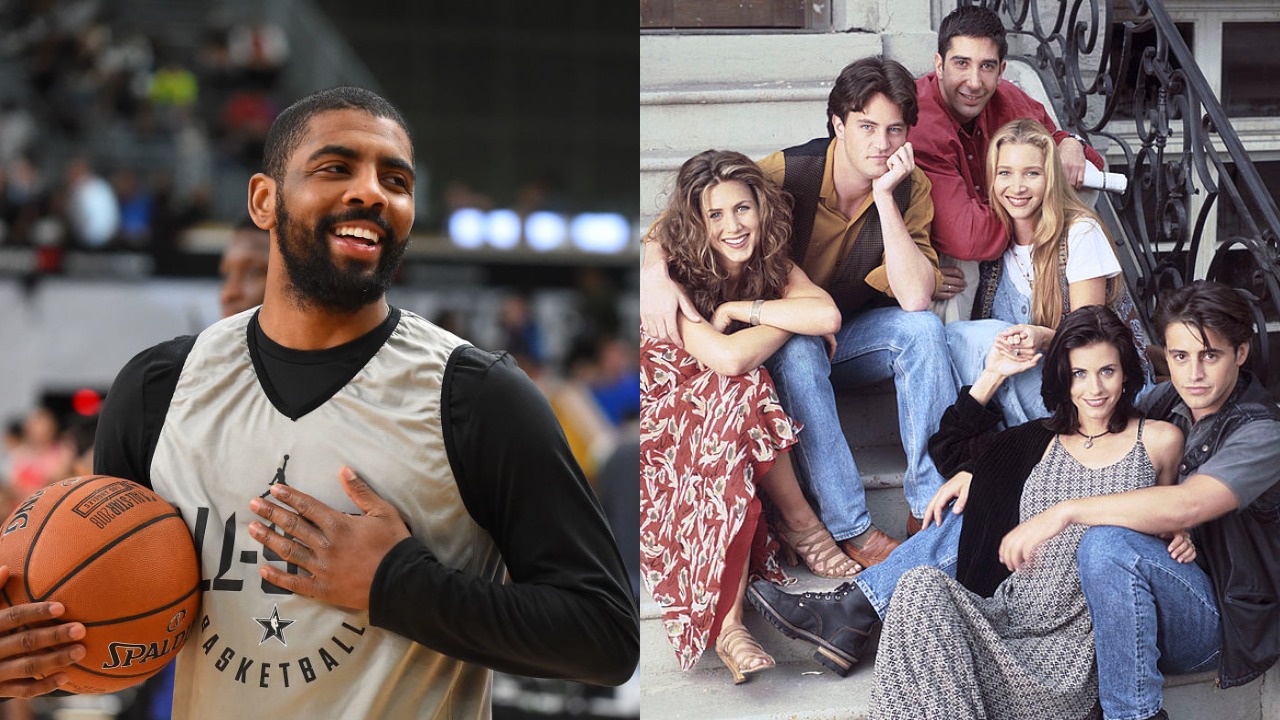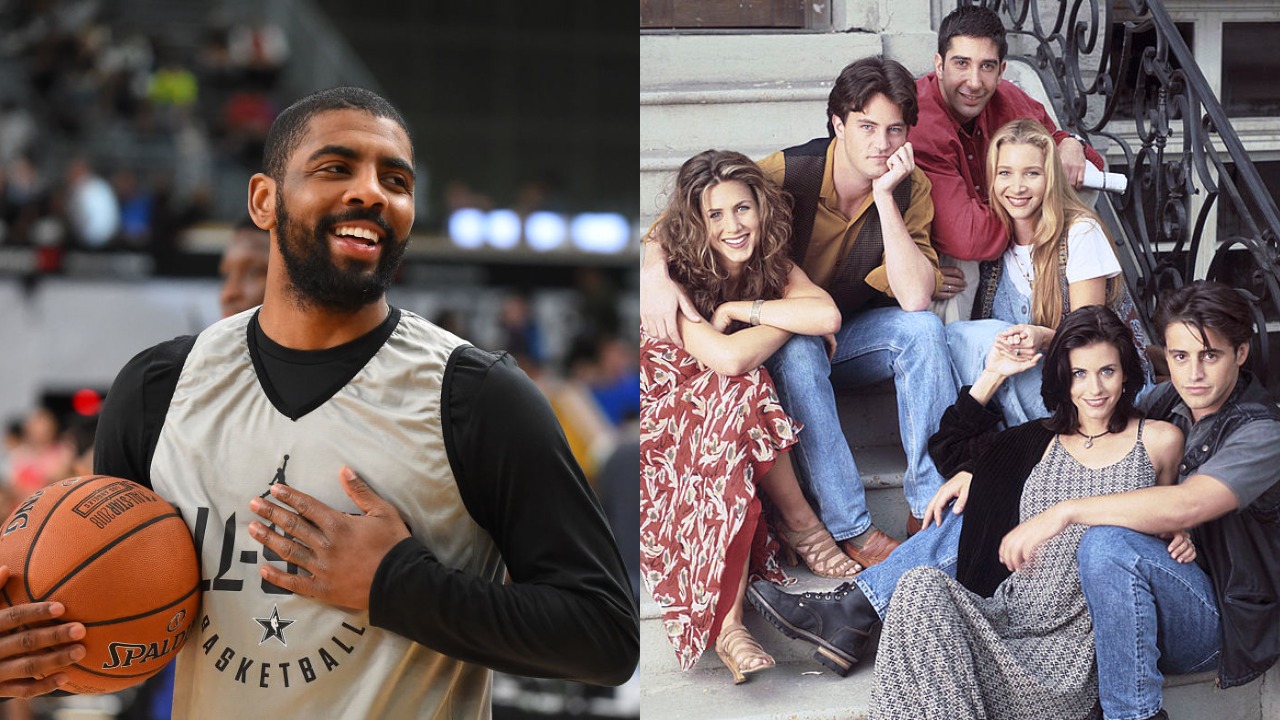 Not only did Irving reveal why he got the tattoo and who his favorite character is, but he also said which episode is his favorite. 
"I would say it was when they go on vacation [to Barbados] and Joey is with Rachel and Ross is with [Charlie]," Irving said, according to GQ. "It's just a love fiasco. Everybody is listening to each other through the hotel room walls. They're going back and forth between rooms. Then they go back to New York and Ross walks in on Joey and Rachel kissing. That's one of my favorites."
Kyrie Irving is an NBA superstar. His love for Friends, though, is a reminder that he's just like the rest of us.
Stats courtesy of Basketball Reference