Kyrie Irving Has LeBron James to Thank for 'The Shot' in 2016 NBA Finals
During the 2016 NBA Finals, Kyrie Irving made one of the most clutch shots in NBA history to help the Cleveland Cavaliers defeat the Golden State Warriors in Game 7. It is a shot that every Cleveland sports fan will always remember too as it broke a 52-year championship drought for the city. However, Irving has former teammate LeBron James to thank for "The Shot."
The Cleveland Cavaliers struggled in Kyrie Irving's first few seasons
The Cleveland Cavaliers selected Kyrie Irving with the No. 1 overall pick in the 2011 NBA draft and he was an instant star. Irving won the 2011-12 Rookie of the Year award. He averaged 18.5 points per game and 5.4 assists that season.
Irving then continued to improve during the 2012-13 and 2013-14 seasons, earning All-Star selections each year. However, the Cavaliers struggled to win games. They went 21-45 his rookie year, 24-58 his second season, and 33-49 during the 2013-14 season.
Then LeBron James returned.
Once James announced he was returning to the Cleveland Cavaliers during the summer of 2014, the Cavs then went to four straight NBA Finals. Irving was ultimately there for three of them. They also won the championship in 2016 and Irving was a main reason they won the title.
Helping the Cavs win a championship
Facing the 73-win Golden State Warriors and being down 3-1 in the 2016 NBA Finals, winning a championship was not going to be an easy task. Irving helped the Cavs force a Game 6 by scoring 41 points in Game 5. He then helped the Cavs force a Game 7 when he scored 23 in Game 6 at home. Then there was Game 7.
Game 7 at Oracle Arena in California was back-and-forth. Whoever won the game won the championship. The teams were then tied 89-89 late in the fourth when Irving made a three-pointer over the league's MVP Steph Curry, making it 92-89 with 53 seconds left. The Cavs then went on to win the game 93-89, winning the 2016 NBA championship.
Irving instantly put himself in the NBA history books with that shot.
Irving says watching LeBron James and the Heat helped him hit "The Shot"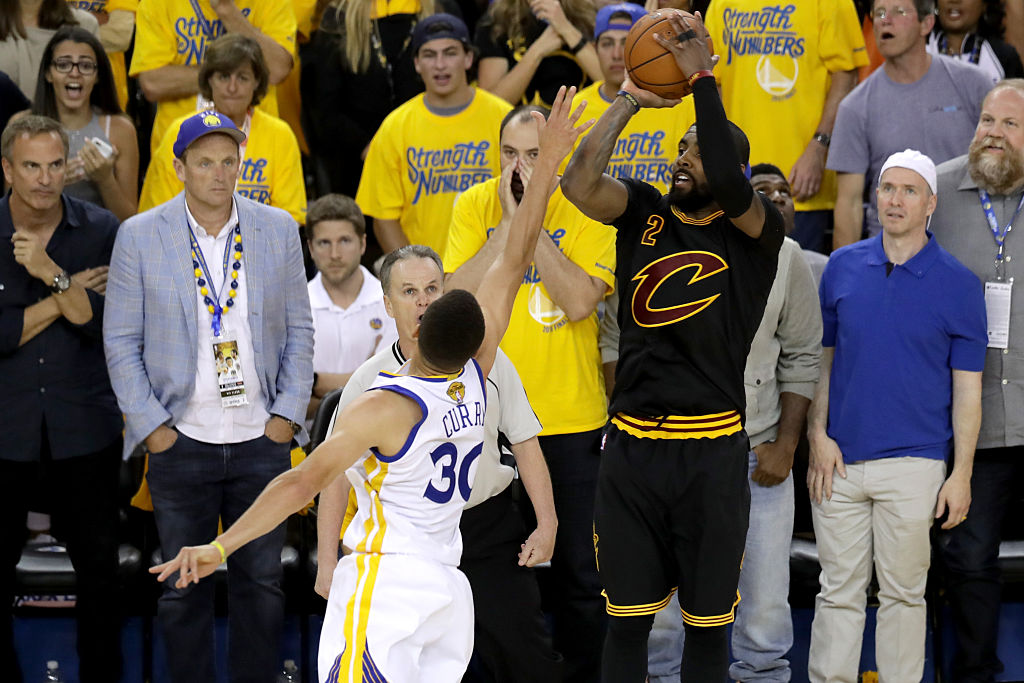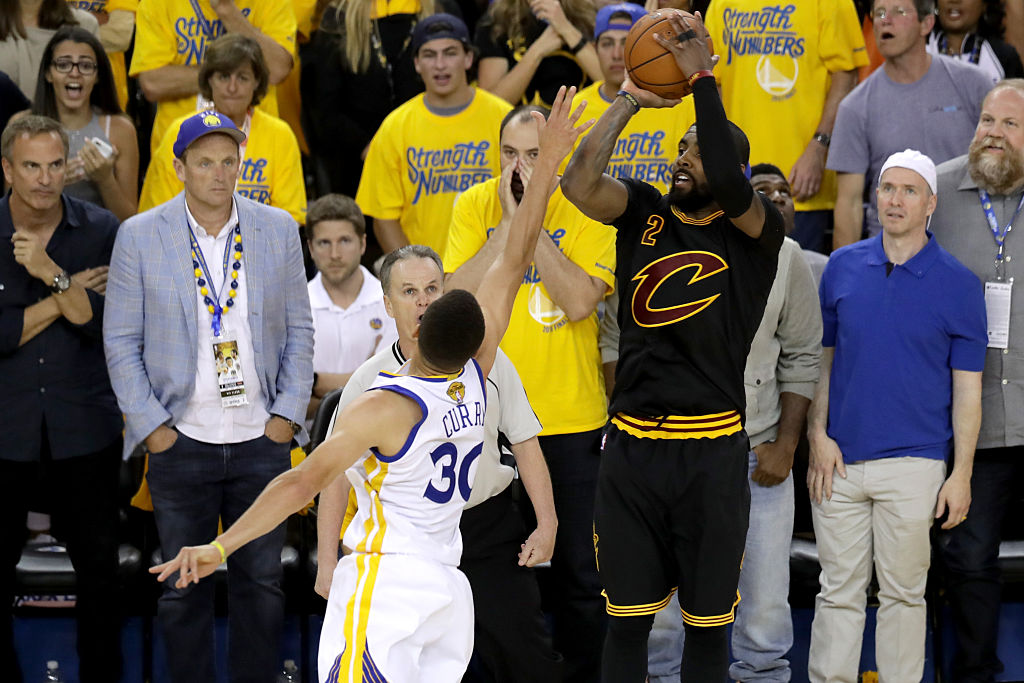 Kyrie Irving went on Instagram Live this week to discuss the shot. He first talked about how he had the opportunity to watch LeBron James and the Miami Heat against the Dallas Mavericks back in 2011. He said, "You see these guys up close at 19 years old – I was at the 2011 Finals when Dallas played Miami, I was actually doing a little mini-internship before I got drafted during that month," according to NBA.com Canada.
After watching James and the Heat in the 2011 NBA Finals, Irving then played with James just a few years later. James was a part of the big three in 2011 in Miami that consisted of him, Dwyane Wade, and Chris Bosh. He then formed a new big three with Irving and Kevin Love in Cleveland.
"Obviously, Miami lost that year, Dallas won on a really, really miraculous playoff run. Bron played well, D-Wade played well, it was just very challenging and I learned a lot from that, and they went on to win back-to-back championships after that," Irving said, according to NBA.com Canada. "You get a chance to play with Bron, on the same team at that level? You better believe that if that shot comes to me, I'm gonna be ready to take it. That fear doesn't even exist."

Kyrie Irving
Obviously, James doesn't get all of the credit. Irving hit the miraculous shot. Irving is a big reason they won that ball game and even got to a Game 7 in the Finals. However, Irving learned a lot from James. Whether it was just watching him in 2011 or getting to play with him starting in the 2014-15 season, James played a role in Irving becoming great. Kyrie Irving made one of the most clutch shots in NBA history in 2016 and he has LeBron James to thank for it.