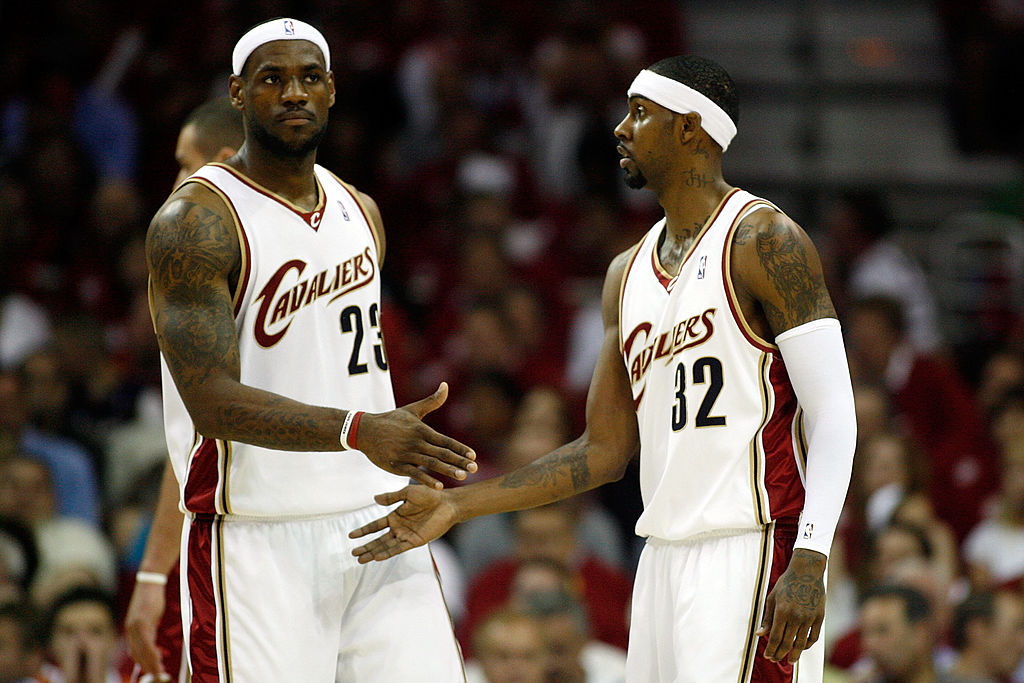 Who Was on the 2007 Cleveland Cavaliers During LeBron James' First NBA Finals Appearance?
LeBron James went to the 2007 NBA Finals with the Cleveland Cavaliers. Who was on the Cavs' roster during that season?
LeBron James has played in the NBA Finals nine times throughout his Hall of Fame career. He also went to eight straight Finals from 2011 to 2018. When James went to those eight straight Finals with the Miami Heat and Cleveland Cavaliers, he had stars on both the Heat (Dwyane Wade and Chris Bosh) and the Cavs (Kyrie Irving and Kevin Love). His one Finals appearance before that, though, he was the lone star on a 2007 Cavs team that eventually played the San Antonio Spurs. Many people cannot even remember who played on that Cavs team, so here is who teamed up with James that year.
Larry Hughes was the second leading scorer after LeBron James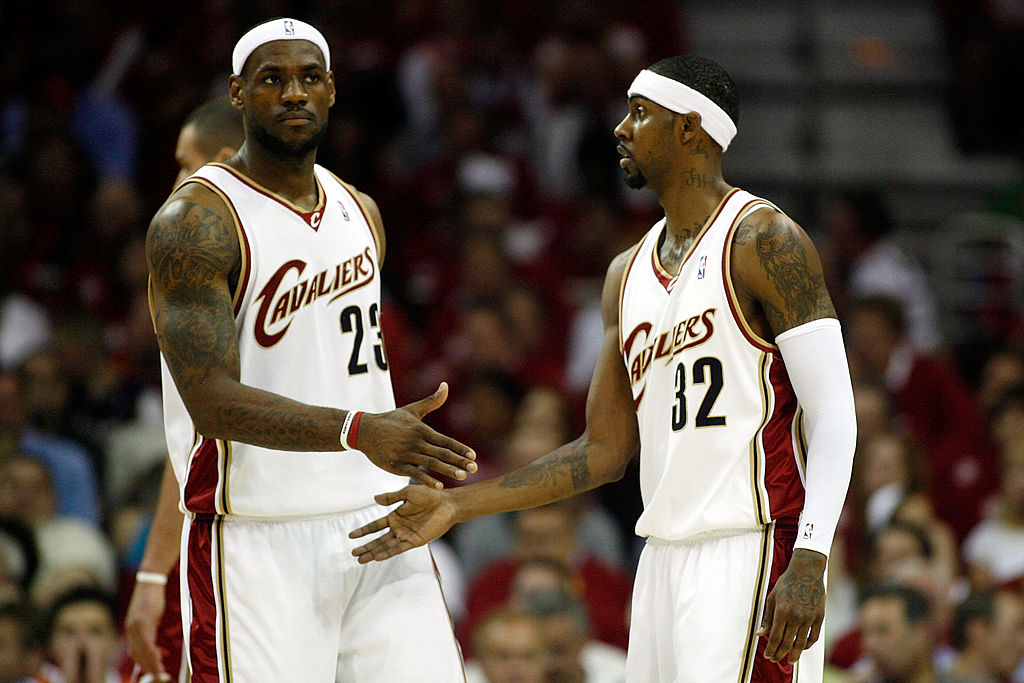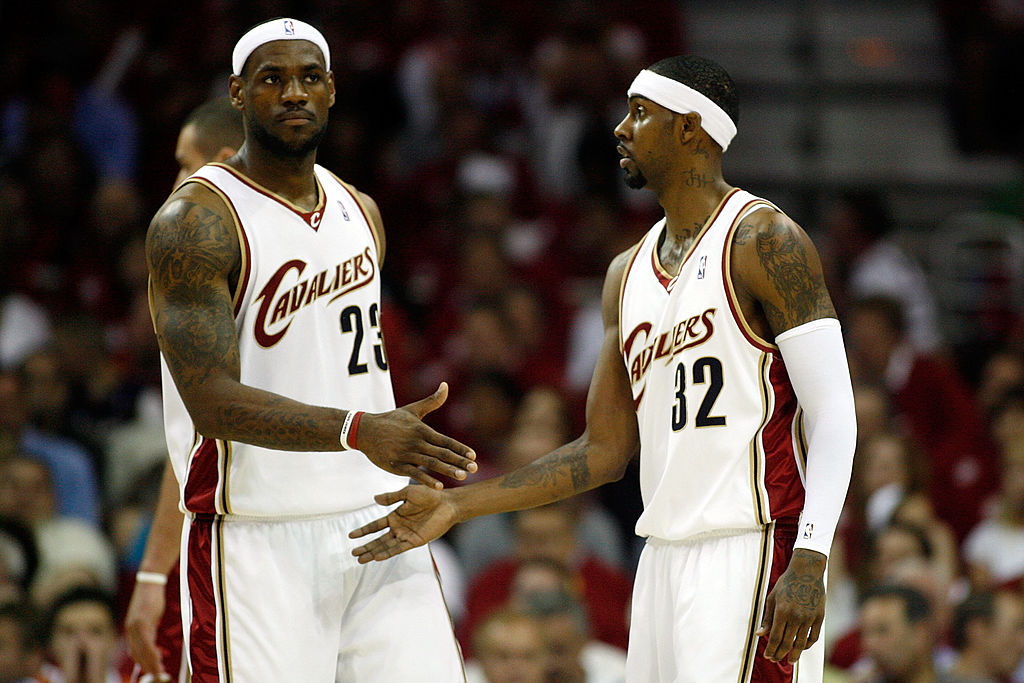 James, a dominant 22-year-old that season, scored 27.3 points per game for the Cavs. After James, though, was guard Larry Hughes who scored 14.9 points per game.
Hughes was actually a decent scorer throughout his career. He even averaged 22 points per game with the Washington Wizards during the 2004-05 season and he ended up being huge in the first round of the playoffs for the Cavs. Hughes scored 27 in Game 1 against the Wizards and averaged 19 points per game that series. He also had some pretty impressive performances in the Eastern Conference Semifinals. However, he dealt with injuries later in the playoffs, only scoring two total points in the NBA Finals. He did not even play in games three or four. The Spurs ultimately swept the Cavs in the Finals and Hughes' health might have been a reason why.
Zydrunas Ilgauskas and Drew Gooden were the other two scoring options
After Hughes, was one of the best Cavaliers of all-time in Zydrunas Ilgauskas who scored 11.9 points per game that season. Ilgauskas is second to only James in total career games played with the Cavs. He is also the franchise leader in offensive rebounds and blocks, and second in points scored. Ilgauskas had a few big games during the playoffs that year. That includes a 22-point game in Game 1 of the Eastern Conference Finals against the Detroit Pistons. However, he was not much of a scoring threat in the NBA Finals as his best game was in Game 3 where he scored 12.
The only other player to average double-digit points per game for the Cavs that season was Drew Gooden (11.1 points per game). Gooden, the fourth overall pick in the 2002 NBA draft, was pretty big in the playoffs. He even had a 24-point game against the Wizards and was ultimately one of the more consistent scoring threats in the Finals. Gooden went on to average 12.7 points per game against the Spurs.
The Cavs had a few other role players including Daniel "Boobie" Gibson
There were about six other guys who were role players for the Cavaliers during the 2006-07 season. Those guys included: Sasha Pavlovic (9 points per game), Donyell Marshall (7 points per game), Anderson Varejao (6.8 points per game and 6.7 rebounds), Damon Jones (6.6 points per game), and Eric Snow (4.2 points per game). None were more important in the playoffs, though, than Daniel "Boobie" Gibson.
Gibson was a rookie that season and only scored 4.6 points per game. However, he was a huge reason the Cavs won the Eastern Conference Finals against the Pistons. With Hughes hobbled by injury, Gibson scored 21 points in Game 4 against the Pistons, and then 31 in the series-clinching Game 6 win. He was lights out from long range in Game 6 too as he went five-of-five from 3-point range. Gibson was also a scoring threat in the Finals, scoring 16 points in Game 1 and 15 in Game 2.
Gibson ultimately had a decent NBA career as he averaged 7.8 points per game, but he was never more important to a team than he was for the Cavs during that playoff run.
Yes, this team had a great story in Gibson who did not score much during the season but was dominant in the playoffs. They also had other nice pieces in Hughes, Ilgauskas, and Gooden. The Cavs did not, however, have the star power and future Hall of Famers that James had in Miami and during his second stint in Cleveland. When you look at who the Cavs had on this team, getting them to the NBA Finals might go down as one of LeBron James' greatest career accomplishments.