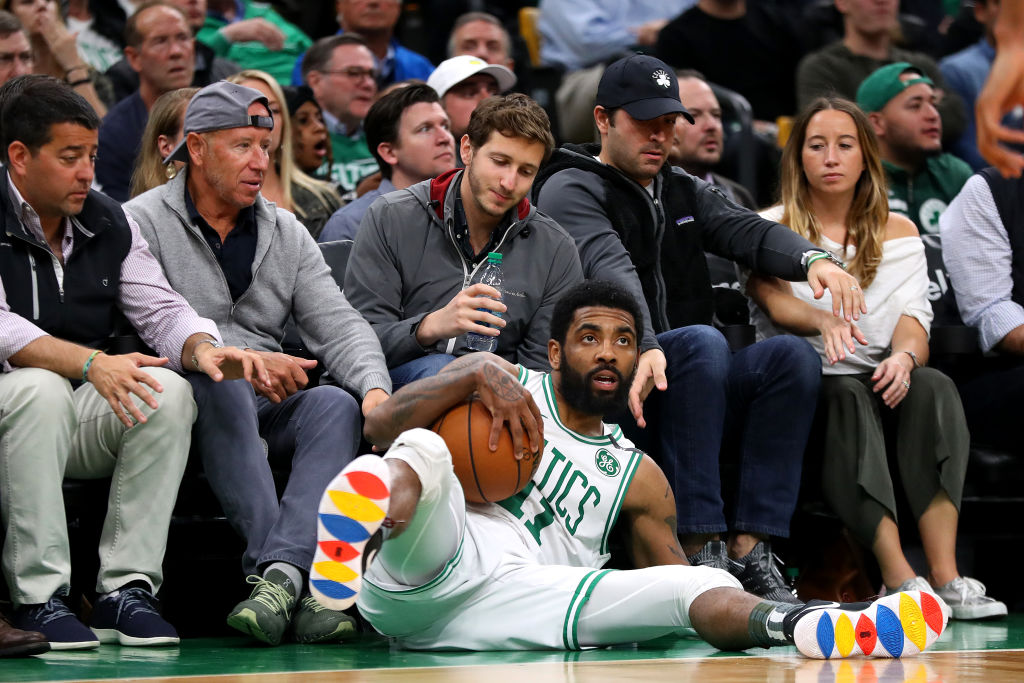 Did Kyrie Irving Ruin the Celtics Season? It Depends on Who You Ask
The Boston Celtics struggled during the season and exited the playoffs early, but is Kyrie Irving to blame? Let's find out.
After winning Game 1 of the Eastern Conference semifinals series against the Milwaukee Bucks, the Boston Celtics were quickly routed by the No. 1 seed in five games. The Celtics season seemed to get off to a rough start from the word go, as the speculation of Kyrie Irving's future hung over the team for the entire season. Players had to answer for Irving's free agency decision, and there were enough stressful times on the Celtics bench that would make a soap opera writer seem jealous. That brings us to the question — did Kyrie Irving ruin the Celtics season? We are going to explore the answer as the Celtics get ready for Irving's pending decision.
Regular season stats
Kyrie Irving is a six-time All-Star, including the 2018-19 season, when he averaged 23 points, seven assists, and five rebounds per game. When healthy, he is one of the NBA's best point guards, and he will have a lot of teams fighting for his services on the open market. In two seasons with Boston and head coach Brad Stevens, he has helped the Celtics reach the playoffs each season.

They made the Eastern Conference Finals last season without him, and they look to continue to be a formidable opponent if Irving decides to stay in Boston.

The Celtics without Irving
When Irving wasn't on the floor over the past two seasons, Boston compiled a 9-2 record. Without Kyrie Irving and Gordon Hayward during the playoffs last year, Jayson Tatum and Jaylen Brown put up very good numbers as first- and second-year players. Each averaged over 16 points per game last postseason, but they saw their roles diminished with Irving and Hayward back this year.

During the playoffs, Tatum averaged 15 points and seven rebounds per game. Brown put up 14 points and six rebounds per game. When you look at the bigger picture, you can see why Boston's fans would think they play better without Irving. However, just because you have seven good players on your roster doesn't mean that those seven can outdo one or two superstars that you may go up against in the playoffs.

A former Celtic calls out Kyrie Irving; a teammate defends him
There's no question Kyrie Irving is one of the best players in the NBA, but one former Boston player believes he's not Celtics material.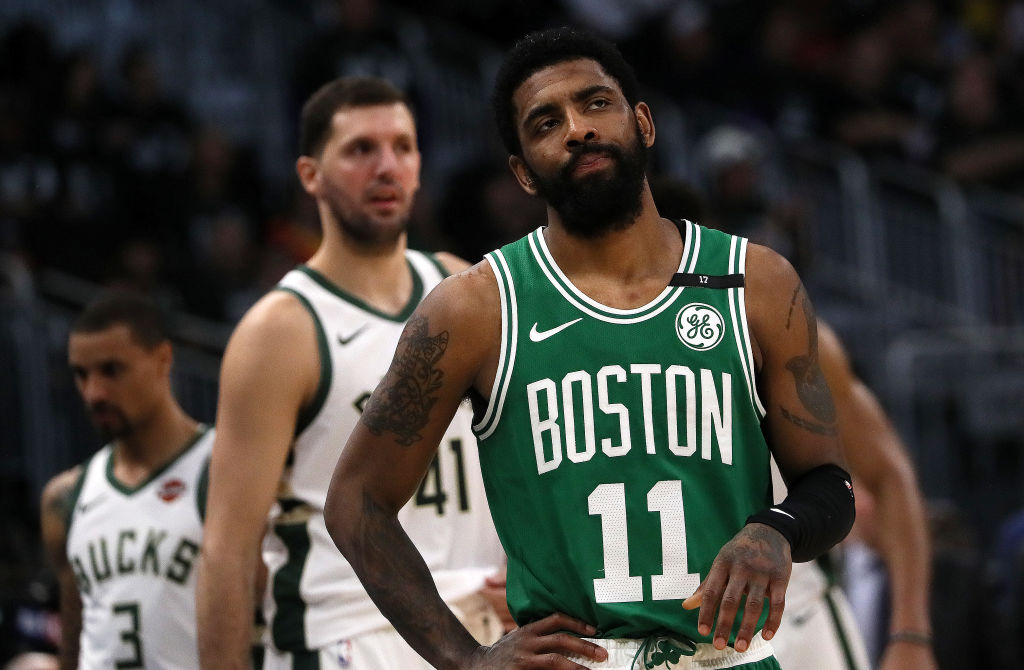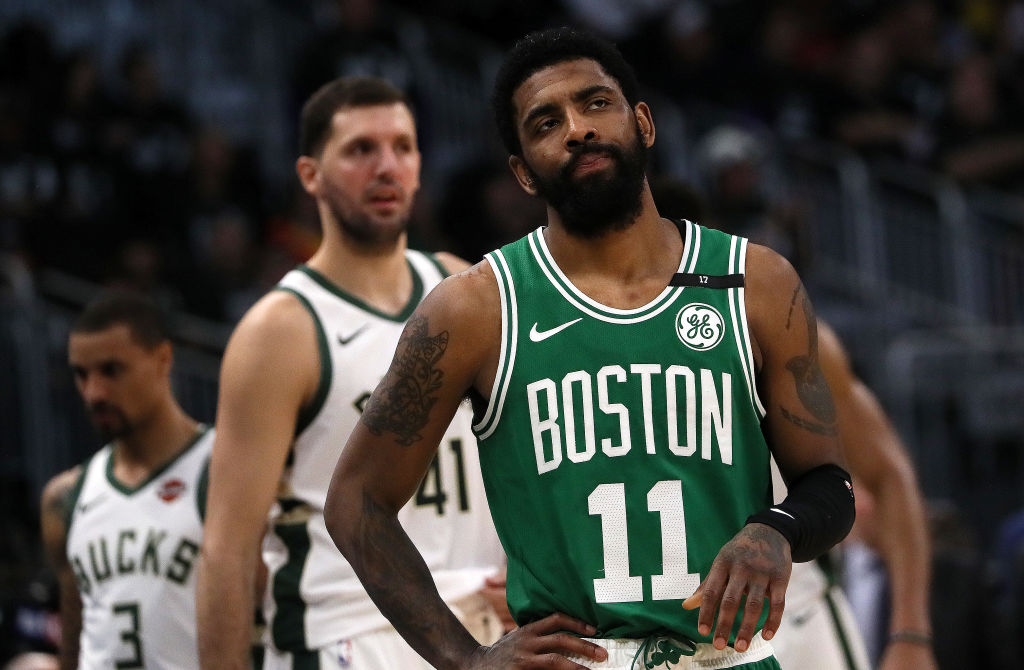 Kendrick Perkins joined a podcast to talk about Boston's season, and he let Irving have it:

"He sounds confused. He sounds like a guy that don't wanna be in Boston," Perkins said. "Celtics history and Celtics pride is way bigger than Kyrie Irving. You want guys that want to be there. He showed us signs all year long that [Irving] didn't want to be a Celtic."
Perkins knows what it's like playing for the Celtics, but he wasn't in the locker room this season. Marcus Smart was, and he says the idea of blaming Boston's season on one person is crazy, according to Cleveland.com's Troy L. Smith:

"It's four other guys out there. It's 12, 13 other guys on the team, coaches and everything," Smart said. "So to just blame it on one guy is bulls***."

Although their numbers are down, we don't believe Kyrie Irving ruined the Celtics season. The Celtics dealt with several injuries and ran into the buzzsaw known as Giannis Antetokounmpo during the second round.
Can fans expect Kyrie to stay? The free agency pull may be too much to keep him in Beantown, so let's look at where fans can expect him to play next season.

Where could Irving end up?
Outside of Kevin Durant and Kawhi Leonard, Kyrie Irving is probably the No. 3 free agent on most big boards. Five teams have the best odds to sign him. Look for him to flirt with New York (both teams) and Los Angeles (same thing) before settling on a dark horse in the Dallas Mavericks. He will be the lead point guard, and with Luka Doncic and Kristaps Porziņģis in tow, the Mavericks could make the playoffs next season.

Kemba Walker will also be a major target for the Mavericks, but we think if Irving takes a meeting with Mark Cuban and the coaching staff, then it will be hard for Irving not to sign with the Mavs.

Also, don't forget that there is no state income tax in Texas, so Irving's money would last a little longer than it would be in New York and Los Angeles.