Terry Rozier Won't Return to the Boston Celtics if Kyrie Irving Does
The Boston Celtics will have one of the most intriguing offseasons of any team in the NBA. Not only will they have to worry about Kyrie Irving's decision and a possible trade for Anthony Davis, but backup guard Terry Rozier is also a restricted free agent. That is where things can get interesting for Boston.

If Irving resigns, it will keep the star in a Celtics uniform for the foreseeable future. If he opts to leave, what will the Celtics do if Rozier is offered a big money deal? Do they let him walk, or do they match the offer? Rozier's comments about playing with Kyrie Irving indicate they can't share the same locker room. Let's look at those comments and what we can expect from Rozier going forward.

Rozier's comments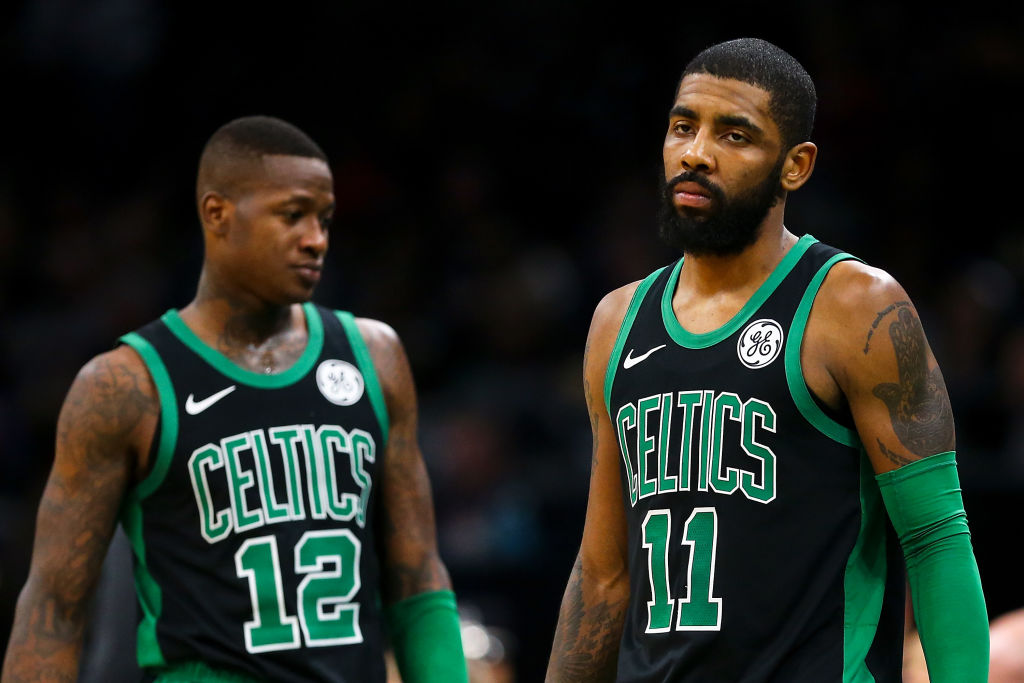 During an interview on ESPN's First Take, Rozier didn't pull any punches when discussing his future:

"I expect me to get my chance, whether it's with the Celtics or it's anywhere else. I feel like I can be myself and play my game wherever I go."

It is completely understandable why Terry Rozier would want a change of scenery if Kyrie Irving returns to the team.

With Marcus Smart as the primary backup point guard, and also being named to the All-NBA Defense first team, Rozier's minutes are limited. On a team with Rozier, Irving, and Smart, Rozier would be No. 3 on the pecking order. A player can't make big bucks if he doesn't see time on the court.

Why Rozier believes he can handle more
When Irving went down with an injury in the 2018 postseason, everyone in a Celtics uniform needed to step up and carry some of the workload. Rozier became a very good point guard to have in the starting lineup as he averaged 16 points, five rebounds and nearly six assists per game in the playoffs.

With Irving healthy this year, Rozier's numbers dropped dramatically, but he has shown that he can be a good all-around guard when given the opportunity.

What offers will he receive?
In this free agency class, everyone will look at the big name players such as Irving, Kevin Durant, and Kawhi Leonard. Terry Rozier is a restricted free agent, and he can strike a great deal with a team looking to upgrade their point guard position. As a restricted free agent, the Celtics can match any contract offer Rozier receives.
One team expected to have a lot of cap space that may not sign a top-10 free agent are the up and coming Brooklyn Nets. They will target all the major players, but they need a guard that can play off of D'Angelo Russell, who is coming off his first All-Star selection.

Another team in need of a point guard is Dallas. Kemba Walker is one of their big free agent targets, but if he goes to either team in L.A. or another franchise, Rozier would be a good second choice. A line up with Rozier, Kristaps Porziņģis (if he resigns in Dallas), and young stud Luka Doncic could turn into a playoff team if a roster is built around them smartly.

Phoenix will likely make Rozier an offer, but unless he wants to play for a lottery team during his prime, he would be smart not to answer their phone calls.

What would he do if the Celtics match his offer sheet?
Boston has the ability to match any offer Rozier receives, so what would he do if that happens? Would Boston match any offer Rozier gets even if Kyrie Irving resigns with the team? Could they package him as part of a sign and trade with New Orleans for Anthony Davis? Would he simply be a malcontent in the locker room? Those are the questions we will get answers to as the offseason gossip begins.