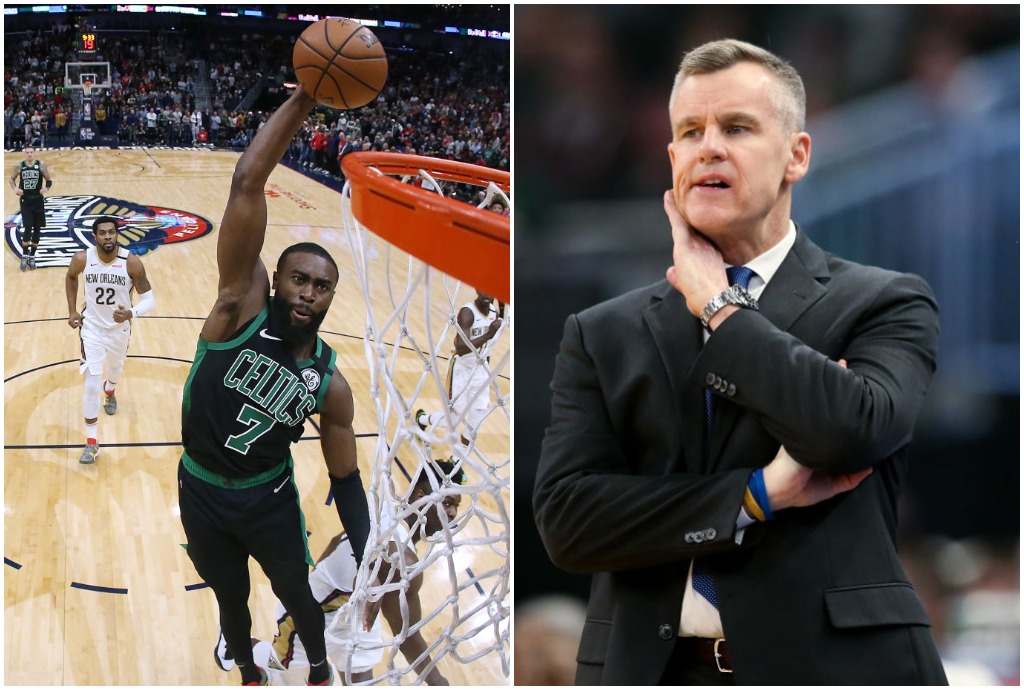 Jaylen Brown Can Thank Billy Donovan for His $115 Million Celtics Contract
Jaylen Brown can thank Billy Donovan for his massive Celtics contract after the coach gave the future NBA star some harsh feedback at 17.
Like many athletes, Jaylen Brown fueled his athletic success by proving doubters wrong. As one of the top young wings in the NBA, he's developed into a key building block for the Boston Celtics. Let's just say Oklahoma City Thunder head coach Billy Donovan never expected that to happen.
The former Florida Gators coach who took his talents to the NBA once gave a 17-year-old Brown some harsh criticism. But by using Donovan's words as motivation, Jaylen Brown has gone from a high-school prodigy to a top-three lottery pick to a highly-paid rising star.
Jaylen Brown has developed into a star for the Celtics
Coming out of the University of California, Jaylen Brown certainly looked the part of an NBA wing. Tipping the scales at 6-foot-6, 223 pounds with excellent athleticism, he possessed the perfect skill set to become a star. Of course, it took some time for the one-and-done forward to live up to his potential.
As a 20-year-old rookie, Brown started just 20 games and averaged 6.6 points and 2.8 rebounds. Those numbers fell well short of expectations considering he entered the league as the third overall pick. In his second season, Brown showed tremendous growth. He increased his scoring average to 14.5 points per game on a stellar 39.5% shooting from behind the 3-point line.
However, Brown's game regressed in 2018-19. He got relegated to bench duty and looked like a player who could be traded. But once Kyrie Irving departed, everything turned around for the uber-talented Georgia native.
Before the NBA season got put on pause, Brown ascended to elite status. In 50 games, he averaged a career-high 20.4 points to go along with 6.4 rebounds, 2.2 assists, and 1.1 steals. He even increased his free-throw percentage to 73.6, which represented nearly a 10% improvement from last season. Of course, his arrival as a top-flight wing represented a stark contrast to what Billy Donovan predicted years ago.
Brown will never forget Billy Donovan's harsh words
Before he became a Golden Bear or a Celtic, Jaylen Brown represented his country. He suited up for Team USA's Under-18 team, which happened to be coached by Donovan. Despite his prodigious talent, Brown didn't get great reviews from his coach.
However, in a recent Zoom video conference with UMass students, he relayed how Donovan influenced his career, as covered by Mark Murphy of the Boston Herald.
"He told me he wasn't playing me because he said I didn't play hard," said Brown. "I said 'what do you mean, I've been cooking everybody.' And he told me you're only going to be in the league for three years because you don't play hard.

Brown became so angry he started crying. At the time, he may not have realized what exactly his coach was trying to accomplish. But in retrospect, Donovan's harsh criticism helped the current Celtics star to achieve his potential.
"That was his way, and I really didn't appreciate that at all. It upset me," he said. "I'm not cool with him to this day. For someone to say that was a lot for a 17-year-old. I appreciate the message he delivered, and to this day I kind of think about it, because that message was added to my work ethic."

Former No. 3 pick proved Donovan wrong with $115 million contract
For a normal 17-year-old, those words might have derailed any dreams of going pro. But for Jaylen Brown, he's made Billy Donovan look foolish for predicting he'd last just three years in the NBA. Not only has Brown surpassed Donovan's expectations but he's also managed to become extremely wealthy.
In October 2019, the Celtics signed the 2016 first-round pick to a four-year, $115 million contract extension. That represented a massive raise for Brown, whose rookie deal totaled just over $21 million. Boston did assume some risk in handing him a huge deal based on his inconsistent first three years, but the breakout star silenced any critics this season.
As Boston prepares to get back on the court, Brown can do so with the satisfaction of knowing he's already made it past that three-year mark that Billy Donovan predicted. And he can also smiley proudly knowing that he earned every penny of a $115 million contract that the OKC head coach could have never imagined when he shredded Jaylen Brown as a teenager.