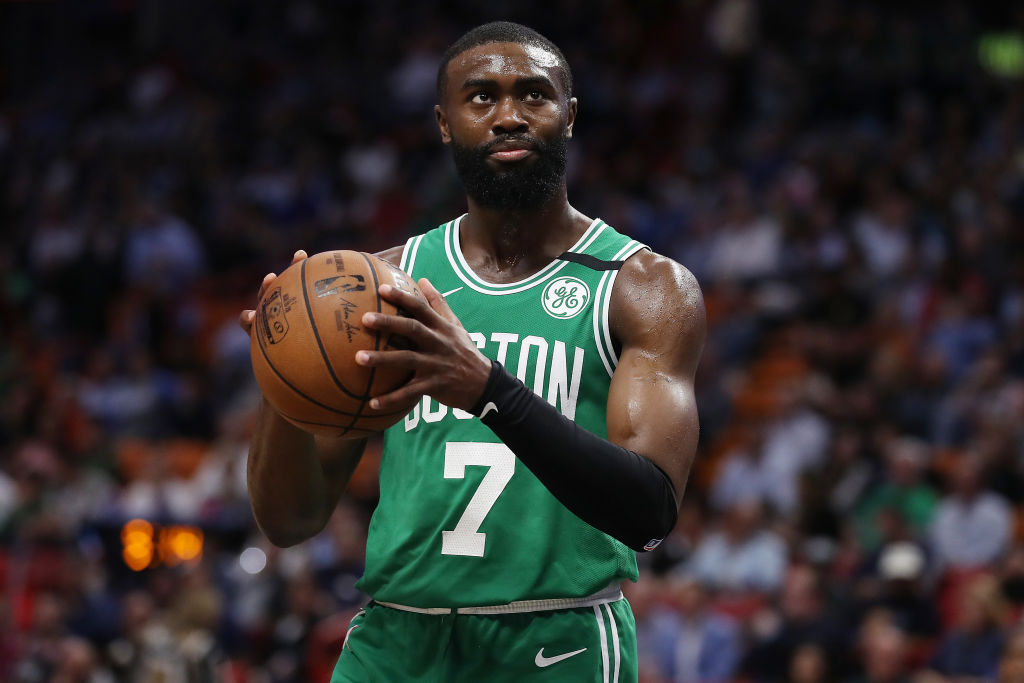 Jaylen Brown Has Made $21 Million in the NBA, but He Hasn't Forgotten His Hometown
Jaylen Brown may be a millionaire and a promising NBA talent, but the Boston Celtics guard still drove 15 hours to protest in his home state of Georgia.
While Jaylen Brown might not be an NBA veteran, he's already made plenty of money in the association. That financial reality, however, hasn't caused the Boston Celtics guard to forget his roots. We saw proof of that on Saturday night.
Despite being a multimillionaire and plying his trade in Massachusetts, Brown drove 15 hours to return to his home state of Georgia. In the midst of the protests gripping the United States, he felt it was important to lead by example.
Jaylen Brown's young basketball career
At only 23 years old, Jaylen Brown's basketball career is still in its relative youth. That hasn't stopped him from making an impact on the hardwood, though.
After dominating the Georgia high school basketball scene and establishing himself as one of the top recruits in the country, Brown decided to play his college ball at the Univerity of California. While he only spent one season with the Golden Bears, the small forward made the most of his time on campus.
In Brown's only NCAA season, he averaged 14.6 points, 5.4 rebounds, and 2 assists per outing; that was good enough to earn him Pac-12 All-Freshman honors and a place on the all-conference first-team. When Brown entered into the 2016 NBA draft, that resume was enough to make him the third-overall pick.
Brown landed with the Boston Celtics and slotted in as a part of the team's young core. He's proved to be a versatile and talented young player; after averaging 6.6 points, 2.8 rebounds, and 0.8 assists per outing as a rookie, his production had increased to 20.4 points, 6.4 rebounds, and 2.2 assists per game before the 2019 season was suspended.
Turning NBA success into financial success
As a lottery pick, Jaylen Brown earned a good deal of money as soon as he was drafted. By betting on himself, though, the guard has increased his earning power even further.
Based on Spotrac's financial data, Brown has made just over $21 million playing out his rookie contract. While he could have signed a four-year, $80 million deal during the fall of 2019, he declined the offer; that may have been the best decision of the guard's young career.
In October 2019, the Celtics inked Brown to a rookie scale contract worth a total of $115 million. By the time that deal expires in 2024, the guard will have earned more than $128 million in total; that's not a bad haul for eight seasons of NBA service.
Wealthy or not, Jaylen Brown hasn't forgotten his roots
As a young millionaire living in Boston, it would be easy for Jaylen Brown to live in a comfortable bubble. Based on his recent actions, however, it's safe to say that isn't the case.
After the death of George Floyd, Brown drove 15 hours from Boston to his home state of Georgia. On Sunday night, the guard, who hails from Marietta, led a peaceful march through Atlanta.
"I drove 15 hours to get to Georgia, my community," Brown explained on Instagram, according to ESPN. "This is a peaceful protest. Being a celebrity, being an NBA player, don't exclude me from no conversations at all. First and foremost, I'm a black man, and I'm a member of this community… We're raising awareness for some of the injustices that we've been seeing. It's not OK."
As a promising young star, it would have been easy for Jaylen Brown to fire off a tweet and call it a night. His actions, however, speak louder than any words.
All stats courtesy of Sports-Reference and Basketball-Reference