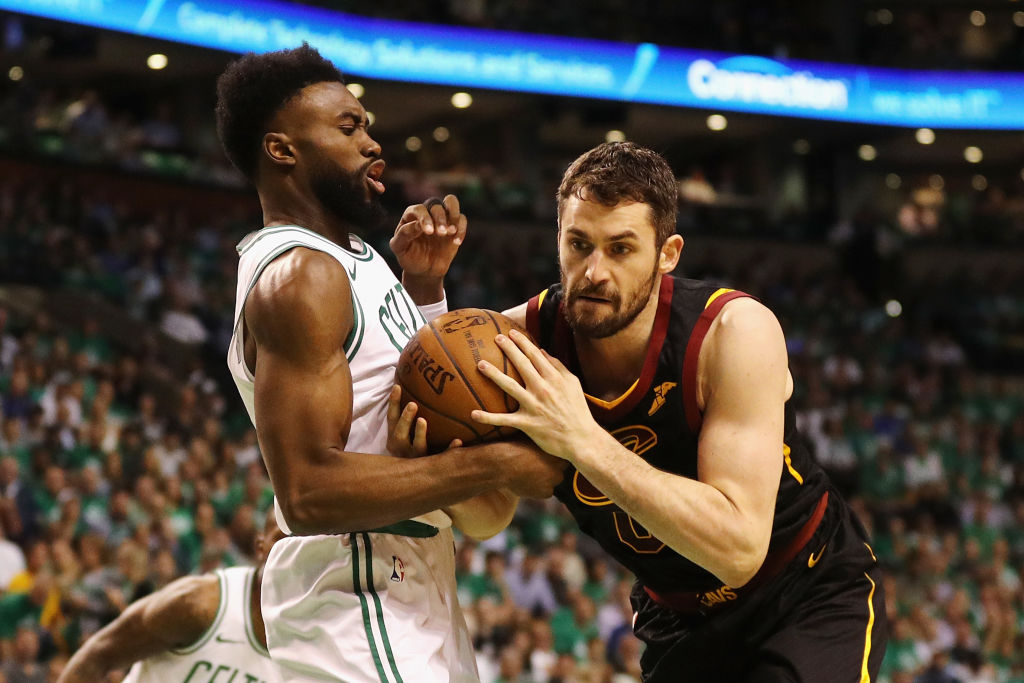 NBA: Why a Kevin Love-Jaylen Brown Swap Makes Sense for the Cavaliers and Celtics
Most hypothetical NBA trade talk never goes anywhere, but a Kevin Love for Jaylen Brown trade is smart for both the Cavaliers and Celtics.
Boston Celtics forward Jaylen Brown is seemingly at a crossroads in his career. The young player is looking to secure his future in Boston, but the team hasn't been as committed as he would hope. There have been rumors about a possible trade of Brown for Cleveland Cavaliers forward Kevin Love. NBA fans love hypothetical trade talk, but sometimes it's all fantasy. Let's look at the reasons a Love for Brown swap would be a good fit for all parties involved.

Why is Jaylen Brown a possible trade piece?
Although he has shown flashes of becoming an All-Star, Brown hasn't been able to put it all together. Part of it has to do with the return of Gordon Hayward, and his forced insertion into the starting lineup, stunting Brown's growth as a player.

It also didn't help that he and Jayson Tatum didn't listen to a lot of pointers given out by former starting point guard Kyrie Irving. Brown put up just 13 points and four rebounds per game last year. However, in the right offense, he can be a force, and his athleticism will help the team immensely on the defensive end of the floor. The question is if Brown will mature as a player in Boston, or in another NBA city.
Why a trade would benefit Brown
Putting Jaylen Brown on the Cavaliers roster more than likely will make him the No. 1 scoring option ahead of last year's first-round pick Collin Sexton. He has been successful in pressure situations, including the playoffs two seasons ago, where he put up more than 16 points per game.

Can you see Brown putting up 20-plus per game in a Cavs uniform as they rebuild? We think it's definitely possible, and we would be excited about the prospects of a Sexton/Brown perimeter tandem.

How the trade would benefit Kevin Love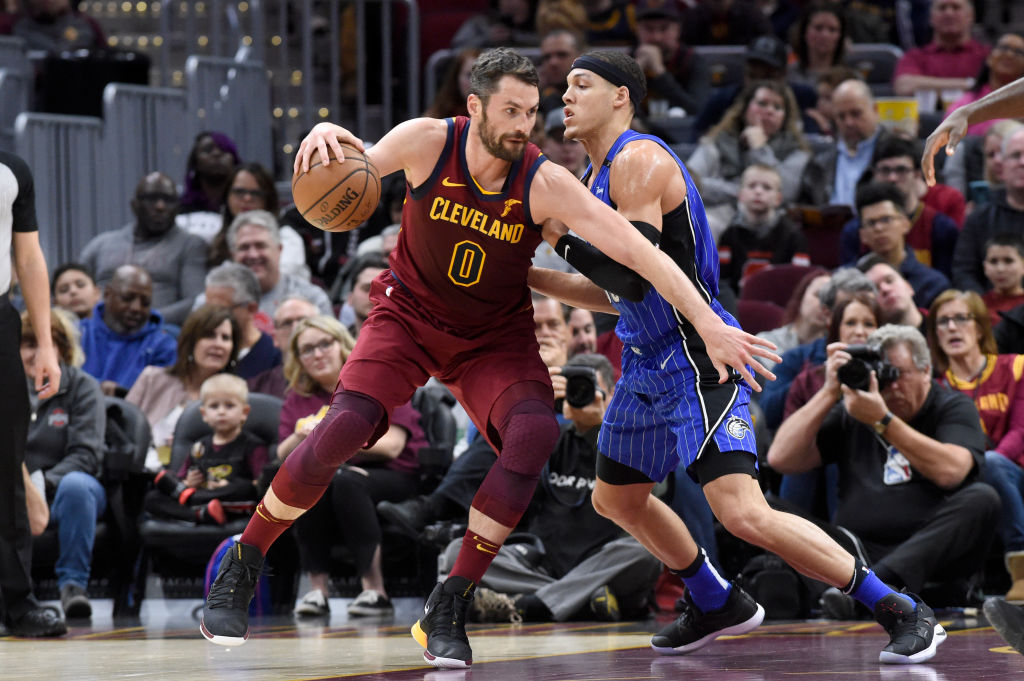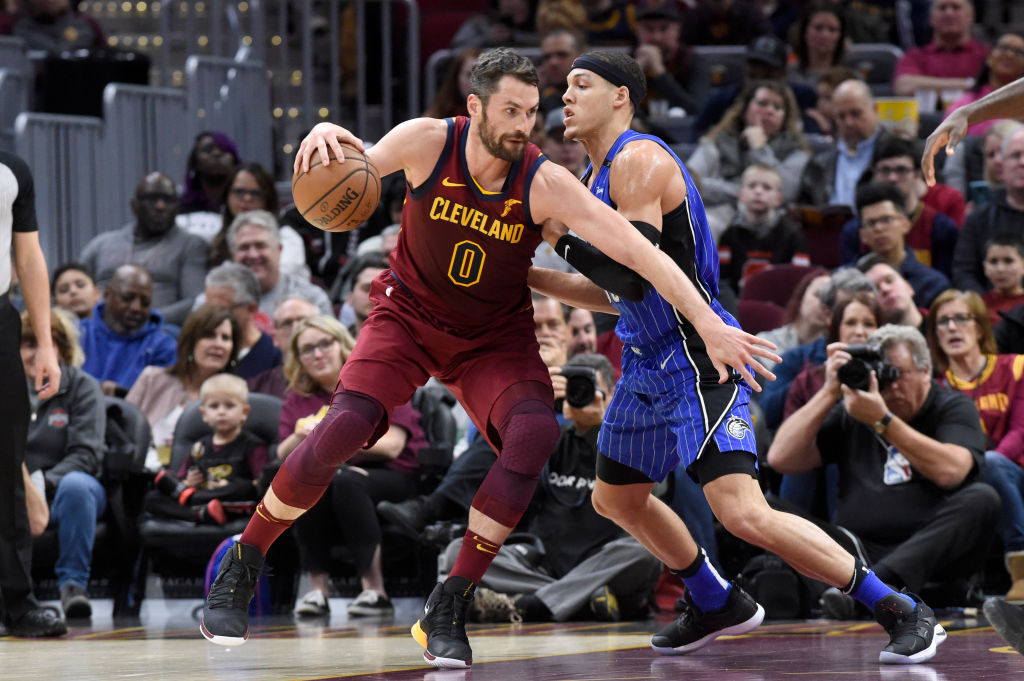 Ever since LeBron left Cleveland at the end of the 2017-18 season, Kevin Love has been viewed as an afterthought around league circles, but he is still a very capable power forward. He put up numbers similar to his time in Minnesota during the 2018-19 season as he averaged 17 points and nearly 11 rebounds per game.

Putting Love on a Boston roster already loaded with one of the best lineups in the conference would replace the void left by Al Horford. You can see Love fitting in well in head coach Brad Stevens' offensive system, and a 16-point, 10-rebound per game average isn't out of the realm of possibility.

Could Boston become the top team in the East? If the Celtics aren't already, adding Love could clearly give them an equalizer in the potential playoff battles against Milwaukee and Philadelphia.

Why the trade makes sense for the Cavaliers
The biggest reason for the Cavaliers making the move is to get the team a capable small forward while giving up Love's hefty contract. He is owed $120 million over the next four years, and opening up that salary cap space could give the team the ability to sign both Brown and Sexton to extensions in the future.

The deal also makes sense for the long-term growth of the franchise. Milwaukee, Philadelphia, and Boston all have veteran squads ready to contend now. A duo of Brown and Sexton could be the start of a top-four team in the Eastern Conference in two or three seasons when the Bucks, Celtics, and 76ers start to age out. 

Should Boston trade Jaylen Brown for Kevin Love?
Would Boston be smart to make this deal? On paper, trading a young small forward for a power forward with four-years and $120 million on the books is a recipe for disaster. 

However, it makes a lot of sense if it can bring a championship. The Celtics currently have three small forwards capable of starting for almost any team in the league.