A Physicist Once Revealed Exactly What It Would Feel Like to Take a Charge From Zion Williamson
Ever wondered what it would feel like to take a charge from a full-speed Zion Williamson in the paint? Well, first off, maybe get some help. But if you've ever been crazy enough to wonder just that, you're in luck!
Two years ago, a University physicist did the math and revealed what it would feel like to get run over by the massive NBA star with superhuman strength. His conclusion was a tad frightening.
Zion Williamson is a force to be reckoned with
Zion Williamson is one of the most physically imposing players in the NBA at just 20 years old. The New Orleans Pelicans' superstar stands 6-foot-7 and weighs 284 pounds, and he possesses the strength of LeBron James when he drives to the hoop combined with the leaping ability of Spud Webb when he reaches the basket. Whenever Williamson wants to get to the bucket, he gets to the bucket. There's nothing in the world and no one in the NBA able to stop him at that point.
Williamson is five inches shorter than most of the best defensive centers in the NBA, but he still has his way in the lane. This season, Williamson leads the NBA through 11 games in points in the paint per game with 18.2. Through the first nine games of the season, Williamson averaged 21.9 points per game while scoring every single one of his field goals inside the paint, according to ESPN Stats & Info.
The only way to really stop Williamson from getting to the basket at ease is to stand firm, say a quick prayer, and let him run you over for a charge. Easier said than done, though.
What would it feel like to take a charge from Zion Williamson?
In 2018, the Wall Street Journal wondered that exact question. So, they went to find out.
Reporters Ben Cohen and Andrew Beaton from the WSJ consulted a physicist to find the answer. Could getting hit by someone as large and as powerful as Williamson actually feel like getting hit by a bus? Well, pretty close it turns out.
At the request of The Wall Street Journal, University of Lynchburg physicist Eric Goff reviewed grainy clips of Williamson charges to solve Gaminde's mystery and quantify the basketball equivalent of getting hit by a bus. He calculated the maximum force of impact during one Williamson charge to be 300 pounds—the equivalent of the average force during a similar, head-on collision with a Jeep traveling 10 miles per hour.

Wall Street Journal
Now that's scary.
Would you take a charge from Zion Williamson?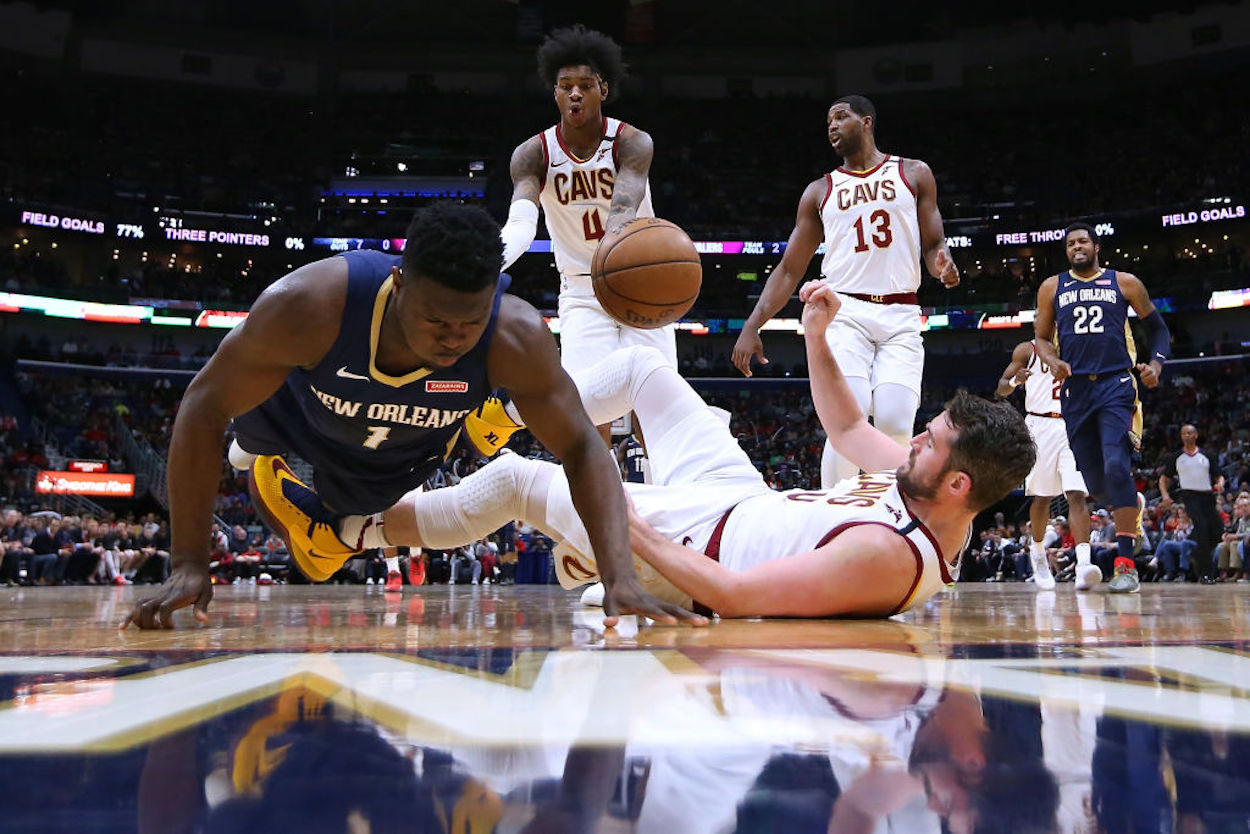 How much money would you need to take a charge from Zion Williamson in the paint? $100? $1,000? $1,000,000? But don't feel embarrassed. Not even the strongest NBA players are brave enough to stand in front of the 284-pound behemoth when he muscles to the rim, and they all make millions of dollars themselves.
Luckily for you, you'll never have to experience what Williamson's Jeep-like strength feels like.