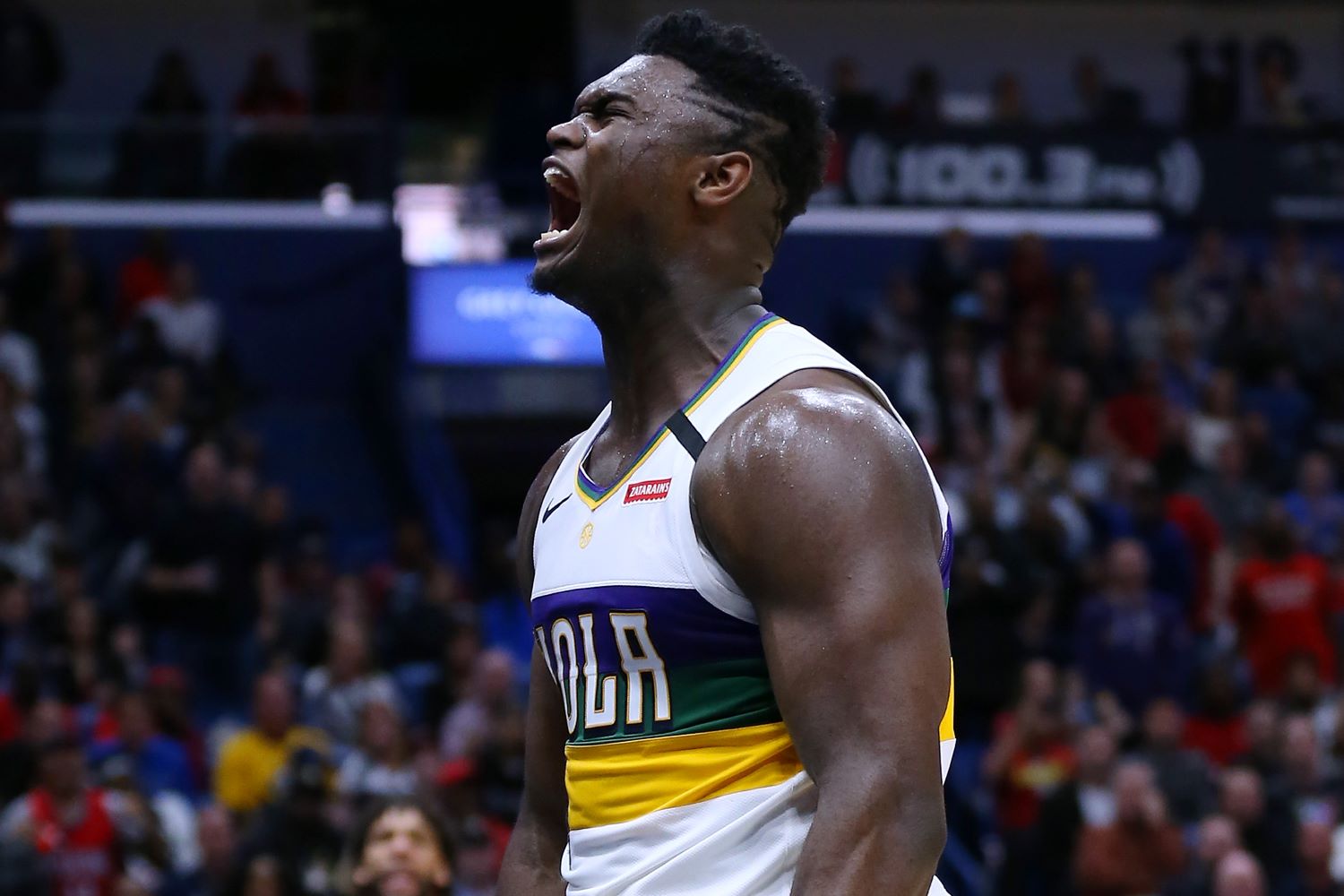 Zion Williamson Reportedly Made a Significant Change That Should Terrify the Rest of the NBA
Zion Williamson faced plenty of questions about his weight as a rookie, but the latest update on his size should terrify the rest of the NBA.
Considering he just turned 20 in July, Zion Williamson hasn't come close to reaching his ceiling. The big-bodied power forward may have been one of the youngest players in the NBA last season, but he still looked like a man amongst boys on many nights.
Yet, the New Orleans Pelicans superstar has faced plenty of criticism about his sizable frame dating back to his high-school days. Unfortunately for the rest of the NBA, the latest update on Williamson sounds absolutely terrifying. And based on the early results, it looks like the former No. 1 pick's hard work from the offseason is being rewarded.
Zion Williamson lived up to the hype as a rookie despite dealing with injuries
Zion Williamson gained notoriety during his high-school days as a high-flying dunker who looked like an NFL tight end as a teenager. The North Carolina native took his talents to Duke, where he dominated the competition with his brute force and athleticism.
To no one's surprise, the Pelicans selected Williamson with the first pick of the 2019 NBA draft. However, his rookie season included an early setback when the 6-foot-6 forward tore his meniscus on Oct. 13.
New Orleans didn't have its new face of the franchise available for months. In fact, Williamson didn't make his professional debut until Jan. 22. Despite playing only 18 minutes, the ex-Blue Devil racked up 22 points and seven rebounds. He scored 17 consecutive points during the fourth quarter—a scary glimpse at his superstar upside.
By season's end, Williamson had averaged 22.5 points, 6.3 rebounds, and 2.1 assists in 24 games. However, he also dealt with ankle and toe injuries in his first year in the league. Although the top pick lived up to expectations on the court, concerns about his durability and conditioning persisted.
NBA teams should be terrified by the latest report on the Pelicans star
Given his physical style of play and his injury history, some suggested that Zion Williamson needed to lower his listed playing weight of 284 pounds during the offseason.
Apparently, he listened.
On "The Hoop Collective" podcast, ESPN's Brian Windhorst delivered a significant update about Williamson that should terrify the rest of the NBA.
"I was told that Zion— and I don't think they really wanted to publicize where he was physically when he came back to the bubble—but I have heard that it's in excess of 25 pounds he's lost from where he was in the bubble to where he is now," Windhorst reported. "He is not as svelte by any stretch of the imagination, but he definitely is moving better."
If Williamson lost 25-plus pounds, that should put him somewhere in the 250-259 range. That should help him significantly in terms of conditioning and staying healthy, as he theoretically should put less wear and tear on his joints. A slimmer version of the former No. 1 pick should also have an easier time moving around the floor and changing directions.
Could it also be possible for the high-flying dunker to gain a few inches on his vertical jump without an extra 25 pounds on his frame?
Given how impactful he looked as a rookie in less-than-ideal conditions, it's scary to think just how much better Zion can be if he continues to improve his conditioning and physique. And while the sample size is certainly small, his hard work during an abbreviated offseason already looks like it is paying off.
An improved Zion makes New Orleans a major threat in the Western Conference
Zion Williamson and the Pelicans enter the season as one of the more intriguing teams not only in the Western Conference but the NBA as a whole. New Orleans boasts a starting lineup teeming with superstar potential. Having to trade Anthony Davis certainly hurt, but the current roster has the pieces to make a deep playoff run in 2021.
The Pelicans started the preseason off with a bang by taking down the Miami Heat by a final score of 114-92. An improved version of Zion proved unstoppable. He played 33 minutes (tied with Josh Hart for most on the team) and led all scorers with 26 points. He also grabbed 11 boards and dished out two assists in the 22-point victory against the defending Eastern Conference champions.
On Friday, New Orleans took down a Milwaukee Bucks squad that did not have Giannis Antetokounmpo in the lineup due to a back issue. Although Khris Middleton poured in 29 points, the Pelicans got terrific performances out of Williamson (31 points on 12-of-22 shooting) and Lonzo Ball (19 points, eight assists, and five rebounds) to secure the 127-113 victory.
Once the regular season begins, it will be fascinating to watch how Williamson, Ball, and Brandon Ingram fit in alongside key veterans in Steven Adams, J.J. Redick, and Eric Bledsoe. On paper, the Pelicans have an exciting, dynamic lineup capable of putting up monster numbers on the offensive end of the floor.
And if Zion Williamson manages to get his body in peak form at some point during the season, the rest of the league better be prepared for an even more terrifying version of the freakishly gifted forward.
All statistics courtesy of Basketball Reference.