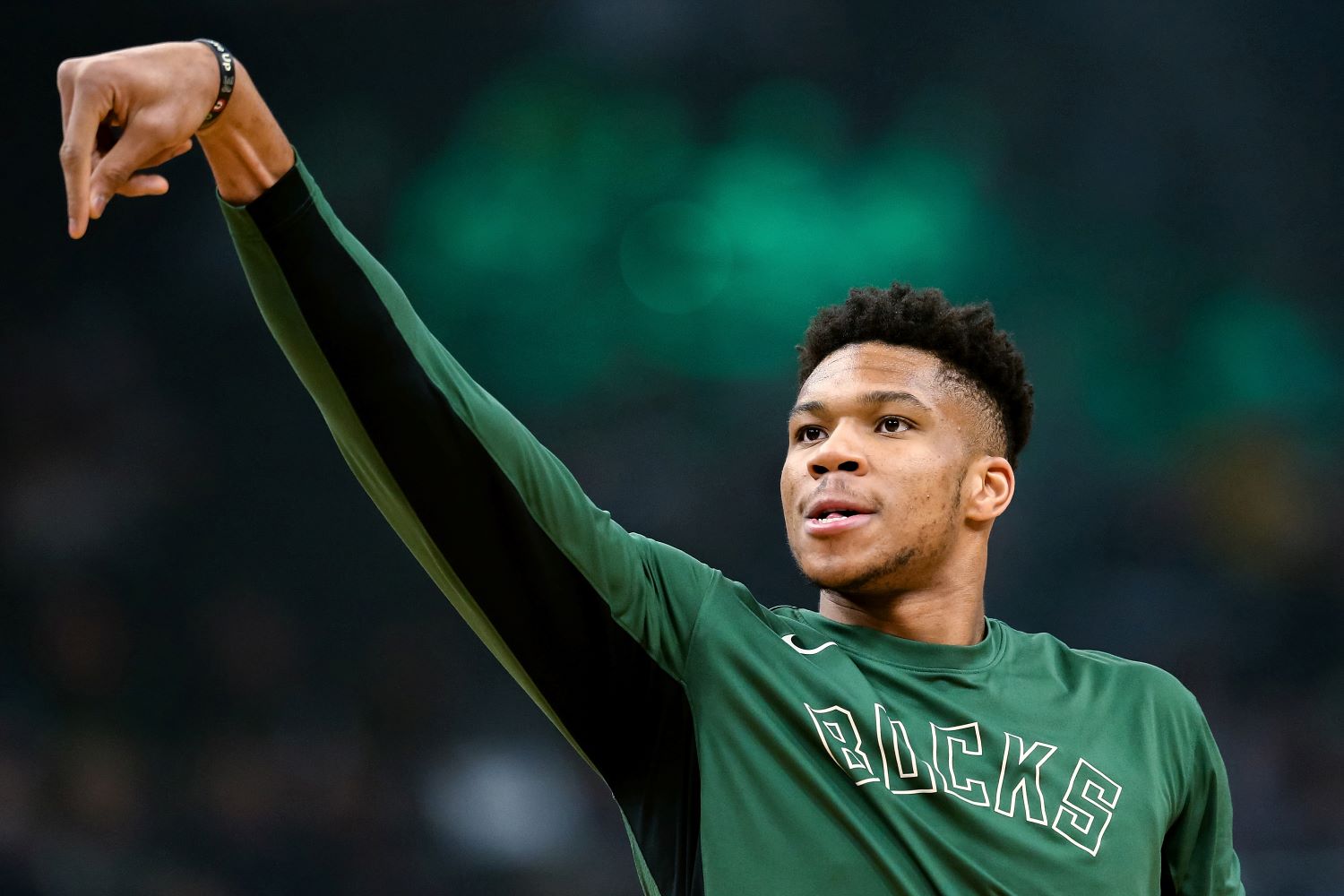 Giannis Antetokounmpo Has Made a Major Change to Fix His Biggest Flaw
Giannis Antetokounmpo made a major change to his game this offseason, and it already appears to be paying dividends for the Bucks superstar.
Ever since the Milwaukee Bucks stole Giannis Antetokounmpo with the 15th pick of the 2013 NBA draft, he has continued to improve his game on an annual basis.
And this offseason, the two-time MVP made a major change to his game in order to fix his biggest flaw. But will an improved version of the Greek Freak be enough to help the Bucks topple the top contenders in the Eastern Conference?
Giannis Antetokounmpo has worked hard to improve his game over the years
Giannis Antetokounmpo made his NBA debut before his 19th birthday. The talented but raw forward showed plenty of potential as a rookie. Antetokounmpo averaged 6.8 points, 4.4 rebounds, and 1.9 assists in his first year of playing pro basketball in America.
After shooting just 41.4% from the field in his rookie season, he jumped all the way to 49.1% in year two. Antetokounmpo's free-throw percentage also climbed healthily from 68.3 to 74.1.
By his fourth year in the league, he made the leap from good to great. A full-time move to power forward resulted in career-high averages across the board. Antetokounmpo put up 22.9 points per game, and he got a big boost from a career-high free-throw rate of 77%.
Overall, the 6-foot-11, 242-pounder has increased his scoring average every year he's been in the NBA. Last season, Antetokounmpo took home his second MVP award after scoring 29.5 points per game in 63 games. He also averaged a career-high 13.6 rebounds in his age-25 season.
While no one would describe the Greek Freak as a skilled 3-point shooter, he has slowly started to incorporate that element into his game. Last season, he attempted the most 3-pointers of his career (4.7 per game) and connected on 30.4% of them.
However, while he has shown marked improvement in his ball-handling, finishing ability, and defense, Antetokounmpo actually regressed mightily in one area in 2019-20.
The Bucks superstar has made a major change to fix his biggest flaw
There's no doubt that Giannis Antetokounmpo is one of the best players in the NBA. At the same time, even the Greek Freak has his flaws.
Though his perimeter shooting obviously needs some work, Antetokounmpo's biggest flaw is actually his free-throw shooting.
In seven NBA seasons, he has made 72.2% of his free-throw attempts. However, after hitting a career-high 77% in his first All-Star season, Antetokounmpo has actually regressed in that facet of his game on an annual basis.
In 2018-19, the Bucks superstar connected on 72.9% of his attempts—a 3.1% drop from the year prior. But last season, that rate dropped all the way to a career-worst 63.3%. Even more alarming: Antetokounmpo shot only 58% from the free-throw line in the playoffs.
However, the 26-year-old made a major change to that area of his game this offseason. And so far, it appears to be working.
Harris Stavrou of Sports24 shared a side-by-side comparison of Antetokounmpo's free-throw form, which illustrates a significant adjustment to the position of his arm.
In the Bucks' preseason opener, he missed just one of his seven free-throw attempts using noticeably different mechanics. After the game, Antetokounmpo provided slightly more insight, but he certainly didn't sound too interested in talking about his new look.
"No, there's nothing different," he said, according to Eric Nehm of The Athletic. "I try not to think about it. Obviously, like a month and a half ago, yeah, I changed something, but now it's in the past. I'm not thinking about [it]. This is how I shoot free throws right now. This is how I shoot the ball right now."
Does an improved Giannis make Milwaukee the team to beat in the Eastern Conference?
The sample size is certainly small, but the tweak Giannis Antetokounmpo made to his free-throw form appears to have paid off. If that holds up, that could make a major difference in how teams defend the Bucks star.
Last season, Antetokounmpo struggled mightily from the line, so teams had no issue with hacking him in order to force him to hit shots at the charity stripe. But if he can raise his average back to that 77% mark (or better) from 2016-17, it won't be so enticing to employ that defensive strategy.
If that proves to the case, it wouldn't be surprising to see Antetokounmpo average 35-plus points per game in 2020-21. And ultimately, an improved version of the four-time All-Star will only make Milwaukee more difficult to stop. But does that necessarily make the Bucks the team to beat in the Eastern Conference?
The Brooklyn Nets may have something to say about that…if their two stars stay healthy. Kevin Durant certainly looked like his vintage self on Sunday night. And if Kyrie Irving can stay focused on basketball, the Nets will be a tough team to take down in a playoff series.
Plus, the Boston Celtics still have plenty of star power despite losing Gordon Hayward. Can Jayson Tatum make the leap to true superstar status? Will Jaylen Brown elevate his game also? And how much of a factor will Kemba Walker be with his ongoing knee issues?
Ultimately, it will be an interesting race to see who represents the conference in the 2021 NBA Finals. But if Giannis Antetokounmpo fixed his biggest flaw, expect the Bucks to finally get over the hump.
And you can be sure LeBron James and Anthony Davis will be waiting.
All statistics courtesy of Basketball Reference.