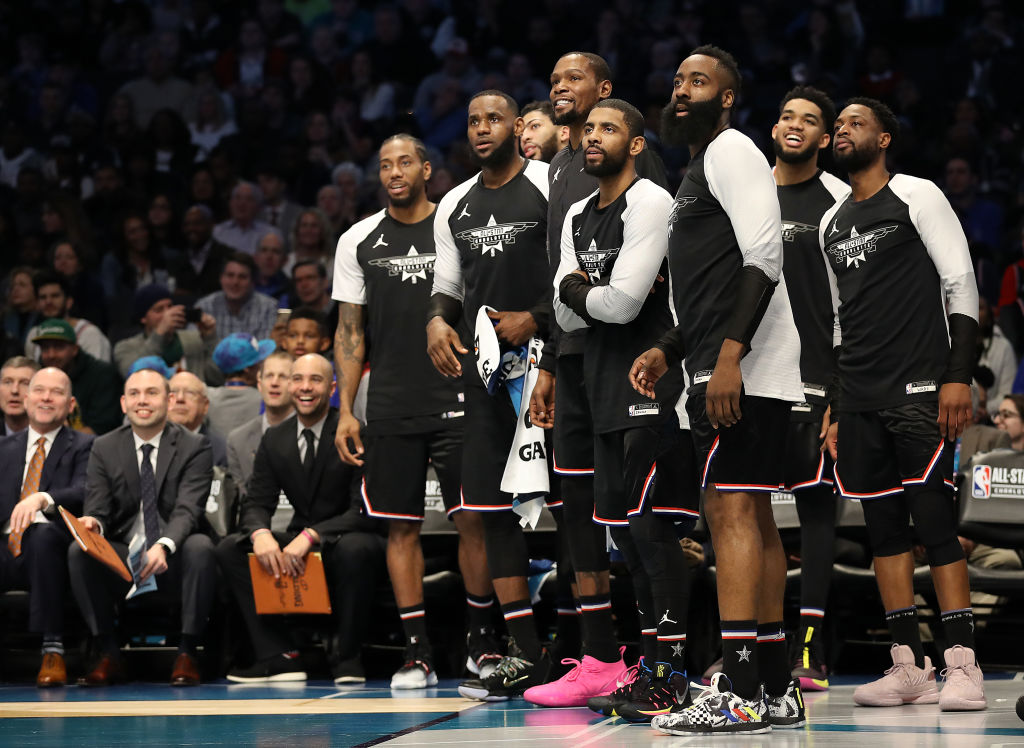 Kevin Durant Joins LeBron James and James Harden by Getting Into the Soccer Business
Kevin Durant recently joined LeBron James and James Harden as minority owners of professional soccer teams by investing in an MLS franchise.
Kevin Durant has made hundreds of millions of dollars because of his ability to put the ball in the hoop. So too have LeBron James and James Harden. However, the three NBA superstars have more in common than their profession. With Durant's latest investment, he joined his peers in getting into the soccer business.
Kevin Durant has invested his NBA fortune wisely
As one of the best pure scorers in NBA history, Kevin Durant has come a long way from his days of not being able to bench 185 pounds at the NBA combine. The Slim Reaper immediately took the league by storm as a 19-year-old rookie. A four-time NBA scoring champion, Durant became the face of the Oklahoma City Thunder before departing for Golden State.
The 6-foot-10, 240-pounder earned two championship rings with the Warriors before signing with the Brooklyn Nets. Of course, he has yet to suit up for his new team as he recovers from a torn Achilles.
Durant's incredible scoring prowess has made him incredibly rich. He's earned about $225 million just from his NBA contracts. Like many modern-day athletes, he's truly banked off of investments and endorsements. Besides advising Alaska Airlines, Durant has invested in Vision Esports.
In addition, the 10-time NBA All-Star has expressed interest in purchasing a small stake in the Washington Redskins. While that dream hasn't come to fruition yet, Durant recently became a part-owner of another pro sports franchise.
Durant purchased a minority ownership stake in MLS franchise
In June, Kevin Durant made an interesting addition to his financial portfolio. According to Sports Business Daily, the Nets forward purchased a minority stake in a Major League Soccer franchise. He now owns between 1 and 5 percent of the Philadelphia Union. The team finished third in the MLS Eastern Conference in 2019.
 It's unclear if Durant's investment in the MLS team is a personal one or through Thirty Five Ventures, a business he co-founded with partner Rich Kleiman. It's also unclear if the Union's USL team is involved. Both the team and Thirty Five Ventures declined comment.
Apparently the third time proved to be the charm. Durant twice tried to buy a minority stake in the DC United franchise. However, he's not the only NBA star to get into the soccer business.
LeBron James and James Harden have also invested in soccer teams
While Kevin Durant takes his first step into sports ownership, he can definitely seek advice from LeBron James and James Harden. The former NBA MVPs both got into the soccer business in different ways.
As this generation's version of Michael Jordan, LeBron has made hundreds of millions of dollars through savvy investments. One of those happens to be Liverpool FC. In April 2011, he received a 2 percent ownership stake in the English Premier League club. Initially, that amounted to about $6.5 million. However, that figure has grown to $43 million.
Like Durant, Harden decided to go the domestic route. Last year, the Houston Rockets star invested in his own city. Harden became a part-owner of the group that runs the Houston Dynamo and Houston Dash soccer clubs. The Dynamo compete in MLS while the Dash play in the National Women's Soccer League.
While Kevin Durant, LeBron James and James Harden star on the basketball court, they'll also collect paychecks courtesy of their investments in the soccer business. It will be interesting to see which MLS part-owner experiences more success.