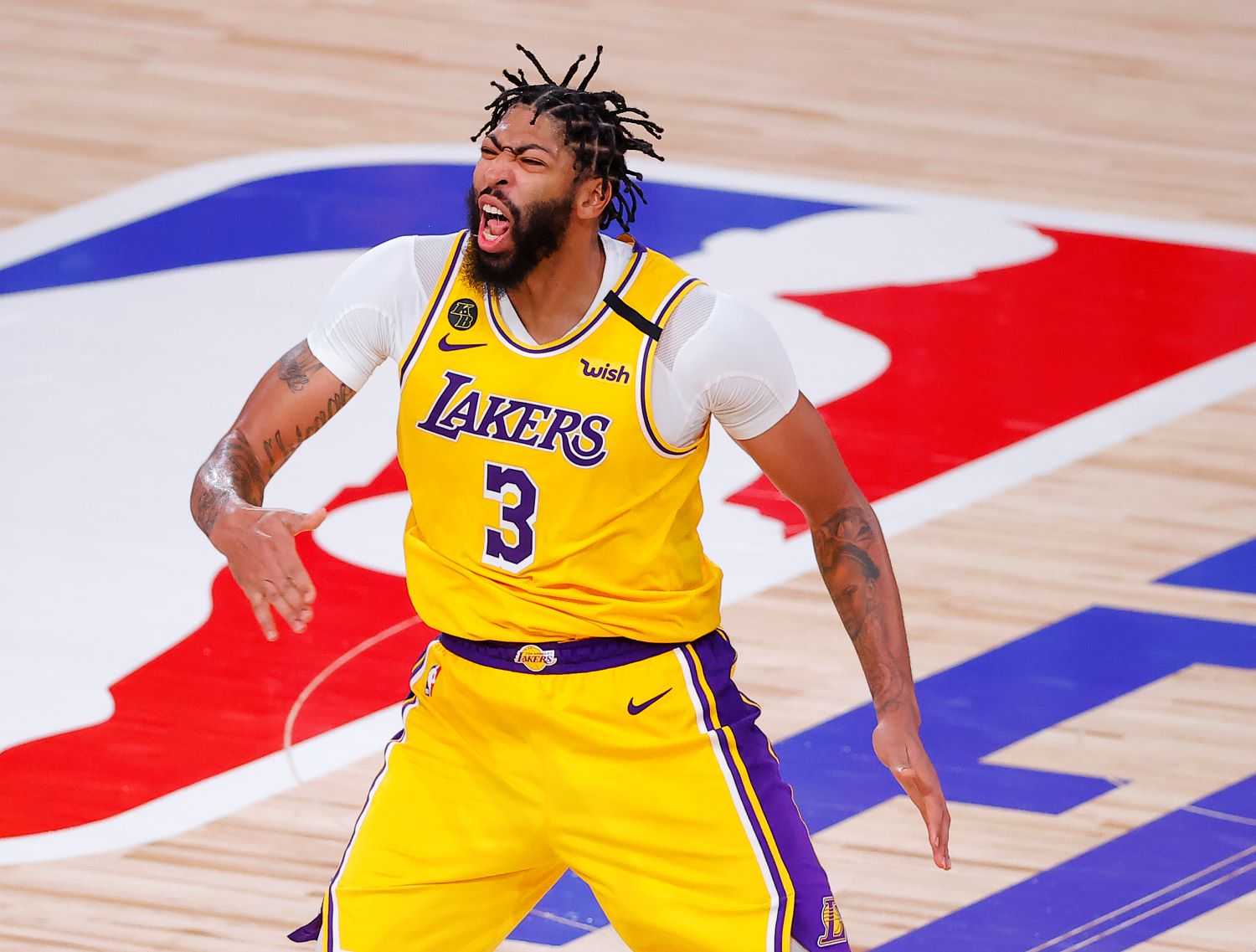 Anthony Davis Sure Sounds Excited About the Lakers' Major Trade Acquisition
Anthony Davis still has to sign a long-term deal with the Lakers, but he sure sounds excited about Dennis Schroder coming to LA.
Although he opted-out of the final year of his deal, Anthony Davis should soon sign a contract extension that will allow him to be the face of the Los Angeles Lakers for years to come. And when he does take the floor again, he will do so alongside a talented new teammate in Dennis Schroder.
In fact, Davis had some high praise for the Lakers' major trade acquisition during a recent interview. But will the addition of Schroder help LA win back-to-back titles? Or will the Lakers fall short in their quest to repeat as champions?
The Lakers will acquire Dennis Schroder in a trade
German-born Dennis Schroder started his NBA career with the Atlanta Hawks. The 6-foot-1, 172-pound point guard flashed dynamic scoring ability as a part-time starter.
But after spending the first five years of his career in Atlanta, he found himself on the move. In July 2018, the Hawks traded Schroder to the Oklahoma City Thunder in a three-team deal. He averaged 15.5 points on 41.4% shooting in his first year with the team.
Although Schroder started just two games last season, he still finished second on the team in scoring.
However, after just two seasons in OKC, the 27-year-old will play for his third NBA team since entering the league in 2013.
On Sunday, Adrian Wojnarowski of ESPN reported that LA intends on acquiring Schroder from OKC. The deal will send Danny Green and whoever the Lakers choose with the 28th pick in the 2020 NBA draft to the Thunder.
Anthony Davis sure sounds excited about LA's new scoring threat
Anthony Davis isn't technically a member of the Lakers right now, but the seven-time All-Star should sign a lucrative extension to remain in LA.
Davis recently made an appearance on "Posted Up" to discuss a number of different topics with Chris Haynes of Yahoo Sports. Besides touching on his free agency journey, the 27-year-old also weighed in on the Lakers' offseason moves.
Let's just say AD sure sounds excited about Dennis Schroder's potential in LA.
"He's a great pickup, with Schroder alongside LeBron, and the other guys they decide to acquire or whatever," Davis said. "He could easily win sixth man of the year, any given year."
He further added, "He played great alongside C.P. [Chris Paul] and Shai [Gilgeous-Alexander]. He's tough. He shot the ball well this year. He can get in the paint. He can find guys, and he's very, very scrappy. I think it was a good move, a good pickup for the Los Angeles Lakers."
Of course, Schroder finished as the runner-up for the 2020 NBA Sixth Man of the Year to LA Clippers forward Montrezl Harrell. But if he can find the right role with the Lakers, Schroder will add a much more important accomplishment to his resume: an NBA title.
Can the Lakers win back-to-back titles?
Assuming the Dennis Schroder deal gets completed and Anthony Davis gets the long-term deal he's been waiting for, the Lakers should be in great shape to repeat as NBA champions.
LeBron James will be 36 this season, but he still has at least a few years of his prime left. LA would also be smart to manage his minutes during the regular season in order to keep him fresh for the playoffs.
Plus, the entire landscape of the Western Conference could change depending on what the Houston Rockets do. Both James Harden and Russell Westbrook could be on the move, which would certainly shake up the NBA in a big way.
The Clippers also will look much different this season. LA moved on from Doc Rivers and hired Tyronn Lue as his replacement. Can James' former teammate help Kawhi Leonard and Co. finally live up to their potential once the postseason rolls around?
Ultimately, if the Lakers stay healthy, they should dominate again this season. Don't be surprised if they pull off the same feat they did a decade ago and win back-to-back titles again.
All statistics courtesy of Basketball Reference.