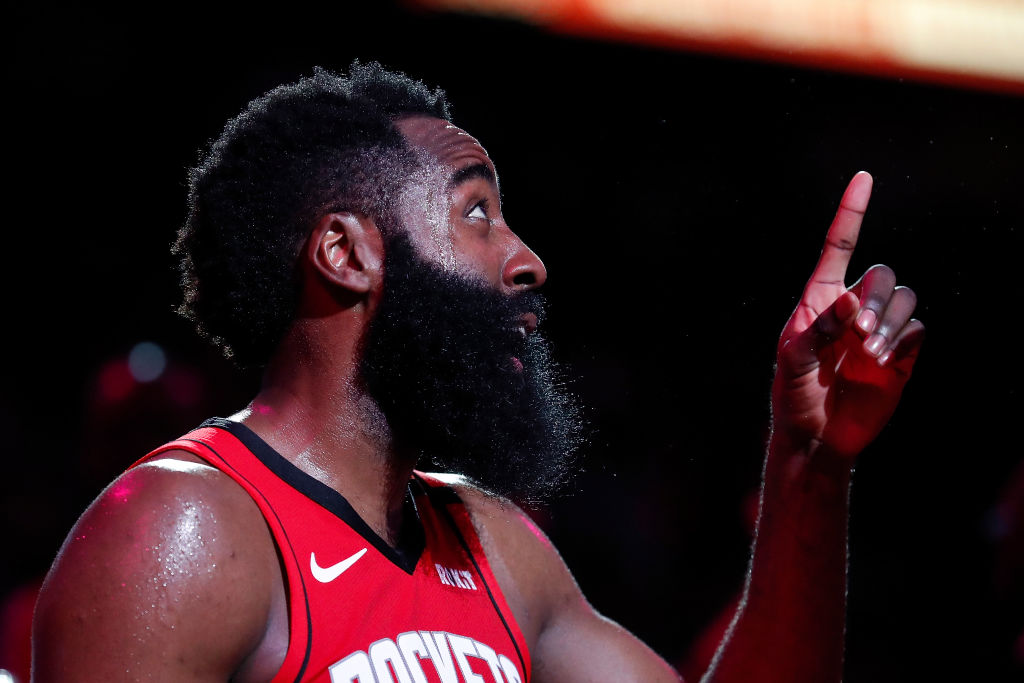 James Harden Spent $1 Million at a Strip Club and Got His Rockets Jersey Retired
James Harden spent $1 million at a strip club and got his jersey retired. But will the Rockets hang a championship banner from their rafters?
When you're a multi-millionaire like James Harden, you can afford to splurge when you go out. The Houston Rockets star took that to another level on a legendary night out at a strip club. While his jersey became a permanent fixture at the club, Harden has yet to lead his team to an NBA title. Can the former MVP bring a championship banner to Houston?
James Harden has become one of the NBA's biggest superstars
In the midst of his age-30 season, James Harden has come a long way from his days as a bench player for the Oklahoma City Thunder. Selected with the third overall pick in 2009, he joined an OKC squad built around Kevin Durant and Russell Westbrook. Harden flashed tremendous scoring ability, but he never earned a full-time role.
The Thunder traded him to the Rockets in a package deal that brought back two first-round draft picks and multiple players. Finally free from Durant and Westbrook, Harden exploded for 25.9 points per game as a 23-year-old.
Since arriving in Houston, he's rapidly gone from an underutilized talent into one of the league's most dominant scorers. A perennial NBA All-Star, Harden has increased his scoring average almost annually. He won back-to-back scoring titles and currently leads the NBA with 34.4 points per game.
Of course, for all of his scoring prowess, Harden has failed to deliver in the postseason. In seven playoff runs with the Rockets, he's shot just 41.2 percent from the field and a paltry 32.2 percent from 3-point territory. Still, that hasn't stopped him from becoming an icon in Houston.
Harden got his jersey retired at a strip club after dropping some serious cash
James Harden has become a wealthy man for his ability to put the ball through the hoop. And like many professional athletes, he's not afraid to spend lavishly. But the NBA star dropped a ridiculous amount of money at a strip club one night that resulted in the ultimate form of respect.
In an episode of The Joe Budden Podcast, co-host Jamil "Mal" Clay relayed the story of Harden's legendary night.
"James has his jersey like hanging from the top. They were doing that because they said James has been going in there spending like [a lot of money], you know what I mean? So they gave him his own jersey hanging from the rafters of the strip club."
According to the podcast, Harden allegedly spent $1 million in one night. At that point, hanging his jersey for everyone's viewing pleasure seemed like the least the strip club could do.
But for Rockets fans, retiring James Harden's jersey is far down the list of priorities. Rather, they're still waiting for the bearded wonder to deliver an NBA title to Houston.
Will the Rockets hang a championship banner from the rafters this season?
With the NBA on its way back, it'll be up to Harden to exorcise his playoff demons. Houston has made the postseason every year since he came on board. Yet, the Rockets have been bounced out of the first round three times. They did advance to the Western Conference Finals twice. However, last season, Houston fell to the Golden State Warriors in the semifinals.
Currently, the Rockets hold a 40-24 record. Before the NBA season got put on pause, though, they didn't exactly look like a legit title contender. Harden shot just 37.4 percent in March. Even with Westbrook putting up fantastic numbers, the Rockets' commitment to a smaller lineup has resulted in serious rebounding issues.
Ultimately, James Harden may have his jersey hanging from the rafters in a strip club, but it's unlikely that the Rockets raise a championship banner this season. Then again, maybe the slim and trim version of The Beard will pull out some new tricks.
Statistics courtesy of Basketball-Reference