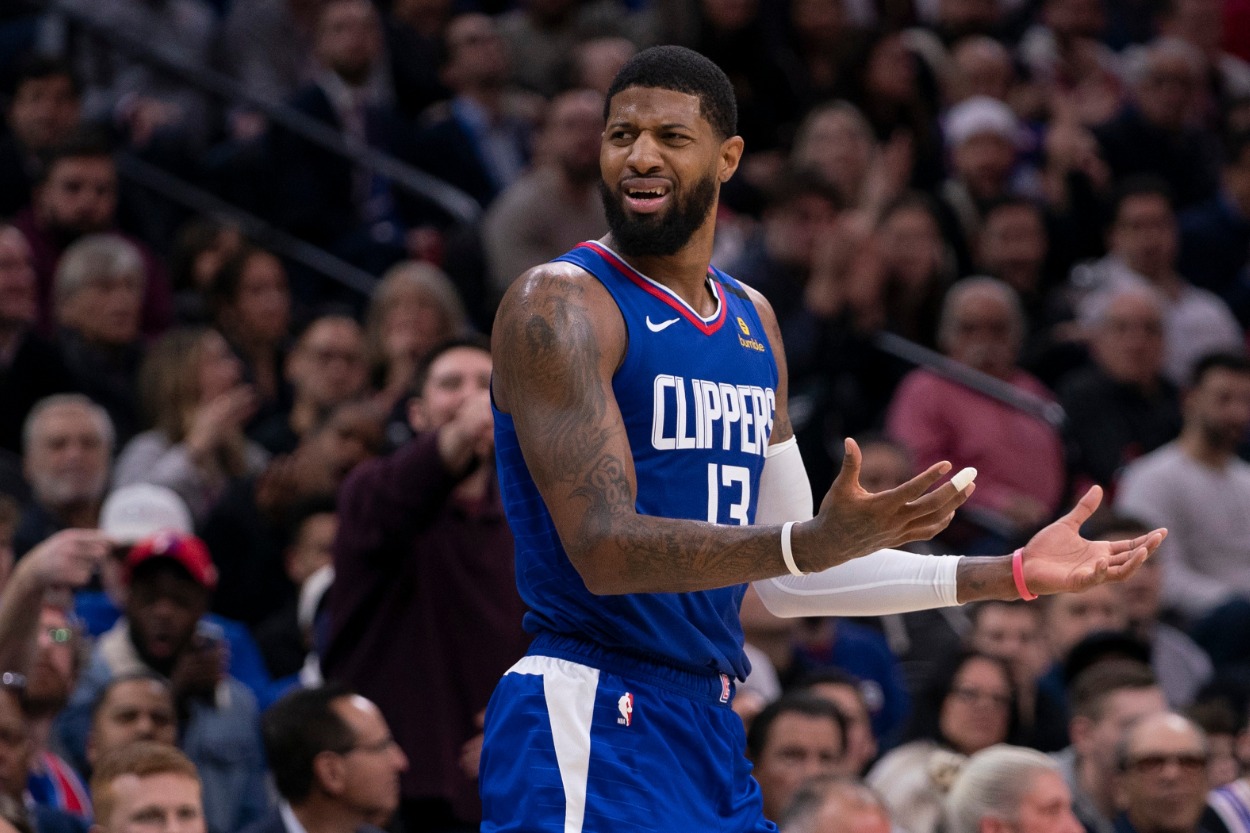 Paul George Revealed the 1 Move the Pacers Refused to Make That Forced His Exit
Clippers forward Paul George recently revealed the shocking truth of why he requested a trade from the Indiana Pacers back in 2017.
Paul George didn't immediately become an NBA star. In fact, it took a few years for him to ascend to elite status. And once he did, he helped transform the Indiana Pacers into a perennial playoff team. However, the Pacers squandered an opportunity to make George a permanent fixture in Indianapolis.
Instead of contending for titles for years, the Pacers traded George to the Oklahoma City Thunder. But if they had just followed their superstar's advice and made one move, the franchise could be in a very different spot today.
Paul George developed into a top NBA star in Indiana
Coming out of Fresno State, Paul George boasted a solid skill set that helped him become a lottery pick. However, NBA scouts rightfully had concerns about his game. George shot just 42.4 percent from the field in his final collegiate season. Even worse, his 3-point shooting percentage plummeted from 44.7 to 35.3. Still, that didn't stop the Pacers from drafting him.
It took some time for George to figure out his role in the NBA. As a rookie, he averaged just 7.8 points and 3.7 rebounds in 61 appearances. His second season saw a small uptick in scoring. More importantly, though, George shot 38.5 percent from downtown after converting under 30 percent as a rookie.
The 6-foot-8, 220-pounder truly broke out in 2012-13. Thrust into the small forward position, he earned the NBA Most Improved Player award after averaging career-highs in points (17.4), rebounds (7.6), assists (4.1), and steals (1.8). That simply set the stage for more success.
George earned his first All-Star selection the following year. However, a nasty leg injury wiped out his 2014-15 season. Finally healthy again, he stormed back with two straight seasons averaging better than 23 points per game. Indiana made the playoffs every season in which he was healthy. And with a potential franchise-altering move on the table, the Pacers balked.
George requested a trade after the Pacers refused to make a big move
In seven years, Paul George went from a decent prospect into a top-flight NBA star. Along the way, the Pacers built a solid supporting cast that helped them make several deep postseason runs. Yet, with an opportunity to land a game-changing player, they failed to step up to the plate.
George revealed the deeper story behind why he requested a trade from the Pacers on the Knuckleheads With Quentin Richardson and Darius Miles podcast on The Players' Tribune. And let's just say the Pacers should be kicking themselves for refusing to listen to the face of the franchise.
"I ain't gon' say the names because I'm going to keep their business private, I'ma just say it like this…I had at the time, the best power forward saying he wanted to come to Indy and team up with me."
According to George, the Pacers responded by telling their superstar that as a mid-major, small-market team, they couldn't afford to swing a trade for the unnamed player. Instead, they pursued a lesser option. That didn't sit well with George, who contacted his agent and requested a trade.
Six-time NBA All-Star selection has been traded twice since 2017
Instead of surrounding Paul George with another superstar talent, the Pacers got rid of their best player. In the summer of 2017, Indiana sent George to Oklahoma City for Victor Oladipo and Domantas Sabonis. Ironically, Oladipo has developed into a superstar in his own right.
Meanwhile, George spent two years with the Thunder. He and Russell Westbrook formed an excellent one-two punch. However, OKC bowed out of the first round of the playoffs in back-to-back years.
With the Thunder embarking on a rebuilding plan, George once again found himself on the move. Just two years later, he got traded to the Los Angeles Clippers for a massive package headlined by five first-round picks.
Though he missed the early portion of the 2019-20 NBA season, Paul George returned in November. Before the COVID-19 pandemic put the season on pause, he averaged 21 points, 5.7 rebounds, and 3.9 assists in 42 games.