NBA
Look at all of the Thunder's Draft Picks From Trading Paul George and Russell Westbrook
When Oklahoma City Thunder MVP candidate Paul George requested a trade to the Los Angeles Clippers, Thunder GM Sam Presti had no choice but to make a deal happen. He knew George wanted out and there was no reason to keep him on the roster, so he moved him to L.A.

That gave the Clippers the superstar they needed to land Kawhi Leonard, and it put Oklahoma City in place to quickly rebuild. After the Paul George deal, another trade request rocked the Thunder, this time from fan-favorite and NBA superstar Russell Westbrook.

These two trades have set up the Thunder to be a contender well into the middle of the next decade, but the details of each trade and the resulting draft picks are jaw-dropping.

The Thunder trade Paul George
On July 6, ESPN's Adrian Wojnarowski reported that the Thunder planned to trade Paul George to the Los Angeles Clippers. George just finished third in the MVP voting, so to say this was a stunning move would be an understatement. The Clippers traded Danilo Gallinari, Shai Gilgeous-Alexander and six first-round draft picks to land George.
On paper, this looks like an extremely large amount of picks, but when you combine adding reigning NBA Finals MVP Kawhi Leonard, it was a smart move by the Clippers, even if it means mortgaging their future.

Dealing Russell Westbrook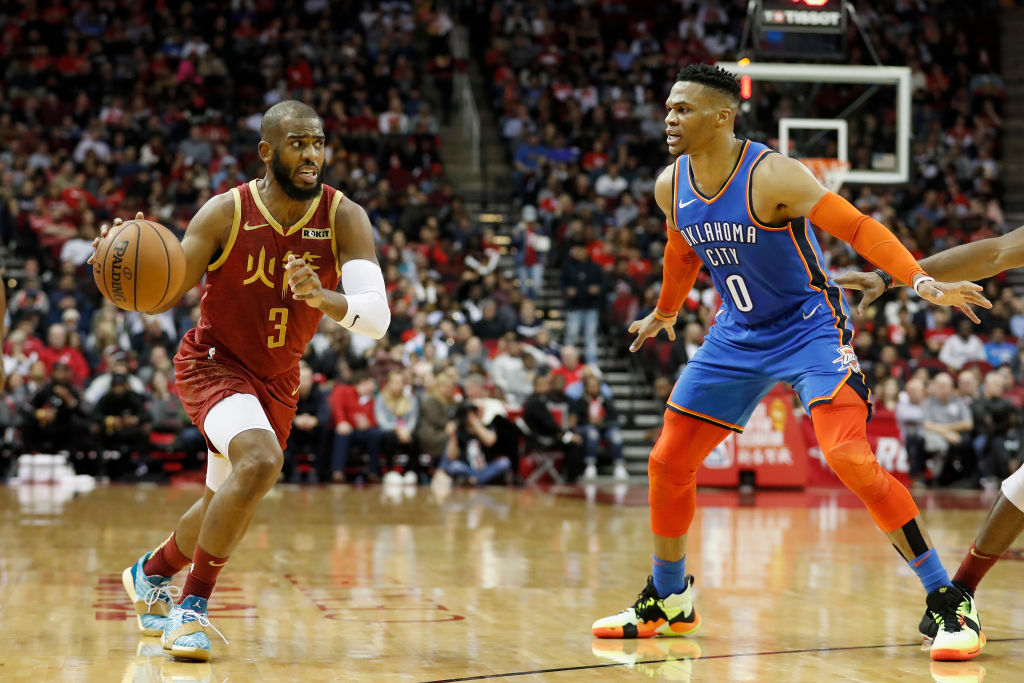 After George went to the Clippers, Russell Westbrook saw the writing on the wall. He knew he wouldn't be able to carry the Thunder to the NBA Finals in their current state, and he asked to be traded. Swapping him for Chris Paul and four first-round picks from the Rockets was another impressive trade by Presti.

Westbrook is arguably the most beloved player in the Thunder's short history, so to see him in a Rockets jersey will be jarring at first. The Thunder may keep Paul on the team until the trade deadline, but they would be smart to get his horrible contract off their books as soon as possible.

How much draft capital?!
By trading Paul George and Russell Westbrook, the Thunder acquired a handful of draft picks that span into the next decade. Here's a list of all of Oklahoma City's picks orchestrated from offseason moves:
2020 first-round pick via Denver (top-10 protected: becomes two second-round picks if not used by 2023 NBA draft)
2020 second-round pick via Chicago
2021 first-round pick via Miami or Houston. The Thunder get the two highest of three picks. If Houston lands in top four, OKC keeps the Miami and OKC picks and loses swap rights with the Rockets. The Houston pick becomes two second-round picks.
2022 first-round pick via Clippers
2023 first-round pick swap with the Clippers
2023 first-round pick via Miami (top-14 protected; becomes unprotected if not used by 2026 NBA draft)
2024 first-round pick via Houston (top-4 protected; becomes two second-round picks if not used by 2024 NBA daft)
2024 second-round pick via Memphis
2025 first-round pick via Clippers or Rockets (Houston pick is top-10 protected, if not used, OKC loses swap rights)
2026 first-round pick via Houston (top-4 protected, becomes two second-round picks if not used)
2026 first-round pick via Clippers
This is the type of haul that can put a franchise on the fast track back to championship contention. Sam Presti has always been great at getting the most out of non-lottery picks, and we think this is arguably the best haul of picks a team has ever received in one offseason.

Even if the Thunder doesn't use all those picks for themselves, they can package them in a trade deal to add pieces when they're ready to contend.

When will the Thunder return to title contention?
With all the picks acquired between the two trades, when will the Thunder be able to return to prominence in the Western Conference? As free agency in 2019 proved, fortunes change fast in the NBA, so it might not be too long before Oklahoma City makes the shortlist of NBA Finals favorites.