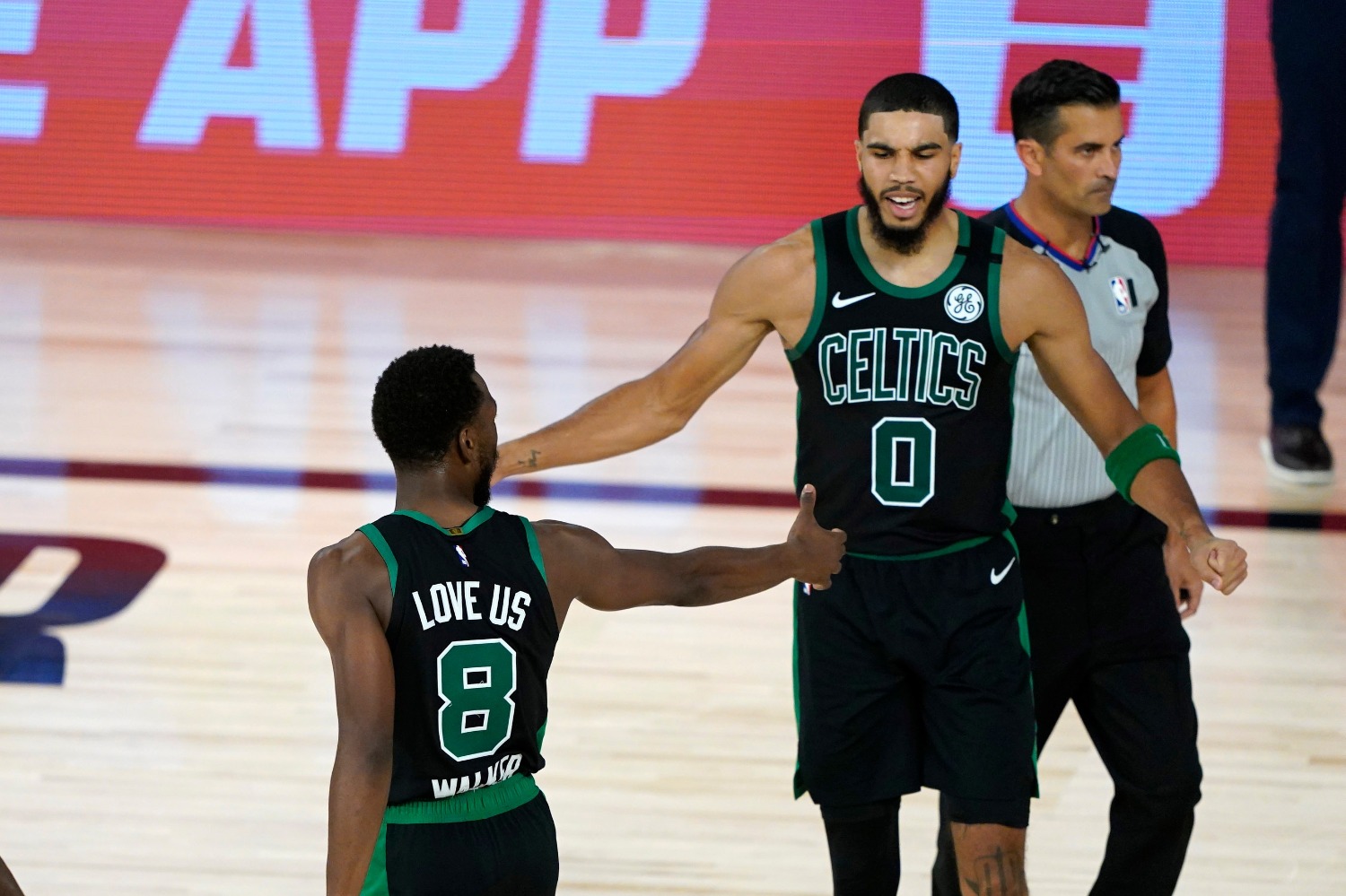 Jayson Tatum Just Toppled 1 of Larry Bird's Most Impressive Celtics Records
Jayson Tatum just cemented his place in Boston Celtics history by toppling Larry Bird. Can the young star lead the Celtics to an NBA title?
When the Boston Celtics drafted Jayson Tatum third overall in 2017, he still had plenty of questions to answer. After all, he entered the NBA at age 19 following a solid but unspectacular season at Duke University. Three years later, the 22-year-old has already made the leap to superstar status. And on Wednesday, Tatum cemented his place in franchise history by toppling a record Larry Bird set nearly 40 years ago.
Jayson Tatum has been the NBA's biggest breakout star this season
Danny Ainge took a calculated risk by trading down from the No. 1 pick in 2017. Ultimately, his gamble paid off. While the Philadelphia 76ers and LA Lakers took Markelle Fultz and Lonzo Ball, respectively, the Celtics landed the biggest star of the draft class by snagging Jayson Tatum with the No. 3 pick.
As a rookie, he flashed plenty of potential. The teenager averaged 13.9 points while shooting 43.4% from 3-point territory. That came as a surprise to some after Tatum shot just 34.2% from behind the arc in his lone year in college.
Although Tatum's raw scoring numbers increased, his second season represented a step back in his development. His shooting percentages tumbled, and he struggled to find a consistent role in the offense. Of course, the presence of Kyrie Irving played a significant role in Tatum's lack of a year-two leap.
However, with Irving taking his talents to Brooklyn, the door opened for Tatum to take on a more prominent role. Even on a team with Kemba Walker and Gordon Hayward, it's been the 22-year-old St. Louis native who has positioned the Celtics to make a deep playoff run.
Jayson Tatum averaged 23.4 points during the regular season and earned his first NBA All-Star selection. However, the breakout star entered the 2020 NBA playoffs with his sights set on much more than regular-season accolades.
Tatum makes Celtics history by toppling Larry Bird
The Celtics earned the No. 3 seed in the Eastern Conference thanks in large part to the emergence of Jayson Tatum. They drew none other than the 76ers in the first round of the playoffs. And it did not take long for Boston's young superstar to make Philadelphia pay for passing over him three years ago.
In the series opener, Tatum scored 32 points on 10-of-21 shooting. He added 13 rebounds and three blocks in Boston's 109-101 victory.
On Wednesday night, the breakout star delivered another epic performance. And in doing so, he cemented his place in Celtics history by toppling Larry Bird.
Tatum scored 33 points in less than 31 minutes thanks to hitting eight 3-pointers. He became the youngest player in franchise history with consecutive 30-point playoff games.
Prior to that, Larry Bird held the franchise record for the youngest player to accomplish the scoring feat. During the 1981 NBA playoffs, a much younger version of Larry Legend actually ripped off three straight 30-point games. Bird ended up leading the Celtics to their first of three NBA titles during his legendary career.
While Jayson Tatum still has a long way to go toward surpassing Larry Bird's other records and matching his championship hardware, he certainly made a statement on Wednesday night that he has truly arrived as an elite NBA player.
Boston looks primed for a deep playoff run
If Jayson Tatum continues to dominate, the 76ers and the rest of the Eastern Conference will have a tough time stopping the Celtics. Boston's young superstar continues to shoot the ball with confidence and looks locked and loaded.
But even if Tatum does not score 30 points on a nightly basis, the Celtics have plenty of capable scorers. Even with Hayward sidelined, Boston still boasts two elite offensive weapons in Walker and Jaylen Brown.
Walker scored 22 points in Game 1 before chipping in 19 on Wednesday. The veteran point guard has fit in seamlessly in Boston and provides veteran leadership and clutch shot-making.
Brown—who also made the leap to star status this season—has scored 49 points in the first two contests while providing terrific defense. His athleticism gives him the ability to finish at the rim and rack up points in transition.
Add a healthy Hayward to that trio and you have four players who can score 20 points on any given night. That makes Boston a difficult team to defend, especially when Brad Stevens manages his rotations well.
Looking ahead, it seems all but assured that the Celtics will move on to the next round of the 2020 NBA playoffs. And if Jayson Tatum keeps smashing scoring records, Boston may just raise its first championship banner since 2008.
No pressure, kid.
All statistics courtesy of Basketball Reference.