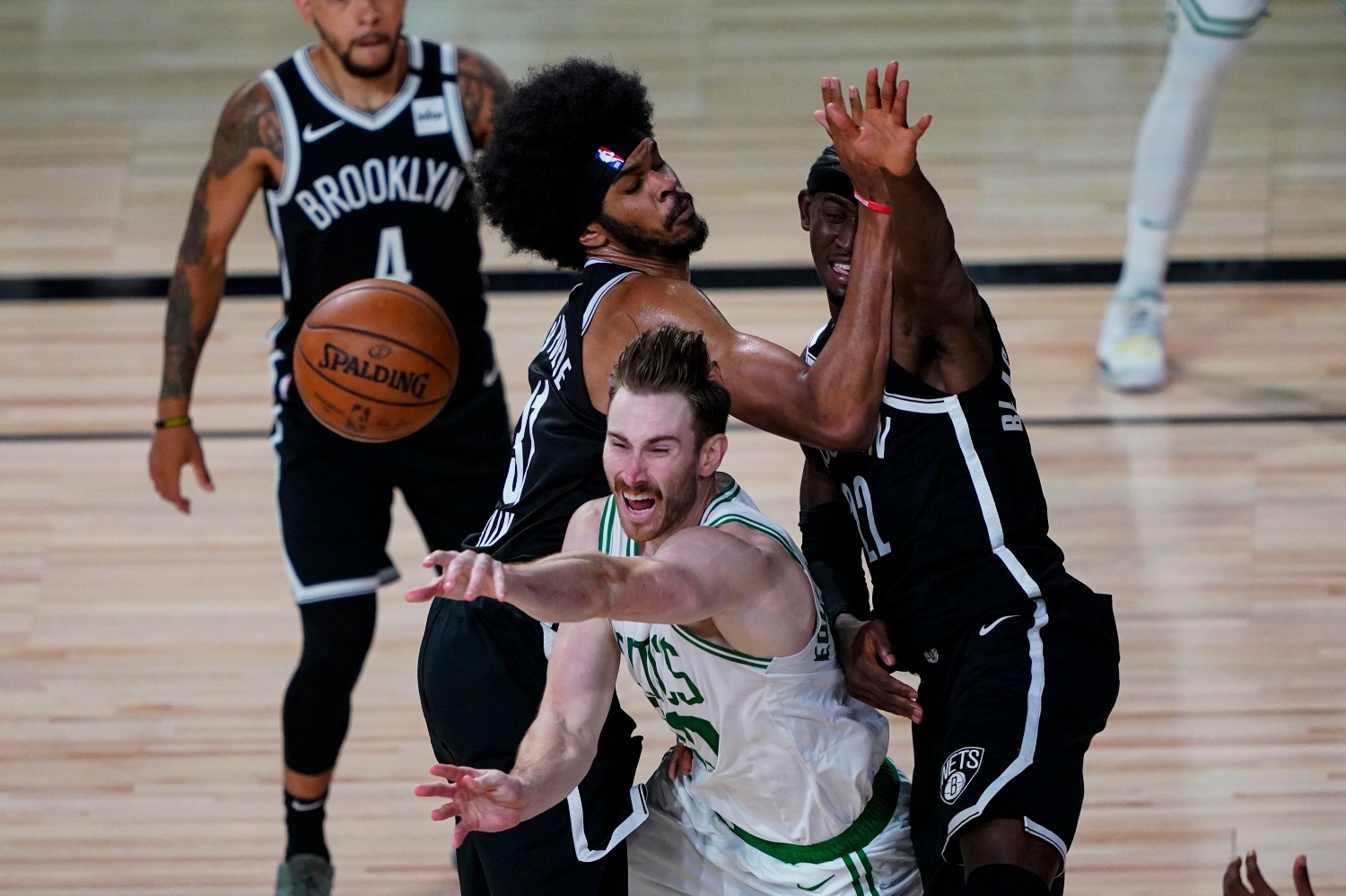 Gordon Hayward Just Dealt a Devastating Blow to Celtics' NBA Title Quest
The Boston Celtics just suffered a brutal blow to their NBA title quest, as Gordon Hayward will miss 4 weeks with an ankle injury.
While both the Boston Red Sox and New England Patriots won a combined five championships during the last decade, the Boston Celtics failed to add another banner to the TD Garden rafters. The last time Celtics fans tasted championship glory, Kevin Garnett, Paul Pierce, and Ray Allen graced the floor. More than a decade later, though, the Celtics enter the 2020 NBA playoffs as a legitimate title contender.
However, Brad Stevens' squad just suffered a brutal blow to their NBA title with Gordon Hayward getting injured yet again. But given the Celtics' scoring depth, don't count them out just yet.
The Celtics begin the playoffs as an NBA title favorite
Even with COVID-19 altering the sports landscape, that did little to stop the Celtics from putting together an excellent regular season. Boston finished with a 48-24 record largely due to their impressive scoring depth. Jayson Tatum made the leap from promising prospect to legitimate superstar. Fellow wing Jaylen Brown also made huge strides in his game.
That dynamic duo fit in perfectly with veterans Kemba Walker and Gordon Hayward. The former made Celtics fans forget about the frustrating Kyrie Iriving era that ended in unceremonious fashion during the 2019 NBA playoffs. Walker averaged 20.4 points, 4.8 assists, and shot 38.1% from 3-point territory and made his fourth consecutive NBA All-Star team.
Hayward may have struggled in his first year back from a brutal leg injury, but he looked closer to his old self this season. The 6-foot-7, 207-pound forward showcased the versatility that helped him earn a $128 million from the Celtics. Hayward scored 17.5 points per game while chipping in 6.7 rebounds and 4.1 assists.
That quartet, buoyed by key role players like Marcus Smart, Daniel Theis, and Enes Kanter, helped the Celtics secure the No. 3 seed. That positioned Boston for a first-round matchup against the Philadelphia 76ers.
Boston suffers a brutal blow to NBA title quest with Gordon Hayward injury
On Monday, the Celtics opened up their first-round series with the 76ers with a statement victory. The young tandem of Tatum and Brown combined for 61 points in the comeback win against a Ben Simmons-less 76ers squad. Boston poured in 34 fourth-quarter points while holding Philadelphia to just 22 in the final frame.
However, the Game 1 victory came at an enormous price. And as it turns out, the Celtics suffered a brutal blow to their NBA title question with yet another Hayward injury. The 30-year-old rolled his ankle late in the fourth quarter and did not return.
On Tuesday, the Celtics released an update on Hayward's ankle through their official Twitter account. Unfortunately for Celtics fans, they will not see No. 20 in the lineup for quite some time. The team reported that Hayward suffered a Grade III sprain of his right ankle and will miss approximately four weeks.
Losing an All-Star-caliber player like Hayward represents a brutal blow to the Celtics. His versatility on both ends of the floor gave Stevens a valuable weapon. Plus, Hayward could spell Brown or Tatum whenever either young star got in foul trouble. Durability has been an issue for Hayward ever since he came to Boston, so the Celtics at least have experience playing without their highly-paid forward.
Who will step up with Hayward out?
If the Celtics want to win their first NBA title in more than a decade, they will need someone to step up with Gordon Hayward out for the next month. Ultimately, it may take a group effort to alleviate the loss of the versatile, experienced forward.
Priority No. 1 should be putting the ball in Tatum's hands even more. Though he just turned 22 in March, the 6-foot-8, 204-pounder has already reached elite status. Tatum has dominated in Orlando, putting up back-to-back 29-point efforts against the Orlando Magic and Memphis Grizzlies to close out the regular season.
On Tuesday, he led all scorers with 32 points to go along with 13 rebounds and three blocks. Given his improved ball-handling and ability to finish at the rim, expect Stevens to continue feeding his young star.
While Jaylen Brown should also see an uptick in usage, Stevens will also need Smart and Semi Ojeleye to play more minutes. Smart brings an unmatched intensity on defense and brings underrated passing skills to the table. The veteran guard also averaged a career-high 12.9 points and shot 34.7% from 3-point territory this season.
Ojeleye provides little on offense, but his size and defensive skills make him an obvious candidate to take up some of Hayward's minutes. The 2017 second-round pick did not play on Monday. However, Stevens may have no choice but to insert Ojeleye into the lineup moving forward.
Ultimately, it will take a collective effort to make up for the loss of Gordon Hayward. At least they have Tatum, Brown, and Walker to lean on as they pursue the 18th NBA championship in franchise history.
All statistics courtesy of Basketball Reference.